I don't usually get to attend the Charleston Conference (in fact, I've only been to one), so I look forward to seeing the annual Charleston Conference Proceedings. The 2008 edition showed up on my desk this past November (around the time that the 2009 Conference was taking place). The theme for 2008 was "The Best of Times…the Worst of Times," and the presenters covered topics in budgeting, collaboration, content development, and format, to name a few areas. Since I missed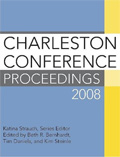 "8,000 Citations…Are You CRAZY?," "The Role of the Library in a Fully Googlized World," "How Not to Read a Million Books," and other intriguing-sounding sessions I'm glad to now have written versions in my hands. It's ironic—and a reminder of how slowly things still move in print world—that the proceedings for a conference that addresses so many cutting-edge issues take so long to appear in book form. If you don't want to wait until late 2010 to see what happened in 2009, you can go to the Charleston Conference website, where many 2009 presentations are now available.
Indexed. 242p. PBK $40 from Libraries Unlimited (978-1-59158-033-4)
Eye on the Prize
What does the list of Newbery Award winners tell us about the ways in which attitudes regarding race have changed? That's what Binnie Tate Wilkin sets out to explore in African and African American Images in Newbery Award Winning Titles. In the medal's early days Africans and African Americans were represented mainly as cartoon characters when they were represented at all. The 1923 winner, The Voyages of Doctor Dolittle, has proven to be one of the most controversial choices because of its racial insensitivity. As the nation has progressed, so have the portrayals, reflected in the Newbery choices (especially the honor books) over the years. The author recommends the Coretta Scott King Book Award list for the best selection of positive images, however.
Indexed. 242p. PBK $42 from Scarecrow Press (978-0-8108-6959-2)
Public Library Wisdom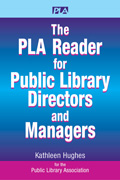 More than 30 articles are gathered together in The PLA Reader for Public Library Directors and Managers edited by Kathleen Hughes. Six sections explore topics related to advocacy, communications, access, technology, and more. Many of the articles were previously published in Public Libraries magazine or Tech Notes. Others are excerpted from books. It's good to be able to benefit from the experience and expert advice of so many public library heavy hitters. Co-published by the Public Library Association of the American Library Association, the book is the first in a new series "designed specifically for busy library professionals in search of practical solutions for their complex responsibilities."
Indexed. 300p. PBK $65 from Neal-Schuman (978-1-55570-684-5)
New from ALA
Get Moving
Moving Materials: Physical Delivery in Libraries, edited by Valerie Horton and Bruce Smith, offers insights on what is described as "the forgotten function:" getting materials from point A to point B. Chapters tackle topics such as delivery service organization and management, outsourcing, materials management systems, and relationships among participating libraries. A final section addresses home delivery and courier services.
Indexed. 202p. PBK (978-0-8389-1001-6)
Moving Your Library: Getting the Collection from Here to There sounds similar but deals with shifting a whole collection rather than just pieces of it. Author Steven Carl Fortriede makes what many consider a nightmare more manageable by breaking it down into steps, from measuring shelves, training workers, and assembling supplies; to actually dealing with boxes, hand trucks, and special items such as unbound periodical files. One caveat: an entire chapter is devoted to microforms, but there's very little on other nonprint formats.
Indexed. 192p. PBK (978-0-8389-0994-2)
Mary Ellen Quinn is editor of ALA Booklist's Reference Books Bulletin.