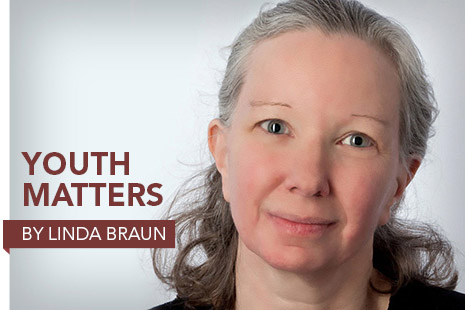 About 10 years ago I had an experience with a small group of teen girls that taught me a lot about the impact of a facility's use of space on young people. We were at the Mount Holyoke College library and I wanted to show the teens the college's information commons. To get there, we had to walk through the hushed, shadowy, austere reference area. I could sense that the girls were feeling intimidated by the environment. Then, reaching the end of a long hallway off of reference, it was as if the world opened up.
There, before us, was the information commons: a space filled with light, computers, and collaborative study spaces. The girls exclaimed excitedly as we walked into the space, and they literally skipped to the computers and started looking at websites together.
Commons connections
As collection formats change, so too will the ways young people learn and the physical-space configuration they need in which to learn. Children and teens need spaces that permit hands-on contact with technology and raw materials. Information commons, learning labs, and makerspaces are finding their way into library buildings. Sometimes the three are combined in interesting ways.
An information commons (sometimes called a learning commons) is probably the most traditional of the three space types. In a commons, books and traditional materials are pushed to the periphery—or they aren't included in the space at all. Instead, the space is quite open, with a variety of seating types, technology, and lots of space in which collaboration can easily take place.
A learning lab, frequently modeled on the YOUmedia space at the Chicago Public Library, is dedicated to giving young people opportunities to gain 21st-century digital literacy skills through content creation and collaboration. These spaces often have creation stations where kids and/or teens create videos, produce music, write, or learn photography. Again, collaboration is key in these spaces as young people get to build, think, and problem solve in groups.
According to the Makerspace website, a makerspace is "a place where young people have an opportunity to explore their own interests, learn to use tools and materials, and develop creative projects." Although they don't necessarily include technology, these projects often do. Makers sometimes use 3D printers to construct objects, or they may create robots or more traditional objects such as go-carts. Whatever the project, the key is that young people have a space in which to make things that relate to their particular interests, and in the process, gain skills in problem solving, critical thinking, teamwork, and research.
Make way for makers
Are you saying to yourself, "Is this really what my library space has to look like?" In the 21st century, less library floor space will be taken up with shelves full of books, leaving room for these innovative spaces and giving youth services staffers the opportunity to do more of what they are trained to do—connect youth with information, knowledgeable adults, and resources to help them gain skills and knowledge. These might be skills in digital content creation, robot production, or research, all of which will serve young people well when they move into the worlds of work and higher education.
As you begin to plan, don't worry; help is available. ALA's Young Adult Library Services Association released new national space guidelines for public libraries, and many institutions are already innovating in library space design and use.
LINDA W. BRAUN is an educational technology consultant for LEO: Librarians and Educators Online and a past president of ALA's Young Adult Library Services Association.