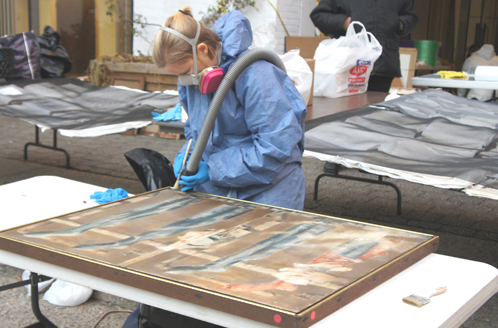 The voice on the phone sounded exhausted. "I have lost my life's work," the man said. He was an artist who had his paintings stored in a basement somewhere in Lower Manhattan in New York City.
It was November 2, 2012, four days after Hurricane Sandy hit the New Jersey coast, and the call came during my month-long, 24-hour phone duty as a volunteer on the emergency call line operated by the American Institute for Conservation's Collections Emergency Response Team.
After taking his information—name, location, type of media—I cautioned him about such personal issues as mold exposure and advised him what to do next to preserve his still-submerged paintings once the water was pumped out of his storage space. After suggesting where to find more information and urging him to call back once he could see his artwork, I counseled him to not think that all was lost; water-damaged items can be salvaged through proper conservation procedures.
Then I asked him to open himself up to seeing his art in a new way, a Sandy-affected way that might not be what he had first created but that could allow him to share his experience. Perhaps he could feel that a positive outcome to this disaster is possible if he could visualize his work as transformed. He asked if I was a psychiatrist as well as a preservationist.
This call was one of many inquiries from archives, libraries, museums, historic sites, artists, gallery owners, and collectors, all trying to save their valuables from the effects of water damage and mold. I had answers and I had resources. And I had experts to help when my knowledge didn't go deep enough on such topics as water damage to gold leaf or wood sculptures.
All this was in addition to my regular preservation job at the Library of Congress. It's sad that it took a disaster for people to call, but the experience exemplifies the role of a typical preservation librarian.
What you can do now
Preservation librarians around the country work to protect and preserve the collections in their care. Many also have the zeal to help others save the personal items that make up our lives, our history, and our culture. We are among many such specialists for whom sharing preservation information is an avocation as well as a vocation.
Preservation work isn't all about disasters. In fact, libraries should be proactive—before disasters hit—and find out how to prepare, protect, and preserve collections and share with patrons this crucial information. Preservation librarians are an expert resource for many issues: lighting for exhibits; temperature and humidity settings to inhibit deterioration; pest management; and conservation of physical items (books, paper, and art) as well as digital collections. It all falls under the rubric of preservation, but information sharing is what librarians do so well.
In 2010, ALA's Association for Library Collections and Technical Services (ALCTS), the Library Services office of the Library of Congress, and the Institute of Museum and Library Services (IMLS) launched Preservation Week (ala.org/alcts/confevents/preswk), an annual program that promotes the sharing of preservation information with the public.
This year Preservation Week takes place April 21–27. The ALCTS website offers ideas and resources for programming, webinars, and other activities, both for that week and beyond. ALA supports this outreach program through the @ your library campaign, which focuses on resources and current information for the public (atyourlibrary.org/passiton). The Library of Congress and IMLS continue to support preservation outreach for libraries by supplying (free of charge) printed bookmarks and posters when requested through LC's Ask a Librarian webpage.
Preservation action matters even more today, as climate and other change occurs so rapidly. Sharing this information helps our communities hold memories, retain history, and inspire future generations to preserve our cultural legacy. From many small private histories, a public history forms.
---
Preservation Resources
---