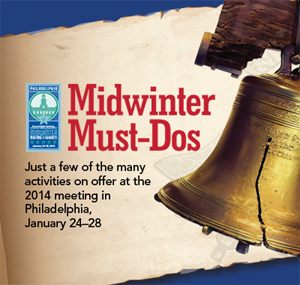 The conversation starts here …
Midwinter provides several opportunities to share and engage with colleagues. Experts give the latest updates on policy, research, statistics, and technology in the "News You Can Use" segment. Sponsors include ALA divisions and offices and the ALA Digital Content and Libraries Working Group.
Hear library specialists describe their latest in-house innovations at the ALA Masters Series.
Discuss your aspirations for your professional community in "Kitchen-Table Conversations," and help make ALA an innovation space where members and staff collaborate and create together.
The Library Unconference (January 24) and Library Camp (January 27) bookend Midwinter by offering the chance to ask questions, network, and reflect on the implications of all these updates.
Follow up or start a small-group discussion in the Networking Uncommons area.
Register now
Special ticketed events
Clear your mind and have fun with like-minded colleagues with a new twist this year at the ThinkFit Resistance Band Workout (January 25).
Professional development
For information about the various Institutes being offered for professional development, visit alamidwinter.org/ticketed-events.
Awards and honors
YMAs
Every year, committees of librarians and media experts dedicate themselves to selecting the winners of the Youth Media Awards, which honorbooks, videos, and other outstanding materials for children and teens. Winners of the Newbery, Caldecott, Printz, and Coretta Scott King are among the prestigious awards and medals that will be announced January 27.
Arthur Curley Memorial Lecture
Don't miss the opportunity to hear from human rights advocate and bestselling author Ishmael Beah at the Arthur Curley Memorial Lecture (January 25). Beah's first book, A Long Way Gone: Memoirs of a Boy Soldier, chronicles his time as a child soldier in his native Sierra Leone and has helped shine an international spotlight on critical issues related to children and war. Beah crosses over to fiction in his forthcoming novel, Radiance of Tomorrow (Macmillan, 2014).
Give me books!
Join Booklist Books for Youth Senior Editor Ilene Cooper as she moderates the ERT/Booklist Author Forum (January 24) with five acclaimed authors: Tonya Bolden, Brian Floca, Kadir Nelson, Steve Sheinkin, and Melissa Sweet. Find more recognized authors at the Book Buzz Theater.
Stay connected and informed
Visit alamidwinter.org
Track #alamw14 on Twitter
Join the 2014 ALA Midwinter Meeting Facebook event at bit.ly/alamw14fb
Follow the Pinterest page at pinterest.com/alamidwinter
Watch the fun on the Conference Tumblr page at ala-con.tumblr.com
Check out the ALA Midwinter Scheduler in late November—and the mobile app in December—which allows you to receive updates, plan and organize your Midwinter time, get tailored recommendations, and create a sharable calendar.
---
National Constitution Center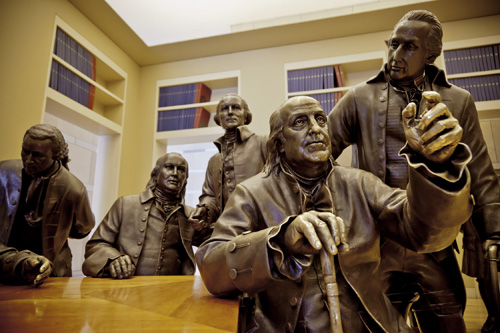 Relive history at the National Constitution Center and experience the three attractions in its main exhibition:
Freedom Rising: This 17-minute multimedia theatrical production takes visitors on a journey through history, depicting the nation's quest for freedom from 1787 to the present day;
The Story of We the People: Visit this interactive exhibit for a guided tour through America's history, with a rotating collection of artifacts, and even take the presidential oath of office;
Signer's Hall (pictured): Add your name to the Constitution alongside 42 life-size bronze statues of the Founding Fathers.
The center also frequently hosts guest lectures and other events that explore the relationship of the Constitution to various themes.
For more information, visit constitutioncenter.org.
---
Maurice Sendak
In honor of the 50th anniversary of Where the Wild Things Are, visit the Rosenbach Museum and Library, which houses a collection of more than 10,000 of Sendak's items, including original illustrations, sketches, and manuscripts. The museum store is the only authorized seller of signed Sendak materials and offers unsigned books, prints, and toys.
---
The Barnes Foundation
Take a break from the Founding Fathers and visit the Barnes Foundation, home to an impressive collection of impressionist, post-impressionist, and early modern art, as well as African sculpture and Native American textiles and metalwork. The collection follows specific instructions on presentation from its founder, Albert Barnes, who was inspired by the ideas of William James, George Santayana, and John Dewey about how people look at and learn from art. Just remember that the rooms in the Collection Gallery are small and space fills quickly, so try to book tickets in advance.
Don't forget to visit the Honickman Library and its collection of more than 4,000 books, periodicals, and other resources on art, art history, visual literacy, conservation, and art education.