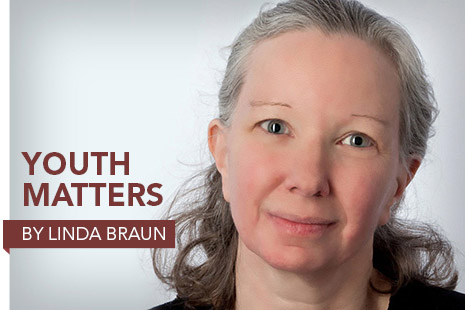 As I wrote this column, I decided to check my go-to dictionary, the Merriam-Webster, about the definition of "outreach." It stated: "the extending of services or assistance beyond current or usual limits <an outreach program>; also: the extent of such services or assistance."
Youth services outreach frequently centers on luring young people inside the library by visiting schools to book-talk or promote programs such as summer reading clubs. But is that really "the extending of services" in ways that go "beyond current or usual limits?" I'd say no. In a world of mobile devices and e-content, what should outreach to youth look like in the second decade of the 21st century?
It's time for youth-oriented library staff to embrace virtual and digital tools in their outreach. In today's technologically rich environment, you can create programs in which youth can participate from anywhere at any time.
An example: Ask tweens and teens to create Vine videos as part of a STEM moviemaking program. You provide the program information virtually and allow youth to participate without setting foot in the library. While they are taking part in the program, you communicate with them using Twitter, Facebook, Google apps, and other web-based tools—of course, providing digital literacy and technology tips along the way.
The library of Virginia Polytechnic Institute and State University in Blacksburg undertook some particularly interesting outreach when it sponsored a Vine contest this fall, encouraging freshmen to use the hashtag #firstdayvt. While not aimed at the preschool and K–12 worlds, it definitely provides a successful model for virtual outreach.
Enhanced discovery
The fall 2012 Pew Internet & American Life Project report noted that Americans between the ages of 16 and 29 are interested in borrowing e-content from libraries. And yet the research made clear that library staffers need to do a better job of simplifying the e-content borrowing process and making it more visible to these potential users.
The first step requires outreach to vendors whose products you use. If a vendor's user interfaces aren't intuitive and easy to use, how can we possibly reach out to young people about innovative services with any enthusiasm?
This is all well and good, you may be thinking, but what about the youth services specialists who just can't squeeze another professional initiative into their schedules? Many library workers tell me they don't have time for youth outreach because they can't get out of their libraries, physically or even virtually. They have to be on the floor or on the desk. But you don't have to be the one doing the outreach.
Outreach through surrogates
Teens and tweens can be trained to be effective allies in this area. They can show their friends, parents, and teachers how to use your library's digital tools. By spreading the word, they can bring your services to classrooms, youth development organizations, and homes.
You can also think of stakeholders as potential outreach partners. Those you've worked with on projects and who understand your goals and services can inform their constituents about what you have to offer and can help you understand what their users want and need and how to best reach out to them.
Don't let yourself get into an outreach rut. Sure, book talks and class visits are traditional. But is that really the best way to connect to youth in today's 24/7 mobile world? Start 2014 with a youth outreach plan that includes at least one new endeavor and that extends your tactics beyond the same-old, same-old.
LINDA W. BRAUN is an educational technology consultant for LEO: Librarians and Educators Online, professor of practice at Simmons College GSLIS in Boston, and a past president of ALA's Young Adult Library Services Association.