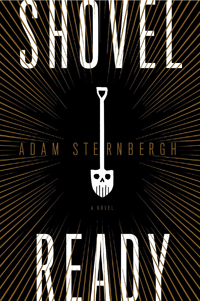 As anyone who has followed this column knows, I read a lot of mysteries. Sure, I love to follow the careers of my favorites—Michael Connelly, George Pelecanos, Daniel Woodrell, among many others—but the thing I enjoy most about reviewing mysteries for Booklist is happening on a stunning first novel by an unknown writer. Over the years, a short list of crime-fiction debuts I've reviewed and loved madly would include Walter Mosley's Devil in a Blue Dress (1990), C. J. Box's Open Season (2001), Erin Hart's Haunted Ground (2003), and Urban Waite's The Terror of Living (2011). Each of these books delivered that special shock of recognition that is perhaps a reviewer's greatest joy.
As the list above indicates, it's rare to feel that special shock, and it seldom happens more than once in the same year. And, yet, it has happened to me twice in the last 12 months: first with the February 2013 publication of Roger Hobbs's Ghostman and then with Adam Sternbergh's Shovel Ready, published in January 2014. Both books are galvanizing thrillers with propulsive narratives that never let up; both have unique premises; and both offer compelling, antiheroic protagonists on the wrong side of the law.
Jack White is the Ghostman, a pseudonymous loner living far off the grid who specializes in disappearing. After a high-level heist, he makes sure that all traces of the caper vanish. Only once did it go bad, and the organizer of that heist wants Jack to even the score by making a botched armored-car robbery in Atlantic City disappear—except, of course, for the take, which has itself disappeared but needs to be found. The clock is ticking, because if the $1.2 million in freshly minted bills isn't recovered quickly, it will explode. The suspense builds inexorably, heightened rather than impeded by the supportive detail with which Hobbs undergirds the action. Comparisons with Lee Child are inevitable here, and surely Hobbs possesses a Child-like ability for first unleashing and then shrewdly directing a tornado of a plot, but he also evokes Elmore Leonard in the subtle interplay of his characters.
Sternbergh's Shovel Ready falls under the postapocalyptic umbrella, but don't let that deter you: The author is not merely re-creating The Road or any of the countless other novels that populate an overexposed subgenre. Here, Manhattan has been hit by a dirty bomb, and Central Park has become a Hooverville, home to the dislocated poor. Meanwhile, the rich have taken to their beds, connected to the "limnosphere" (the internet on steroids), where they can construct their own virtual reality and live permanently. Into this mix comes Spademan, a garbage collector turned hit man, who agrees to kill the daughter of a famous evangelist but then falls in love with her. Sternbergh, culture editor of the New York Times Magazine, combines stunning narrative sleight-of-hand with an ability to create flesh-and-blood characters who bring humor and a resilient humanity to their torn-asunder world. This one mixes dystopian science fiction and urban noir with an irresistible Chuck Palahniuk swagger.
BILL OTT is editor and publisher of ALA's Booklist.