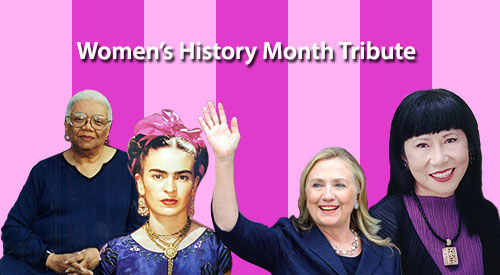 Every March, the National Women's History Project announces a new theme to celebrate Women's History Month; this year, the theme is "Celebrating Women of Character, Courage, and Commitment." As part of this national celebration, libraries around the country are honoring women and their contributions to history with lectures, movie screenings, and art shows. Here is a roundup of just some of the activities that libraries are hosting.
Horace W. Sturgis Library, Kennesaw (Ga.) State University
Friends of the Sturgis Library are celebrating with a lecture, "Mad for Speed," Women Racers of the Brass Age (1900–1912), by KSU history professor Elsa Nystrom, on March 19. Nystrom will be referring to her book, Mad for Speed: The Racing Life of Joan Newton Cuneo, as she discusses Cuneo—the premier female racer in the US—and other women racers. Nystrom's book will be available to purchase.
The State Library of Ohio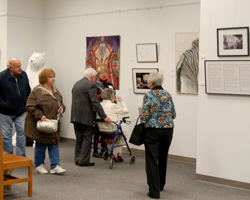 The State Library of Ohio is hosting an Arts Exhibit throughout March.
"Parallel Arts–Women Create!" is a multimedia tribute to Women's History Month presented by the Greater Columbus Chapter of the National League of American Pen Women (NLAPW) in partnership with the Ohioana Library Association and the State Library of Ohio.  Visitors can enjoy creations by Central Ohio women professionals in the fields of visual art, music, and writing. Displays by current NLAPW members will include recently published books, original musical scores, and visual arts in various media including fiber arts, paint, mixed media, prints of commissioned public art, and photography. The Ohioana Library will display archival items from the early days of the NLAPW's Columbus Chapter as well as letters, photos, and flyers from the women's suffrage and temperance movements.
The exhibit runs March 3–28 in the lobby of the State Library of Ohio, 274 E. First Ave., Columbus, from 9 a.m.–5 p.m. daily. A public reception on March 7 included live music, art demonstrations, readings, and artist talks. View more photos from the event here.
Danbury (Conn.) Library
The Danbury Library is celebrating with a film showing, panel discussion, and display of library materials featuring a variety of female singers, musicians, and writers.
On March 16, the library hosted a screening of the Makers/PBS film "Makers: Women Who Make America."  The film originally aired in February 2013 and celebrates the accomplishments of women over the past 50 years, including trailblazers such as Gloria Steinem, Eleanor Holmes Norton, and Linda Alvarado. The screening was sponsored by the Friends of the Danbury Library.
On March 24, the library, in partnership with the Women's Center and Western Connecticut State University, will host a panel discussion "Standing on the Shoulders of Other Women" from 7–8:15 p.m.  The discussion will include information about women from the Danbury community who were first in their fields, like Alice Paul who is believed to have led over 5,000 women in a 1913 march on Washington to draw Congress' attention to women's suffrage. The program is free; registration is requested through the Women's Center at 203-731-5200 or email womenscenter@wcogd.org.
Both programs will be held in the library's Farioly Program Room. The Danbury Library is at 170 Main Street. For more information, contact the library at 203-796-8061.
Alexandria (Va.) Library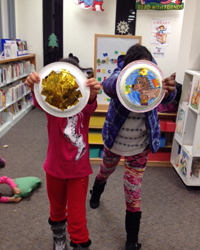 The Alexandria Library celebration honors women of the past and present who made important contributions to the world. The library will feature a special performance and children's story time, and offers a list of compiled resources.
Highlighting stories about girls and women who dared to be dauntless, the Burke branch presented Girls of Courage, on March 6, which featured the books Fearless: The Story of Racing Legend Louise Smith, by Barb Rosenstock, and The Other Side, by Jacqueline Woodson.
To celebrate acclaimed African-American female entertainers and writers, the talented arts group, Liberated Muse will visit Beatley Central Library to perform the musical theatrical production, In Her Words, on March 27 at 7 p.m. The featured show infuses singing, poetry, dance, and drama and joins the library as it commemorates the 75th anniversary of the 1939 sit-in. The play pays tribute to the lives of Nina Simone, Zora Neale Hurston, Billie Holiday, Lena Horne, and Lucille Clifton. A new role has been added this year to honor Katherine Dunham.
Omaha (Nebr.) Public Library
Omaha Public Library is hosting a series of programs that include book discussions/author talks, movies, and fashion programs.
Eileen Wirth, chair of Creighton University's Department of Journalism, shared from her new book, From Society Page to Front Page: Nebraska Women in Journalism, at a Women's History Month reception on March 9. The event was cosponsored by the University of Nebraska at Omaha, and also featured speakers, poetry, live music, and refreshments. Poets from Celebrate XVIII, a publication by and about local women, and adult winners from UNO's Poetry Across the Generations contest presented their works.
Wirth will discuss her book at several other locations throughout the month:
Saturday, March 22, 1 p.m. at W. Clarke Swanson Branch, 9101 W. Dodge Rd., 402.444.4852
Tuesday, March 25, 6:30 p.m. at Millard Branch, 13214 Westwood Ln., 402.444.4848
Other programs are also being offered:
Saturday, March 22, 11 a.m. at W. Dale Clark Main Library: Cherchez la Femme! Researching your female ancestors
Monday, March 24, 7 p.m. at Milton R. Abrahams Branch, 5111 N. 90th St.: Women's History Through Fashion, 402.444.6284
Saturday, March 29, 2 p.m. at South Omaha Library, 2808 Q St.: A History of Women's Hats, 402.444.4850
Visit omahalibrary.org for a full schedule of women's history programs and information on additional upcoming events at Omaha Public Library's 12 metro locations.
South Carolina State Library
The South Carolina State Library in Coumbia offers a 2014 Women's History Month online resources guide, which provides information about the 2014 National Women's History Month honorees as well as links to books, videos, and useful websites about women who have shaped the state and the nation.
Ridgefield (Conn.) Library
Ridgefield Library and Keeler Tavern Museum will present the M&M Production, Having Our Say, The Delany Sisters' First 100 Years, by Emily Mann, adapted from the book, Having Our Say, by Sarah L. Delany and A. Elizabeth Delany with Amy Hill Hearth. This program begins at 2 p.m. on March 23 at Keeler Tavern Museum Garden House.
The Delaney sisters' story is not simply African-American history or women's history. It is a shared history, told through the eyes of two women as they look not only into the past, but also into the 21st century. The play opens as 103-year-old Sadie and 101-year-old Bessie welcome the audience into their Mount Vernon, New York, home. They take viewers on a journey through the last 100 years of our nation's history, recounting a fascinating series of events and anecdotes drawn from their rich family history and careers as pioneering African-American professionals.
The event is free but registration is recommended at ridgefieldlibrary.org or by calling 203-438-2282.
Poudre River Public Library District in Fort Collins, Colorado
The Poudre River Public Library District will be hosting four events:
It's a Girl Thing: A Special Book Discussion (March 28 at Council Tree Library): 4-th-6th grade girls and their mothers or other significant woman companions are invited to read and discuss Riding Freedom, by Pam Muñoz Ryan, which tells the story of the first woman voter in the US. Registrants will receive a free paperback book at Council Tree Library. There will also be a complimentary pizza dinner.
Ladies of Lace: Lacemaking Industry and Handcraft (March 31 at Old Town Library): Lace was much more than a fashion luxury affordable by only the wealthy. An enormous industry, lacemaking employed thousands of women whose work depended on their skills, local opportunities, and market demands for luxury fashion goods. The role of lacemaking and women lacemakers in history is still largely unrecognized. Susan J. Torntore will provide a women's history perspective on the industry.
The Flirtatious Victorian (March 31 at Old Town Library): Presenter Sharon Guli will share alternative uses for a Victorian Lady's accessories. Enjoy hearing the history of this debated form of communication and seeing a demonstration of the playful capabilities of the fan, glove, parasol, and handkerchief. For the gentlemen, a segment on "Hat Flirtations" and "How to Kiss Deliciously" will also be included in this amusing program.
History Comes Alive with Rosie the Riveter (March 28 at Harmony Library's Round): Meet this cultural icon who represents the women who worked in factory jobs in the US during World War II. Colorado had its own "Rosies," who worked at the Remington Arms Factory in Denver. The Denver Ordnance Plant produced as many as 6 million bullets a day. Historian, educator, and author Gail M. Beaton brings Rosie to life as a composite character drawn from the records and memories of these Colorado women war workers.
Cecil County (Md.) Public Library
On March 5, Cecil County Public Library hosted a living history event for Rosie the Riveter, a program that was especially relevant because of the county's history of housing many munitions plants that were filled with women workers.
Back at ALA, YALSA also put together a list of books throughout the history of Great Britain's from a woman's perspective.