Catch the speakers
Start conference on a high note at the Opening General Session (June 27) with alternate-reality game designer Jane McGonigal and learn how games that tackle real-world problems like hunger and poverty can be used in library programming. Hear from bestselling authors and thought leaders, as well as experts from adult and youth fiction, technology, and popular culture, including Stan Lee (interview, p. 16), Jane Fonda, Azar Nafisi, Lois Lowry, Alexander McCall Smith, Ilyasah Shabazz, and Philippe Petit.
Professional development
Continue the conversation on the transformation of libraries and your profession at:
Turning Outward. Four sessions will teach librarians the community-engagement practice of "turning outward." Part of ALA's Libraries Transforming Communities initiative, the series emphasizes how librarians can leverage their trusted position in the community to become agents of positive change. More information and resources at ala.org/LTC.
Preconferences and more than 500 programs, discussions, and sessions covering digital content and ebooks, technology in libraries, innovation, books and authors, transformation, leadership, library advocacy, community engagement, and library marketing.
Library Unconference (June 27) and Library Camp (June 30): Informal bookends to your conference experience. Ask questions, explore ideas, brainstorm, innovate, share inspirations, and reflect on what you've learned.
Networking Uncommons: A Wi-Fi-enabled space for impromptu sessions, follow-up conversations, and small get-togethers.
Awards and honors
When life gives you lemons
Witness history in the making as Daniel Handler (Lemony Snicket) awards the first-ever Lemony Snicket Prize for Noble Librarians Faced with Adversity, a prize to honor a librarian who "with integrity and dignity intact" has confronted hardship and to remind readers of the "joyous importance of librarians and the trouble that is all too frequently unleashed upon them."
Other award celebrations include the third year of the Andrew Carnegie Medals for Excellence in Fiction and Nonfiction, as well as the Newbery-Caldecott Awards Banquet, Coretta Scott King Book Awards Breakfast, Stonewall Book Awards Brunch, Margaret A. Edwards Luncheon, and Michael L. Printz Program and Reception.
Sign up now
Enhance your experience
Need a break from stimulating conversation and networking opportunities? Sign up for the ThinkFit Power Flow Yoga class on Sunday, June 29. Don't miss the installation of Courtney Young as the new ALA president and the new 2014–2015 division presidents at the Inaugural Brunch on Tuesday, July 1.
Exhibit hall
Visit the Book Buzz Theater and PopTop Stage to meet and hear from authors, get books signed, and pick up ARCs; chat about the latest products and services with more than 700 exhibitors; pick up useful tips and info from the poster sessions; indulge at the What's Cooking @ ALA Demo Stage; enjoy the Graphic Novel/Gaming Stage; see work by and meet the artists and illustrators behind your favorite comics, games, and graphic novels in Artist Alley; and close out your conference by celebrating at the Wrap Up/Rev Up.
Stay connected and informed
My Must-Dos:
"Stonewall Book Awards Brunch"—Peter Coyl, chair of Stonewall Book Awards Committee/manager at Dallas Public Library
"Exhibition hall opening and reception. Also, Stan Lee!"—Leanne Bolton, visiting education librarian at Indiana University–Purdue University Indianapolis
"Literary Tastes and Carnegie Awards"—Joe Thompson, senior administrator of Public Services at Harford County (Md.) Public Library
University of Nevada, Las Vegas Libraries Open House
Arriving early? Visit UNLV Libraries on Friday, June 27, for an open house that includes tours concentrating on space enhancement projects, new learning environments, and the libraries' educational roles on campus. Complimentary shuttle transportation available. Learn more and register at guides.library.unlv.edu/ala. Be sure to get back in time for the exciting 4 p.m. Opening General Session.
The Mob Museum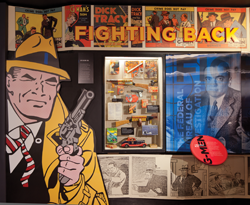 The history of Las Vegas cannot be told without discussing the mob. The National Museum of Organized Crime and Law Enforcement, the Mob Museum (300 E. Stewart Ave.), is home to interactive exhibits, one-of-a-kind artifacts, and theater presentations that strive to tell the complete story on both ends of the law. Learn about the biggest names in organized crime, including Al Capone, Whitey Bulger, Bugsy Siegel, and John Gotti, as well as the people who brought them to justice. The museum is offering all ALA attendees "buy one, get one off" regular admission with the presentation of conference badges.