It's been more than 40 years since ALA held its annual conference in Vegas, and many things have changed since then. But the 2014 ALA Annual Conference and Exhibition, June 26–July 1, still brings together the professional development you've come to expect with exciting new ideas to help propel librarianship into the future.
The program selection on display in Las Vegas continues the theme of the last two annual conferences, "Transforming Our Libraries, Ourselves." While it's easy to fall into the status quo, this year's conference programming is evidence that librarians and ALA are evolving to meet tomorrow's challenges. See the time line on page 62 for a look back at some of the biggest changes to happen at conference over the years.
Here is just a sample of the programs, special events, author appearances, award presentations, and other activities happening in Las Vegas. For a complete listing, visit alaannual.org.
Conference overview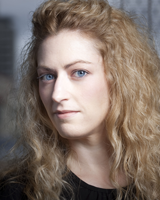 Opening General Session, on Friday, June 27, 4–5:15 p.m. Jane McGonigal, alternate reality game designer and bestselling author of Reality Is Broken: Why Games Make Us Better and How They Can Change the World, will get you excited from the very first session of conference about the myriad possibilities for how games that tackle real-world problems can be integrated into a variety of library programming.
The ALA Awards Presentation will take place on Sunday, June 29, 3:30–4 p.m. during the ALA President's Program. Daniel Handler (aka Lemony Snicket) will present the first ever Lemony Snicket Prize for Noble Librarians Faced with Adversity.
Also new this year, Booklist and the Young Adult Library Services Association (YALSA) present the Michael L. Printz Program and Reception, Friday, June 27, 8–10 p.m. Marcus Sedgwick, the 2014 Printz winner for Midwinterblood, will deliver a speech following the presentation of awards to the four Printz Honor Book authors: Rainbow Rowell, Eleanor & Park; Susann Cokal, Kingdom of Little Wounds; Sally Gardner, Maggot Moon; and Clare Vanderpool, Navigating Early. After the presentation, Gillian Engberg, editorial director of Books for Youth at Booklist, will moderate a panel discussion with the authors. A reception will immediately follow the program. Tickets are available for $34 in advance or $40 onsite.
Join the ThinkFit Power Flow Yoga Sunday, June 29, 7–8 a.m. for a fun, high-energy break from your other conference activities. Practitioners of all levels are welcome. Tickets are available for $15 in advance and $20 onsite.
The Association for Library Service to Children (ALSC) Newbery-Caldecott Awards Banquet will take place on Sunday, June 29, 6–11 p.m. This grand celebration honors the authors and illustrators of the year's most distinguished books for children. Preregistration is required. Tickets are $94.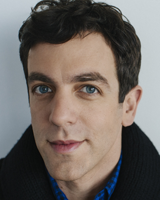 End conference on a high note at the Closing General Session, Tuesday, July 1, 9:30–11 a.m. Join award-winning actor and writer B. J. Novak as he discusses his New York Times bestseller, One More Thing: Stories and Other Stories (February 2014, Knopf) and his upcoming children's book The Book with No Pictures (September 2014, Dial Books for Young Readers), which introduces children to the idea that "the right words can be as fun, exciting, and ridiculous as any pictures."
The Closing General Session will be followed by the Inaugural Brunch, 11 a.m.–1:30 p.m. Join ALA President Barbara K. Stripling in honoring incoming President Courtney Young and division presidents-elect. This event includes food and entertainment. Tickets are available for $50 in advance or $55 onsite.
President's Program
Sunday, June 29
3:30–5:30 p.m.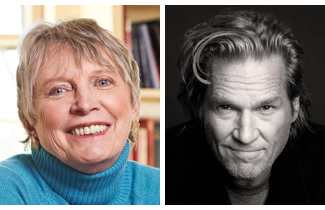 Bestselling author Lois Lowry and Oscar-winning actor Jeff Bridges headline Stripling's ALA President's Program. Stripling will conduct an interview with Lowry, a two-time Newbery Medalist and one of the world's most beloved and versatile authors for children and young adults, and moderate a Q&A with the audience.
Community engagement
Here are just a few programs targeted toward building relationships and input from the communities you serve:
Saturday, June 28, and Sunday, June 29
8:30–10 a.m. and 1–2:30 p.m.
"Turning Outward to Lead Change in Your Community." ALA's Libraries Transforming Communities initiative seeks to strengthen librarians' roles as core community leaders by developing and distributing new tools, resources, and support for librarians to engage with their communities in new ways. Explore those tools in a series of four sessions (Aspirations, Turn Quiz, Intentionality, and Sustaining Yourself) led by trainers from the Harwood Institute for Public Innovation. Each standalone session focuses on a single tool; taken together, they become a powerful framework for engaging community and leading change.
Saturday, June 28
10:30–11:30 a.m.
From religion to health care to immigration—controversial subjects can pose a unique challenge for librarians. In "Managing Challenges, Maximizing Impact: Policies and Practices for Controversial Programming," intellectual freedom advocates and experienced programming librarians will discuss how to prepare and host events that may attract controversy but also can increase visibility and foster community engagement.
Saturday, June 28
1–2:30 p.m.
In "Supporting Community Transformation: Becoming a Community-Engaged Academic Library," a panel explores the collaboration of researchers and academic libraries involved in community-engaged learning, service, and scholarship through two current University of Nevada, Las Vegas projects: one that teaches community members about business opportunities using librarian-curated resources and strategies, the other an oral history project that engages and strengthens ties within the local African-American community.
Saturday, June 28
4:30–5:30 p.m.
"The Pros and Cons of Coming in 3rd Place" offers suggestions on how to advocate for school libraries as a third place where students can be themselves away from home and the constraints of the classroom. Learn to make the most of what you have and encourage others to invest in the library by promoting resources, giving students "ownership" of the library, and giving potential investors complete communications.
Sunday, June 29
8:30–10 a.m.
Join Eric Friedenwald-Fishman, creative director/founder of Metropolitan Group and coauthor of Marketing That Matters: 10 Practices to Profit Your Business and Change the World, in "PR Forum: Stories Matter–13 Tips and One Cautionary Note for Powerful Narratives that Drive Social Impact." He will discuss how the social impact of a narrative is influenced by the identity of the people setting the narrative and how they present it.
Making at the library
Saturday, June 28
8:30–10 a.m.
Learn how three libraries are bringing self-published works to life with programming opportunities and community collaborations in "The New Library Imprint: Libraries and Self-Publishing." Provincetown (Mass.) Public Library, State University of New York at Geneseo, and Sacramento (Calif.) Public Library discuss their successes, cautionary tales, and how they sustain their self-publishing programs.
Saturday, June 28
1–2:30 p.m.
Diane Sarantakos, director of development, Metropolitan Library System in Oklahoma City, moderates "3D Printers and Library Policies," a United for Libraries panel that will discuss concerns and issues to address when creating policies related to patron access to 3D printers. Speakers include Corinne Hill, executive director, Chattanooga (Tenn.) Public Library; Charlie Wapner, information policy analyst, Office for Information Technology Policy; and Barbara Jones, director, Office for Intellectual Freedom.
Saturday, June 28
1–2:30 p.m.
Much of the philosophy behind making is mentoring youth in tinkering and experimentation, and teaching the making process as one of inquiry and inevitable failed attempts. In "Teaching Teens How to Fail: Library Spaces and the Maker Movement," participants will be introduced to the maker movement and get a list of comprehensive resources; explore low-barrier entry to maker activities (low-cost technology); and explore proven mentorship practices.
Featured speakers
Saturday, June 28
8:30–9:30 a.m.
Jane Fonda, award-winning actress and bestselling author, opens the Auditorium Speaker Series by discussing her advocacy work focusing on adolescent reproductive health and the empowerment of women and girls. Drawing from her book Being a Teen (March 2014, Random House), Fonda will make the case that young people are still not getting the information they need.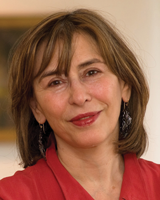 Saturday, June 28
10:30–11:30 a.m.
Azar Nafisi, award-winning author of Reading Lolita in Tehran, returns to Iran and her childhood in her latest book, Things I've Been Silent About. This portrait of a woman, a family, and a troubled homeland explores pain over family secrets and a mother's lost life, the discovery of the power of sensuality in literature, and the price a family pays for freedom in a country beset by political upheaval. Nafisi will also discuss her next book, The Republic of Imagination: A Portrait of America in Three Books (October 2014, Viking) and her engagement in promoting literacy and reading books of universal literary value.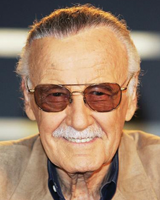 Saturday, June 28
Noon–1 p.m.
Stan Lee, the man whose superheroes propelled Marvel to its preeminent position in the comic book industry, will talk about his illustrated novel Zodiac (January 2015, Disney Publishing Worldwide). Based on the Chinese Zodiac and cowritten with Stuart Moore and illustrated by Andie Tong, it follows Steven Lee, a young Chinese-American teen who is drawn into a conspiracy surrounding 12 mystical pools of energy and a power-hungry secret organization. Lee remains chairman emeritus of Marvel and is chairman and chief creative officer of POW! Entertainment, a multimedia entertainment company he cofounded.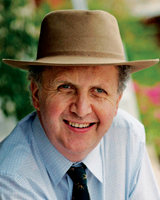 Saturday, June 28
3:30–4:30 p.m.
Alexander McCall Smith, author of the internationally acclaimed No. 1 Ladies' Detective Agency series, will discuss his newest book, The Forever Girl (February 2014), a novel about love, following one's heart, and the unexpected places to which this can lead us. Born in what is now Zimbabwe and educated there and in Scotland, McCall Smith was professor of medical law at the University of Edinburgh, and has been a visiting professor at universities in Italy and the US, among others.
Sunday, June 29
10:30–11:30 a.m.
Community organizer, activist, and author of the critically acclaimed Growing Up X, Ilyasah Shabazz—daughter of Malcolm X and Betty Shabazz—will talk about what inspires and motivates her. The founder of Malcolm X Enterprises and a trustee for the Malcolm X and Dr. Betty Shabazz Memorial and Educational Center, Shabazz promotes higher education, interfaith dialogue, and building bridges between cultures for young leaders of the world. She also produces a youth empowerment program, the WAKE-UP Tour.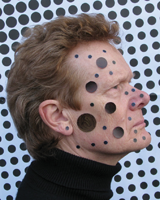 Monday, June 30
8:30–9:30 a.m.
Hear from the subject of the Academy Award–winning 2008 documentary Man on Wire, Philippe Petit, about his new book, Creativity: The Perfect Crime (May 2014). Petit has been artist-in-residence of the Cathedral of St. John the Divine for more than 30 years and has performed on the high wire more than 80 times around the world. His Auditorium Speaker appearance doubles as United for Libraries President Rod Wagner's program. A book signing will follow the presentation.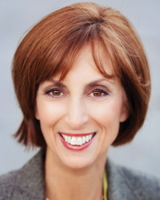 Monday, June 30
10:30–11:30 a.m.
Bestselling author of Quiet Influence: The Introvert's Guide to Making a Difference, Jennifer B.  Kahnweiler will talk about how and why introverts can be highly effective leaders, influencers, and colleagues when they build on their inherent strengths instead of trying to act like extroverts. Her Auditorium Speaker appearance is also the Association for Library Collections and Technical Services (ALCTS) President Genevieve S. Owens's program.
Division presidents' programs
Saturday, June 28
10:30 a.m.–noon
American Association of School Librarians (AASL), President Gail Dickinson. Hear author and teacher Donalyn Miller describe how she inspires and motivates her middle school students to read 40 or more books a year. In her latest book, Reading in the Wild, Miller collects responses from 900 adult readers and uses this information to teach lifelong reading habits to her students.
Saturday, June 28
10:30 a.m.–noon
Association of College and Research Libraries (ACRL), President Trevor A. Dawes. Hear Ferris State University President David Eisler and Washington Post columnist and financial educator Michelle Singletary highlight ways in which librarians and libraries can partner with others on and off campus to aid our students in "Financial Literacy at Your Library."
Saturday, June 28
10:30 a.m.–noon
Library Leadership and Management Association (LLAMA), President Catherine Friedman. In "Leaders as Followers: You Don't Have to Be in Charge to Be a Leader," Carrie Messina, vice-president of human resources at Wynn Las Vegas, will share insights into why the best leaders first know how to be great followers.
Saturday, June 28
4–5:30 p.m.
Reference and User Services Association (RUSA), President M. Kathleen Kern. Join Wayne Bivens-Tatum, librarian and author of Libraries and the Enlightenment and the Academic Librarian blog; Wayne Wiegand, library historian, academic, and author of several books, including Main Street Public Library; Lisa Carlucci Thomas, librarian, consultant, and founder of Design Think Do; and Jeanne Goodrich, executive director of Las Vegas–Clark County Public Library District, for a thoughtful debate on how our values and self-perceptions affect how we provide services within our communities.
Sunday, June 29
10:30 a.m.–noon
Association of Specialized and Cooperative Library Agencies (ASCLA), President Sara G. Laughlin. Connected Learning is an exciting educational approach that is attracting increasing attention from educators, librarians, foundations, and governments. Join Kylie Peppler, advisor to the Connected Learning Research Network, to learn more about the connected learning approach, underlying research, and how it can be successfully leveraged in the design of library spaces and programming targeted at today's youth.
Sunday, June 29
3–4 p.m.
Library and Information Technology Association (LITA), President Cindi Trainor Blyberg. Join Kimberly Bryant, founder of Black Girls Code, which introduces computer coding lessons to young girls from underrepresented communities in programming languages such as Scratch or Ruby on Rails. Black Girls Code seeks to introduce programming and technology to a new generation of coders who will become builders of technological innovation and of their own futures.
Monday, June 30
1–2:30 p.m.
ALSC, President Starr LaTronica. Learn how library and community collaborations can be the nexus of support for children and families. Amy Dickinson, syndicated advice columnist, will speak about her collaboration with the Family Reading Partnership of Ithaca, New York, to launch the campaign "A Book in Every Bed" that then sparked a national movement. Anna McQuinn, author of Lola at the Library, will bring an international perspective to proceedings and speak of her work in the United Kingdom with young children and their families. The program will round out with a panel of librarians from across the country discussing their innovative partnerships that support children and families.
Monday, June 30
1–3 p.m.
YALSA, President Shannon Peterson. Discuss how to create learning opportunities for teens in your library and in your community in "A Burning Need to Know: How Passion Connects to Learning." In this highly interactive program, participants will be able to talk with connected learning coaches (librarians from schools, public libraries, and library schools) who will answer questions and facilitate discussion about how to bring the ideas of connected learning into the school and public library for and with teens.
Program sampler
As part of this year's Now Showing @ ALA Film Program, the Intellectual Freedom Committee is partnering with the Library History Round Table, the Black Caucus of the ALA, and the Association of American Publishers to revisit the controversy over the 1977 ALA-produced film, The Speaker, on Sunday, June 29, 10:30 a.m.–noon and Monday, June 30, 8–10 a.m., and ask what we can learn as our Association and profession continue into the 21st century.
Now Showing will offer a variety of films and documentaries throughout the day from Saturday, June 28, to Monday, June 30, and many will offer a chance to meet the film's writer, director, or subjects.
Saturday, June 29
8:30–10 a.m.
During the ALA Washington Office Update, former US Sen. Jim Webb of Virginia will discuss the upcoming national election season and detail ways that the political cycle will affect libraries. Following the Update, the Washington Office will host several breakout sessions from 10:30–11:30 a.m. that will offer hands-on training to improve library services on net neutrality; reimagining national public policy and library advocacy; libraries and e-government; and proven grassroots strategies for Friends, trustees, advocates, and foundations.
Sunday, June 29
7–9:30 a.m.
The Ethnic and Multicultural Information Exchange Round Table (EMIERT) and the Coretta Scott King Book Awards Committee celebrate the year's best African-American authors and illustrators of books for children and youth at the Coretta Scott King Book Awards Breakfast. The Coretta Scott King–Virginia Hamilton Award for Lifetime Achievement recipient will also be honored.
Sunday, June 29
8–10 a.m.
Hear from noteworthy and award-winning authors Daniel J. Brown, Tessa Dare, and V. E. Schwab at RUSA's "Literary Tastes: Celebrating the Best Reading of the Year." These authors' books are among RUSA's annual selections and also celebrate the art and craft of writing with fellow book lovers.
Daniel J. Brown: The Boys in the Boat: Nine Americans and Their Quest for Gold at the 1936 Berlin Olympics (Viking, 2013), RUSA Notable Book Nonfiction category winner. A story of eight oarsmen and their coxswain struggling to overcome the choppy waters and the hardships of the Great Depression in their pursuit of glory.
Tessa Dare: Any Duchess Will Do (Avon, 2013), the top pick for the Reading List's Romance category in 2014. A humorous and cleverly told story about how the very desperate-for-grandchildren Duchess of Halford strikes a bargain with her only son, Griff: Pick a woman—any woman. If she can transform her son's choice into duchess material, he must marry the girl. Griff picks the least likely candidate in bluestocking barmaid Pauline, only to quickly realize he has no idea whom he is dealing with.
V. E. Schwab: Vicious (Tor Books, 2013), the top pick for the Reading List's Fantasy category in 2014. Masterfully told, the story tells of a friendly rivalry turned vicious when college friends Victor and Eli obtain superhuman powers and use them for very different purposes. This dark paranormal fantasy, a riveting tale of vengeance and redemption, proves that extraordinary powers don't necessarily make superheroes.
Sunday, June 29
5:30–7:30 p.m.
Laugh out loud at United for Libraries' "The Laugh's On Us," sponsored by SAGE, featuring Paula Poundstone, author of I Heart Jokes: Paula Tells Them in Boston. Poundstone will be joined by Anthony Breznican, senior staff writer for Entertainment Weekly; Stephanie Evanovich, bestselling author of Big Girl Panties; Eric Kaplan, coexecutive producer of The Big Bang Theory; and Issa Rae, creator of the series The Misadventures of Awkward Black Girl.
Monday, June 30
2–4 p.m.
Enjoy tea and sweet treats at United for Libraries' Gala Author Tea, sponsored by ReferenceUSA. Featured authors include Heather Gudenkauf, Little Mercies; Laurie R. King, The Beekeeper's Apprentice; Jean Kwok, Mambo in Chinatown; Emily St. John Mandel, Station Eleven; and James Rollins, The 6th Extinction.
---
Exhibits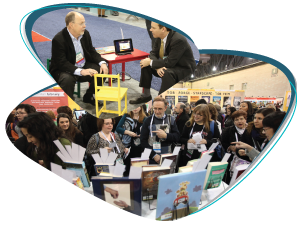 Featuring more than 775 organizations, multiple pavilions and stages, and the hottest authors, the exhibit hall is an integral part of your learning, professional development, and networking at Annual Conference. Explore a wide variety of library products, services, books, online services, tools, and technologies.
Friday, June 27, 5:30 p.m. The official opening ceremony and ribbon-cutting, featuring a brief welcome by ALA and Las Vegas dignitaries, will follow the Opening General Session. The Opening Reception includes food, drink, and entertainment in the exhibit hall, giving exhibitors and attendees their first chance to network as the exhibits kick off.
Exhibit Hours
Friday, June 27, 5:30–7 p.m.
Saturday, June 28, 9 a.m.–5 p.m.
Sunday, June 29, 9 a.m.–5 p.m.
Monday, June 30, 9 a.m.–2 p.m.
Individual booths will hold Meet the Author/Illustrator events, an opportunity to meet and greet favorite adult and children's authors and illustrators throughout the conference.
Specialty Pavilions
Find the latest publications, products, and technologies ideal for libraries.
Artist Alley—offers the best from all genres, from children's books to graphic novels.
DVD/Video Pavilion—showcases recorded materials for libraries of all types.
Government Information Pavilion—provides information from featured government agencies.
International Publishers Pavilion—the place to find multilingual and multicultural publications and library materials.
Library School and Instruction Pavilion—ALISE institutional members and other schools showcase LIS educational programs.
Mobile Applications Pavilion—see the latest apps to manage libraries, improve service to patrons, and help readers of all ages.
Technology/Library 2.0 Pavilion—features the latest products and services designed to increase the efficiency, effectiveness, and creativity of today's librarians.
Zine Pavilion—includes zine creators, librarians who manage zine collections, and a display of topical zines which will be raffled off to a library at the close of the exhibits.
Don't Miss
What's Cooking @ ALA Demonstration Stage, for mouth-watering displays of the latest cookbooks. Chefs will be there every day to prepare the hottest recipes on the Demonstration Stage and to autograph their latest books.
The PopTop Stage, focusing on extremely popular librarian favorites: mystery, humor, romance, technology, and travel. Features readings, discussions, panels, and presentations over the course of the exhibits.
Graphic Novel/Gaming Stage, to hear from authors, illustrators, and creators of popular games and graphic novels.
BookBuzz Theater, where favorite publishers entertain and inform you about their newest titles, including fiction and nonfiction for young readers and adults alike. Visit the participating publishers in their booths on the exhibit floor to see the full range of their new and most popular titles and to continue the conversations.
Wrap Up/Rev Up celebration. Join the fun in the exhibit hall, and look for special offers and prize giveaways. Monday, June 30, 9 a.m.–2 p.m.
---
First-Timers at Conference
With so many different and interesting programs taking place, navigating Annual can be intimidating. Here are some tools to help you make the most of conference.
ALA division and round table Conference 101 programs offer valuable assistance to attendees, especially first-timers. These programs are crafted to help you plan your conference experience based on your work or the type of library in which you work. Programs especially for new attendees are highlighted in the program guide.
If you selected "I am a first-time registrant of the ALA Annual Conference" during registration, you were automatically signed up to get a personal welcome from an ALA Ambassador—an ALA member who is a longtime conferencegoer. ALA Ambassadors can help you make connections to programs, people, and places before conference so your time is well spent once you get there. If you haven't signed up for a Mentor Slot already, check out the ALA Membership Pavilion in the registration area to see if slots are still available for someone to get you started finding your way around.
Also in the Membership Pavilion: You can connect with colleagues from the New Members Round Table, other members, as well as staff members who can answer any questions about conference, membership, and other happenings at ALA.
---
Customize Your Conference
Use the ALA Annual Conference Scheduler to see the full scope of all Annual has to offer and to plan and organize your conference activities. Highlights of the Scheduler include:
The ability to browse sessions in multiple ways;
Easy-to-create personal calendars that can be shared or kept private;
Tailored recommendations based on division, groups, library type, and interests specified in user profiles;
Ease of adding, prioritizing, and updating sessions and events;
Ease of adding booth visits and meetings with specific exhibitors;
A Quick-Start Guide to the Scheduler and other ways to get help and learn more.
Look for the Conference Scheduler mobile app for access at your fingertips.
Networking Uncommons
The Networking Uncommons is a dedicated small-group meeting area in the convention center, featuring tables, chairs, free Wi-Fi, and projectors and screens, along with technology to help push out content in real time. Sign up for specific time slots or drop in. There's enough space so that more than one group can use the room at a time. Be sure to check out the daily topics geared to specific interests.
---
The Job Hunt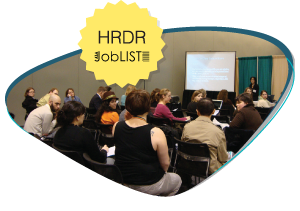 Provided by ALA's Office for Human Resource Development and Recruitment (HRDR), the ALA JobLIST Placement Center, located in the north hall of the Las Vegas Convention Center, is open Saturday, June 28, and Sunday, June 29, 9 a.m.–5 p.m., with an orientation on Saturday, June 28, 8:30 a.m.
As part of its continuing efforts to help job seekers retool their skills, the Placement Center hosts a free Open House Sunday, June 29, 10:30 a.m.–noon. Free services for job seekers include résumé posting on the JobLIST website, career guidance workshops, conversation with a career counselor, résumé review, and the chance to talk to employers in the Placement Center.
New this year, the Placement Center is offering a Professional Photography Service, where visitors can have a professional photo taken and receive a set of digital images created for their use in job applications, social media, and other networking opportunities. Cost is $15 in cash, check, or money order only.
Discover how to capitalize on the first impression, become familiar with behavioral interviewing technique, and adapt your style based on various interview formats in "Answering Tough Questions as You Improve Your Interviewing Skills" with Lila Fredenburg, director of administrative services at Rutgers University Libraries, on Saturday, June 28, 11 a.m.–12:30 p.m.
Brian Keith, associate dean for administrative services and faculty affairs for George A. Smathers Libraries at the University of Florida, provides a review of the selection process and lots of specific pointers for those seeking their first or next position in "The Ins and Outs of Job Hunting for Library Positions: An Insider's Perspective" on Saturday, June 29, 1:30–2:30 p.m.
Learn how to effectively use LinkedIn, Twitter, YouTube, Facebook, and Pinterest to network and find employment in "Become a Social Media GURU in Your Job Search" with Angelique Simmons, chief librarian at Throckmorton Library in Fort Bragg, North Carolina, Natasha Dass-Ford, youth services manager at Cumberland County (N.C.) Public Library and Information Center, and Naomi House, founder/publisher of INALJ.com (I Need a Library Job) on Saturday, June 29, 3–4:30 p.m.
Lara Phillips, reader services librarian at the University of the South Pacific in Suva, Fiji, and Kate Holvoet, library and learning commons supervisor at Zayed University in Abu Dhabi, UAE, discuss working for a foreign library and how to decide if a foreign job is the right move for you in "Getting a Library Job in a Foreign Country: How (and Why) to Do It and How to Thrive Once You Do" on Sunday, June 29, 9–10:30 a.m.
---
Timeline of Annual Conference Changes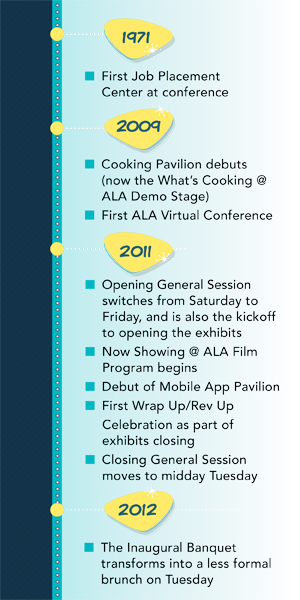 ---
Connect and Stay Informed
---
Business and Financial Meetings
Friday, June 27
ALA Executive Board I, 8:30–11:30 a.m.
ALA Budget Analysis & Review Committee (BARC), noon–3 p.m.
Saturday, June 28
Council Orientation Session, 8–10:30 a.m.
Council/Executive Board/Membership Information Session, 3–4:30 p.m.
ALA Membership Meeting, 4:30–5:30 p.m.
Sunday, June 29
ALA Council I, 8:30–11 a.m.
ALA Planning and Budget, 1–2:30 p.m.
Monday, June 30
ALA Council II, 8:30–11:30 a.m.
ALA Executive Board II, 1–4:30 p.m.
Tuesday, July 1
ALA Council III, 7:45–9:15 a.m.
ALA Executive Board III, 1–4:30 p.m.
---
Carnegie Medals for Excellence in Fiction and Nonfiction

Saturday, June 28,
8–10 p.m.
Don't miss the announcement and presentation of the third Andrew Carnegie Medals for Excellence in Fiction and Nonfiction, ALA's only single-book awards for adult trade fiction and nonfiction. The ceremony will be followed with a dessert and drinks reception.
Here are the 2014 finalists for the Andrew Carnegie Medal for Excellence in Nonfiction:
On Paper: The Everything of Its Two-Thousand-Year History, by Nicholas A. Basbanes. Published by Alfred A. Knopf, a division of Random House.
Five Days at Memorial: Life and Death in a Storm-Ravaged Hospital, by Sheri Fink. Published by Crown Publishers, an imprint of the Crown Publishing Group, a division of Random House.
The Bully Pulpit: Theodore Roosevelt, William Howard Taft, and the Golden Age of Journalism, by Doris Kearns Goodwin. Published by Simon & Schuster.
The 2014 finalists for the Andrew Carnegie Medal for Excellence in Fiction:
Americanah, by Chimamanda Ngozi Adichie. Published by Alfred A. Knopf, a division of Random House.
Claire of the Sea Light, by Edwidge Danticat. Published by Alfred A. Knopf, a division of Random House.
The Goldfinch, by Donna Tartt. Published by Little, Brown and Company, a division of Hachette Book Group.