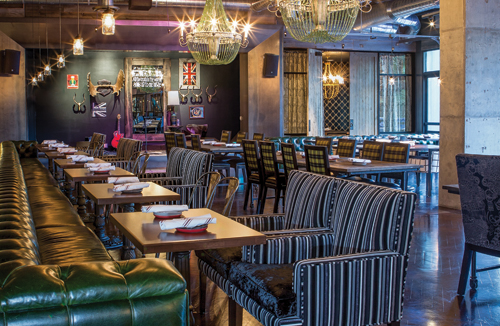 Buffets, 99-cent shrimp cocktails, and cigarette smoke-choked "gourmet rooms" once defined the Vegas culinary scene. The goal: Feed gamblers quickly so they can get back to the slot machines and roulette wheels. Not anymore. The city of neon has lured some of the world's best chefs and restaurateurs, all eager to build their brand (and sometimes experiment with new cooking styles) in a place packed with hungry foodies.
Vegas dining choices are endless and often expensive. A multi-course tasting menu in a chi-chi spot can easily set you back four figures; even coffee and a pastry may cause sticker shock. There are bargains, but you may have to search harder, drive farther, or be willing to bet on the unfamiliar.
Some insider advice: Everything in Vegas is farther away than it appears. What looks like a short stroll can turn into an hourlong slog. And while the monorail speedily connects the Strip to the Convention Center, the rails run on the backside of the resort-casinos, not down the center of Las Vegas Boulevard. Local bus service is fine only if you aren't in a hurry. Opt for cabs, especially if you are headed off the Strip or downtown.
All Vegas hotels have at least one 24-hour restaurant serving breakfast, lunch, and dinner. That's your best bet for breakfast. When you tire of the one at your hotel, another is next door. The Las Vegas Convention Center is so large it practically has its own zip code. Just a handful of restaurants are within walking distance and most are open only for dinner. Cabs are plentiful, so grab one for a 10-minute ride downtown, off-Strip, or to Chinatown if you seek an affordable, tasty lunch.
There is no comprehensive list of every Vegas restaurant, but one of the best resources is LasVegas.com/restaurants where you can search restaurants by cuisine, price range, and location.
AROUND THE CONVENTION CENTER
THE BARRYMORE
99 Convention Center Dr. (Royal Resort Hotel)
702-407-5303  barrymorelv.com
Don't be put off by the suspect-looking Royal Resort. Inside is a real find: modernized Rat Pack–infused glamor with blue-tufted booths and a ceiling lined with antique movie reels. A chic but unpretentious menu includes pan-roasted duck breast, seared ahi tuna, squash curry, and bone-in rib-eye. Pair your meal with local craft beer or one-of-a-kind vinos.
D daily $$$
PIERO'S
355 Convention Center Dr.
702-369-2305  pieroscuisine.com
Sitting in the shadow of the Convention Center, Piero's is old-school Vegas; so old school, it was featured in the movie Casino (staff will point out the table that hosted Robert De Niro and Sharon Stone). The fresh, authentic Italian cuisine that attracted the city's founding fathers continues to draw local bigwigs and celebrities. Though the kitchen prepares veal more than half a dozen ways, order the osso buco, Piero's signature dish.
D daily $$$
Good for large groups
THE STRIP
BACCHANAL BUFFET
3570 Las Vegas Blvd. S. (Caesars Palace)
702-731-7110  caesarspalace.com
Las Vegas is synonymous with the buffet, and Bacchanal at Caesars Palace may be among the most decadent, with more than 500 items. The menu runs from classics such as made-to-order omelets and prime ribs, to the cutting edge—regional comfort food like baked-to-order soufflés, red velvet pancakes, oak-grilled lamb chops, handmade Chinese dim sum, even roasted South Carolina shrimp and grits.
B, L, D daily $$–$$$
BOUCHON
3355 Las Vegas Blvd. S. (Venetian)
702-414-6200  buchonbistro.com
For a decade, America's culinary king, Thomas Keller (of French Laundry fame), has constantly wowed Vegas diners with Bouchon. The restaurant serves a menu of hearty bistro classics and daily specials, but it's the baked goods that have locals salivating. If you can't afford to drop a bundle on breakfast or brunch, make it a point to find one of the three Bouchon Bakeries inside the Venetian for a grab-and-go brioche and jam, chocolate croissant, or baguette with Nutella.
Brunch (Sat., Sun.), B, L, D daily   $$$
BUDDY V's RISTORANTE
3327 Las Vegas Blvd. S. (Venetian)
702-607-2355  buddyvlasvegas.com
Television celebrity baker Buddy "Cake Boss" Valastro brings a taste of his familia and heirloom recipes to town at Buddy V's. Meals here often feel like Sunday dinner at Grandma's, with "Nonna's lasagna" and "My wife's eggplant parm" on the menu, along with Italian-American classics and family favorites. An eclectic mix of furniture, Valastro family photographs, and light fixtures made of repurposed whisks and water jugs add to the homey vibe.
L, D daily $$
CARMINE'S LAS VEGAS
3500 Las Vegas Blvd. S. (Forum Shops at Caesars Palace)
702-473-9700  carminesnyc.com
"A great place to bring an army" is how Brock Radke, food editor at Las Vegas Weekly, describes this outpost of the New York City–based Italian restaurant located inside the Forum Shops at Caesars. Every dish is served family style. That means huge, sharable portions of fried calamari, penne in vodka sauce, rigatoni, and homemade chocolate cannoli.
L, D daily $$
Good for large groups
CHINA POBLANO
3708 Las Vegas Blvd. S. (The Cosmopolitan)
702-698-7900  cosmopolitanlasvegas.com
As its name implies, China Poblano cooks up both Chinese and Mexican fare. This isn't some strange goulash, though. Innovative chef José Andrés offers essentially two authentic styles of cooking on a single menu: half devoted to Mexican classics like tacos, quesadillas, and ceviche, and the other half to dim sum and noodles. Stick with one set of flavors or mix and match.
L, D daily $$
CRUSH
3799 Las Vegas Blvd. S. (MGM Grand)
702-891-3222  mgmgrand.com
This laid-back wine bar is ideal for small groups that enjoy tapas-style small plates and sharing larger family-style portions. Among the signature dishes are shrimp risotto, Angus mini burgers with buttermilk blue cheese, and California sea bass with braised kale and tomato chutney. Or choose from one of seven wood-fired pizzas.
D daily $$
DELMONICO STEAKHOUSE
3355 Las Vegas Blvd. S. (Venetian)
702-414-3737  emerilsrestaurants.com
Bam! Owned and operated by chef Emeril Lagasse, Delmonico Steakhouse delivers soul-stirring New Orleans–style cuisine with the signature bold flavors for which Lagasse is famous. House specialties: bone-in rib-eye steak, N'awlins barbecue shrimp, double-cut pork chop, and chicken for two carved tableside. Take the advice of Eater Vegas editor Susan Stapleton and stop at the bar and ask for Max. "He has a secret whiskey menu of drinks only available when he's there."
L, D daily $$$$
EL SEGUNDO SOL TAQUERIA
3200 Las Vegas Blvd. S. (Fashion Show Mall)
702-258-1211  elsegundosol.com
Mexico's vibrant flavors are the draw at this local hot spot where tortillas are made from scratch daily. Enjoy enchiladas, fajitas, and of course, tacos, as authentic as something you'd find across the border. Grab a seat at the outdoor patio, perfect for people-watching, and try the guacamole, Baja shrimp taco, and a prickly pear margarita (on the rocks or frozen), not too sweet or sour.
B, L, D daily $$
ESTIATORIO MILOS
3708 Las Vegas Blvd. S. (The Cosmopolitan)
877-551-7776  cosmopolitanlasvegas.com
Recognized by critics as one of the world's finest Greek restaurants, Estiatorio Milos has a reputation for serving exquisite fresh fish imported daily from around the world. While dinner will leave a serious dent in your wallet, the three-course lunch special is a steal at $22. Among the imaginative yet authentic Greek options are a tomato and feta salad, shrimp with couscous, and lavraki (grilled Mediterranean bass).
L, D daily $$–$$$$
FIVE50 PIZZA BAR
3730 Las Vegas Blvd. S. (Aria)
702-590-7111  aria.com
No matter how you slice it, Five50 Pizza Bar is an easy way to sample award-winning chef Shawn McClain's fare at bargain prices. The come-as-you-are spot serves handcrafted East Coast–style pizza like the Farmstead (with prosciutto, crème fraÎche, farm eggs, and country olives), and the North Beach (topped with clams, smoked mozzarella, sweet onions, and oregano).
L, D daily $$
GUY FIERI'S VEGAS KITCHEN & BAR
3535 Las Vegas Blvd. S. (The Quad Resort and Casino)
702-731-3311 guyfieri.com
Chef, author, and television host Guy Fieri's first foray into Vegas dining features is as extravagant as his personality. Don't miss the Mac and Cheese Bacon Burger. The winner of the 2013 Food Network New York City Wine and Food Festival Burger Bash is a massive hunk of meat topped with applewood bacon, six-cheese macaroni and cheese, lettuce, tomato, onion, pickle and more melted cheese on a garlic-toasted brioche bun.
L, D daily $$
MICHAEL MINA PUB 1842
3799 Las Vegas Blvd. S. (MGM Grand)
702-891-3922  mgmgrand.com
Well known for his innovative gourmet fare, chef Michael Mina now takes the casual route. This tavern-style restaurant serves pub grub with a playful twist, including some of the best burgers on the Strip. For example, the Peanut Butter Crunch Burger: American Wagyu beef cooked over a wood-fired grill topped with bacon jam, potato chips, and pimento cheese. Brock Radke, food editor at Las Vegas Weekly, calls it "oddly delicious." Try one of the more than 50 ales, pilsners, stouts, and lagers, or order a beer flight to sample several American and international brews.
L, D daily $$$
PIN-UP PIZZA
3667 Las Vegas Blvd. S. (Planet Hollywood)
702-785-5555  planethollywoodresort.com
Vegas does everything big, and this takeout joint is no exception. It sells by the slice only, but the standard 30-inch pizza means a single slice is huge. The New York–style pies come in seven varieties: cheese, white, sausage, pepperoni, artichoke, margherita, and meatball. Non-pizza choices include stromboli pinwheels, garlic knots, and cannoli.
L, D daily $
SECRET PIZZA
3708 Las Vegas Blvd. S. (The Cosmopolitan)
702-698-7860  cosmopolitanlasvegas.com
The worst-kept "secret" in Vegas is this pint-size pizza place tucked away at the end of a corridor on The Cosmopolitan's third level. You won't find any signs, so look for a long hallway lined with vintage record covers and hungry patrons. Buy an entire pie or a slice, and then elbow your way to one of the few stools or head to the hotel's "lounging" area where you'll find sofas and a pool table.
L, D daily $
TOM COLICCHIO'S HERITAGE STEAK
3400 Las Vegas Blvd. S. (Mirage)
702-791-711  mirage.com
New York transplant Colicchio focuses on meats prepared over an open flame, from wood-burning ovens to charcoal grills. It's steakhouse fare—ribe-eyes, filets, a 32-ounce porterhouse for two—but Colicchio appeals to varied palates with fun twists like charred octopus, buffalo carpaccio, and spice-roasted lobster.
D daily $$$$
WICKED SPOON BUFFET
3708 Las Vegas Blvd. S. (The Cosmopolitan)
702-698-7870  cosmopolitanlasvegas.com
This bustling food hall turns the traditional buffet on its ear. Instead of scooping out food from large pans or bowls, you pick up individual servings. The bone marrow draws raves as does the octopus salad, made-to-order mac and cheese, and the gelato bar.
B, L, D daily $$–$$$
OFF-STRIP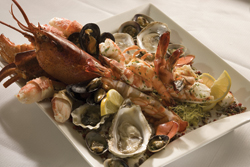 ALIZÉ
4321 W. Flamingo Rd. (The Palms)
702-942-7000  alizelv.com
Perched atop the Palms Casino Resort, Alizé boasts jaw-dropping panoramic views of the neon-lit Strip. This Michelin-starred restaurant isn't famous just for its floor-to-ceiling windows: French chef André Rochat's menu is the talk of the town. Las Vegas Review-Journal restaurant critic Heidi Knapp Rinella recommends the foie gras, lobster thermidor, and Dover sole prepared three ways. For a truly decadent end to your evening, pre-order one of the dessert soufflés.
D daily $$$$
CASA DI AMORE
2850 E. Tropicana Ave.
702-433-4967 casadiamore.com
The Rat Pack favored this neighborhood spot and it remains a local favorite, says Las Vegas Review-Journal critic Heidi Knapp Rinella. Classic rustic Italian dishes like cioppino, osso buco, baked lasagna, and chicken parmigiana are all prepared the old-school way. Casa Di Amore is backed with live music and a full bar, featuring a video poker lounge. An even better excuse to try their fare: a free ride. Just give them a call between 10 a.m. and 10 p.m. and they'll arrange comp limo service to and from your resort.
D daily $$$
CULINARY DROPOUT
4455 Paradise Rd. (Hard Rock Hotel)
702-522-8100  hardrockhotel.com
This high-energy gastropub sports a rock'n'roll vibe. Grilled cheese sliders, burgers, fried chicken, and meatloaf populate the menu, as do unique antipasti offerings that showcase hard-to-find meats, cheeses, and vegetables. There's no problem finding a great brew, with two-thirds of the menu dedicated to beer (draft, cans, and craft) and wine.
Brunch (Sat., Sun.), L, D daily  $$
FERRARO'S
4480 Paradise Rd.
702-364-5300  ferraroslasvegas.com
House-made pastas (whole wheat and gluten-free available), legendary osso buco, homemade sausage … it's little wonder locals flock to this Italian restaurant and wine bar across from the Hard Rock Hotel. Dinner favorites include pappardelle mimmo, a long, wide pasta with scallops, lobster, asparagus, butter, sage, and truffle; polpette, Italian meatballs in tomato sauce; and, of course, the osso buco, a veal shank braised in red wine reduction. A "Love Your Lunch" special runs just $9.95 for two courses.
L, D (M–F); D (Sat., Sun.) $–$$$
FU
4455 Paradise Rd. (Hard Rock Hotel)
702-522-8188  hardrockhotel.com
Satisfying the tastes of the Hard Rock Hotel's large Asian clientele, Fu serves Korean, Vietnamese, Chinese, and Thai cuisines. Las Vegas Weekly food editor Brock Radke recommends the spicy Thai basil chicken lettuce wraps, traditional Chinese-style pork barbecue ribs, and the spicy Mongolian beef. Lunch bowls served with jasmine rice and soup du jour are available from 11:30 a.m. to 3 p.m.
L, D daily $$
NOBU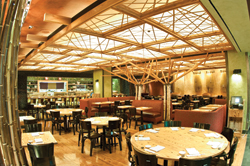 4455 Paradise Rd. (Hard Rock Hotel)
702-693-5090  noburestaurants.com/las-vegas
Las Vegas Weekly food editor Brock Radke calls it "one of the best Japanese restaurants in town and potentially one of the most expensive." Created by chef Nobu Matsuhisa and his pupil, Iron Chef Morimoto, Nobu serves trendsetting Japanese cuisine. Fine Wagyu beef is sold by the ounce, and you can get eel, sea urchin, and squid. Set yourself up at the sushi bar stocked with fish flown in daily from Tokyo, or simply hand over your credit card and order the omakase multi-course chef's tasting menu. So worth it.
D daily $$$$
DOWNTOWN
ANDIAMO ITALIAN STEAKHOUSE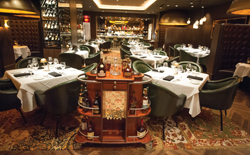 301 Fremont St. (The D Las Vegas)
702-388-2220  thed.com
Vintage Vegas atmosphere permeates this downtown restaurant where the waiters sport tuxedos but patrons don't need to don a tie. A traditional steakhouse menu sits beside classic Italian fare. Caesar salad is prepared table side. Indulge in a 24-ounce porterhouse, whole Maine lobster, rack of lamb, or osso buco. Expect a large wine selection and even larger meatballs.
D daily $$$
EAT
707 Carson St.
702-534-1515  eatdtlv.com
Ask a Vegas local where to go for breakfast or lunch and the answer is likely to be Eat. Brainchild of chef Natalie Young, the intimate spot is all about comfort food and a healthy dose of self-indulgence. Your biggest problem won't be the line but choosing between beignets with homemade jam, golden-brown pancakes, shrimp and grits, or a "killer" grilled cheese of aged cheddar on sourdough.
B, L daily $
LA COMIDA
100 Sixth St.
702-463-9900  facebook.com/LaComidaLV
A former laundromat is transformed into a chic cantina in the newly revitalized Freemont East District. Don't expect combo plates or nachos. Instead, the tidy menu offers an eclectic spin on south-of-the-border dishes such as the Mexican burger, complete with ancho chilies and jalapeño bacon with sweet-potato fries on the side. La Comida serves unlimited family-style rice and beans with its entrées for everyone at the table to share.
L, D daily $$
Good for small groups.
OSCAR'S
1 Main St. (Plaza Hotel and Casino)
702-386-7227  oscarslv.com
Former Las Vegas mayor Oscar B. Goodman collected plenty of memorabilia during his 12-year tenure. See it for yourself at this steakhouse inside the iconic dome of the Plaza Hotel and Casino overlooking Fremont Street. Flavorful, tender, and juicy, the beef is cooked to perfection and is accompanied by high-quality, made-from-scratch sides. Adjacent to the steakhouse is Oscar's famous bar, pouring a variety of handcrafted cocktails, including legendary martinis, Goodman's signature drink.
D daily $$$
PIZZA ROCK
201 N. Third St.
702-385-0838  pizzarocklasvegas.com
What does an 11-time world pizza champion do for an encore? Open a gourmet pizzeria in downtown Las Vegas, of course. Tony Gemignani's Pizza Rock serves every style of pizza imaginable, baked in one of the restaurant's four ovens. Highlights include the Napoletana-style margherita and the Cal Italia (asiago, mozzarella, imported Gorgonzola, sweet fig preserve, prosciutto di parma, Parmigiano-Reggiano and balsamic reduction), which won the Food Network's pizza champions' challenge. The pizzeria also has winning panini, calzones, stromboli, grinders, and meatball subs.
L, D $–$$
FURTHER AFIELD
Grab a cab and take a 10-minute ride along Spring Mountain Road to what locals call "Chinatown," a series of strip malls housing a delicious variety of Asian restaurants.
CHADA THAI & WINE
3400 S. Jones Blvd. #11A
702-641-1345  chadavegas.com
Named one of the best sommeliers of the year in 2013 by Food and Wine, Bank Atcharawan is both sommelier and chef at this intimate spot lauded for its take on southern and Bangkok-style Thai cuisine. Try fried pig's ears, garlicky charbroiled prawn and eggplant, and crispy pork belly stir fried with broccoli. Chili peppers on the menu cue diners to what is hot, hotter, and smokin'. Wine is as important as the main dishes, with staff eager to help you pair the perfect pinot blanc or merlot with your selections.
D daily $$
MONTA RAMEN
5030 Spring Mountain Rd. Ste. 6
702-367-4600  montaramen.com
This authentic, Tokyo-style ramen noodle house serves the real deal. Raves Eater Vegas editor Susan Stapleton, "It's toe-curling good." Thin handmade noodles swim in a creamy cloudy white broth made from pork bones that have been boiling for days. The tangy, savory soy sauce added to the Shoyu Ramen is imported from Japan. Prices are low, so don't be shy if you want kae-dama, or extra noodles ($1.50), for your soup.
L, D daily $
RAKU
5030 W. Spring Mountain Rd. #2
702-367-3511 raku-grill.com
The wildly popular Raku specializes in charcoal-grilled fare. With a menu that runs from foie gras with glazed soy sauce and Kobe beef liver to poached egg with sea urchin and salmon roe, your best bet is to tell your server what you like and don't like and let them go to town.
D (M–Sat.) $–$$
Dining options for vegetarians and vegans
GO RAW CAFÉ (LAKE EAST)
2910 Lake East Dr.
702-254-5382
GO RAW CAFÉ (WINDMILL LANE)
2381 E. Windmill Lane, Unit 18
702-450-9007
RAW FOOD EXPRESS
5105 S. Fort Apache, Unit 110
702-992-0499
SIMPLY PURE
707 Fremont St., Ste. 2310
702-810-5641
FRESH MAMA'S
(inside Vegas Hot Yoga and Pilates)
5875 S. Rainbow Blvd., Ste. 104
702-726-2621
VEGGIE DELIGHT
3504 Wynn Rd. (Chinatown)
702-310-6565
VEGGIE HOUSE
5115 Spring Mountain Rd.
(Chinatown)
702-431-5802
PRICE GUIDE
Average price per person for entrée without appetizers, drinks, tax, or tip.
$: under $14
$$: $15–$24
$$$: $25–$50
$$$$: $51 and up
LAURA DAILY is a travel writer and executive editor of livingonthecheap.com.