Chicago and comfort food go together like "da" and "Bears," and it may have something to do with those bone-chilling winters that rattle the city each year.
While the ultimate Windy City comfort foods are the oh-so-familiar Chicago-style hot dogs and deep dish pizza, each neighborhood offers its own soothing culinary creature comfort: noodles in Chinatown, tacos in Pilsen, and reinvented diner fare in the trendy West Loop. (All of the spots listed within this guide are within an easy El or cab ride from McCormick Place.)
Wherever you go and whatever your budget, you'll discover that one of the great things about Chicago's dining scene is a lack of pretension, even at places covered in diamonds and stars. We're Midwesterners, after all, and kindness is something we strive for, whether we're shelling out a mortgage payment to try the latest in gastronomy or debating, over a slice, which pizza joint invented deep dish.
Pizza Pie
A Chicago trip isn't complete until you've waited 45 minutes for your deep dish to bubble. While Pizzeria Uno, 29 E. Ohio St. (312-321-1000; unos.com) claims to have created Chicago deep-dish-style pizza (like all food origin stories, it's murkier than that), we're partial to Lou Malnati's Pizzeria (see below), which has multiple locations, including one in the South Loop where you generally don't have to wait in the winding lines of tourists. Malnati's pizza, with its golden crust brushed with corn meal, just tastes better. The same goes for the Malnati-owned Pizano's Pizza and Pasta, also with multiple locations, including one in the Loop at 61 E. Madison St., (312-236-1777; pizanoschicago.com). Another popular chain—known for its stuffed pizza—is Giordano's, with a location on the Near South Side at 1340 S. Michigan Ave. (312-842-1100, giordanos.com). Gino's East, which has a South Loop location at 521 S. Dearborn St., (312-939-1818, ginoseast.com) has been slinging the Windy City favorite since 1966. Or if you want to go where the locals go for deep dish, head to Lincoln Park's Pequod's Pizza, 2207 N. Clybourn Ave. (773-327-1512, pequodspizza.com), where the gut-busting 10-inch small pie delivers more than a day's supply of delicious calories.
South Loop/Near South Side
Flo and Santos
1310 S. Wabash Ave.
312-566-9817
The pizza at Flo and Santos may not always make "best of" lists, but that helps regulars keep it their own "best of" secret. With cozy red leather booths, exposed brick walls, and addictive tavern-style pizza (thin crust with square cut slices), this comfy spot helps you forget the teeth-chattering Chicago cold. The menu also has an impressive array of salads, sandwiches, and pierogi.
L, D daily $
Lou Malnati's Pizzeria
805 S. State St.
312-786-1000
If you've never tried Chicago deep dish, go to Lou Malnati's. If you've only tried Chicago deep-dish from other places, go to Lou Malnati's. If you've been to Lou Malnati's, go back to Lou Malnati's. I'm going to risk a war by calling Malnati's the best deep-dish pizza in the city. With a thick, golden crust brushed with cornmeal,  scads of gooey cheese, and thick sauce, your mouth will want more but your stretched stomach will say no.
L, D daily $
Opart Thai House
1906 S. State St.
312-567-9898
Massaman curry, tom ka kai soup, and curry fried rice have warded off many cold nights at Opart Thai House. This small restaurant has an extensive menu filled with protein as well as vegetarian-friendly entrees. It's no surprise that business here picks up significantly in wintertime.
L and D daily $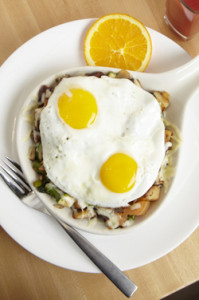 Yolk
1120 S. Michigan Ave.
312-789-9655
For breakfast seekers, Yolk does a little of everything. And they do it well, from the traditional (smoked salmon platter) to the froufrou (bananas Foster crepes). Not up for eggs? Choose from soups, salads, sandwiches, wraps, and burgers, with plenty of vegetarian options.
B, L daily $
Pilsen
Birrieria Reyes de Ocotlan
1322 W. 18th St.
312-733-2613
Named for its Czech immigrants, Pilsen is today a Latino-dominated neighborhood and a great place for Mexican food. Adventurous spirits will find something to push even the most generous of comfort zones at Birrieria Reyes de Ocotlan. Feast like a king on $2 cabeza (cow head), lengua (cow tongue), and goat tacos, along with the popular goat meat stew (birria). Don't scrutinize the cheap eats too much or you might miss a sighting of celeb chef Rick Bayless, who's a regular.
L, D daily $
Dusek's
1227 W. 18th St.
312-526-3851
Gentrification was happening in artsy Pilsen long before Dusek's opened, but this restaurant has been an impressive magnet to the area's draw. Dusek's excels at rich, delicious comfort food (hangar steak, porchetta, and one of the best burgers in town) and offers a particularly decadent brunch. Head downstairs to enjoy a cocktail at the flamboyant Punch House and check the website to see who's playing at the onsite Thalia Hall, a gorgeous, recently renovated historic theater.
Brunch (Sat, Sun), D daily $$
Nuevo Leon
1515 W. 18th St.
312-421-1517
On weekends, prepare to wait in line at Nuevo Leon for down-home enchiladas, tacos, and menudo like mama used to make. Don't expect anything fancy here, just fresh flavors and happy families. Nuevo Leon has a bring-your-own alcohol policy, so if you want a cerveza, you'll have to rely on your own stash.
B, L, D daily $
Little Italy
County Barbeque
1352 W. Taylor St.
312-929-2528
Perfuming the Little Italy neighborhood with the hunger pang-inducing smell of smoked meats, County Barbeque is where roadhouse meets trendy. American flags and animal heads cover the walls and the bourbon menu goes on forever (try one of the carbonated bourbon cocktails). The barbecue is inspired by all the American greats—St. Louis ribs, Texas brisket, Chicago rib tips, KC burnt ends—and the sides, like the cheddar grits and mac and cheese with burnt ends, are a meal themselves.
L, D daily $-$$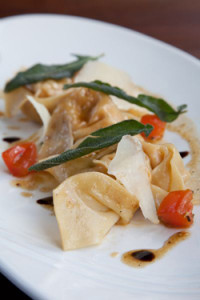 Francesca's on Taylor
1400 W. Taylor St.
312-829-2828
Red sauce, a glass of red, and winter go together even better than usual at this cozy Italian spot in the heart of Little Italy. The menu is filled with pizzas and pastas as well as protein-centric classics, including roasted meats and fishes. The restaurant also offers a gluten-free menu.
L (M-Sat), D daily $$-$$$
The Loop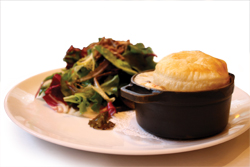 Atwood
1 W. Washington St.
312-368-1900
Editor's note: Atwood is closed for renovations until Spring 2015.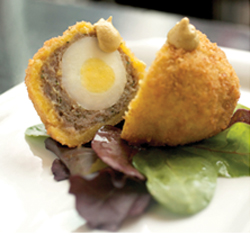 The Gage
24 S. Michigan Ave.
312-372-4243
This gastropub with a rollicking bar and quieter dining area is just refined enough without feeling buttoned down. With its prime location across from Millennium Park, you'll find suits stopping in for an after-work drink and visitors exhausted from a day at the Art Institute. The Gage makes a crave-worthy burger, along with a good mix of creative comfort food (brisket pot pie, house-crafted sausages) and more daring offerings (bison tartare, poutine with smoked wild boar, grilled rack of elk).
L, D daily $-$$$
Lou Mitchell's Restaurant and Bakery
565 W. Jackson Blvd.
312-939-3111
A breakfast favorite since 1923, Lou Mitchell's serves up the classics—nothing fancy here—to the bleary-eyed masses. You'll be greeted at the door with a basket of doughnut holes and Milk Duds to nibble while waiting for a table. Be alert, you may rub elbows with Chicago politicians and local celebs while you wait.
B, L daily $
Park Grill
11 N. Michigan Ave.
312-521-7275
Nestled in the heart of Millennium Park, you'd think Park Grill would be a tourist trap that serves overpriced, mediocre food. Surprise! The fare is fresh, honest, and varied. Sandwich highlights include falafel, turkey pastrami, and a lobster roll, while entrees rival nearby upscale eateries with choices that include Skuna Bay salmon, steak and pommes frites, and lobster fra diavolo, and the requisite salads, burgers, and flat breads.
L, D daily $-$$
Russian Tea Time
77 E. Adams St.
312-360-0000
At Russian Tea Time, you can mix your uppers (tea, lots of it) with your downers (vodka, lots of it). Located steps from the Art Institute and Chicago Symphony Center, this restaurant is bustling before and after performances, but during off hours it takes on the feel of a once elegant hotel straight out of The Shining. Crowds are a mix of young business types, older arts patrons, and hardscrabble vodka lovers from the old country guzzling beef stew and horseradish vodka.
L, D daily $-$$
Chinatown
You'll know you've arrived in Chinatown by the pagoda-style architecture and the large red and green gate with Chinese characters across it that spans S. Wentworth Ave. The area is just a mile from McCormick Place—if you can, budget a few hours to browse for Chinese lanterns and trinkets and enjoy at least one good meal.
The spacious, fairly elegant Phoenix, 2131 S. Archer Ave. (312-328-0848; chinatownphoenix.com), has room for big tables of family or friends to enjoy the Cantonese (and some Szechuan) cuisine. A good sign: The place attracts lots of Chinatown locals. It's especially popular for dim sum brunch, so come early to avoid the wait. Late night, stop by the more casual Saint's Alp Teahouse downstairs (312-842-1886), an outpost of the Hong Kong chain, which serves refreshing bubble tea and other varieties until at least midnight daily. The menu at Lao Sze Chuan, 2172 S. Archer Ave. (312-326-5040; tonygourmetgroup.com) reads like a book, but stick with the revered—and spicy—Tony's Chicken with Three Chili, and you'll be happy. Head over to Hing Kee, 2140 S. Archer Ave. (312-808-9538; hingkeeonline.com), and watch a noodle maker in action, pulling pasta before it makes it to your bowl for slurping.
The West Loop
Au Cheval
800 W. Randolph St.
312-929-4580
Grab a counter spot if you can, and prepare to get your meat on. Au Cheval feels like a dimly lit, nothing-to-see-here bar until you get the menu, which takes diner food and injects it with carnivore crack. While the foie gras with eggs is a little rich for my blood, I swear by the crispy potato hash with duck's heart gravy. One bite of the fried, house-made bologna sandwich, served on an airy roll and paired with a Horse's Neck cocktail, and you'll curse your elementary school sandwiches for failing to live up to their potential. Gluten-free and dairy-free options are available.
Brunch (Sun), L, D daily (kitchen closes from 3–5 p.m. daily) $$
Girl and the Goat
809 W. Randolph St.
312-492-6262
Girl and the Goat is a name that even the most seasoned Chicago foodies utter with reverence. The restaurant is the brainchild of celebrity chef Stephanie Izard (2008 Top Chef winner), who's as talented with creating the exotic (say, wood oven roasted pig face, escargot ravioli, or duck tongues) as the more staid, such as Hamachi crudo and sautéed green beans. Of course, there are a number of goat options. Reservations are recommended but they're hard to get, unless you're willing to eat early (4:30 or 5 p.m. on a weeknight). I suggest grabbing a spot at the bar and joining the bubbly crowd. Waiting is practically a rite of passage here.
D daily $$$
Little Goat
820 W. Randolph St.
312-888-3455
Little Goat is the diner concept of Girl and the Goat chef Stephanie Izard (see above). Breakfast is served from 7 a.m. daily until late night, and meals range from cross-cultural (the Parathas Burrito is Indian flatbread, egg, avocado bean salad, and sheep's milk cheddar) to weird-but-kind-of-amazing American (the Bull's eye French toast with eggs, fried chicken, sweet onion brioche, and barbecue maple syrup). Everything is a la carte, so don't forget to add an order of tempura mashed potatoes and a Sloe Punch cocktail to the mix for the breakfast of champions.
B, L, D daily $-$$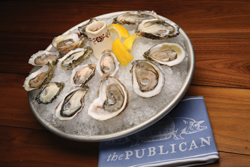 The Publican
837 W. Fulton Market St.
312-733-9555
Modeled after a European beer hall with an impressive beer menu, The Publican features sparse décor, making the so-serious-they're-funny pig portraits on the walls stand out even more. The pig-heavy menu offers aged ham, spicy pork rinds, pork belly, and porchetta. Non-swine options include an impressive selection of oysters and fish. The veggies, particularly the Brussels sprouts with burrata, Parmesan, lemon, and sesame seeds are so good they almost outshine the proteins. Reservations strongly recommended.
Brunch (Sun), D daily $$-$$$
The Magnificent Mile and Gold Coast
Billy Goat Tavern
430 N. Michigan Ave.
312-222-1525
People don't exactly come to Billy Goat Tavern for a delicious meal (but I didn't tell you that). The hamburgers are mediocre at best and, if you've seen the Saturday Night Live skit that made this place famous, then you already know what they'll say when you try to order fries: "No fries, cheeps!" What you will find at the original subterranean Michigan Avenue joint is more than 80 years of history, a steady stream of newspaper reporters (Tribune Tower, where the Chicago Tribune is located, is within stumbling distance), and a nicer-than-you'd-think staff made famous by SNL. Come for the dive bar atmosphere and know that the cheezborgers are there, should you need one.
B, L, D daily $
Nico Osteria
1015 N. Rush St.
312-994-7100
This Italian restaurant hit the ground running in late 2013 and quickly became one of the hottest reservations in town for incredible seafood, line caught and flown in from across the world. Also delicious: the house-made pasta and house-made bread, along with the sandwiches served on that bread during lunch, especially the artichoke, burrata, and pesto (yum!). Food is prepared in traditional Italian style: fresh and simple, using the best ingredients available. It's one of my top picks for dining in the Gold Coast.
B, L, D daily $$-$$$
Pump Room
1301 N. State Pkwy.
312-601-2970
To give you a hint of just how historic the Pump Room is, it's referenced in the classic, 1920s song, "Chicago (That Toddlin' Town)." Today, the restaurant has been reimagined by hotelier Ian Schrager (of Studio 54 fame), who brought in vaunted Chef Jean-Georges Vongerichten to devise the farm-to-table menu. A number of dishes were inspired by the original Pump Room menu, and choices range from decadent short ribs and an incredible burger to lighter fish dishes, pasta, and flatbread.
B (M–F), Brunch (Sat, Sun), L (M–F), D daily $$-$$$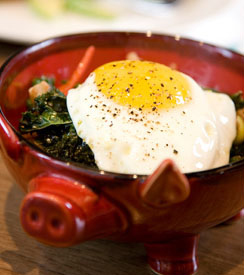 The Purple Pig
500 N. Michigan Ave.
312-464-1744
There's a reason The Purple Pig has a line out the door almost every night: It is porcine perfection. The bubbly after-work crowd can't leave work fast enough to get here (lines start forming usually by 5 p.m.). This casual, meat-heavy Mediterranean Mag Mile bistro, with a broad and affordable wine list, serves up shared plates from all parts of the animal, including pig tails and tripe, while also excelling at veggies, like shaved Brussels sprouts and braised baby artichokes. No reservations are accepted so arrive early or plan to wait.
L, D daily $$-$$$
Spiaggia
980 N. Michigan Ave.
312-280-2750
Executive Chef Tony Mantuano has elevated Italian food in Chicago. Spiaggia was the first (and remains the only) four-star Italian restaurant in the city. For a treat, splurge on the $155-$165 thematic menu (which includes antipasti, pasta, protein, and dessert) and experience vibrant straight-from-Italy flavors, such as lobster with citrus, watermelon and lavender, foie gras ravioli, and more, all paired perfectly (upon request) with a red or white from the exhaustive wine list. If you're not prepared to shell out the big bucks, visit the adjacent Café Spiaggia (312-280-2750) for a less formal meal for lunch or dinner.
D daily $$$-$$$$
River North
Eataly
43 E. Ohio St.
312-521-8700
Mario Batali opened this two-level Italian market/eatery extravaganza in late 2013, and it's only the second Eataly in the US. (Brag: While it didn't open first, the Chicago store trumps the city-block-sized New York Eataly by about 13,000 square feet.) In addition to its incredible stockade of specialty foods imported from Italy (including truffles in any form you can imagine), Eataly features a pasta-by-the-pound counter, a butcher, a baker, seafood, cheese, wine, beer, lotions, potions, and more, along with 23 eateries and bars—including a Nutella/crepe station. It's a great spot to do a fun, progressive, wine-filled meal.
L, D daily $-$$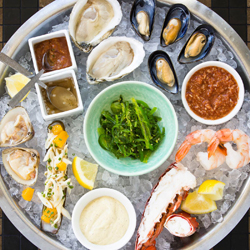 GT Fish and Oyster
531 N. Wells St.
312-929-3501
It's easy to find heavy, meat-filled foods in River North. More of a challenge is discovering delicate, fresh seafood like the kind at GT Fish and Oyster. Seasonal, simple, and meant to be shared, the light options—like the whole roasted fish and a seafood platter—are balanced by decadent choices like fish and chips, a lobster roll, and mac and cheese with lobster.
Brunch (Sat, Sun), L (M-F), D daily $$-$$$
Rick Bayless Bites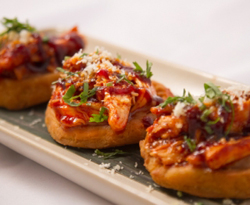 Topolobampo ($$$-$$$$), Frontera Grill ($$-$$$) and Xoco ($)
445 N. Clark St.
312-661-1434
rickbayless.com/restaurants/topolobampo
rickbayless.com/restaurants/frontera-grill
rickbayless.com/restaurants/xoco
Since winning Bravo's Top Chef Masters in 2009, Rick Bayless has become a household name, synonymous with fresh, organic Mexican food that uses ingredients from local farms. Dining at a Rick Bayless spot is popular on the Chicago bucket list, and you have a number from which to choose. Topolobampo is his top-tier restaurant, and it's quite a change from the "expected" Mexican restaurant atmosphere with its linen tablecloths and museum-grade art on the walls (reservations strongly recommended). The menu changes monthly, but expect to find bold, soulful flavors—different chilies, fruits, and nuts—complementing game, seafood, and meat dishes. The casual and energetic Frontera Grill is the most fun of the bunch and serves top-notch versions of Mexican classics—quesadillas, grilled meats, rich moles, and tender braised items, along with Mexican street snacks. To taste Bayless for less, try the fast-casual Xoco (pronounced SHO-ko), which offers straightforward counter service (soups, salads, sandwiches, and churros) and churns people in and out at lightning speed.
Bayless's reach has spread beyond his River North haunts, and you can find his fast-food spots, called Frontera Fresco, around the city and at O'Hare. If you're in The Loop, visit the Frontera Fresco on the seventh floor of Macy's, 111 N. State St. (312-781-4884), for affordable tortas, salads, soup, and other Mexican items.
Topolobampo: L (T–F), D (T–Sat); Frontera: Brunch (Sat), L (T–F), D (T–Sat); Xoco: B, L, D (T–Sat)
Average price per person for entrée without appetizers, drinks, tax, or tip.
$: under $14
$$: $15–$24
$$$: $25–$50
$$$$: $51 and up
Information contained in this dining guide originally appeared in the 2015 Frommer's EasyGuide to Chicago, and has been tailored to American Libraries and edited by guidebook author Kate Silver with the Frommer's permission.
KATE SILVER is a freelance writer living in Chicago.