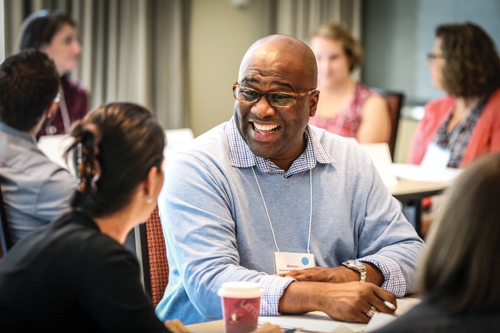 When Erica Freudenberger, director of the Red Hook (N.Y.) Public Library, set out to make change in her community, she knew she couldn't do it alone—she would need the community itself to help her. And though her community is small—1,900 people inhabit the village of Red Hook—it has proven itself mighty, making changes that community members have wanted to see for many years.
Of course it wasn't Freudenberger and the community alone who made these changes happen; it was thanks in part to an initiative called Libraries Transforming Communities (LTC), which launched a program in April 2014 involving 10 library districts. The initiative is the result of a partnership between the American Library Association and the Bethesda, Maryland–based Harwood Institute for Public Innovation, and it focuses on how libraries can turn outward to their communities for input and inspiration.
When Freudenberger and a mix of four library volunteers, staff, and an intern—combined into what is called a "cohort"—first started brainstorming on approaching community members to get insight on how to raise the quality of life, one member suggested going door-to-door. Brent Kovalchik, deputy mayor of the village as well as a member of the cohort, found that people feel less intimidated on their own turf. So the team hit the pavement and started talking to neighbors to discover their hopes for Red Hook.
During the door-to-door effort, Freudenberger and her cohort learned from several residents that the village's sole traffic light was troubling them—the timing of it was causing a safety issue.
"We kept hearing concerns about the stoplight and that it was a much greater concern than initially realized," says Freudenberger.
Thanks to conversations with 160 people, several of whom spoke about the traffic light, the problem is being addressed. The cohort and its community now have moved on to focus on a sidewalk issue in the region.
Community Conversations
While the Red Hook story is certainly inspiring, what is perhaps even more uplifting is that there are nine other cohorts across the country who have the opportunity to make similar changes in their own communities, thanks to the LTC project.
The ALA–Harwood partnership is the result of a $1.5 million grant from the Bill & Melinda Gates Foundation. As part of the initiative, cohorts made up of three to six people represent each selected library district. These teams attend several training sessions put on by the Harwood Institute's Public Innovators Lab, where they learn how to ask crucial questions that get at the heart of what community members desire for their town.
The ten core libraries selected to participate in LTC are:
Columbus (Wis.) Public Library
Hartford (Conn.) Public Library
Knox County (Ind.) Public LIbrary
Los Angeles Public Library
Red Hook (N.Y.) Public Library
San José (Calif.) Public library
Springfield (Mass.) Public Library
Suffolk (Va.) Public Library
Tuscaloosa (Ala.) Public Library
Spokane County (Wash.) Library District
The libraries were selected by ALA from about 80 applications and range in service population size from 1,900 to 3.8 million people.
The cohorts began their 18-month process of carrying out the initiative during a three-day course in Denver in May 2014, at which they began to learn the "Harwood practice." This includes several basic tenets, such as a set of quick questions that can be used in short conversations, as well as some larger principles such as focusing on aspirations.
When Sarah Townsend, outreach services manager of the Suffolk Public Library, and her cohort conducted a conversation with 11 people in a rural region of their community (the Harwood approach says 8–15 people in a conversation is optimal), they found that many of them felt out of the loop knowing when town events take place. Thanks to this conversation, Townsend and her staff were able to make a change literally overnight to better their community.
"One of the simple suggestions that came out of that conversation was that we start using the library marquee to advertise community events," she says. "This was a simple thing that we could do right away. So we changed our sign the next day to reflect an upcoming event."
Implementing Suggestions
While the Red Hook and Suffolk cohorts have been able to make changes relatively early on in the year-and-a-half initiative process, other cohorts are still getting their feet wet with the listening part of the journey. With each meeting, however, they are finding ways to improve upon their methods to garner more feedback from community members.
ALA President Courtney L. Young says that this phase of conducting community conversations is a good time for the cohorts to make sense of what they're hearing from residents and a good time to build partnerships with other organizations in their regions. Young says she is excited for the variety of results these conversations could bring about, in due time.
"Outcomes could be anything from new after-school programs to new partnerships to an action plan to bring better services to new immigrant populations," she says. "Whatever the actual outcomes are, we are confident this process will have numerous positive results, including better communication between the library, its partners, government, and residents, and a clearer sense of their residents' hopes for their community."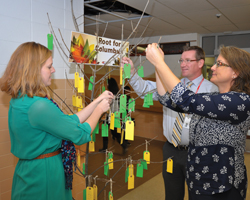 To find out what its residents hoped for, the Columbus (Wis.) Public Library cohort decided to circulate a "wishing tree" around the region. The tree, gathered from the local department of public works during a shrubbery clean up, has been set out in various locations, and community members can post or hang their wishes for the community on it. The tree first sat at the library, then spent time at a school, a bank, and a hospital. With this and two other trees made of construction paper that remain at the library, the cohort has received about 200 wishes from residents. The messages indicate to the library staffers that people want a sense of community itself.
Expect a learning curve
Jean Canosa Albano, manager of public services of the Springfield Public Library, acts as a coordinator and team leader of her cohort. She says that while the Harwood approach is aligned with how she likes to work, there is still a learning curve, for example, to hold meetings in ways that are different from what she and her staff are used to doing.
"We're still figuring out the best way to do this," she says. "This is asking us to pull people together and just listen. It's surprising, gratifying, and sometimes difficult."
Canosa Albano and her cohort have conducted three community innovation meetings ranging in group size from three to 12 people, and they look to represent various ages, neighborhoods, and ethnicities in each one.
"We're already starting to see a couple of patterns that may predict where we go next with this," she says.  "I am looking forward to having enough information to take it to a [community] partner that could act on it either with or without us."
One of Canosa Albano's colleagues in the LTC program is Randall Studstill, a librarian at the Seven Trees branch of the San José (Calif.) Public Library. Studstill says that while his staff is already rather outwardly oriented, the Public Innovators approach is helping to stretch both his cohort and himself.
That said, Studstill's experience in practicing some of the approaches hasn't been without its struggles.
He and his team found when scheduling community conversations for a specific time and place, it wasn't always easy to get people to show up. Studstill's particular branch of the library is unique in that it's attached to a community center. So, in the spirit of turning outward, he went to a neighbor—a pastor in a nearby space—to find a time that worked best for members of that church. As a result, Studstill was invited to attend a worship service and use time afterward to engage with individuals already in attendance.
Because of the LTC initiative, he says, "I've been able to form new connections and relationships with members of the community."
Despite some struggles to get community members to attend meetings, Studstill has had some luck in gathering attendees; so far he has hosted four conversations, with each consisting of about seven people.
Another library with other community entities physically close by is the Van Nuys branch of the Los Angeles Public Library, headed by manager Kelly Tyler. Tyler has been leading community conversations in her area, and her branch sits adjacent to the neighborhood police station. She is also a city council member, giving her a leg up in conducting community conversations.
Tyler says this is advantageous to the community focus of the Harwood approach. For example, she has found in her work so far that safety is a concern for members of the Van Nuys community, a Los Angeles neighborhood of more than 100,000 people. Being close to the police station doesn't mean the library itself can act on public safety issues, but it certainly doesn't hurt. "I can't fix safety [issues] on my own," Tyler says, "but it's something we can talk about." Thanks to LTC community conversations, it is being talked about.
Tyler says that, although it can be awkward, approaching community members directly can be an effective way to gather people for discussions and input.
"It's hard to approach people just randomly," she says. She and her staff have an oversized library card that they sometimes carry to locations like the park, which seems to make things easier. "It's a conversation starter."
Tyler is quick to mention that the LTC initiative has helped her branch out. "I think it's really encouraged me to reach out more, to think about people who wouldn't normally be here [at the library]," she says.
"We should be providing programs or services and doing activities that are helpful to the community," says Tyler. "It makes no sense to put forth all this energy for things the community doesn't want. So it makes sense to come out and ask them. Because you're not just asking what they want, but who they trust to help them."
Most Trusted Institutions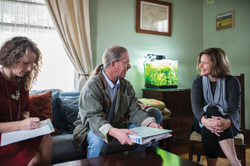 Richard Harwood believes that libraries are some of the most trusted institutions in our nation's communities, making them a good place to start conversations. Community is the reference point for the approach of turning outward, not one's own conference room, Harwood says.
"Once our work is designed to be used in the community, we don't want people to hold on tight to it; we want it to spread," he says. "We're spreading into the hundreds and potentially thousands of library staffers who will use our strategies over the years."
ALA President Young says she's looking forward to seeing all the LTC training and community conversation input being put into action.
"Libraries are changing," she says. "And the old model of just providing services to people who come through their door is not accurate anymore. Community engagement is such a critical part of librarianship today, and it is vital that librarians be skilled in this area. By helping libraries everywhere step into this role, we open new realms of possibilities for libraries and for communities."
Canosa Albano echoes that positive view for the future: "'Always moving forward' is my little slogan," she says. "Always hoping for better things, having a greater impact on the city, or helping bring together resources to make an impact on areas that community members say are important to them."
"Everything is hard until you do it," she says. "We're not done listening yet."
BAILEY BREWER is a freelancer writer based in California.