The library is in a constant state of evolution, not only in what it offers to patrons but also in its physical presence. Eight winners of the 2014 International Interior Design Association/American Library Association Interior Design Award, which honors excellence in library interior design, spoke with American Libraries about the future of library design and how their award-winning work reflects that vision.
Ruth Baleiko, the Miller Hull Partnership
Odegaard Undergraduate Library, University of Washington, Seattle
"Digital downloads, ebooks, personal content, and live programming compete for space with books, periodicals, microfilm, audio, and video in today's libraries. The library of the future will be shaped in ways that support and en­hance navigation and exchange of these new forms of information. As more and more demands are made on people's time, library services must be delivered in ways that are digitally based or conveniently located in public places for people on the go.
"Odegaard reflects the 21st-century evolution of the undergraduate library as seen by the University of Wash­ington. They envisioned it as 'the students' office on campus,' which can provide anything necessary for them to complete their work. This concept suggests a stronger relationship between student learning outcomes and the library. Our team seized this and worked with the univer­sity to identify a series of behaviors or learning experi­ences that global citizens should have as part of their university education. This list acted as the driver for design interventions within the building: All the elements we added were directly related to accomplishing and express­ing those learning outcomes. Use of color, graphics, and wood scrims helped define each of these elements and tie together the entire space."
Lenda Sturdivant, Dewberry
Midland (Tex.) Centennial Library,Schaumburg Township (Ill.) Main Library Teen Center
"Libraries of the past were very heavy in shelving and housing of materials, whereas modern libraries have made a drastic shift to being almost collection-free. The thought [behind this is] that open space allows users to access more technology, and books could be retrieved from off­site storage locations. I think libraries of the future see the need for both. Collections are being carefully consid­ered so as not to occupy too much square footage. This leaves plenty of open room for tech and social spaces, making libraries a community center for multiple activi­ties. This is the case with both the Midland Centennial (Tex.) Library and Schaumburg Township (Ill.) Main Library. Midland houses a large genealogy department, as well as multiple banks of public computers, and a media room for recording audio and video. The Schaumburg Teen Center follows suit with green-screen motion picture recording capabilities and audio and video record­ing facilities.
Lyn Rice, Rice+Lipka Architects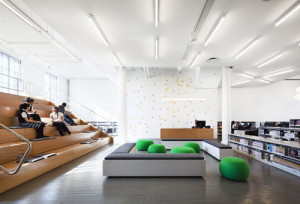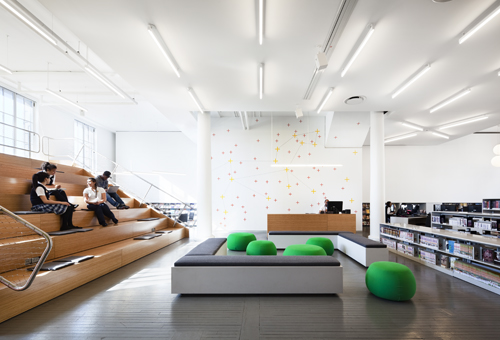 New York Public Library Hamilton Grange Teen Center
"Libraries are becoming more open and light-filled and, in turn, becoming a less formal place for groups to come together and meet. New York Public Library wanted to build a place where teens can hang out and be themselves with minimal supervision. We created this space by opening the teen center's floor plan and constructing niches for different types of activity like Guitar Hero and Nintendo Wii. Kids can be loud if they want, but there is also plenty of room for quiet areas. The open floor plan and lowered sightlines allow one adult to oversee the entire area."
  Libraries are becoming more open and light-filled and, in turn, becoming a less formal place for groups to come together and meet.
Brian Lee, Skidmore, Owings, and Merrill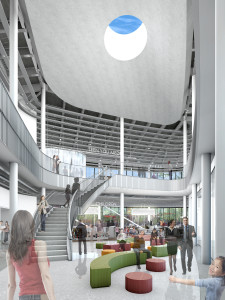 Chinatown Public Library, Chicago
"Libraries in the future will continue to change and respond to the ways we seek knowledge. There will be more flex­ible spaces for evolving services and forms of information offering. These spaces, in the end, must be good archi­tecture–human scaled; full of natural light; built with materials that are engaging and durable; and connected to the outdoor context, both through how the building is shaped in relationship to its surroundings, as well as through how it responds to the climate. Library staff in the future will be organized on the floor to be more effec­tive 'information guides' to help patrons. Developing a plan and section that allows good sightlines and easy circulation is essential.
"Our design of the Chinatown Public Library incorpo­rates a glass-walled community room that was placed at the ground level to be fully visible to the street and com­munity. It is also adjacent to the library exhibition and central circulation hall. This allows the space to be a flex­ible, multipurpose room at the center of the library. To ensure maximum flexibility, there are very few enclosed spaces—the open plan can accommodate multiple uses and furniture or fixture arrangements over time. Eye-height bookshelves in the adult and teen areas create a sense of openness while still allowing for the creation of informal collaborative areas and intimate reading spots."
Brad Lukanic, CannonDesign
St. Louis Public Library, Central Library
"There are robust changes happening to library spaces, and the renovations of the St. Louis Public Library's Cen­tral Library reflect that. Built in 1912, the library encap­sulated the grandeur of the age, but it was also about bringing the community together. Much has changed in the more than 100 years since its opening, but the Central Library is still a community gathering space. To preserve that and move forward, we had to rethink what was in­tended in 1912 for today's patron. This involved removing much of the library's closed stacks. This massive project created five levels of floors filled with community areas, internet ports, and teen and kids spaces."
"Libraries are no longer single-purpose repositories of books dedicated to quiet study. They have become dynamic hubs."
Joel Sanders, Joel Sanders Architect
University of Pennsylvania Education Commons
"The transformative impact of digital technologies on 21st-century learning environments is central to my firm's work. Libraries are no longer single-purpose repositories of books dedicated to quiet study. They have become dy­namic community hubs that function now more than ever as IT centers for students, adults, and underserved com­munities, including seniors and immigrants. Libraries have morphed from formal compartmentalized facilities into casual multipurpose destinations that allow a diverse range of people, alone or in groups, to engage in a variety of media-centric activities, both day and night.
"At the University of Pennsylvania Education Commons, our design treats the library interior as a wired 'loungescape' that fosters visual and material continuity between inside and outside. The 300-foot-long library is divided into a series of zones that encourage individual and col­laborative learning. The library is further subdivided into a series of flexible areas with different degrees of acoustic, visual, and spatial enclosure. A suspended acoustical ceil­ing, called 'The Cloud,' runs the length of the building and conceals mechanical equipment and is inscribed with backlit apertures that illuminate the space."