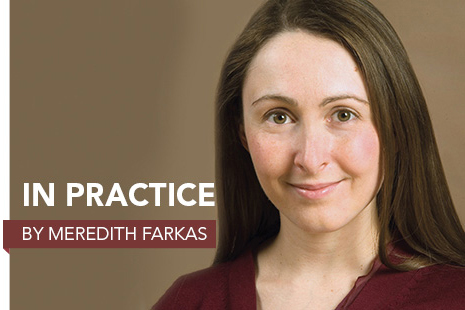 Last June, I published a column on how libraries are doing small-scale usability testing to improve our websites, services, and spaces. However, there is a large portion of our collections, services, and web content over which we have little direct control. That includes web services provided by third parties, library catalogs and discovery tools, and databases. Some of these tools are intuitive, accessible, and meet our patrons' needs. Others we find ourselves continually apologizing for or trying to ignore. It's those that concern me.
We need to be just as dedicated to evaluating and improving those systems as we are about the systems we control. Our evaluation of databases and other online tools has to go beyond the content and functionality provided. We need to think about whether we are doing right by our patrons. Otherwise, we are not being good advocates or good stewards of their tax dollars or tuition.
Here are just a few things to consider when evaluating online tools and collections:
Is it usable? I'm sure we all have a list of databases that we recommend to people just starting out with research, and it's usually because they are relatively intuitive and easy to use. Shouldn't all of our databases be that way? There are certain databases that students find so frustrating to use that I don't teach them anymore. Is the content always worth the bad experience?
Is it accessible? There are two kinds of accessibility I'm talking about here. The first, and most critical, is Americans With Disabilities Act type of accessibility. At my library, we were recently considering a new collection until we learned that it was not accessible to students with certain disabilities. If this isn't one of your considerations when looking at vendors, you are putting your organization in a precarious position.
The other kind of accessibility is about ensuring that no matter what device patrons are using—phone, tablet, gaming system—they can easily use our online resources. Libraries are increasingly developing responsive websites that work regardless of what device is accessing them, but some of our vendors still have not made the effort to move in this direction.
Does it protect patron data? After Adobe's terrible example of collecting and transmitting in the clear everything users were doing with ebooks in Adobe Digital Editions last year, I hope more libraries are considering this issue. We should look particularly closely at the data collection and privacy practices of web services where patrons have to create separate accounts.
Does it provide good usage statistics? In this age of lean collection budgets, we should not spend money on a product that doesn't allow us to determine ROI.
Unfortunately, we can't rest on our laurels once we have signed the contract for an online tool or collection. Products, policies, and collections change all the time, both in the library world and outside, and these businesses rely on us being complacent. When a large scholarly publisher pulled its content out of a major database aggregator a few years ago, customers of the aggregator did not see discounts or rebates for the content lost. Instead, the aggregator added a mix of lesser value and open access titles that saw less use.
We, as a profession, should not stand for such behavior, especially those of us who are part of large consortia and buying groups. If we do not advocate strongly for our patrons, who will? And if we cannot make headway with these vendors, we need to use our collective power and purse to seek out—and perhaps create—better solutions.