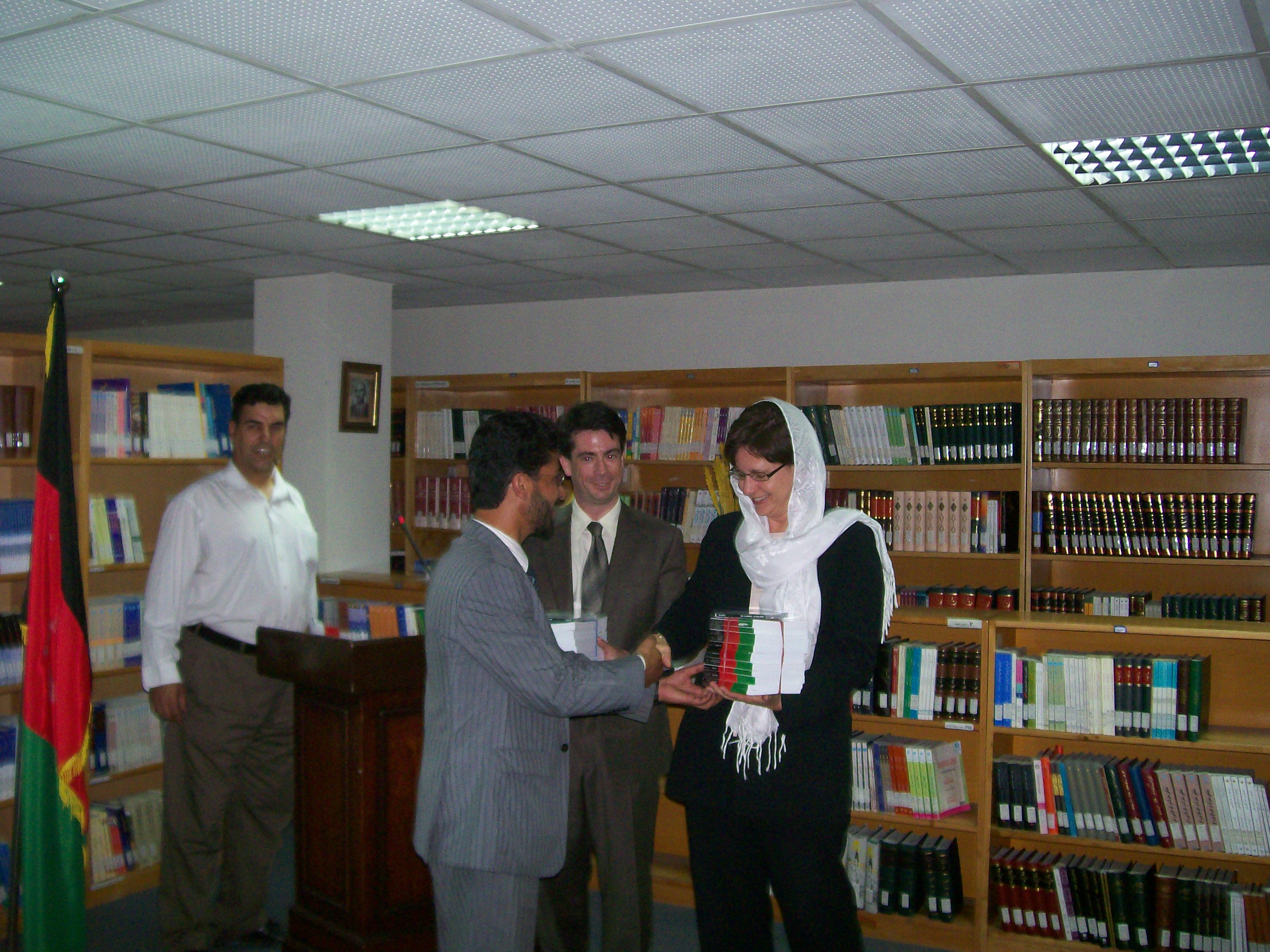 Browsing the website for the American Association of Law Libraries, Andrea Muto came across a job posting looking for someone to create bench guides. "I thought, 'Law degree? Check. Library degree? Check. Location? Kabul. Wait—what?'" says Muto. "It seemed insane. Try to explain to anyone, let alone your parents, why you'd want to work in Afghanistan in 2007."
Muto interviewed, packed up, and flew out anyway. She had worked at LexisNexis for 10 years after finishing an MLIS at Kent State University and a JD at Cleveland-Marshall College of Law in Ohio. She was a ready for a change, and she got it.
"I walked off the plane and it was a cacophony of cra­ziness," says Muto. "All the women were wrapping up; people were running around looking for their luggage." The lights at the airport were also out because (she learned later) a bomb had gone off earlier. And to top it off, Muto spoke neither language: Dari or Pashto.
She eventually found her trampled luggage and her driver, and made it to the gated guest house she would share with 15 other internationals. Situated outside the US embassy, the group had its own security detail and had to maintain a low profile. "The USAID workers weren't as much of a Taliban target as the military," says Muto. But the danger increased, and by 2009 no one could travel freely around Kabul.
Once there, she set to work. There was no law library at Kabul University, only a library shell with poor light­ing and little or no heat. Muto was assigned to hire a staff and develop a collection of primary and secondary sources to serve the secular and Islamic law faculties.
Muto's team built reference desks, shelves, and conference rooms; purchased books from Pakistan and Egypt; hired staff; created a temperature-controlled ar­chive; and published the laws of Afghanistan from 2000 onward. For the first time in 30 years, Afghan judges had access to the nation's official laws, says Muto.
Afghanistan's first law library remains open today, and one staff member stayed as others fled the coun­try—including Muto. She's now serving as deputy chief of party for a Rule of Law Project in Pristina, Kosovo, funded by the US Agency for International Develop­ment. The project ends March 2015, and Muto isn't sure where she'll go next. She's open to options.