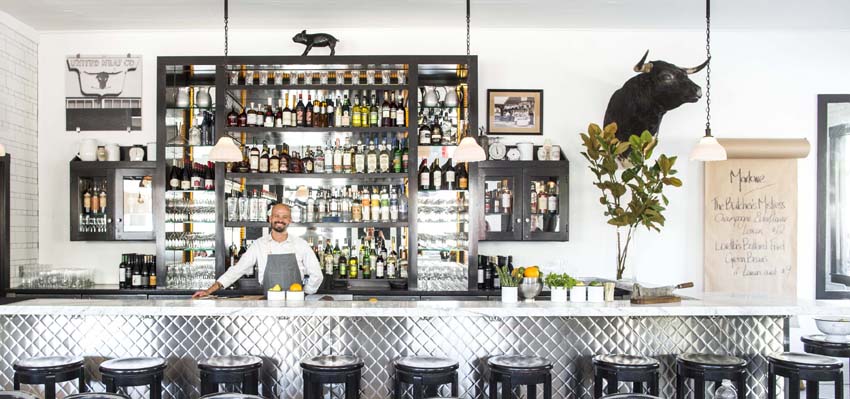 With more than 3,500 restaurants within its seven square miles, San Francisco has more dining establishments per capita than any other US city—and a heck of a lot of competition. I've included can't-miss favorites from a range of cuisines, prices, and neighborhoods. Some are brand new but already earning coveted foodie awards; others have been around forever for a reason.
Some are white-tablecloth establishments that present culinary masterpieces with warm formality, while others are so casual they practically toss you your food, a paper plate, and a napkin from out of the side of a truck. It's impossible to get in and out of San Francisco without having a gastronomic epiphany, or at least a few dining experiences that leave you wondering if you left your stomach, as well as your heart, in San Francisco.
Price Guide
Average price per person for entrée without appetizers, drinks, tax, or tip.
$: under $10
$$: $11–$20
$$$: $21–$30
$$$$: $31 and up
Financial District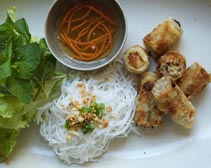 The Slanted Door
415-861-8032  slanteddoor.com
1 Ferry Building
Considered by many to be the best Vietnamese restaurant in America, the Slanted Door has become one of the city's top must-trys. The draw? Fresh and refined interpretations of Southeast Asian classics made from local, organic ingredients and served in a bustling space overlooking the bay. Don't miss the grass-fed Estancia shaking beef ($38), crispy imperial rolls ($13), or pho ($8)—all conceived by chef-owner Charles Phan, the darling of San Francisco's restaurant scene.
$$$$
L, D daily
Tadich Grill
415-391-1849  tadichgrill.com
240 California St.
When you walk through the doors of the oldest continuously run restaurant in San Francisco, time stands still. There's the dark wood, brass fixtures, long bar, and private booths. People come from all over the world for Tadich's cioppino ($32.50): a red stew of scallops, clams, prawns, fish, and crab. Another house specialty is the Hangtown Fry ($20.95), a scramble of eggs, bacon, and deep-fried oysters. Finish your trip down memory lane with the simple rice custard ($6.95)—the recipe has not changed in more than a century.
$$$$
L, D (closed Sun)
Union Square
Gitane
415-788-6686  gitanerestaurant.com
6 Claude Ln.
Consistently top-rated Gitane features a bordello-like interior and Andalusian cuisine, with such offerings as squid ink spaghetti ($13); bonbons of dates stuffed with manchego and wrapped in smoked bacon ($7); and fried panisse ($24). For a more casual atmosphere, head to the bar or the outdoor bistro tables.
$$$$
D daily
Johnny Foley's Irish House
415-954-0777  johnnyfoleys.com
243 O'Farrell St.
Foley's is as well known for its good pub food—bangers and mash, fish and chips ($18), cottage pie—as it is for its dueling pianos. It's the perfect place if you crave the comfort of a home away from home. There are 16 types of beer on tap, sports on the telly, and a kid's menu—what more would you need?
$$$
L, D daily
SoMa
AsiaSF
415-255-2742  asiasf.com
201 9th St.
It doesn't get more wonderfully, if stereotypically, "San Francisco" than this dinner-and-show destination, featuring a multicourse meal and world-famous transgender stars. The bar-top, lip-sync performances make up for any magic the kitchen lacks. The mènage a trois menu ($38–$58) gets you three dishes, including sake-steamed mussels, sesame steak salad, miso-glazed king salmon served over black "forbidden" rice, truffled soba noodles, and "baby got back" ribs. Note: You must dine to see the show.
$$$$
D (W-Sun)
Benu
415-685-4860  benusf.com
22 Hawthorne St.
Benu represents the changing face of fine dining in San Francisco. You can order à la carte on some nights, but the tasting menu ($228) is the way to go to experience the two Michelin star–ranked chef Corey Lee's culinary wizardry. Presented on custom-created porcelain, Lee's eclectic menu might include gorgeously sculpted choices like thousand-year-old quail egg with ginger and nasturtium, monkfish liver on brioche, or salt-and-pepper squid.
$$$$
D (Tues-Sat)
The Cavalier
415-321-6000  thecavaliersf.com
360 Jessi St.
This British-inspired brasserie has won wide acclaim since opening in 2013. The rich, clubby ambience features a dramatic red-walled dining room, tufted banquettes, and stuffed deer heads mounted on the wall. In keeping with the gastropub theme are classics such as scotch eggs ($16), not-to-be-missed fish and chips ($24), shepherd's pie ($27), and decadent beef dripping chips ($10). Lucky diners may be invited to the speakeasy-style private back room called Marianne's, a popular haunt for tech entrepreneurs.
$$$
Brunch (Sat, Sun), L, D daily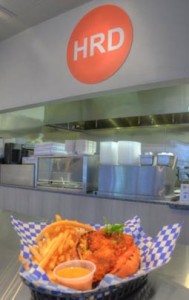 HRD Coffee Shop
415-543-2355  hrdcoffeeshop.com
521A. 3rd St.
Don't let the low prices and fast-food format fool you: This is glorious gourmet global fusion—and the lines around the block prove it. (Don't worry, they move fast.) The creative menu displays culinary influences ranging from Korea to Mexico, including curry platters ($9.25–$11.95), burritos ($9.25–$11.95), and po' boys ($9.25–$11.95). Best bets? Mongolian beef cheesesteak ($10.95), spicy pork kimchee burrito ($9.25), and the seared tuna bánh mì sandwich lunch and dinner special ($13.95).
$$
Brunch, L (Sat), L, D (M-F)
Marlowe
415-777-1413  marlowesf.com
500 Brannan St.
Serving delicious New American comfort food, this stylish bistro sports a chic butcher-shop vibe with farm-animal-themed artwork on the walls, white-tile floors, and marble-top counters. The menu includes the signature Marlowe burger ($16), considered among the city's best; poulet vert ($28), a heavenly herb-roasted chicken; an open-faced deviled egg sandwich ($13), as well as a new bites menu, cocktails, and a cute patio out back.
$$$
L, D daily
SoMa StrEat Food Park
428 11th St.  somastreatfoodpark.com
As the first permanent food truck plaza in San Francisco, SoMa StrEat Food Park is one of the best places to sample a variety of outstanding foods. Each day 13 trucks roll in and serve lunch; some may stay on to serve dinner, while others leave and their spot is given to a new truck. It feels like one big party with high-quality food from more than 70 rotating vendors, music, covered seating, flatscreen TVs, restrooms, and free Wi-Fi.
$$
L daily, D (Sat)
Super Duper Burgers
415-538-3437  superdupersf.com
721 Market St.
This counter-service spot using local ingredients in its famous patties, milkshakes, and fries has taken the Bay Area by storm. Dripping with juice, the burgers ($5.50–$7.75) are made with 100% vegetarian-fed Niman Ranch beef ground fresh daily, artisanal buns, California cheddar, and a delectable "secret sauce." Shakes and cones feature organic Straus ice cream from Petaluma, while pies and cookies are baked daily in house. Snack on self-serve pickles while you wait for your order.
$
Brunch (Sat, Sun), B (M–F), L, D daily
Tropisueño
415-243-0299  tropisueno.com
75 Yerba Buena Ln.
Located across the alley from the San Francisco Museum of Modern Art, Tropisueño is a taquería by day and a traditional Mexican restaurant by night. Savor the spot-on trio of homemade salsa, fresh chips, and chili-salt-rimmed margaritas, all served in a cheery, south-of-the-border style interior decked out in wood and tile. The portions are generous and feature favorites such as Tampiqueño with Niman Ranch beef ($16) and camarones Tropisueño ($17) served in a spicy red sauce.
$$
Brunch, L, D (Sat, Sun), B, L, D (M–F)
Waterbar
415-284-9922  waterbarsf.com
399 Embarcadero
With a view of the Bay Bridge, an outdoor patio, $1 oysters from 11:30 a.m. to 5:30 p.m. daily, and a fab weekend brunch, Waterbar delivers just about everything a visitor could want. Enjoy the cocktail-bar scene and two floor-to-ceiling fish tank columns in the middle of the restaurant, filled with Pacific Ocean creatures. The menu offers a wide variety of fresh, ethically sourced, seasonal seafood such as monkfish ($18) and Alaskan halibut ($40).
$$$$
L, D daily
Zero Zero
415-348-8800  zerozerosf.com
826 Folsom St.
The wood-fired, thin-crust Neapolitan pizza ($11.95–$19.95) at this upscale spot close to the Moscone Center ranks among San Francisco's best. Crisp pies made with California ingredients and finely ground 00 flour (hence the restaurant name) are the draw, while a selection of excellent small plates and artisan pastas round out the menu. Cap off the meal with a build-your-own organic, soft-serve ice cream sundae.
$$
L, D daily
Nob Hill–Russian Hill
Swan Oyster Depot
415-673-1101  sfswanoysterdepot.com
1517 Polk St.
The city's most popular raw and seafood bar opened in 1912, and little has changed since. Pull on a brass, fish-shaped door handle, step across the cracked mosaic floor, slide onto one of the 18 barstools in the narrow room, and get whisked back in time. The approach is beautifully simple: wonderfully fresh steamed, raw, or fried seafood; terrific, house-made cocktail sauce; reasonable prices; and gruffly charming service.
$$$$
Brunch, L (M-Sat)
North Beach–Telegraph Hill
Coi
415-393-9000  coirestaurant.com
373 Broadway St.
Coi (pronounced "kwa") offers some of the city's best haute cuisine with a molecular gastronomy influence. A tiny, refined spot, it's the place to experience the creative cooking of two Michelin star–ranked chef Daniel Patterson. Each evening Coi offers one tasting menu ($195) with eight to 11 courses based on what's fresh and available. Selections might include grilled oyster seaweed bread, charcoal-roasted beets with blackberry, Dungeness crab soup, salted marrow fat, and arugula; a steamed wild king salmon, stuffed with morels, peas, and sorrel; and whipped coconut-olive oil, rhubarb, and blood orange to finish.
$$$$
D (Tues-Sat)
Original Joe's
415-775-4877  originaljoessf.com
601 Union St.
First opened by Tony Rodin in 1937 (the original location was in the Tenderloin), the restaurant is now run by his grandkids, and they haven't changed it much. The menu still features a large selection of typical Italian comfort food like spaghetti and meatballs ($17.95), baked lasagna ($18.95), chicken parmigiana ($19.95), and veal parmigiana ($27) in generous portion sizes.
$$$$
Brunch, L, D daily
Pier 23
415-362-5125. pier23cafe.com
Pier 23 (on Embarcadero)
When the occasion calls for a casual place to throw back a few cocktails, indulge in straightforward grub, and perhaps dance it up with tipsy locals—all backed by an awesome view of the bay—this is where to go. Up front, the tables are accessories to the long bar and band area, while out back—a favorite afternoon spot on sunny days—the bayside patio offers alfresco dining. There, you'll dig into fish and chips ($14.50), bouillabaisse with cod, mussels, clams, prawns, and scallops ($28), or a seared tuna sandwich ($16) while watching the boats.
$$$
Brunch, L, D daily
Fisherman's Wharf
Crepe Café
415-318-1494
Pier 39
What started as a food cart in touristy Ghirardelli Square has become a favorite in a permanent location on Pier 39. The café serves all the usual crepe toppings, both sweet—sugar, Nutella, strawberries—and savory—ham, eggs, chicken—but it also gets innovative with unusual choices like pesto and avocado. Take your crepe ($6–$9) out the back door and find a seat on the wooden benches to watch chubby sea lions bark and fight for space on the docks.
$
B, L, D daily
Forbes Island
415-951-4900  forbesisland.com
A one-of-a-kind experience, this "island" is actually a houseboat converted into a restaurant, complete with an elegant underwater dining room, beach, and climbable lighthouse, tied up beside the city's famous barking sea lions. The experience is the draw, rather than the food: Get to the dock, phone the restaurant, and take the brief ride to the island. The menu includes two daily fresh-fish dishes as well as risotto, lamb chops, and steaks. With a fire burning in the old fireplace, and the wood and brass interior, this underwater dining room is cozy and homey. The free water shuttle is to the left of Pier 39 at I dock (the first dock to the left by the sidewalk).
$$$$
D daily
Restaurant Gary Danko
415-749-2060  garydanko.com
800 North Point St.
If there is one place to splurge in San Francisco, this is it. Fresh, sophisticated cuisine in an elegant, romantic atmosphere has earned Chef Danko prestigious awards, such as Michelin stars, a five-star Mobil rating, and the James Beard Award for Best New Restaurant and Best Chef in California. And no wonder: The portions for delicacies like caviar and lobster are generous, the service is unparalleled, and there's not a hint of pretension. Three- ($81), four- ($99), and five- ($117) course meals are offered.
$$$$
D daily
The Marina–Pacific Heights–Cow Hollow
Atelier Crenn
415-440-0460  ateliercrenn.com
3127 Fillmore St.
An atelier is a French workshop, and Chef Dominique Crenn uses hers to create wonderfully intricate and whimsical dishes. This is poetic culinaria at its best, complete with poetry for menus, and artsy plating with food served on slabs of bark, slate, and eucalyptus branches. You have two choices—five signature courses ($120) with wine pairing ($85) or the Chef's Grand Tasting Menu ($195) with wine pairing ($150). On Saturdays, only the Grand Tasting Menu is available.
$$$$
D (Tues-Sat)
Tacolicious
415-346-1966  tacolicious.com
2031 Chestnut St.
This festive, cramped spot is popular for its delicious gourmet tacos, strong cocktails, and 120 types of tequila offered at the bar. San Francisco Giants pitcher Tim Lincecum is a regular who swears by the carnitas and brings his teammates by on occasion. We're guessing they go for the tacos (one for $4.95; four for $17.95; 10 for $39.95), which are made with a variety of fillings including summer squash, filet mignon, and the house specialty, guajillo-braised beef short ribs.
$$
Brunch, L, D daily
Japantown–Western Addition
Nopa
415-864-8643  nopasf.com
560 Divisadero St.
A poster child for the current gestalt of the San Francisco restaurant scene, large and airy Nopa combines seasonal urban rustic and organic, wood-fired cuisine made from local ingredients with high-ceilinged industrial-chic environs and a hopping bar scene. Make a reservation well in advance or wait to pounce on a barstool or seat at the big, first-come-first-serve communal table to enjoy artisan libations, one of the city's best grass-fed burgers ($16.50), and plenty of veggie-, meat-, and fish-centric dishes that celebrate the region's bounty with a successful use of restraint.
$$$
L (Sat, Sun), D daily
State Bird Provisions
415-795-1272  statebirdsf.com
1529 Fillmore St.
The hottest destination since its 2011 opening (and nearly impossible to get into), this American dim sum restaurant snared a James Beard Award right out of the gate. Chef Stuart Brioza's creative, internationally influenced small plates are wheeled around on carts and carried on trays, and they are impossibly good. You may be presented with Nova Scotia oysters with spicy kohlrabi kraut and sesame seeds ($3) or green garlic steak tartare Caesar toast ($4/piece). Or you might order from their small menu of standards, which includes savory pancakes.
$$
D (Mon-Sat)
Civic Center–Hayes Valley
Rich Table
415-355-9085  richtablesf.com
199 Gough St.
Though Rich Table lost the 2013 James Beard Award for Best New Restaurant, finishing second is not too shabby. The menu changes regularly, but the sardine chips ($2) are a house favorite, as are the dried porcini mushroom doughnuts served with raclette ($8). Other unique crowd pleasers include beef tagliatelle ($19), brioche dumplings with English peas, preserved yuzu, and sofrito ($24), chorizo madeleines ($8), and seared foie gras, mango, hazelnut, and tarragon meringue ($25).
$$$$
D (closed Tue)
Tommy's Joynt
415-775-4216  tommysjoynt.com
1101 Geary Blvd.
Vibrant murals outside and flea-market decor inside set the perfect scene for this ultracasual, cafeteria-style bar and restaurant that serves heaping, affordable piles of comfort food. If you can tear your eyes away from the whimsical collection of bric-a-brac covering every square inch, you'll be overwhelmed by the food options. Corned beef and cabbage ($9.25), buffalo stew ($10.45), and roast beef sandwiches ($6.49) … it's all here, along with every heavy, delicious side you can imagine. Tommy's also offers almost 100 beers and ciders.
$$
Brunch, L, D daily
Mission District and Castro Restaurants
Mission Chinese Food
415-863-2800  missionchinesefood.com
2234 Mission St.
For many foodies, eating at the ­now-famous James Beard Award–winning chef Danny Bowien's ­walk-in-only restaurant is a rite of ­passage. The Chinese food is inventive (Kung Pao pastrami, for example), affordable, and always a fun time. Portions are large and great for sharing. BYOB.
$$
Brunch, L, D (closed Wed)
Taqueria Cancún
415-252-9560
2288 Mission St.  taqueriacancunsf.com
After a night on the town, locals looking for mouth-watering, cheap Mexican food shuffle into this tiny taquería, open nightly until the wee hours. The clientele is as decorated and colorful as the restaurant, and the long lines move quickly. No wonder–the food is delicious; the carne asada super burrito is huge, juicy, and full of flavor; the steak charred to perfection. Cash only.
$
B, L, D daily
The Castro and Noe Valley
Frances
415-621-3870 frances-sf.com
3870 17th St.
With only 37 seats, this is a tiny neighborhood restaurant with a tiny menu—and one big Michelin star—that delivers a huge dining experience. It's known for an eclectic menu that includes such choices as mixed chickory panzanella ($12), Iacopi butter bean ragoût ($22), and Sonoma duck breast with toasted farro, dried mission fig, capers, and walnuts ($30). Don't miss the applewood-smoked bacon beignets ($8), and for dessert, the lumberjack cake ($9) is a crowd pleaser. Make a reservation up to 60 days in advance, or walk in and take a seat at the bar.
$$$
D (Tues-Sun)
Richmond–Sunset Districts
Yes, it's a haul from downtown to "the Avenues," but this spot is worth the trip.
Burma Superstar
415-387-2147. burmasuperstar.com.
309 Clement St.
Despite a no-reservations policy and a perpetual line to get in, Burma ­Superstar remains a city favorite because the authentic Burmese cuisine is just that good. Arrive 15 minutes before the place opens or leave your cell number and browse the shops on Clement Street until they call with your table. Choose from dishes influenced by the cuisines of China, India, Laos, and Thailand. Don't miss the tea leaf salad or the fried yellow bean tofu appetizers, or try the clay-pot chicken, chili lamb with ­coconut rice, or any of the curries.
$$
Brunch, L, D daily
---
Chinatown: So Many Choices!
an Francisco's Chinatown has one of the largest Chinese population outside of Asia, so it follows that it has lots of Chinese restaurants. It's hard to know which place to try—some look clean and inviting, with bright colored photos of yummy delicacies posted outside; others have sun-faded menus peeling off of dirty windows—but looks can be deceiving. Most places in Chinatown fall into the inexpensive category—so how do you choose? The ­following restaurants stand out from the pack:
R&G Lounge, 631 Kearny St. (415-982-7877; rnglounge.com), is a very popular three-story restaurant with plenty of room for large and small parties; best on the menu are the salt-and-pepper crab (market price) and R&G special beef ($20).
Great Eastern, 649 Jackson St. (415-986-2500; greateasternsf.com), specializes in dim sum as well as fresh seafood pulled from tanks lining the walls—President Obama has stopped in here for takeout.
Hunan Home's, 622 Jackson St. (415-982-2844; hunanhome.ypguides.net), is known for its wicked hot-and-sour soup ($5.95; $8.50) and "succulent bread" ($6.50)—baked and then slightly deep fried. This is a local favorite.
---
The sun on your face at Belden Place
San Francisco has long been lacking in the alfresco dining department, which may or may not have something to do with the Arctic summer fog. But Belden Place—an adorable little brick alley in the heart of the Financial District open only to foot traffic—is a little bit of Paris just off Pine Street. Restaurants line the alley sporting big umbrellas, tables, and chairs, and, when the weather is agreeable, diners linger long after the lunch hour.
A handful of cafés offer a variety of cuisines at moderate prices. There's Café Bastille, 22 Belden Place (415-986-5673), a classic French bistro with a boho basement that serves excellent crepes ($9–$9.50), mussels ($13), and French onion soup ($6); it features live jazz on Fridays. Cafe Tiramisu, 28 Belden Place (415-421-7044), is a stylish Italian hot spot, serving addictive risottos ($21) and gnocchi ($19). Plouf, 40 Belden Place (415-986-6491), specializes in big bowls of mussels slathered in your choice of seven sauces ($13.50), as well as fresh seafood. Brindisi, 88 Belden Place (415-593-8000), dishes out small plates of Mediterranean fare.
Information contained in this dining guide originally appeared in Frommer's EasyGuide to San Francisco and has been tailored to American ­Libraries and edited by Jennifer Bush with Frommer's permission.