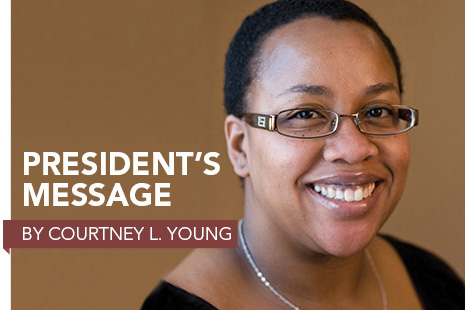 This year has flown by, as the airport codes PIT-ORD, PIT-IAD-DUB, PDX-DEN-PIT—just to name a few—that my Facebook page and Swarm check-ins sometimes document. Throughout the hundreds of days and 100,000+ miles that have made up my presidential year, we've had deep and meaningful conversations about libraries of the future, how best to strategically articulate their value to stakeholders, and the important role of diversity in our collections and services. We have been reaching out to increase the diversity of voices in that conversation through social media. Engaging all constituencies of the American Library Association (ALA) has been a priority of mine and one that I feel confident will be a priority of those who come after me. I am proud of the work we have done here.
I am also proud of my project to support the job seekers who are our patrons. The presidential initiative Career Development Facilitators program not only created an opportunity for 20 library employees from around the country to help patrons and job seekers address various components of job searching and career planning, it also created a partnership opportunity with 22 state chapters, recognizing their critical role. I hope the effects of this will be twofold. First, we as librarians can help our patrons with work vital to their economic security and personal self-esteem. Second, this initiative and its structure can easily serve as a model for dissemination of information and call to action.
We've also spent this year planning strategically for the future of ALA, with much of our thinking focused on strategic directions. One is professional and leadership development. In this goal area we aspire to recognize that "the professional and leadership development of all who work in libraries is essential to high-quality professional practice and the future of libraries and information services." We need to think not only of the niche of the master's degree–possessing librarian, but of the entire team in each library. We want to be able to recognize and develop those with perception and vision, as well as the fortitude to withstand the buffeting that libraries and librarianship sometimes receive.
In 2004, I was struck by the American Libraries cover story "What Will Gen Next Need to Lead?" (AL, May 2004, p. 33–35). The majority of the story focused on initial findings of a research study related to qualities library directors at the time saw as "desirable leadership attributes." The authors did note, "To ensure a vital and viable professional future, librarianship must embrace a commitment to the identification, recruitment, and nurturing of the next generation of leaders." As a member of Generation X and a librarian, this piece reminded me that I had a role to play in the future of the profession and libraries. It was unclear, however, what that role would be. The goals and strategies for professional and leadership development finally demonstrate ALA's commitment to giving the profession the leaders that those future libraries require, to finding the librarians to fill those roles, to providing those librarians with the tools they need to succeed, and to offering mentorship to scaffold those leaders.
It has been an honor and a privilege to serve as your president. My election and presidential year have demonstrated the importance of creating opportunities for all to contribute in significant ways; how an organization and profession benefits when its people, priorities, and challenges are seen through a different lens; the importance of passion and enthusiasm for our work in creating a welcoming environment; and how this change of viewpoint enriches and informs the discussion on the always-developing—and always-­essential—role of librarians.