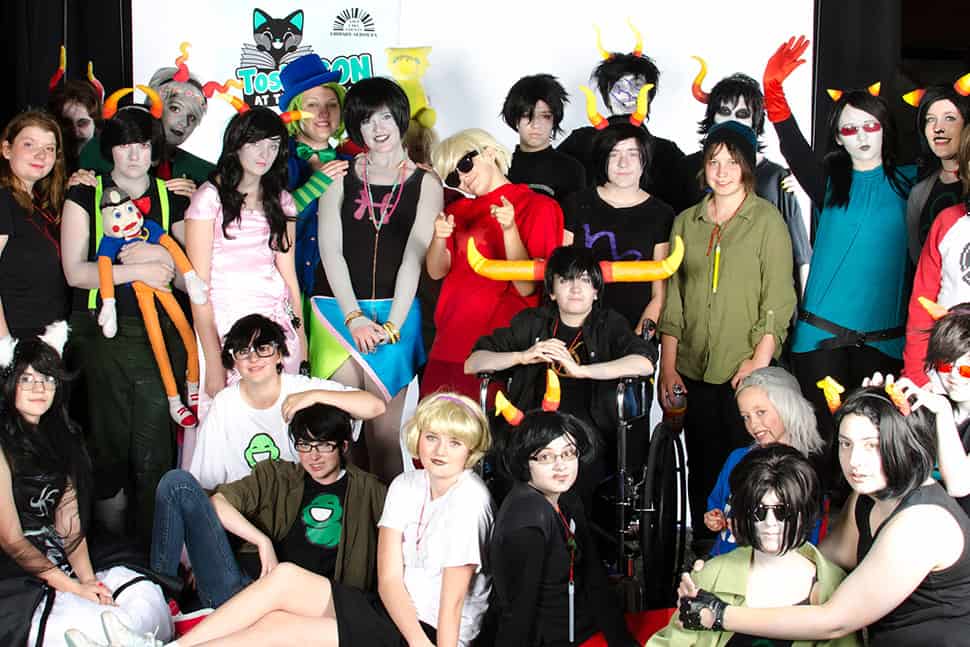 The teenagers sat on the edge of their seats as the panelists—wearing 19th-century clothing and leather indicative of steampunk attire—started their program. Beginning with a mock surprise birthday party skit (complete with cake), the young panelists played a game of Truth or Dare … without the Truths, eliciting laughter, shouting commentary, and roaring applause from the audience.
This scene from the second annual teen anime convention, known as ToshoCon, was presented by Salt Lake County (Utah) Library Services (SLCLS) in August 2014. And it's just one example of libraries holding similar events around the country, filling a gap, providing a service, and having fun.
As Cassidy Ward, an adult moderator at ToshoCon and a longtime convention goer, noted, "I've never seen a group of panelists, or an audience, more excited."
And in Ann Arbor, Michigan, Kids Read Comics! is a two-day convention focused on all-ages, kid-friendly comics that includes more than 40 cartoonists. Eli Neiburger, deputy director of Ann Arbor District Library (AADL), which runs the convention, says, "Taking the step from a comics collection to a comics convention keeps the library at the center of the community, where it belongs. It's the experiences that can be had at the library that really make a difference."
Comic conventions are a growing presence—and a lucrative business—in the US. San Diego's Comic-Con International, the largest of them, grew from a one-day event of about 100 people in 1970 to a behemoth multiday convention that, in recent years, has garnered more than 100,000 attendees. Other large conventions, such as New York Comic Con, Portland's Wizard World Comic Con, Anaheim's WonderCon and Anime Expo, and Salt Lake Comic Con, are attracting tens of thousands of attendees and dollars.
But cost, transportation, and lodging to these giant conventions make it difficult for many potential attendees, particularly youth, to participate.
That's where libraries come in
Libraries have the space and built-in audiences—patrons and staff members—with an interest in geek culture and experience in programming to put on high-quality, engaging events. SLCLS has several active teen anime clubs around its system that inspired the creation of ToshoCon. Club members had provided feedback about not being able to afford or travel to other anime conventions. Teens also said that other conventions were not a safe space where they could attend without adults present. ToshoCon helped fill that need.
Jerzy Drozd, founder of Kids Read Comics! and partner with AADL for its convention, says that one of the biggest reasons for their event is to provide kids and families with rich interactions through comics. "In recent years, there has been a lot of discussion about the power comics have to bring reluctant readers to the table," he says. "While there's certainly an educational element to why we organize the show, the big mission is to create memorable experiences that will help kids fall in love with reading comics."
Making space
The internet has brought comics fans together from all over the world, and they are not content to just talk about their favorite shows and characters; they want to create. They write their own stories on FanFiction.net or Archive of Our Own; sell handmade jewelry on Etsy based on their favorite character; and draw characters on DeviantArt. Simply checking out and reading a graphic novel is not always enough. Our patrons want to be part of a larger, interactive experience, and libraries can be the space to bring them together.
AADL's Neiburger says, "When libraries roll out the welcome mat to comic fans, it's an enthusiastic and transformative audience that shows up."
Fannatiku Fest, an anime convention run by an anime club at the Hurricane branch of the Washington County (Utah) Library System, brings excitement to the rural community.
Librarian Sarah Hall says that anime and media fans are "just as much a part of the community as the crochet clubs, the storytime toddlers, and the summer reading program participants. A library serves the community, and it should have events that interest all types." She says events like these can help make the library a destination, not a just temporary stop on the way to somewhere else.
Part of the fandom experience includes cosplay, which involves dressing up in costume based on fictional characters. Cosplayers make their own costumes, do their hair and makeup, and act in character. Much of this creating can—and does—happen at the library. Connecting it to geek culture is just one way of attracting fans, especially youth, to the library.
At SLCLS's ToshoCon, teens submitted more than 400 anime art entries. They also created art to sell in the vendor marketplace. One teen vendor, Lindsay Berry, created sketch commissions as well as handmade "horns" based on the webcomic Homestuck.
A teen convention can be as simple or as complex as your community wants it to be—lasting from a few hours to days.
In August 2014, Seminole Community Library at St. Petersburg (Fla.) College began hosting the Pinellas Comic and Maker Con (PCMCon), which focuses on comic books and superheroes. Chad Mairn, librarian and adjunct professor at St. Petersburg College, led efforts to partner with FreeFab 3D printing and the college's makerlab to provide a new experience for the more than 3,400 attendees.
"Maker culture is becoming almost mainstream now," Mairn says. "Letting people get a glimpse of emerging technologies only gives your library more authority in being on the cutting edge."
Conventions can include technology from numerous disciplines, including photography, digital art, music, and game design, and can help tie maker culture to technological training opportunities.
Customize your con
A convention can be as simple or as complex as is right for your community, lasting from a few hours to several days. SLCLS's ToshoCon began as an all-day convention in 2013 and expanded to two days the following year in the Viridian Event Center. But a convention does not need to be that elaborate. Some libraries do mini-conventions through their existing anime clubs or other programming, expanding the hours and adding activities.
Your conference can include:
cosplay contests and workshops to encourage attendees to dress up
an Artists' Alley where the artistically inclined can design logos or mascots for the convention and later sell their creations
panels with fans and celebrities
games, from a Jeopardy-style contest to card games like Yu-Gi-Oh! and Magic: The Gathering to role-playing games like Dungeons & Dragons to videogames like Super Smash Bros.
an end-of-convention dance and karaoke
a viewing room where a popular anime is screened
a craft room where teens can make items such as plushies
and origami
Of these, the largest expense at ToshoCon was providing supplies for the craft room. The rest of the activities were free or low cost.
One way libraries can engage patrons is by including them in the planning process. ToshoCon has an active Facebook group of more than 300 teens who vote on the panels and activities and regularly provide feedback. Most of the convention's panels, and certainly the most popular ones, are done by teens.
Rural communities are the best place for libraries to host conventions; there isn't anywhere else nearby [with whom] patrons can get their nerdy on.—Sarah Hall, Washington County (Utah) Library System
Find out your community's needs and use that information to put parameters around your convention: How long will it be? Who are you trying to reach? What activities will be included? Gauge interest by looking at your existing programming and collections, especially graphic novels and comics. This kind of buy-in from your target audience also helps market the event.
Build partnerships. For instance, St. Petersburg College helped Seminole Community Library's PCMCon with volunteer staffing, activities, and gave participants access to the school's innovation lab. "Definitely try to find some good people to help you organize the event," Mairn says. The partnership helped PCMCon organize its most recent event in less than six weeks and with very little money.
Conventions don't have to be expensive, nor are they limited to large urban areas.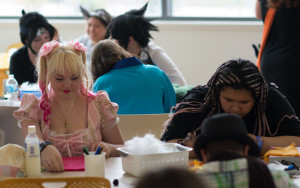 "I think rural communities are the best place for libraries to host conventions," says Hall, who runs the Washington County Library Systems' Fannatiku Fest with fellow librarian Natalie Daniel. "There isn't anywhere else nearby [with whom] patrons can get their nerdy on. This gives them a safe environment to meet others with similar interests without having to travel for hours or pay exorbitant rates to attend."
Hall suggests starting small, based on your community's interest. Fannatiku Fest, for example, started as a half-day event in the local high school gym and—over the course of nine years—grew into a two-day event, taking over the Dixie Convention Center in St. George, Utah.
Fact from fiction
At the 2014 ToshoCon, teens could sell their items in the vendor marketplace, where eight of the 18 vendors were teens. Susan Jeppesen, who ran the ToshoCon vendor area, says having teen vendors has been a boon. "The teens formed stronger relationships with library staff and felt valued in an adult way," she says.
Teen panelists at ToshoCon developed communication, presentation, and organizational skills and learned to work on a team. Spring Lavallee, who organized the ToshoCon teen panelists in 2014, had to send one panel back during their practice session. "They weren't prepared," she says. "I told them during practice they needed to work a lot harder." The next day they were polished and, Lavallee says, "They felt really proud."
Libraries are the hub of their communities, a safe space to serve all the members—geeky and nongeeky alike. Conventions are opportunities for libraries not only to entertain but to also educate and engage—and have fun.
---
Con Logistics 101
If you are putting on a multifaceted event, consider these issues:
1. Bottlenecking. Do you have enough space
for patrons to walk around? Do you have stairs or
tight hallways in your space? Try to position activities
to create the least amount of traffic and the
shortest lines.
2. Flow. Think about where participants will
congregate and move. Are you giving enough
time between panels for people to move from one
place to another?
3. Set up and take down. ToshoCon had a
dance at the end of one night, but to move from a
cosplay contest to a dance required staff time to
take down chairs and adjust lighting. No activities
were scheduled for an hour in that room to allow
for setup time.
4. A common area. Create a neutral zone with
no activities, where participants can just sit, socialize,
and take a break. We found that many teens
just wanted to hang out in cosplay with friends,
so we opened the lobby to give them space to do
that.
5. Maps. Print a map of your space. Sketch out
how everything is put together. Provide the finished
map to everyone involved.
6. Signage. Do participants know where to go?
Provide clear signage and create an information
zone where people can ask questions. Consider
creating a program book for attendees.
---
Vendor Room
A vendor room, or marketplace, allows participants
to purchase items that aren't typically
available elsewhere. It's a place for local businesses
to showcase wares and for artists to present
and sell work. Here are some things to consider
before hosting a vendor area:
1. Space. How many tables will fit? Do you
have AV and wireless available? Many vendors require
electrical outlets and wireless internet access
to process transactions.
2. Types of vendors. Since ToshoCon is an anime
convention, we wanted vendors related to that
culture: people selling cosplay wigs, buttons with
favorite anime characters, graphic novelists, etc.
3. Booth fees. Conventions usually charge
from $50 to $1,000 (or more) for a booth. The
price depends on the size of the convention. Instead
of money, you could require a donation to
the convention. Our prizes for the anime art and
cosplay contest came from vendor donations.
4. Vendor recruitment. Create a form with all
the requirements and information for your convention.
Good places to recruit vendors are Facebook
groups, local conventions, and local businesses
within your community.