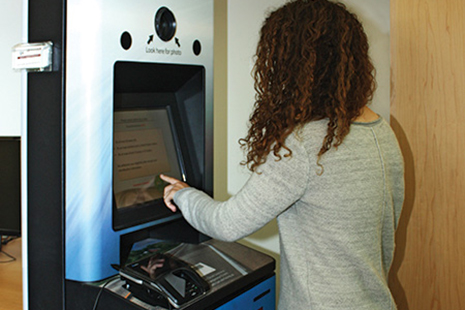 Some Iowa patrons who are visiting their local libraries can now come home not only with books and DVDs but also a renewed or replaced driver's license or ID card.
After a successful two-year pilot project to make driver's license renewals easier for state residents via public kiosks, the Iowa Department of Transportation (Iowa DOT) began implementing similar kiosks in 11 libraries in late May.
One of those kiosks is inside Ames (Iowa) Public Library. Mary Logsdon, the library's adult services manager, says providing the kiosk makes services more accessible to patrons.
"People often come in and ask for the driving manual to study for the driver's test or use the internet to renew their license online," Logsdon says. "We're always looking to work with partners, and a state agency like the Iowa Department of Transportation is a natural partner for us."
The kiosks began as a pilot program that kicked off at the 2013 Iowa State Fair, says Mark Lowe, director of Iowa DOT's motor vehicle division. "During those first 10 days of the fair, we did about 1,000 transactions," he says. "We got a lot of great customer feedback."
Over the next two years, 10,000 residents renewed their licenses at four Iowa locations. In 2014, the agency approached businesses and ­libraries within a defined radius to see if there was interest in hosting a kiosk. After reviewing responses and locations, Iowa DOT selected its sites. The expanded project will cost $1.1 million through road-use tax funds.
There are several eligibility requirements for using the kiosks: A user has to be a US citizen and an Iowa resident, and he or she must be between ages 18–70.
The kiosk, which uses touchscreen technology, takes the user's photo and uses facial recognition software to match his or her picture with one on file. After filling out the required information, patrons pay with a credit or debit card and receive a transaction receipt.
Nyla Wobig, manager of Des Moines Public Library's Central ­Library, says the kiosks are fully self-service, which means librarians haven't had to assist patrons for anything other than occasional directional assistance.
Where you place the self-service kiosk is important, she says. Wobig and her staff have theirs on the second floor, near their business and ­career section, in an area with 34 computers and six study rooms. "It's not really invasive of any of our space," she says. "The location [is] easily used, accessible."
Iowa DOT also requires that there be a blue surface in the background for license photos. "It just so happens I [recently] had the Central ­Library repainted," Wobig says, "and the blue I painted that particular wall met the criteria."
Lowe says the agency would eventually like to get to the point where each kiosk is doing 50–75 transactions a day, but he says this will probably vary by location. They also want to expand to other state services, such as providing voter registration, applications for vital records, and hunting and fishing permits.
Several other states also have driver's license kiosks, including Maryland, Mississippi, and Tennessee.
The Memphis (Tenn.) Public ­Library (MPL), for instance, has four public service kiosks in its library lobby, including a driver's license renewal kiosk that was installed in January 2013.
"[The public] is into self-service, touchscreen services, and finding out their own information, so I think customers like that interactive technology," says Stacey Smith, MPL's manager of public services.
And, she says, once patrons are at the library, they discover other services available to them.
For those who haven't visited in a long time, "they realize there's so much more to the library," Smith says. "It's a new library, and it offers more than just books."