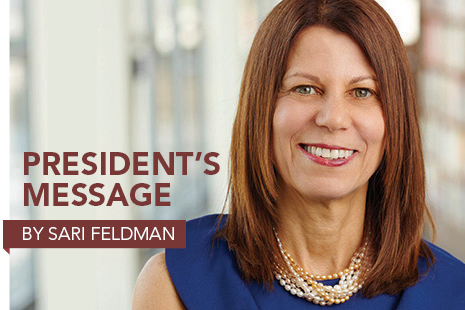 At ALA, we know that the future relevance of libraries and library professionals will depend on what we do for people rather than what we have for people. What isn't entirely clear is what this evolution means for library education. A 2014 paper from Deloitte LLP's Deloitte University Press, "The Lifetime Learner," (PDF) offers a revealing look at higher education that may help us find some answers. It describes a new landscape in which individuals must weigh the increasing costs of a traditional education against the uncertainty of a future payoff; and the emergence of "a rich ecosystem of semistructured, unorthodox learning providers" to meet the "disparate needs and expectations of individual learners." Is it worth it, they ask, to achieve a four-year, campus-based degree when technological advancements reduce the lifespan of specific skills and the globalized, automated workforce must constantly learn and retrain?
I can't help but wonder where MLIS degrees fit in this new landscape. We library professionals take pride in our degrees, but our job requirements are changing rapidly, and many of us feel underpaid and underappreciated. Conversely, I've heard our new MLIS graduates feel lucky if they can even find a traditional library job. Retirements and relocations no longer guarantee open positions, and jobs are being eliminated or reclassified without an MLIS requirement.
I recently turned to some expert colleagues to get their thoughts on how online learning has affected higher education and where they think the MLIS is headed: John Carlo Bertot, program director at the University of Maryland's College of Information Studies and coauthor of the recent report, "Re-Envisioning the MLS: Findings, Issues, and Considerations" (PDF); R. David Lankes, professor at Syracuse University's School of Information Studies and creator of the Expect More Collaboratory; and Sandra Hirsh, director of San José State University's (SJSU) School of Information. All three had clearly had put a lot of thought into the subject. Their responses were pages long.
John contends that we need to reframe the question. The future of the MLIS, he said, is less a question of technology than of purpose. "We really need to rethink what we do," he argued, "not just how we do it." David, not surprisingly, feels we must expect more from our professional education. What we need, he said, are consistent undergraduate degree programs, mandates for continuing education, accredited training programs, and formalized apprenticeships that allow librarians to be true educators. "If we believe that libraries are places of continuous lifelong learning," he asked, "why not prepare ourselves as well?"
For Sandra, user experience is paramount. She compared the situation faced by higher education to the evolution of movie theaters. When market pressures threatened movie theaters, she said, they responded by offering 3D experiences to differentiate themselves and provide unique value. If recognizing trends and adapting to them is the name of the user experience game, then SJSU is ahead of the curve. It has been offering 100% online degree and certification programs since 2009.
These are just a few of the many interesting ideas in play regarding the future of the MLIS degree. Our path forward may not be entirely clear, but one thing we can almost assuredly count on is that the presence of online degree programs will continue to grow. As of this writing, nearly half (47.5%) of the 61 ALA-accredited LIS schools already offer 100% online degree programs. Online education is the future, but how many MLIS degree program models must be developed and rejected before we reach our "aha!" moment? The only thing I know for certain is that wherever we're headed, the values that bind us together as library professionals nationally and globally must be sustained in our library education. Our future depends on it.