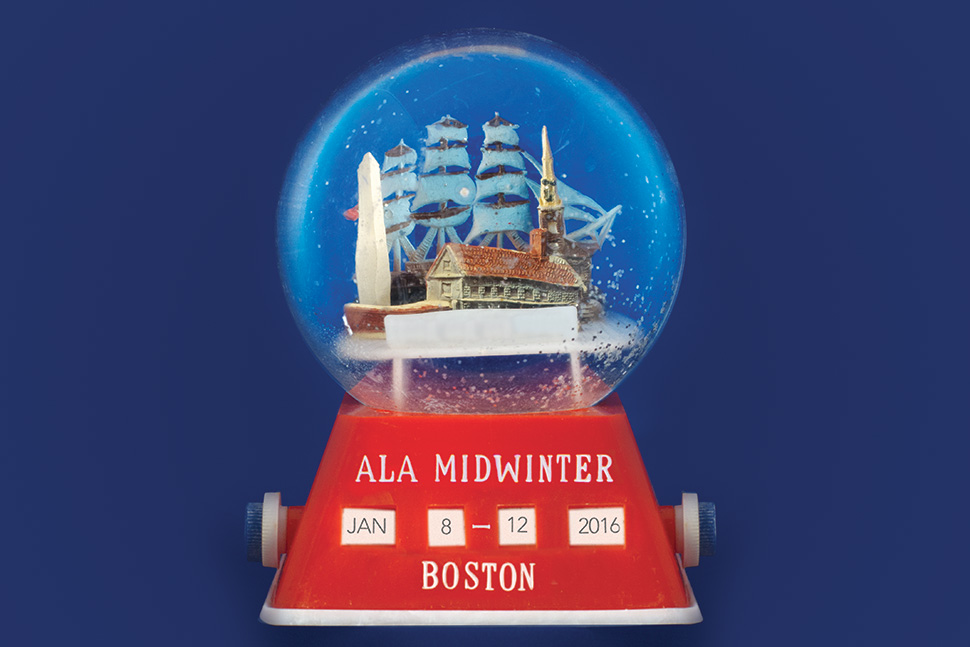 Boston is a city of firsts. It is home to the first publicly supported free municipal library in the world, Boston Public Library, and the first US subway, the "T." The city boasts America's first public park, Boston Common, and first public secondary school, the still-operating Boston Latin School. It is the site of what is considered the first fatality of the American Revolution. Beantown established our country's first public school for African-American children, the first school for the blind, the first independent police department, and, yes, it's where you'll find the oldest continually operating bar in the US.
In many ways, Boston and librarians are a lot alike. They are innovators, educators, and revolutionaries. They are creators and curators, abetting progress, expanding services for their communities, and standing on the front lines when change is brewing—whether it's taxation without representation or legislation that threatens how we use and share information. And they like to have fun.
Boston is an ideal setting for the 2016 ALA Midwinter Meeting & Exhibits (January 8–12) as the Association reveals many firsts of its own. It's the first time the Andrew Carnegie Medals for Excellence in Fiction and Nonfiction will be announced at the Reference and User Services Association's (RUSA) Book and Media Awards. It's the first year for Deep Dive Sessions, participatory half-day workshops that offer continuing education units (CEUs). And ALA is in its first year of Libraries Transform, a national public awareness campaign that shows the transformative and critical role that libraries play in the digital age and in the lives of the people they serve.
Ignite Sessions
Saturday to Monday, January 9–11, 11:30 a.m.–noon
Returning for its second year at Midwinter, Ignite Sessions offer a unique format—five-minute presentations, accompanied by 20 slides that advance automatically every 15 seconds. This year sessions cover topics such as new library directors, after-school gaming, community engagement, digital preservation, privacy, wearable tech, and open source. For a full lineup of all 18 sessions, visit the Ignite Sessions page.
All about books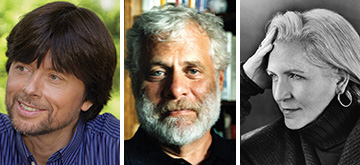 Friday, January 8, 4–5:15 p.m.
Documentarian Ken Burns and creative nonfiction writers Mark Kurlansky and Terry Tempest Williams join Donna Seaman, Booklist's editor for adult books, to discuss the theme of "The Writer as Witness," and the challenges and pleasures of telling true stories, in the ERT/Booklist Author Forum. Burns, who has been making films for 35 years, is known for titles such as The Civil War, Baseball, The Roosevelts: An Intimate Portrait, and The National Parks: America's Best Idea. His forthcoming book, Grover Cleveland Again!: A Treasury of American Presidents (July 2016), will introduce children to America's presidents as leaders and people. Mark Kurlansky is a former foreign correspondent for International Herald Tribune, Chicago Tribune, Miami Herald, and Philadelphia Inquirer, and the bestselling author of 28 books, including the forthcoming Paper: Paging Through History (May 2016). Williams, award-winning author of 14 books, conservationist, and activist, offers a literary celebration of our national parks in her forthcoming book, The Hour of Land: A Personal Topography of America's National Parks (June 2016). This popular forum offers the first of many opportunities to hear and see favorite authors, illustrators, and publishers up close at Midwinter.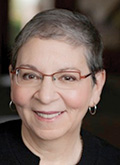 Sunday, January 10, 5–7 p.m.
For the first time ever, the Andrew Carnegie Medals for Excellence in Fiction and Nonfiction will be announced at the RUSA Book and Media Awards, by librarian, author, and literary critic Nancy Pearl. As always, the RUSA advisory committees will reveal Notable Books, Reading List, and Listen List selections, along with the winners of the Dartmouth Medal, Sophie Brody Medal for Jewish literature, Zora Neale Hurston Award for achievement in promoting African-American literature, and Louis Shores Award for book reviewing.
Monday, January 11, 8–9 a.m.
Committees of librarians and media experts select the winners of the Youth Media Awards, which honor books, videos, and other outstanding materials for children and teens. Winners of the Caldecott, Coretta Scott King, Newbery, and Printz are among the prestigious awards and medals to be announced. Follow the results via live webcast or by following #alayma.
Monday, January 11, 2–4 p.m.
Authors Janice Y. K. Lee (The Expatriates, Penguin), Liz Moore (The Unseen World, W. W. Norton & Company), Val McDermid (Splinter the Silence, Perseus), Stephanie Danler (Sweetbitter, Penguin Random House), Jennifer Haigh (Heat and Light, HarperCollins), and Robyn Carr (What We Find, Harlequin) will discuss their writing lives and forthcoming books at the United for Libraries Gala Author Tea, sponsored by ReferenceUSA. Enjoy a light offering of tea, finger sandwiches, and sweets, followed by book signings. Tickets: $60 in advance ($55 United for Libraries members), $65 onsite.
President's Program
Sunday, January 10, 3:30–5:30 p.m.
Join ALA President Sari Feldman as she welcomes Sen. Cory Booker (D-N.J.) as speaker of her ALA President's Program, in partnership with the Task Force on Equity, Diversity, and Inclusion. In his forthcoming book United, Booker explores the idea that connection and compassion must guide our nation toward a brighter future. He will share insights on economic growth, civic engagement, individual opportunity, and community progress.
 Arthur Curley Memorial Lecture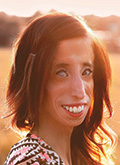 Saturday, January 9, 4–5 p.m.
Antibullying activist, motivational speaker, and author Lizzie Velasquez will bring to Midwinter her message of not allowing others to define you, and of turning negativity into a motivating force. Velasquez, born with a rare syndrome that prevents her from gaining weight and causes accelerated aging, was first bullied as a child in school and later as a teenager when she discovered a YouTube video labeling her "the world's ugliest woman." She decided to respond to bullies and tormentors by speaking out. She was the subject of the documentary A Brave Heart: The Lizzie Velasquez Story; has lobbied Congress to pass an antibullying bill; and presented a TEDx talk that has more than 9 million views on YouTube.
Auditorium Speakers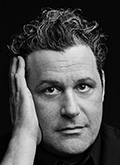 Saturday, January 9, 10–11 a.m.
Designer, fashion industry leader, QVC star, and soon-to-be published memoirist Isaac Mizrahi will bring his trademark humor to the Auditorium Speaker Series. Mizrahi's forthcoming memoir I.M. (2016) covers his growing up gay and overweight in a Jewish orthodox community in Brooklyn, his days at the High School of Performing Arts and Parsons School of Design, and his rise in the fashion and business worlds.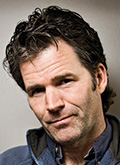 Saturday, January 9, 1–2 p.m.
Bestselling author Andre Dubus III will discuss the pleasures of reading in a conversation with Nancy Pearl. Dubus is the author of six books, including House of Sand and Fog. His most recent book, Dirty Love, was a New York Times Notable Book and Editors' Choice selection. Pearl, librarian, literary critic, and published author, is a guest commentator on NPR's Morning Edition and has a monthly television show, Book Lust with Nancy Pearl.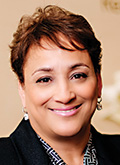 Sunday, January 10, 10–11 a.m.
Jo Ann Jenkins, former chief operating officer at the Library of Congress and current chief executive officer of AARP, will share her message of innovation and her more than 25 years of extensive leadership, management, planning, and business experience. Jenkins, a speaker with a strong sense of social mission, has transformed organizations and led innovative policies at top levels of the nonprofit, philanthropic, and public sectors.
MLK Jr. Sunrise Celebration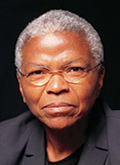 Monday, January 11, 6:30–7:30 a.m.
Acclaimed civil rights activist, author, and academic Mary Frances Berry will keynote the Martin Luther King Jr. Holiday Observance and Sunrise Celebration at Midwinter. Berry, considered one of the most prominent activists in the cause of civil rights, gender equality, and social justice in the United States, will draw from her forthcoming book, Five Dollars and a Pork Chop Sandwich: Vote Buying and the Corruption of Democracy (Beacon Press, February 2016), that explains how some campaign voter turnout activities are a form of voter suppression. Featured readings at the Sunrise Celebration will include selected passages from the works of King.
Closing Speaker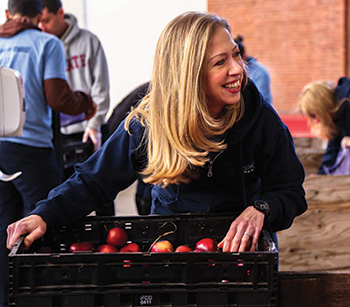 Monday, January 11, 2–3 p.m.
Chelsea Clinton will be the Closing Session speaker. She will speak about her new book, It's Your World: Get Informed, Get Inspired & Get Going!, which addresses our biggest challenges, offers ideas for action, and inspires readers of all ages to do their part to make the world a better place. Clinton, who currently serves as vice chair of the Bill, Hillary, and Chelsea Clinton Foundation—where she helps lead the work of the foundation across various initiatives, with a particular focus on work related to health, women and girls, creating service opportunities, and empowering the next generation of leaders—will close out the conference speaking alongside Jill Santopolo, executive editor of Philomel Books, an imprint of Penguin Young Readers.
ALA Masters Series
Hear experts from across various library specialties describe their latest in-house innovations in these fast-paced, 45-minute sessions.
Measuring the Future
Saturday, January 9, 12:30–1:30 p.m.
Jason Griffey, founder and principal at Evenly Distributed, will cover how understanding your physical spaces can make your library better for everyone. He will show how longitudinal data about activity can allow you to plan staffing predictively, let you A/B test displays or furniture arrangements, and check which rooms are most popular during different parts of the day or year. The session will also source feedback for the Measure the Future project.
Sustainable Thinking
Sunday, January 10, 12:30–1:30 p.m.
Rebekkah Smith Aldrich, library sustainability consultant, will discuss how libraries can take an active, visible role in building sustainable, resilient, and regenerative communities. The program covers a "whole systems approach" to leading libraries into the future and building a base of support among the people our libraries serve.
Institutes for Professional Development
Thursday, January 7, 8:30 a.m.–5:30 p.m.
Friday, January 8, 8:30 a.m.–4 p.m.
Topical pre-Midwinter Institutes and symposia offered by ALA divisions, offices, and round tables cover key areas, including career development, working with trustee boards, marketing a vision for your library, and more. For more information, visit the Ticketed Events page.
Deep Dive Sessions
New in 2016, Deep Dive Sessions are half-day education sessions that offer active, participatory learning. CEUs will be available, with registration for each session capped at 25. Advance registration (separate from Midwinter registration) is required. Visit the Deep Dive Sessions page for details.
Saturday, January 9, 1–4:15 p.m.
"We Are All User Experience Librarians: Creating Change from the Trenches" focuses on user testing and understanding your users with limited budgets, so libraries can build the right services for their communities. Lead presenter Courtney Greene McDonald, head of the discovery and research services department at Indiana University Bloomington Libraries, and copresenters will cover user experience design, content strategy, and stakeholder assessments.
Sunday, January 10, 8:15–11:30 a.m.
"Trust and Opportunity: Transforming Libraries, Transforming Communities in Midsize Urban Settings" will show how two midsized, urban public libraries—Hartford (Conn.) Public Library and Springfield (Mass.) City Library—are bringing residents, local organizations, and city leaders together to tackle daunting issues, including public safety. Representatives from both libraries will explain how they adopted and adapted the "turning outward" approach, created by The Harwood Institute for Public Innovation, to meet their communities' unique and changing needs.
Sunday, January 10, 1–4:15 p.m.
"Creating Out-of-This-World Children's Science Programming with Free NASA Resources" provides participants with a selection of hands-on NASA activities that are designed to engage children and their families in the library environment. Attendees will take home one-page guides designed specifically for library staff, families, and teachers relating to upcoming celestial, Earth, and NASA mission events in the coming year. Participants will walk away with information about connecting with potential partners, including members of NASA's Night Sky Network and Solar System Ambassadors.
ALA JobLIST Placement Center
Saturday, January 9 and Sunday, January 10, 9 a.m.–5 p.m.
Sponsored by ALA's Office for Human Resource Development and Recruitment, the Placement Center provides free career counseling and connects job seekers and employers. Job seekers can attend career guidance workshops, have résumés reviewed, and talk to employers. All services are free to job seekers and ALA membership is not required.
Putting it all together
Midwinter offers informal opportunities to ask questions, explore options, make recommendations, examine ideas, and reflect on the implications of updates, conversations, and what you've learned at the conference.
There are more than 200 Discussion Groups—loosely organized sessions on broad and timely topics, each sponsored by an ALA division, round table, or office. These highly interactive sessions are usually more of an open dialogue than strictly informational.
Kitchen-Table Conversations provide an opportunity to meet with others in the ALA community—members, staff, attendees, external allies, and partners—to dig into our shared aspirations for ALA. Make connections at the Networking Uncommons space, a dedicated area at the convention center where you can gather in small groups to have a quick meeting, polish your presentation, follow up on a discussion, or recharge your batteries—literally and figuratively. Sign up for a time slot or just show up.
The growing, participant-guided Unconference takes place on Friday, January 8, 9 a.m.–12 p.m. and brings the unstructured conversations people often have between conference sessions into the conference itself. Round out your experience at the end-of-conference Library Camp on Monday, January 11, 3:30–5 p.m. Attendees will get together to talk about anything library- or conference-related with a focus on reflecting on what inspired you at the conference.
---
Libraries Transform
Midwinter attendees will have an opportunity to learn more about how to participate in and make the most of Libraries Transform, the new ALA national public awareness campaign. This new campaign highlights the transformative nature of libraries and the critical role they play in the digital age, including the critical roles of librarians, library staff, vendors, and supporters. The focus of the campaign is on what public, school, academic, and special libraries do for and with people, rather than what they have for people. The goal of the campaign is to change the conversation and, in so doing, to make a compelling case for funding.
Attendees will also find interactive activities in the Networking Uncommons and ALA Lounge, and are invited to take Libraries Transform ribbons, postcards, stickers, and window clings back home to their libraries.
Creativity, Innovation, and Change: Libraries Transform in the Digital Age!
Sunday, January 10, 1–2:30 p.m.
ALA President Sari Feldman, Jonathan Zittrain, and others discuss innovative library environments and how we can illustrate value to decision makers and influencers.
Libraries Transform–Understanding Change
Saturday, January 9, 1–4 p.m.  
Trainers from Kotter International, experts in the process and leadership of change, will lead an interactive session to explore libraries' current context and look ahead to meeting imperatives for Libraries Transform. Session participants will address the questions: "Where am I in the process of leading change?" and "What do I need to be doing now to move my library into the future?"
Libraries Transform: Civic and Social Innovation
Sunday, January 10, 8:30–11:30 a.m. (Civic Innovation)
Monday, January 11, 8:30–11:30 a.m. (Social Innovation)
Join Boston-based civic and social innovators, including representatives from Boston's Mayor's Office of New Mechanics and Boston College's Center for Social Innovation, for two outward-looking forums exploring the changes happening in our communities. Attendees will be encouraged to think about how innovations can inspire our efforts to help libraries transform. Each day will feature three presentations and attendees are encouraged to drop in as their schedule allows.
If I Hadn't Believed It, I Wouldn't Have Seen It: Exploring Systemic Racism and Its Implications for Our Lives and Work
Sunday, January 10, 9 a.m.–12 p.m.
Monday, January 11, 9 a.m.–12 p.m.
The Task Force on Equity, Diversity, and Inclusion, with support from ALA President-Elect Julie Todaro, will offer workshops exploring the implications of race, systemic racism, and racial privilege in our personal and professional lives, with tools to help participants better recognize and address racism and other forms of oppression in our relationships, organizations, and institutions.
---
In the Exhibit Hall
With more than 450 exhibitors offering the latest in products, titles, and services for every type of library, pavilions dedicated to niche areas, and stages featuring the hottest names in publishing, the exhibit hall at Midwinter is essential to learning and networking. For a full list of exhibitors, visit the official exhibitor website.
EXHIBIT HALL HOURS
Friday, January 8, 5:30–7 p.m.
Saturday, January 9, 9 a.m.–5 p.m.
Sunday, January 10, 9 a.m.–5 p.m.
Monday, January 11, 9 a.m.–2 p.m.

BOOK BUZZ STAGE
Hear the latest buzz about the newest titles, in one convenient place in the exhibit hall, on Saturday, January 9 and Sunday, January 10, 9:30 a.m.–4:15 p.m., and Monday, January 11, 9:30 a.m.–12:15 p.m. For a complete list of participating publishers, visit the Book Buzz Stage schedule.
WHAT'S COOKING @ ALA DEMONSTRATION STAGE
Chefs, restaurant owners, and food personalities will be preparing their hottest recipes, sharing their cooking secrets, and autographing their latest cookbooks with these live, mouth-watering demonstrations. For the full lineup, including Joanne Chang, Nancy Harmon Jenkins and Sara Jenkins, and Leslie Feinberg and Brooke Siem, visit the What's Cooking Stage schedule.
POPTOP STAGE
The popular PopTop Stage features readings, discussions, presentations, and signings, covering genres such as mystery, humor, romance, technology, and travel. For details, visit the PopTop Stage schedule.
We Need Diverse Books
Sunday, January 10, 11–11:50 a.m.
We Need Diverse Books brings Kody Keplinger, Malinda Lo, Adam Silvera, Heidi Heilig, and Marieke Nijkamp—ranging from debut authors to New York Times bestsellers—to its panel committed to diversifying library shelves, one book at a time. Panelists will discuss how their books add to the diversity of children's literature and how best to introduce LGBTQIA+ and disabled characters to library patrons, along with issues of privilege, bias, and the importance of the ongoing need for these stories.
Meet the Class of 2K16 Debuts
Sunday, January 10, 4–4:50 p.m.
At Meet the Class of 2K16 Debuts, four young adult debut authors—Elizabeth Briggs, Roshani Chokshi, Dana Elmendorf, and Emily Martin—introduce their books, which cover first loves, second chances, time travel, and otherworldly realms. Listen to panel members share their story's inspiration and offer comparable titles already in the market.
---
News You Can Use
Get the latest updates on policy, research, statistics, and technology, based on surveys, reports, legislation and regulation, projects, beta trials, focus groups, and other data. Presenters include ALA divisions and offices, and other organizations. For a full list of sessions, visit the News You Can Use lineup.
Data Visualization for the Rest of Us: A Beginner's Guide
Saturday, January 9, 8:30–10 a.m.
This program stresses that you don't have to be a graphic designer to present your library statistics in a way that effectively communicates value. In this session from the 2015 Research Institute for Public Libraries, attendees will learn visualization tips to tell a powerful story about your library.
Aspen Dialogue Report: Learn About the Action Guide for Use in Your Community
Saturday, January 9, 1–2:30 p.m.
Led by Amy Garmer, project director at the Aspen Institute, and ALA Past President Maureen Sullivan, the Aspen Dialogue Report: Learn About the Action Guide for Use in Your Community program introduces the guide, provides an update on project work, and reviews a toolkit of resources for library leaders to use in their communities.
Library Information Technology Association's Top Technology Trends
Sunday, January 10, 10:30–11:30 a.m.
Expert panelists describe advances in technology that are impacting the library world and what libraries can do to take advantage of these changes in the Library Information Technology Association's Top Technology Trends session.
---
Three Libraries to See in Boston

Boston Public Library
700 Boylston St.
Boston Public Library's stunning Central Library on Copley Square is an impressive feat of architecture. The McKim Building's elegance and proportions, marble vestibule, mural paintings, high-arched windows, peaceful interior courtyard, and iconic reading room can all be viewed on free, one-hour public tours offered daily. Parties of eight or more people must make reservations.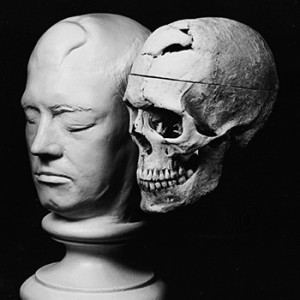 Warren Anatomical Museum
10 Shattuck St.
The museum at the Francis A. Countway Library of Medicine, free and open to the public, displays 300 cases and artifacts from its medical, anthropological, and scientific collection—including the skull of Phineas Gage, a railway worker whose death-defying impalement gave medicine a first glimpse into the relationship between personality and the brain's frontal lobe. Visit the museum website for more information.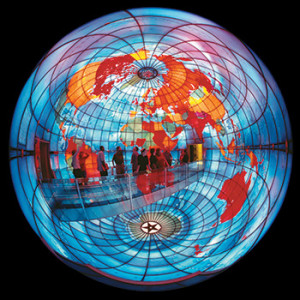 Mary Baker Eddy Library
200 Massachusetts Ave.
Opened to honor the achievements of Mary Baker Eddy, the founder of the Church of Christ, Scientist and The Christian Science Monitor, the library's best-known feature is the three-story, stained-glass Mapparium with 206 LED fixtures that can be programmed to produce up to 16 million colors. Midwinter attendees get $1 off admission with badge. For more information, visit the Mary Baker Eddy Library website.
---
Stay Connected
For an up-to-date list of dates and times, see the Midwinter scheduler.