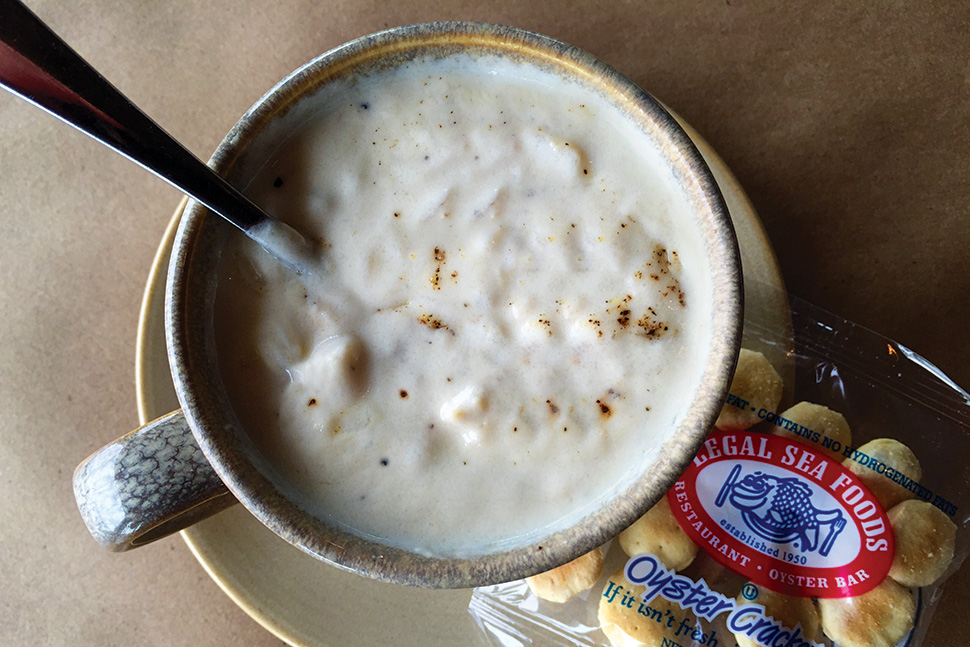 Eastern Massachusetts enjoys one of the country's most dynamic dining scenes, encompassing everything from budget-friendly storefronts for students to over-the-top places that put the "special" in "special occasion." These restaurant listings cover a range of cuisines and prices, emphasizing Boston neighborhoods that are convenient to Midwinter and its affiliated hotels: Seaport District (including Fort Point), Downtown and Chinatown, North End (Boston's Little Italy), Back Bay, and South End.
Early January can test even the sturdiest of Bostonians. Luckily, there's no better way to battle Mother Nature's winter assault than with New England's most famous culinary export: a bowl of hot clam chowder. You'll find options aplenty, as well as diverse dishes that vary from vegetarian food-truck snacks to luxurious steakhouse feasts. These listings only touch on Cambridge, a separate city with its own vibrant mix of restaurants. If you have the time and inclination to explore the other side of the Charles River, visit frommers.com or cambridgeusa.org for pointers.
On the Go: Boston's food trucks
Although some of the city's dozens of food trucks come off the road in late fall, a surprising number operate in winter months. Lunch is by far the most popular meal; some trucks open early or close late, though usually not both. Boston's trucks serve an impressive variety of cuisines and dishes, from New England clam chowder to Asian noodles. Menus are heavy on salads and sandwiches, with plenty of proper meals in the mix. Trucks often move around from day to day, and many don't operate weekends. In addition to regular stops within a 15-minute walk from the Convention Center in the Seaport District, popular locations include spots along the Rose Kennedy Greenway downtown and around Copley Square in Back Bay. Visit cityofboston.gov/foodtrucks for hours and more information. Always check ahead for schedules, location, and payment options (at least one truck, Clover at Dewey Square, accepts credit cards only).
Takeout spots near the convention center
If the onsite dining options at the convention center and the pricey national names in the neighborhood don't butter your biscuit, try a local favorite for takeout. Two mouth-watering branches of local mini-chains, both within 10 minutes on foot, serve three meals daily. At both, you're welcome to sit, but be aware that they're extremely busy at lunch on weekdays. Flour Bakery and Café, 12 Farnsworth St. (617-338-4333; flourbakery.com), brainchild of celebrated chef and cookbook author Joanne Chang, draws crowds for sandwiches, soups, and salads as well as delectable baked goods made in-house. Longtime favorite J. Pace & Son, 1 Park Ln. (857-366-4640; jpaceandson.com), is a deli and grocery that also offers prepared meals and especially good Italian specialties. Another old-school spot is a 20-minute walk (or five-minute cab ride) away, beyond the cruise-ship terminal. In addition to a huge variety of hot and cold sandwiches, Scola's Sandwich, 88 Black Falcon Ave. (617-478-0408), serves salads, pasta dishes, and excellent breakfast sandwiches.
Seaport District/Fort Point
Babbo Pizzeria
617-421-4466
babbopizzeria.com
11 Fan Pier Blvd.
Celebrity chef Mario Batali's first New England restaurant, in a cavernous space a block from the harbor, is a loud, lively destination for sublime brick-oven pizza and top-notch small plates. Try the potato and Brussels sprouts pizza with pancetta and smoked mozzarella ($14), the guanciale pizza with egg, parmigiana, and scallions ($14), or the grappa-cured salmon ($7). Portions are modest—great for a reasonable lunch, even better for sharing satisfying tastes at dinner. Be sure to try at least one of the incredible pasta dishes like the pumpkin lune ($15). L, D daily $$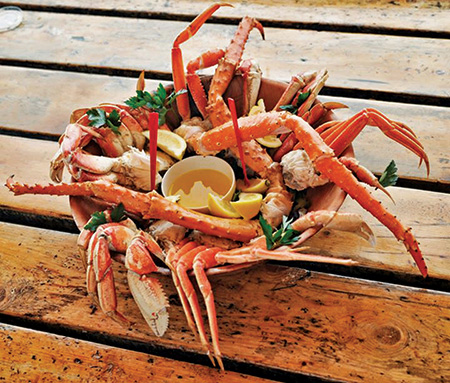 The Barking Crab
617-426-2722
barkingcrab.com
88 Sleeper St.
Overlooking the Fort Point Channel, this casual seafood restaurant and bar has a summery feel even in the depths of winter—and a roaring wood stove to take the edge off the chill. Come here for simple fried, steamed, and broiled fish and shellfish, deftly prepared and served without pretension. L, D daily $$-$$$
Blue Dragon
617-338-8585
ming.com/blue-dragon.htm
324 A St.
Ming Tsai, who gained fame through his fine-dining restaurant in suburban Wellesley and genial presence on PBS, scores with this casual, friendly spot. It's popular for business lunches as well as groups sharing dishes and sampling creative cocktails. Asian meets trendy gastropub isn't an obvious combo, but bar food and strong flavors are a delicious match. Think fish and chips with black-vinegar aioli rather than malt vinegar, and pot stickers stuffed with Carolina pork barbecue ($9). L (M–F), D (M–Sat) $$
Buco Trattoria
617-982-7949
bucotrattoria.com
300 Summer St.
A low-key spot on the lower level of a converted wool warehouse, Buco specializes in simple Italian cuisine—homemade pasta, panini, salads, and risotto. The atrium-like space can be loud, but you may not care when the food is this good. B, L (M–F) $$
The Daily Catch
617-772-4400
thedailycatch.com
2 Northern Ave., in the Moakley Courthouse
This is the place if you love seafood, garlic, or both. Unlike some restaurants that mess up anything trickier than deep-frying, it's a great choice for more complicated preparations: Try delectable monkfish marsala ($21.75) or any dish with calamari (the house specialty). All food is prepared to order, and some dishes arrive still in the frying pan. There are other locations, including the North End original that opened in 1973, but the waterfront setting makes this one the jewel of the chain. L, D daily $$–$$$
Legal Harborside
617-477-2900
270 Northern Ave.
legalseafoods.com
The flagship of the internationally renowned Legal Sea Foods chain is this three-level harborfront restaurant, the only branch with a water view. It's hardly the back-alley local secret that foodies dream of, but it is terrific. From the celebrated clam chowder ($6.95) to the simplest broiled filet to the fanciest shellfish concoction, everything is ultra-fresh, made from top-quality ingredients, and prepared with care. Ask your well-versed server for advice, or just order a big lobster. The wine list and desserts are also terrific. Check the website for info about the dozens of other locations, including Legal Test Kitchen at 225 Northern Ave. L, D daily $$$–$$$$
Downtown/Chinatown
Gene's Chinese Flatbread Cafe
617-482-1888
sites.google.com/site/genes
chineseflatbreadcafe
86 Bedford St.
The utilitarian space belies the culinary delights at Gene's, which specializes in spicy dishes from Xi'an, in Shaanxi Province. The menu includes other tasty options—notably the eponymous flatbread—but most people are here for the hand-pulled noodles. Thick and chewy, they're excellent served cold or in soup, and the version with cumin lamb ($8.40) might just haunt your dreams. Cash only. L, D (M–Sat) $
Great Taste Bakery and Restaurant
617-426-6688
bostongreattastebakery.com
61–63 Beach St.
The perfect combination of Hong Kong–style and Chinese-American classics is reason enough to seek out this no-frills double storefront. Bonus: Great Taste also boasts terrific à la carte dim sum and an excellent bakery that sells not-too-sweet Chinese treats like custard buns ($.90) and egg custard tarts ($.80) and Western-style layer cakes. B, L, D daily $–$$
Hei La Moon
617-338-8813
heilamoon.com
88 Beach St.
The best dim sum in the city—the variety is largest on weekends—brings huge crowds to this cavernous restaurant. It's worth the wait. L, D daily $–$$
Sakurabana
617-542-4311
sakurabanaboston.com
57 Broad St.
Situated for decades on a nondescript Financial District corner, Sakurabana has outlasted countless show-off sushi places with its top-notch food and excellent service. It's a madhouse at midday (lunch boxes and specials are good deals starting at $9) and calmer after work. L (M–F), D (M–Sat) $$–$$$$
Sultan's Kitchen
617-570-9009
sultans-kitchen.com
116 State St.
Mostly a takeout operation, Sultan's Kitchen has a small seating area and a huge reputation. It's an under-the-radar favorite for business lunches over delectable Turkish and Middle Eastern specialties, wonderful soups, and a rainbow of salads. "Eat well like the sultans," indeed. L (M–Sat) $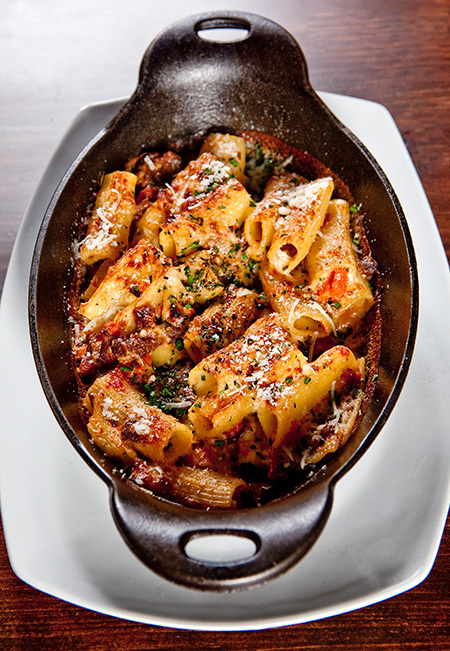 Trade
617-451-1234
trade-boston.com
540 Atlantic Ave.
Come for the raucous bar scene, stay for the creative Mediterranean and New American food: small plates, flatbreads, salads, pasta, and more, all perfect for sharing and sampling. Business travelers and foodies are equally happy in this glass-walled, high-ceilinged space—and they're all yelling about it. L (M–Sat), D daily $$–$$$
Union Oyster House
617-227-2750
unionoysterhouse.com
41 Union St.
The country's oldest restaurant (since 1826) is on the Freedom Trail—tourist central—but popular with locals. Simple, well-prepared food is the not-so-secret formula: super-fresh oysters ($16.50) shucked while you watch, clam chowder, broiled and fried seafood, and gingerbread and Boston cream pie add up to a classic New England experience. L, D daily $$$–$$$$
North End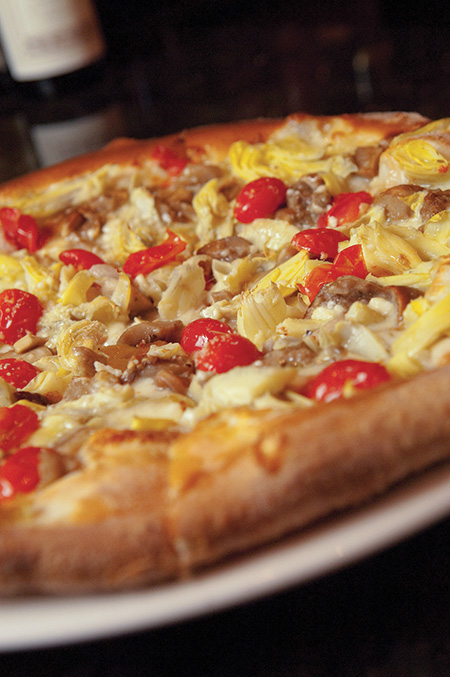 Antico Forno
617-723-6733
anticofornoboston.com
93 Salem St.
The forno (oven) is the wood-burning heart of this loud yet cozy place, which draws a steady stream of diners for excellent Italian and Italian-American cuisine, notably pizza—try the dessert version, with Nutella and fresh fruit ($13). Baked pasta dishes, also served steaming hot from the oven, are another great choice. L, D daily $$–$$$
Artú
617-742-4336
artuboston.com
6 Prince St.
Though it's right on the Freedom Trail—which often means mediocre food and halfhearted service—Artú is a certified neighborhood favorite. It serves terrific roasted meats, pastas, salads, and (at lunch) panini and pizza to both out-of-towners and picky locals. L, D daily $–$$$
Galleria Umberto Rosticceria
617-227-5709
289 Hanover St.
Lunch at this dirt-cheap cafeteria-style place is a true Boston experience, especially if you like incredible Sicilian-style (thick crust) pizza. Locals, office workers, and sightseers form a line moments after the doors open. On their paper plates: arancini (deep-fried rice balls stuffed with beef, peas, and cheese; $3); meat, vegetable, and cheese calzones ($4.25–$4.75); and sublime panzarotti (mozzarella-stuffed fried potato croquettes; $1.45). Cash only. L (M–Sat) $
La Summa
617-523-9503
lasumma.com
30 Fleet St.
A neighborhood native owns and runs this southern Italian spot, a friendly place where many specialties are family recipes; try the handmade pasta. D daily $$–$$$
Neptune Oyster
617-742-3474
neptuneoyster.com
63 Salem St.
As crowded as a rush-hour subway car and about as noisy, this tiny place serves the best seafood in the North End—possibly in all of Boston. Be ready to wait. Then start with oysters, enticingly displayed in the window on ice. Move on to anything that sounds good; even the burger is terrific. The signature dish is the lobster roll, served cold with mayonnaise or hot with butter ($29). L, D daily $$–$$$$
Regina Pizzeria
617-227-0765
pizzeriaregina.com
11½ Thacher St.
That picture you have in your head of a neighborhood pizza place in an old-time Italian neighborhood? With the oven that's been roaring since 1926, the waitresses who call you "honey," and the unbelievable pizza? This is that place. L, D daily $
Back Bay
Brasserie Jo
617-425-3240
brasseriejoboston.com
120 Huntington Ave., in the Colonnade Hotel Boston
A classic French brasserie with long hours and a wide-ranging menu, this lively yet elegant place is a welcome refuge from the busy neighborhood throughout the day. Service is lovely, whether you're just grabbing a late-afternoon glass of wine or settling in for a date with a tower of pristine shellfish. B, L, D daily $$–$$$
Cafe Jaffa
617-536-0230
cafejaffa.net
48 Gloucester St.
In a cozy space on a side street, this is an oasis of top-notch Middle Eastern food and a bargain for pricey Back Bay. Fill up on a sandwich or salad for less than 10 bucks, or splurge on a full meal with delicious mint lemonade. L, D daily $–$$
Davio's Northern Italian Steakhouse
617-357-4810
davios.com
75 Arlington St.
Northern Italian classics, including great risotto, share the menu with steakhouse favorites, plus inventive starters like cheesesteak spring rolls ($11), which were invented here. The dining room hums, but the noise level is surprisingly reasonable. Davio's isn't cheap, but it's worth every penny. Brunch (Sun), L (M–F), D daily $$–$$$$
Jasper White's Summer Shack
617-867-9955
summershackrestaurant.com
50 Dalton St.
Although it feels like a casual seaside place (think corn dogs, lobster rolls, fried clams), the Summer Shack tastes like the brainchild of a gourmet chef (think pan-roasted lobster with chervil and chives). Also at 149 Alewife Brook Pkwy., Cambridge (617-520-9500; L, D daily). L, D daily $$–$$$$
Mike & Patty's
617-423-3447
mikeandpattys.com
12 Church St.
This closet-size, mostly takeout place in Bay Village almost defies description; let's say "gourmet diner." Breakfast options—sandwiches on breads from top local bakeries—are sublime. At lunch, try a veggie sandwich with honey-whipped ricotta ($9); you'll never miss the meat. B, L daily $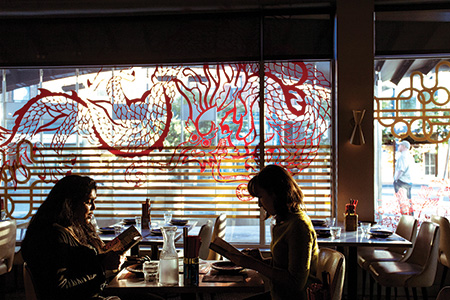 Myers + Chang
617-542-5200
myersandchang.com
1145 Washington St.
Try to hit this convivial spot with a group and share the familiar and unusual dishes, which incorporate flavors and preparations from all over the continent. Mix and match noodles, dumplings, salads, and main courses; quench the fire of the spicier options, such as the hot Szechuan dan dan noodles ($12) and the green papaya slaw ($6), with sake or a cocktail. The glass-walled room can grow loud at night. Brunch (Sat, Sun), L (M–F), D daily $$
The Salty Pig
617-536-6200
thesaltypig.com
130 Dartmouth St.
It's all in the name: the specialty at this cavernous place is house-cured pork, aka "salty pig parts." Order à la carte from a selection of meats, pâtés, and sausages, choose one or more of the excellent cheeses and condiments, and wait while the kitchen assembles your charcuterie board. If that doesn't appeal, the salads, sandwiches, and pizzas are terrific, especially the roast pork shoulder sandwich with taleggio, Belgian endive, apple cider vinaigrette, and kohlrabi ($13), and the pizza Toscana, with Salty Pig fennel sausage, escarole, mozza­rella, and Calabrian chili ($15). L, D daily $$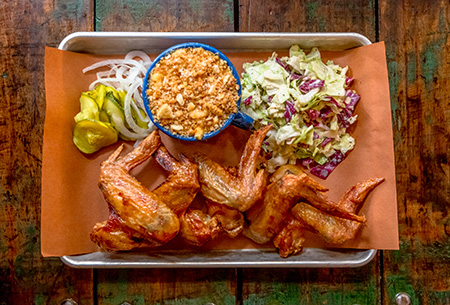 Sweet Cheeks Q
617-266-1300
sweetcheeksq.com
1381 Boylston St.
Almost everything about this upscale joint near Fenway Park is perfect—succulent barbecue, fantastic side dishes, hospitable service, and biscuits so good you'll forsake your Southern grandma. But it's so loud! Come with someone you've been wanting to yell at, and go wild. L, D daily $$–$$$
South End
Coppa
617-391-0902
coppaboston.com
253 Shawmut Ave.
Phenomenal bar snacks and cured meats, amazing pizza, and scrumptious pasta and main courses such as the spelt tagliatelle with wild mushroom, sage, and acorn squash (half portion: $15; full portion: $24) and the wood oven-roasted rock shrimp with chickpea purée, smoked sea salt, and Urfa peppers ($13) draw huge crowds to this casual storefront. Portions are modest, which means the bill can mount quickly, but this is some of the best Italian food around. Brunch (Sun), L (M–F), D daily $$–$$$
DeLux Café
617-338-5258
100 Chandler St.
A pregentrification throwback in an increasingly refined neighborhood, this is essentially a dive bar with excellent veggie-­friendly food and a great beer menu. Try the stuffed poblanos ($7.95) and the grilled cheese with fried green tomatoes, stewed peppers, and fontina cheese on sourdough bread ($7.95). Part of the appeal is the décor—a scrapbook of 20th-century pop culture (posters, photos, postcards, and such). Check out the Elvis shrine. Cash only. D daily $–$$
The Elephant Walk
617-247-1500
elephantwalk.com
1415 Washington St.
French on one side, Cambodian on the other, this is the most interesting menu in Boston—and some of the tastiest food. Spicy specialties such as the loc lac (spicy beef tenderloin, half portion: $14; full portion: $22) are worth seeking out. Many dishes are available in half portions, and vegetarian and vegan options are extensive. Also at 2067 Massachusetts Ave., Cambridge (617-492-6900; L [M–F], D daily). Brunch (Sat, Sun), L (Th–F), D daily $$–$$$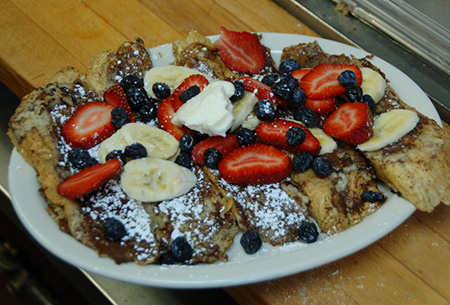 Mike's City Diner
617-267-9393
mikescitydiner.com
1714 Washington St.
A neighborhood stalwart that serves huge portions of yummy diner classics, Mike's often has a line out the door on weekends—and with good reason. The South-ender omelette with corned-beef hash and cheese ($8.95) and Mike's Famous Pilgrim turkey sandwich, complete with stuffing and cranberry sauce ($9.25), are worth the wait. Note: The lunch menu is not served on weekends. Cash only. B daily, L (M–F) $–$$
Picco Restaurant
617-927-0066
piccorestaurant.com
513 Tremont St.
The name is short for "pizza and ice cream company," and salads, pastas, sandwiches, and the occasional standout Mexican dish complement the divine brick-oven pizza. Ice cream in a dish, cone, sundae, or soda makes a perfect chaser. L, D daily $$
South End Buttery
617-482-1015
southendbuttery.com
314 Shawmut Ave.
A satisfying combination of lively café and cozy restaurant, the Buttery is known for luscious baked goods, breakfast items, sandwiches, salads, and hearty soups. At dinner and weekend brunch, the back room and downstairs turn into a sit-down comfort-food restaurant. In both spaces, takeout is always popular. Brunch (Sat, Sun), B, L, D daily $–$$$
Toro
617-536-4300
toro-restaurant.com/boston
1704 Washington St.
The original Toro (now overshadowed by its New York City sibling) is an excellent choice for lunch and less enjoyable—though still delicious—at dinner, when noise and the long wait for a table can take a toll. At both meals, Barcelona-style tapas are sure to please. Mix hot and cold, meat and seafood, vegetables and more vegetables ($5–$23 per plate). The friendly waitstaff can help you decide whether and when to order more. Brunch (Sun), L (M–F), D daily $$–$$$