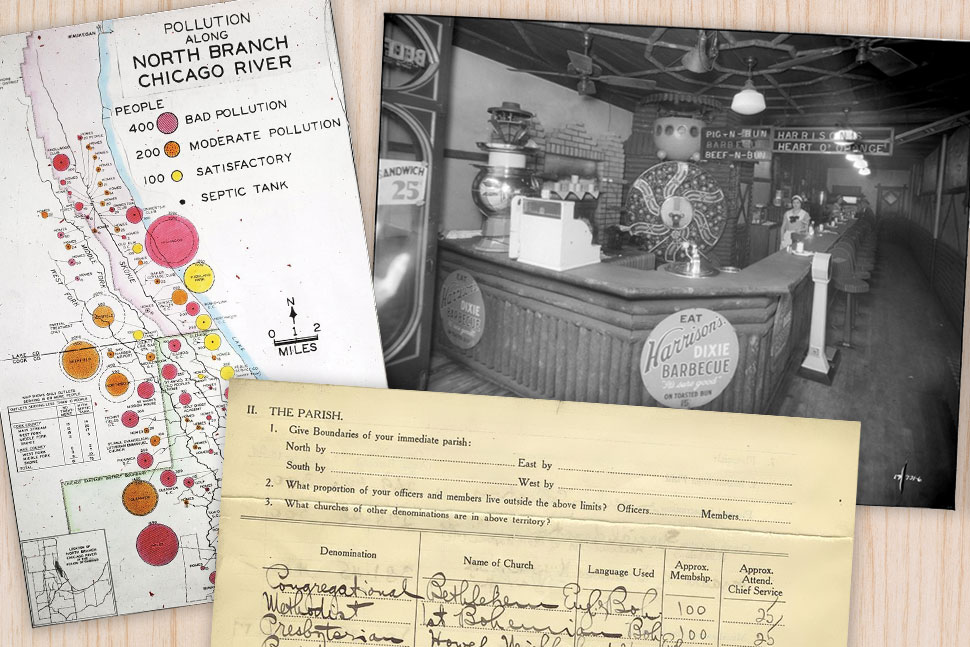 Local histories are easily explored at most libraries. Government documents and records, newspaper photos and clippings, film and video footage, and assorted ephemera nestled in stacks and special collections can create vivid snapshots of a community's past. But even the most thorough collection may not be complete. Complementary and supplemental materials are often held at different locations, forcing patrons and researchers to trek across city and state, use interlibrary loan, or browse multiple websites to complete a historical picture. Libraries are combining forces to eliminate that extra effort, though.
Explore Chicago Collections is a consortium of 21 institutions located throughout the Chicago area that have pooled resources to offer a richer perspective of the city's history. "We have all of these incredible archives and libraries here in Chicago," says Scott Walter, university librarian at DePaul University and member of Explore Chicago Collections' executive committee. "And while we had a number of bilateral arrangements, we thought, 'What would happen if we all worked together?'" Such an opportunity presented itself in 2008 when 12 libraries collaborated on a yearlong cartography exhibition presented throughout Chicago. The success of that effort led to the formation of a limited liability corporation in 2012, exploratory and action grants from the Andrew W. Mellon Foundation to create a web portal, and nine additional libraries joining the fold.
Visitors to explore.chicagocollections.org can search and browse thousands of Chicago-­specific materials from partici­pating institutions, including more than 100,000 digitized photos and scanned documents, as well as film and audio clips. For materials not available digitally, indexes provide detailed descriptions and the locations of the physical items should viewers want to access them onsite. Participating organizations include Chicago Public Library, libraries at Northwestern University and University of Chicago, the Art Institute of Chicago and other museum libraries, and special libraries at organizations as diverse as Chicago Zoological Society's Brookfield (Ill.) Zoo, Alliance Française, and Theatre Historical Society of America.
The 2008 maps exhibit provided the impetus for Explore Chicago, but the Philadelphia Area Consortium of Special Collections Libraries (PACSCL) was an inspiration, according to Explore Chicago Executive Director Jaclyn Grahl.
PACSCL adopts a wider historical scope, but it was formed in the same manner as Explore Chicago: Several libraries joined forces in 1985 to share resources and mount the 1988 exhibition "Legacies of Genius: A Celebration of Philadelphia Libraries."
Thirty-one years later, PACSCL membership includes 35 special libraries in the Philadelphia area that contribute records to a searchable online database, says Laura Blanchard, PACSCL executive director. The records include more than 4 million rare books, 260,000 linear feet of manuscripts and archival materials, and 9 million photographs, maps, architectural drawings, and works of art on paper.
Digitization is a top priority for PACSCL, according to Blanchard. In January, it was the recipient of a $499,086 grant from the Council on Library and Information Resources (CLIR), with support from the Andrew W. Mellon Foundation, to digitize European medieval manuscripts in its member libraries' collections. The three-year project will be directed by investigators at Lehigh University, the University of Pennsylvania Libraries, and the Free Library of Philadelphia.
Explore Chicago Collections debuted in November 2015 and has already been gaining traction. The website has 14,000 unique daily users and receives 18,000 daily visits from all 50 states and more than 80 countries. More important, teachers and students are using the site in the classroom and libraries, says Walter. "There is a lifelong learning aspect to this that reflects the interests of the users," he says. He cites student projects conducted at Chicago Public Library, University of Illinois at Chicago, and DePaul University as examples of Explore Chicago's early adoption as a research tool.
PACSCL enjoys similar success as a teaching tool, says Blanchard, and she's proud of its impact.
"Students are telling us that they had no interest in history until they got into special collections," she says. "The younger students are today's special collection researchers and librarians. If we don't get them in early, we don't get them."