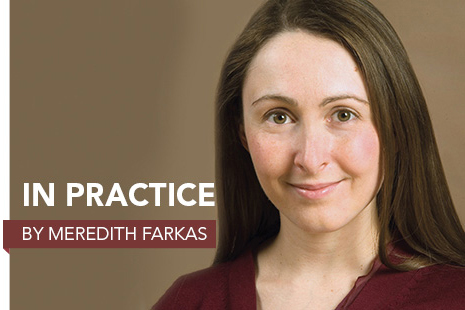 Libraries are commonly seen as places that encourage learning and personal growth for patrons, yet sometimes the learning and growth of the library's own staff may be overlooked. In this era of lean budgets, a library's professional budget would understandably see cuts. However, that doesn't mean the library should give up on supporting professional development for its employees.
There is no one working in a library who wouldn't benefit from continuous learning. At some institutions, only those in professional positions are granted time and money for professional development. This not only creates an uncomfortable divide between colleagues, it also suggests that only professionals really need to learn on the job.
This couldn't be further from the truth. Professional development builds skills, brings great ideas into the library, and makes all staff members feel more connected to the job. Libraries that want to see deep engagement and commitment from all library staff should find ways to support their professional development.
Even institutions that can't afford to provide everyone with funding can find ways to support professional development by providing library staffers with dedicated time to learn and reflect. This can benefit the library greatly by bringing in fresh ideas. It is so easy to get bogged down in one's daily work and lose that critical eye toward improvement when you don't have the time to take a step back from it all.
Professional development doesn't have to cost a fortune, but it does require time.
For librarians, having limited or no professional development funding forces you to focus on the areas in which you really want to develop. Once you know what your goals are, you may be able to find affordable or even free learning experiences. A web search for "free library webinars" brought up a wealth of options from library publications, library-related nonprofits, and the open archives of various ALA divisions and state library associations. One such organization, WebJunction (an OCLC site), lists free online training events each month, from various providers, that are relevant to libraries.
Looking outside the profession, there are tools to develop skills in technology, leadership and management, and much more. Want to learn to code? There are dozens of sites, such as CodeAcademy.com and Code.org, that will help you develop the skills and mindset for computer programming. Massive open online courses (MOOCs) have come under criticism for not being solid replacements for regular college classes, but they can be fantastic for motivated people wanting to learn a new skill. Looking at the free offerings from MOOC providers like Coursera, Udacity, and edX, I see at least a dozen classes that are relevant to my work.
In addition, libraries can build structures that encourage sharing knowledge across the organization. Each member of your library's staff likely has knowledge of something relevant to others, whether it is how to use a specific database, create pivot tables in Excel, or teach with iPads. At my library, we've developed a quarterly "Library Community Learning Day" during which members of the staff present sessions or facilitate discussions on topics relevant to our professional development. Not only do we learn a lot from one another, but we also help build a more cohesive organizational culture by learning together.
Professional development doesn't have to cost a fortune, but it does require time. And library administrators must consciously choose to make this investment. It benefits individuals and connects them more to the profession, and all that learning comes back to enrich the organization. A learning organization is always improving, and that can't happen without an intentional investment in professional development.