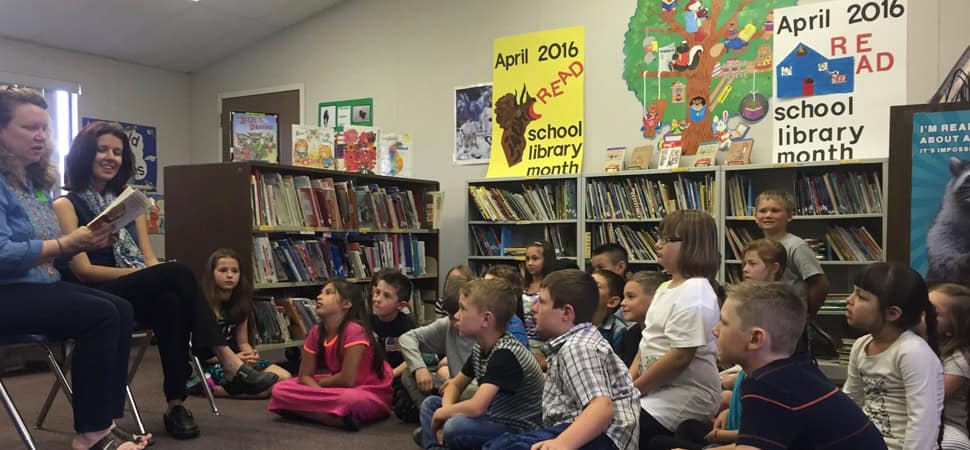 Megan McDonald, author of the Judy Moody and Stink books, is the 2016 spokesperson for the American Association of School Librarians' School Library Month. McDonald, a former school librarian herself, spoke with American Libraries about her role as spokesperson, her development as a writer, and the formative role school libraries played in her own life.
How did you become this year's spokesperson for School Library Month? 
MEGAN McDONALD: It's been amazing. I didn't even really grasp what was being asked of me, but the American Association of School Librarians (AASL) came to Candlewick Press, my publisher, and asked if I'd be the spokesperson for School Library Month. I feel so strongly about libraries. I was originally trained as a librarian and worked in public libraries for many years before writing, and it's such a great platform to be able to speak out. Many people have seen some little piece of publicity [I've done], and then wanted to do a further story or talk more about school libraries.
What are your official duties for this month?
I made several videos just talking about the importance of school libraries. I made a public service announcement that AASL could put on its website and have librarians and teachers and kids access it. And then other organizations like First Book also came to me and said, "Since you're the spokesperson, would you be willing to speak out through our site?" We work with any platform we can find that gets the word out for school libraries. As you know, school libraries always struggle with funding, and it's such a good reminder.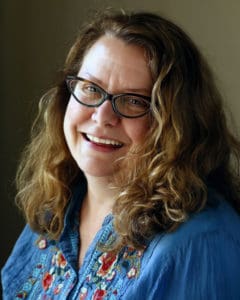 It touches me personally because that's really where I got my start as a child. We didn't have a public library branch anywhere near my house. We had a bookmobile from the Carnegie Library in downtown Pittsburgh that would come to the shopping center, but we didn't have a branch of the library. The school library was where you went to get your armloads of books. I have four older sisters and grew up in a family of readers, and we were always trying to figure out where we could find more books to read. Then we would swap all our books around. I have one sister who would always say, "Let me see if that's a good book before you read it," and she would read the last page of my book, and if it made her cry, she would tell me, "That's a good book." That was my first reader's advisory—if it made you cry, it was a good book.
How did school librarians affect you growing up and play a role in you becoming an author and children's librarian? What do you think is the importance of school libraries?
I went to library school [at the University of Pittsburgh School of Information Sciences] after college. I was more in the public library track but I started with Blanche Woolls, who was one of the premiere professors and advocates for school libraries at the time. It's hard for us who are real readers to believe it in this country, but so many children honestly don't have a book in their home, and their parents may never get them to a public library or a bookstore. The school library is where they go. Even if they go once a week at school, they have access to books. There's also a librarian or a person who runs that library who gets to know them personally and knows what they like to read, or knows that they're working on a certain book report or certain science project, and they help kids and help support the curriculum in so many ways.
What was the inspiration for Judy Moody and Stink? How did you become an author after being a children's librarian?
Being a librarian put me in a role where I was constantly connecting kids and books, and I got to learn firsthand what books really reach kids and make a connection with kids. As a reader growing up, the school library was where I discovered Ramona and Beezus and Homer Price and Laura Ingalls Wilder. And in a more personal way, Judy Moody grew out of wanting to tell stories about growing up with all these sisters. I wanted to draw on my own life, but I didn't want it to be exactly like that. I thought, "Oh, if I give her a little brother, it'll mix it up." I always wanted a little brother.
You won the first-ever Beverly Cleary Children's Choice Award in 2003.
I know! I'm so honored. And Tuesday (April 12) was her 100th birthday.
How was that experience, and what was the impact since Ramona was so influential to you as a reader?
The thing about Ramona that touched me was that she was a real kid to me. And she had a father who was out of a job, and she had real-life problems like any kid, and that really spoke to me. With Judy Moody—especially with giving her different moods, she's often so enthusiastic in class that she gets in trouble for talking out of turn—she seems real, and kids really connect with her. I have kids who come to a book signing and think Judy Moody is going to be there, or they say, "I want her to be my friend and sit next to me in class!"
I was honored to be the first recipient of the Beverly Cleary Award. It prompted me to go back and reread some of the books. My favorite Beverly Cleary book is Ellen Tebbits. Ellen's mother made her take dance class but she had to wear these itchy long johns, and she was in the school play, but her role was not even the rat but the substitute rat. When I reread Ellen Tebbits, I saw these elements that were similar to Judy Moody, like when the dentist comes to school, Judy has to dress up like the cavity, but it wasn't even conscious. Those books just imprinted on me as a child, and I think I just carried that sense of story into my life as a reader.
What's next for the Judy Moody and Stink characters and series?
I'm really excited about the upcoming Judy Moody book. It's called Judy Moody and the Bucket List. Judy is looting through Grandma Lou's purse and finds her "bucket list" with all these exciting adventures. Grandma Lou has to explain that a bucket list is all of your wishes and hopes and dreams and things you want to do before you die. Judy has a moment of, "Oh no, Grandma Lou—are you dying?" Grandma Lou says, "No, I'm going to be here for a good long time, but I have a lot I want to do." That inspires Judy. She thinks, "Hey, I'm going to make a bucket list of everything I want to do before I get to 4th grade." Of course, Grandma Lou at some point has to remind her that part of it is enjoying the ride, enjoying the experience along the way, and not just furiously checking everything off your list.
What advice do you have for students who are aspiring authors and children's librarians?
I was a reader before I was a writer, and so to me the most important thing is to be a voracious reader and just read. You'll find out what books really touch you and speak to you. I don't even mean it in the sense of parsing it and figuring out how someone else wrote the book, but more just to feed your soul and to get lost in a world. Story comes to us through being a reader—not that it isn't important to study and know about beginnings, middles, and ends for kids and all those devices. Coming at it from your love of reading is a good way to start.