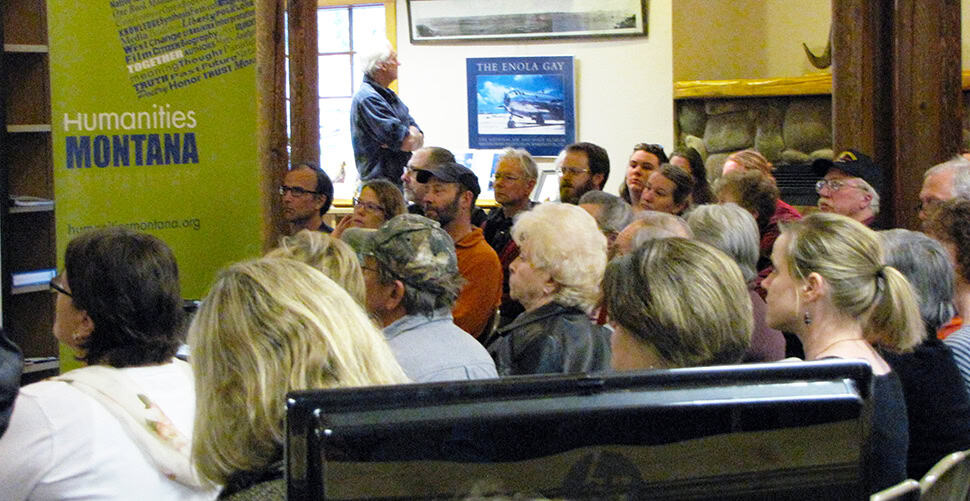 Our mission at the Darby (Mont.) Community Public Library is to provide programs and resources that address the educational, cultural, and recreational needs of the south Bitterroot Valley community in southwestern Montana. The library district covers 1,380 square miles and has a service population of 4,000.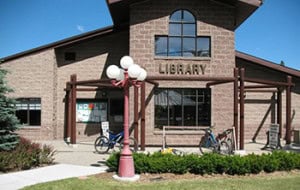 In 2016, along with our regular programming for children, we chose the Montana Historical Society traveling history footlocker, Coming to Montana: Immigrants from Around the World, for field trips with elementary-school children from Darby Public Schools, one of our local partners. The footlocker was exhibited at the library and provided a useful starting point for community programs that focused on historical and contemporary immigrant cultures.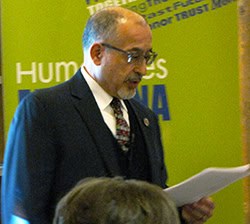 The library also chose three speakers for a series of three Lifelong Learning cultural programs, held at both the library and Darby High School, to explain past and present cultures that are unfamiliar to many of our residents. All were listed in the Humanities Montana speakers bureau catalog. Our choices were Philip Burgess, "A Black Homesteader's Struggle," February 10; Samir Bitar, "Perspectives on Islam," March 9; and Ellen Baumler, "Chinese in Montana: Montana's Forgotten Pioneers," April 6.
The library promoted the series in a news release to the local newspapers, and a local reporter wrote a feature story as well as brief stories about two weeks before each presentation date. We also publicized the talks on the library website, Facebook page, and local online event calendars.
The first event on black homesteaders went smoothly at both the high school and the library. But then we received some passing complaints at the circulation desk for our second event, the talk by Samir Bitar, a lecturer of Arabic language and cultures at the University of Montana. The individuals accused the library of teaching religion, because they viewed Islam as a religion, not a culture. I did not think much of it at the time and printed the definition of "culture" for my staff to use should they receive more comments.
The controversy begins
One staff member came to me a couple days later, saying that a patron was very angry about the talk on Islam. The patron then contacted the library by phone a few days later, stating she was so mad that she had to call me and explain how she felt.
She told me that "all Muslims sought to kill us, and that we were at war with Islam." The conversation was alarming because she could not differentiate between an educational event and promoting a religion, nor was she clear on how the Islamic State and extremists diverged from mainstream Islamic culture. I told her I appreciated the call and invited her to complete a written complaint form.
When the library opened the next morning, two community members were at the desk demanding to sign a petition to prevent the Muslim speaker from coming to our town. Then the husband of the caller from the previous evening came to the desk to clarify that all three of them wanted complaint forms to fill out. A few minutes later, another patron came to the desk voicing his concerns. The controversy intensified as the protesters took written complaint forms out into the community to generate more opposition to the event.
These emotional moments prompted me to contact the library board to request a special meeting to discuss a response. The board rallied and we met 24 hours later, after I contacted the (by then) seven protesters to invite them to a special meeting called to address their concerns. We also invited our school partners—the high school history teacher, principal, and superintendent—to the meeting as well as the mayor of Darby. The news reporter who had written stories on our events also came.
The meeting provided the protesters an opportunity to voice their concerns without interruption from the board. Their concerns were similar, and perhaps more extreme, than those I had heard the previous day. I reiterated my statement that libraries do not promote or condemn points of view. Libraries provide safe places for communication and education in order for people to make informed decisions.
The mayor commented on the democratic process whereby people have the freedom to speak their views, but they do not necessarily speak for everyone. In the end, the board explained that it would move forward with the presentation, although two of the protesters had left angrily before the decision.
Preparing for protest
We heard that we could expect 50 protesters. I knew nothing about how to handle such a controversial program, so I contacted a nearby library director, the county sheriff's office, the state librarian, and the ALA Office for Intellectual Freedom (OIF).
The library director offered his support and insight from the county meeting the previous week—an unexpected event where the commissioners had sought public comment for their letter requesting that no Syrian refugees be allowed in Ravalli County. That meeting, which drew 500 people mostly opposed to any resettlement of refugees, brought fear and anger to the surface and fueled the emotional responses we received for our event. My colleague suggested posting the maximum occupancy of the library in a very visible location.
The county undersheriff talked with me several times, listened to my concerns about local law enforcement coverage, promised to provide onsite protection, and instructed me to post the state code describing disorderly behavior in our lobby.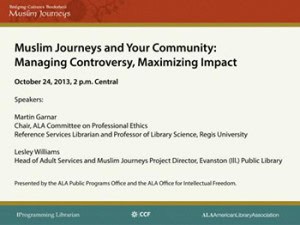 The Montana State Library offered support and directed me to ALA, where OIF Director James LaRue supported our library through the next week with ideas and insights from his experience and resources—such as the "Muslim Journeys and Your Community: Managing Controversy, Maximizing Impact" webinar, which provides tools to prepare for a successful event as well as reflections from other librarians who had held similar programs. This preparation proved critical in building my confidence and my unwavering resolve to turn this controversial event into a success.
The high school had also received verbal and written complaints. These led to an emergency school board meeting as I began the final preparations for our community event. I was thankful that the history teacher had insisted on getting complete administrative investment and approval for the school–library partnership to host these cultural events, including an opt-in for student attendance requiring a parent's signature. He was prompted to do so because of the backlash he experienced earlier in 2016 when an online talk on the Middle East generated a string of Facebook comments, including a threatening call for people to bring pitchforks to the school and string up the administration for allowing a Muslim into the virtual classroom.
The community came together for the board meeting, with school administrators and many supportive teachers in attendance. The board heard complaints, but two-thirds of the approximately 100 people present approved of the program. Two television stations and the two local newspapers covered the event. Ultimately, the school board decided to allow the presentation for students with parental consent.
During this time of preparation and uncertainty I spoke at length with one of the school board members with whom I have worked in many different capacities to improve the quality of life in our small town. We affirmed our commitment to do whatever we could to turn around the negative publicity and show Darby as the community we know—one that is socioeconomically diverse and rich in community spirit.
I also shared my thoughts and concerns with the school superintendent and we became convinced that a meeting with the speaker, Bitar, was needed to prepare him for the confrontational questions that were circulating and reassure ourselves about the presentation content. It was useful to come together and talk through our safety concerns. Our library board also came together one last time to make sure we all had a shared vision of how to proceed.
Perspectives on Islam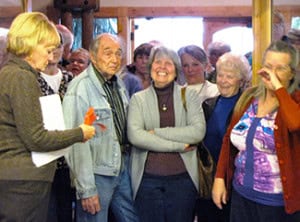 We made last-minute preparations on the morning of the March 9 event. We printed extra handouts of guidelines for respectful dialogue and set out pencils and index cards for attendees to write down their discussion questions. We prepared trays of homemade cookies to welcome attendees, supporters, and protesters. We counted 100 tickets to give attendees at the door so that we would know when maximum capacity was reached. The remaining tickets were set aside for the helpers, staff, and special guests our speaker brought with him. We printed a sign that stated maximum capacity had been reached so that we were ready to post it when needed.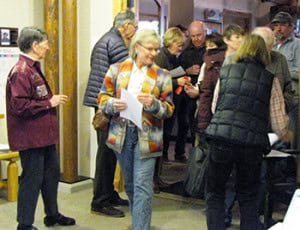 Everything appeared to be in order for the library event when I went to the school to meet Bitar. The school event went smoothly, but I was unprepared for the many quotes from the Qur'an. Thankfully, LaRue helped me work through these last-minute reservations and continue to move forward.
Our crew set up chairs and was ready one hour before the scheduled performance time at 6 p.m. But no protesters arrived—only a handful of people came early. Within 30 minutes our lobby was filled with people. We ushered our regular patrons out the door at 5:30, a half-hour before the regular closing time, as we planned at our special board meeting, so that there would be no confusion about how many people were inside the building for the event.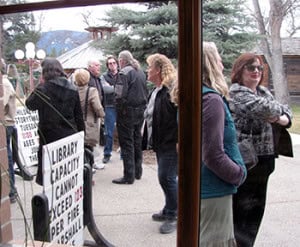 All of the tickets were distributed in 10 minutes, leaving about 50 people outside the doors. Welcoming people with a smile and a cookie, we made eye contact and noted the few who did not look directly at us. We took the leftover cookies outside, along with our greetings and apologies, to share with those unable to get inside.
We started 15 minutes before the hour with a captive audience of 120 people. I had some scribbled notes and a greeting that LaRue shared with me still fresh in my mind. When I said "Welcome to the Darby Community Public Library," I realized that the welcome was for me. I have never experienced in our little rural library the applause that resounded in the room. It was the sound of a grateful community hungry to learn something relevant to their lives and thrilled that the library persevered to provide this educational opportunity.
I continued with the words that LaRue had recommended, as well as my own: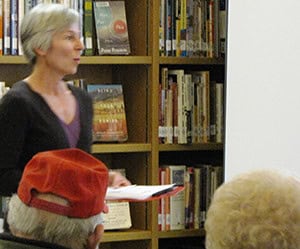 Libraries are vital to our communities as safe places for education and communication. This program is one of three in a series on historical and contemporary cultures. Tonight we learn of the culture of Islam. I will be honest with you that the culture is intrinsically tied to its religion, so you will also learn of this religion tonight. Libraries do not promote or condemn. We offer opportunities for education. It is a safe place where we come together for respectful and peaceful discourse.
Please, when writing your questions for the speaker tonight, simply speak for yourself with questions to learn, not convince. Please make them brief so that we can hopefully answer most questions. I am thankful for this event tonight. I am thankful to live in this country. We live in the Land of the Free where we enjoy freedom of speech and the freedom to be educated in our topics of interest. And we are the Home of the Brave, where we are not afraid of different viewpoints or ideas. We welcome them so that we may be educated and make informed decisions. And we live in the West, in Montana, in Darby, where we are open and polite and welcoming to others. With that, I ask you to help me welcome our speaker tonight.
Jubilant applause followed and we enjoyed a presentation that was received by a respectful and peaceful group, all very happy to be together and in the library. When Bitar called me to the front of the room to read the attendees' questions, something incomprehensible happened: With our many conversations leading up to this moment, I joined him without any nervousness. I did not feel like there were 120 pairs of eyes locked on me to perform; I felt the warmth of my living room with many guests filled with goodwill.
Lessons learned
I learned much from this event, especially that there is no such thing as too much preparation. Everything we did—either individually or as a team—was shared so everyone knew where we were coming from and where we were going. The sense of a team working toward a common goal, with safety and respectfulness, is an experience that we will practice more often. This great team consisted of library staff and board members, dedicated library volunteers, library patrons, high school teachers, administrative staff, school board members, community leaders, and community members.
The controversial subject matter opened the door to conversations all over the county, between like-minded people and those with opposing viewpoints. I had interactions with community members who had differing perspectives. No longer were conversations limited to the weather. They were sincere and respectful, because a new door had been opened.
The adults were not the only winners. Our children learned that the value of our right and privilege to be educated increases when that right is threatened. They also learned that a little town with people of diverse opinions can come together and make informed decisions.
The best gift was the message to our community about the value of the library. I have often wondered how to craft that message. But this series of cultural programs generated many questions for the community to answer, emphasized our right to express ourselves and be informed, and provided a perfect example of how libraries are essential.