While Walt Disney World and Universal Orlando put Central Florida on the tourism map, a new culinary awakening is creating its own buzz. From fledgling craft breweries and distilleries to fine restaurants with James Beard Award nominees in the kitchen, there's a gamut of great eating in every price range in Orlando. Avid diners head here from around the globe, and expectations are high. While there's no defining "Orlando cuisine," many of the newest restaurants in Central Florida mirror the national trends: American cuisine, farm-friendly menus, and simple food with regional accents.
Downtown
Mamak Asian Street Food
407-270-4688
mamakasianorlando.com
1231 E. Colonial Dr.
For a taste of Orlando's Asian neighborhood, casual Mamak ("mamak" is the Malaysian word for a street food stall) is a lively, inexpensive spot with familiar bites such as crispy spring rolls, Vietnamese summer rolls, and dumplings. But you can also try something unusual such as kari mee noodles in a silky curry ($8.50) and Malaysian roti, or char kway teow, Malaysia's most popular street dish with wok-fried rice noodles, shrimp, and chicken ($8.50). Asian grocery stores and numerous restaurants from Vietnamese to Korean are abundant in this area. L, D daily $–$$
The Rusty Spoon
407-401-8811
therustyspoon.com
55 W. Church St.
Chef Kathleen Blake has been a James Beard Award semifinalist several times, and it's easy to see why inside her flagship restaurant. In the heart of downtown Orlando, the Rusty Spoon serves a locally sourced menu of traditional eats and casual drinks. Butter-poached local clams, grass-fed beef burger stuffed with bacon and gruyère, hand-cut pastas, and slow-roasted lamb shank with harissa and eggplant relish are just a few of the mouthwatering options. A fantastic wine list and a selection of cocktails and beers round out the menu. L (M–F), D daily $$–$$$
Soco
407-849-1800
socothorntonpark.com
629 E. Central Blvd.
Soco, which stands for Southern contemporary, is in the heart of the hip downtown neighborhood Thornton Park. Enjoy craft cocktails like the honey rye sour ($12) and grown-up cherry cola ($12) and a menu of amped-up classic Southern favorites—crab-stuffed deviled duck eggs ($12), boiled peanut hummus ($6), hot-smoked Florida snapper ($26), and chicken-fried cauliflower "steak" ($17) in a chic setting. Brunch (Sun), D daily $$$
Winter Park
Cask and Larder
321-280-4200
caskandlarder.com
565 W. Fairbanks Ave.
Cask and Larder is an ode to Southern cuisine from the James Beard Award–nominated husband-and-wife team that owns The Ravenous Pig (see p. 70). The bar program is a standout here: It includes a great selection of beers brewed in-house, an inspired cocktail menu, and a wine list with bottles that hail only from the US. Dishes like Key West hog snapper with smoked olive vinaigrette ($42) and Nashville hot chicken with white BBQ sauce ($24) are created using ingredients from local purveyors, Southern artisans, and small farms. Weekend brunch includes everything from oatmeal and biscuits to French toast. Brunch (Sat, Sun), D (Tue–Sun) $$–$$$
Hamilton's Kitchen at the Alfond Inn
407-998-8089
thealfondinn.com/dining/hamiltons_kitchen
300 E. New England Ave.
Set inside the lovely Alfond Inn, Hamilton's Kitchen serves breakfast, lunch, and dinner in a bright and airy setting, and it's not your average hotel eatery. The menu features dishes like slow-roasted pork belly with apples ($8), squid ink pasta with scallops ($26), and steak with truffle fries ($26). Even the side dishes are worth a mention—salmon belly and caper fritters ($8), jalapeño and honey-glazed sweet potatoes ($7), and country ham mac 'n' cheese ($8) are mealworthy in their own right. L, D daily $$–$$$
Luma on Park
407-599-4111
lumaonpark.com
290 S. Park Ave.
With a sleek, modern vibe and innovative but approachable food, Luma offers seasonal, chef-driven cuisine. The wide-ranging menu includes incredibly fresh local seafood, from yellowfin tuna carpaccio ($14) to quinoa-crusted mahi mahi ($33), house-made pasta with classic Bolognese ($22), and an assortment of side dishes that are fab in their own right, like the Yukon gold potato purée with truffle oil and chives ($7). The wine program here is one of the most esteemed in town. L (F–Sun), D daily $$$
Prato
407-262-0050
prato-wp.com
124 N. Park Ave.
Prato is Luma's sister restaurant just down the avenue, with a warm, ­stylish interior and a menu filled with inventive, modern takes on classic Italian dishes. The pizzas are a must-try, baked in the wood-burning oven, with blistered, crisp crust and nontraditional toppings such as hazelnut romesco and spinach crema. Pastas ($9 half plate/$16 full plate) are always interesting, such as the mustard spaghettini with speck and pecorino or laughing bird shrimp ravioli. A handful of main dishes round out the menu. Save room for dessert—tiramisu, tarts, and house-made gelati are worth the calories. L (W–Sun), D daily $$–$$$
The Ravenous Pig
407-628-2333
theravenouspig.com
1234 N. Orange Ave.
One of the mainstays in the Orlando culinary scene is this unique gastropub, which offers a wide variety of nibbles from small plates—think house-made charcuterie ($19) and rock shrimp tacos ($14)—super-fresh seafood, inventive pastas, and hearty mains. Creative cocktails, beers brewed at its sister location, and seasonal desserts round out the something-for-everyone menu. L (W–Sat), D (M–Sat) $$–$$$
International Drive area
Hanamizuki
407-363-7200
hanamizuki.us
8255 International Dr.
Hidden among chains and touristy shopping, Hanamizuki offers an authentic taste of Japan on International Drive. Locals come from all over for the ramen, which features rich broths and tasty, chewy noodles. Try the buta kakuni, or fried pork belly ($10), Japanese curry over rice ($8.50–$11), sushi, rice balls ($2.75–$3.50), and udon or soba noodle bowls ($8.50–$14). Teriyaki, simple dumplings, and tempura are available for the less adventurous diner. L, D (Tue–Sun) $–$$$
Norman's
407-393-4333
normans.com
4012 Central Florida Pky.
Located inside the Ritz-Carlton Grande Lakes, Norman's is the signature restaurant of celebrity chef Norman Van Aken. Norman's offers a sophisticated Florida-centric menu in an upscale, airy, elegant atmosphere. Start with fried green tomatoes ($10), shrimp ceviche ($14), or foie gras french toast ($15 half plate/$30 full plate). Pan-cooked Florida yellowtail snapper ($37), ­chimichurri rojo New York strip ($54), and pork Havana ($38) are a few of the entrées. D daily $$$$
Primo
407-393-4444
grandelakes.com/jw-marriott/primo-78.html
4040 Central Florida Pky.
With an outdoor organic garden that supplies many of the ingredients for the restaurant, Primo's focus is on seasonal, locally sourced, classic Italian cuisine. The menu features super-fresh salads; house-made pastas like ricotta malfatti with Italian sausage ($14 half plate/$27 full plate) and porcini tagliatelle with seared Maine day boat scallops ($17 half plate/$33 full plate); seafood, steaks, and locally raised meats. The open kitchen and lovely view take hotel dining to a whole new level. D daily $$$
Restaurant Row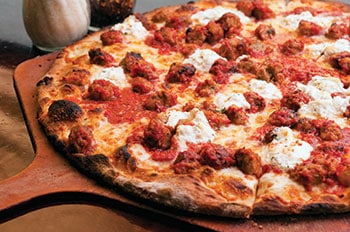 Anthony's Coal Fired Pizza
407-363-9466
acfp.com
8031 Turkey Lake Rd., #300
Anthony's is a favorite for simple, hearty Italian favorites. It's known for the pizza—an 800° coal oven produces pies with blistered edges. An array of toppings meets everyone's tastes, from simple (fresh tomato-basil or eggplant) to standout (roasted cauliflower or a mound of fresh arugula). Don't miss the chicken wings with incredibly crispy skin—an unexpected product of the hot-hot oven. The classic Italian salad, wings, and pizza are a perfect meal, but they have a handful of sandwiches and entrées if you're in the mood for something else. L, D daily $–$$
Dragonfly
407-370-3359
dragonflyrestaurants.com
7972 Via Dellagio Way
Featuring artful sushi and robata grilled foods, Dragonfly is a modern Japanese restaurant with a little something for everyone. Shima sashimi with jalapeño and green olive relish ($14), Wagyu tenderloin tataki with ponzu and wasabi ($21), and rolls with everything from rib-eye steak ($13) to fried soft-shell crab ($15) comprise the huge menu. The robata grill items are standouts—the Hamachi kama, or yellowtail collar ($14), is a favorite. D daily $$–$$$$
Eddie V's
407-355-3011
eddiev.com/orlando-florida
7488 W. Sand Lake Rd.
Seafood rules at Eddie V's. The preparations range from classics like lobster bisque ($10) to contemporary faves like batter-fried oysters with curry ($12). Entrées run the gamut from steamed Chilean sea bass with soy broth ($44) and parmesan-crusted sole with lemon-garlic butter ($30) to Texas redfish with lump crab ($30) and Georges Bank scallops with citrus, almonds, and brown butter ($35). D daily $$$$
Hot Krust Panini Kitchen
407-355-7768
8015 Turkey Lake Rd., Suite #200
A large selection of unique panini sandwiches—from the Hawaiian Jam-Al, with roasted turkey, bacon, strawberry jam, pineapple, red onions, jalapeños, tomatoes, banana peppers, and cheddar ($6.99) to the Tuna Melt Volcano, with tuna, mayo, chipotle ranch sauce, jalapeño and banana peppers, red onions, and Swiss ($5.99)—dominate the menu of this popular quick-service spot. Soups, salads, and roasted chicken wings round out the menu. Gluten-free bread and vegetarian items are also available. L, D daily $
Pharmacy
407-985-2972
thepharmacyorlando.com
8060 Via Dellagio Way
Don't look for a sign on the door—there isn't one. In the spirit of 1920s speakeasies, Pharmacy is a purposefully hidden gem off Sand Lake Rd. Look for an anachronistic elevator door and ring the bell; no secret password required. Most people come for the drinks, and since it doesn't take reservations, the bar is the place to be while you wait for a table. With house-made mixers, bitters, sodas, and tonics, the cocktails are unique and delicious. The menu is ever-changing but features crowd-pleasing bites like fried chicken, mussels in wine broth, and rustic flatbread pizzas. L, D daily $$$
Rocco's Tacos
407-226-0550
roccostacos.com
7468 W. Sand Lake Rd.
Rowdy and entertaining, Rocco's Tacos is the place to go to unwind. With a dozen different margaritas (several of which come by the pitcher) and a Tex-Mex menu with classic items like flautas ($11), chile rellenos ($16.50), and a variety of tacos (of course), this is a no-brainer kind of place. Loud music and a pretty waterfront location add to the overall raucous-yet-picturesque setting. It's open until 2 a.m. L, D daily $–$$
Roy's
407-352-4844
roysrestaurant.com
7760 W. Sand Lake Rd.
After more than 10 years, Roy's is still a hot spot on Restaurant Row. Chef Roy Yamaguchi founded this national chain that stars delectable seafood in Pacific Rim cuisine—the Misoyaki butterfish (Alaskan black cod) is pricey ($38) but worth it. Happy hour is a bargain—while the crowds can get noisy, you can score $7 cocktails, wine, and sake, and $7 small plates from Wagyu sliders to lobster pot stickers. D daily $$$–$$$$
Slate
407-500-7528
slateorlando.com
8323 W. Sand Lake Rd.
With a creative menu in a beautiful space, Slate is a welcome newcomer to Restaurant Row. The menu is composed of pizzas, pastas, small plates, and entrées that range from smoked brisket with apple-jalapeño puree ($25) to a roasted half chicken ($22). Florida-brewed beers, signature cocktails, and a well-priced wine list round out the menu. Brunch (Sat, Sun), L, D daily $$–$$$
Urbain 40
407-872-2640
urbain40.com
8000 Via Dellagio Way
With a fifth-generation French chef in the kitchen, this Orlando newcomer is winning plenty of media accolades. Chef Jean-Stephane Poinard's menu reflects the "American brasserie" theme: cast-iron skillet–roasted mussels ($12); striped bass meunière ($25); a juicy steakburger on brioche with Irish cheddar and Béarnaise ($19); and house-made pappardelle for the beef and pork Bolognese ($19). Classic cocktails and 1940s-era music can be found in the lounge (thus the "40" in the name). L, D daily $$–$$$$
Walt Disney World area
Bluezoo
407-934-1111
swandolphinrestaurants.com/bluezoo
1500 Epcot Resorts Blvd., Lake Buena Vista
Sophisticated yet relaxed, Bluezoo is celebrity chef Todd English's signature restaurant, located inside the Dolphin hotel near Epcot. The setting is under-the-sea chic, with beautiful blown-glass accents in a blue-and-green palette. Acclaimed for its seafood offerings, the restaurant supports local fisheries and suppliers whenever possible. Try the yellowfin tuna tartare with miso caviar ($18) to start. Seasonal vegetables accompany freshly caught seafood like the miso-glazed Hawaiian sea bass ($42). L, D daily $$–$$$$
Bull and Bear
407-597-5500
bullandbearorlando.com
14200 Bonnet Creek Resort Ln.
This is about as traditional as it gets—a sophisticated, stately steakhouse—but in a beautiful setting with modern touches. Dark wood, leather banquettes, and white tablecloths provide the backdrop for menu items like colossal chilled Gulf shrimp ($19), a wedge salad ($14), and chateaubriand for two ($45 each person). Especially when paired with an indulgent side dish like mac 'n' cheese with bacon ($12). D daily $$$$
Capa
407-313-7777
fourseasons.com/orlando/dining/restaurants/capa
10100 Dream Tree Blvd., Lake Buena Vista
Located on the 17th floor of the new Four Seasons resort, Capa is a Spanish-influenced steakhouse with seafood and steaks served in small plates and larger portions. Croquetas ($9), pan con tomate ($5), mussels ($16), octopus ($14), and beef carpaccio ($18) are a few of the tapas options; a New York strip ($48) and rack of lamb ($42) are on the meat menu. If you sit outside, you can see the fireworks at the nearby Disney World parks nightly. D daily $$–$$$$
Columbia
407-566-1505
columbiarestaurant.com
649 Front St., Celebration
This is a sister outpost to the original Columbia restaurant, which opened its doors in Tampa in 1905. With a large menu of Spanish and Cuban classics that include marinated hearts of palm ($11), white asparagus ($10), and the famous "1905 salad" with ham, swiss, and olives ($12); tapas staples like garlicky shrimp ($11), octopus ($12), and empanadas ($9.50); seafood, chicken, and meat entrées; and a large selection of paellas. L, D daily $$–$$$
Il Mulino New York Trattoria
407-934-1199
swandolphinrestaurants.com/ilmulino
Walt Disney World Swan Resort
1200 Epcot Resorts Blvd., Kissimmee
For classic Italian and big plates of food, head to bustling Il Mulino, located inside the Walt Disney World Swan hotel, a spinoff of the Manhattan original. Parties of four or more can opt for family-style dining with platters of salads, pastas, and more. Pizza, risotto, pasta, steaks, chicken, fish—there's something for everyone (and you can get half orders of all the pasta dishes). End with a complimentary sip of limoncello. D daily $$$
Jiko—The Cooking Place
407-938-4733
bit.ly/1SqKlG4
Disney's Animal Kingdom Lodge
2901 Osceola Pky., Kissimmee
Jiko means "cooking place" in Swahili, and this pretty restaurant transports diners to Africa, starting with a warm welcome at the door from hosts who are in the US for a yearlong cultural exchange. Grilled wild boar tenderloin ($19), harissa chicken ($34), and maize-crusted local grouper ($45) are among standouts. Jiko has the largest offering of South African wines in the US, with more than 65 of South Africa's boutique wineries showcasing their vintages at the restaurant. D daily $$$$
Morimoto Asia
407-939-6686
patinagroup.com/morimoto-asia
1600 E. Buena Vista Dr.
Disney Springs in Lake Buena Vista
This is Iron Chef Masaharu Morimoto's first pan-Asian restaurant and the prettiest dining room at Disney Springs. An exhibition kitchen on the first floor and a sushi bar on the second floor give diners a dazzling display of finely tuned culinary skills. Favorite dishes include rock shrimp tempura tossed in spicy aioli ($16), duck Caesar salad ($17), and braised black cod ($32). The sushi is a work of art. Also dim sum, noodle, and rice specialties. L, D daily $$$–$$$$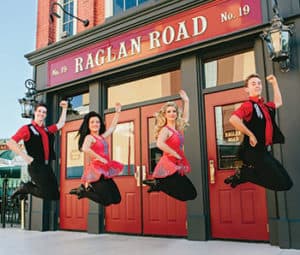 Raglan Road
407-938-0300
raglanroad.com
1640 E. Buena Vista Dr.
Disney Springs in Lake Buena Vista
Classic pub fare and live Irish music every night transport diners to the Emerald Isle—but this isn't any ordinary fish and chips. Irish chef Kevin Dundon has brilliantly reimagined Celtic favorites like shepherd's pie ($19) and bangers and booz ($20). The restaurant's four bars were all imported from Ireland and serve Guinness Irish Stout on draft as well as Smithwick's Irish Ale, Harp Irish Lager, and Kilkenny Irish Cream Ale. L, D daily $$–$$$
Fast, inexpensive, and fresh
Don't have time to sit down and dine? There are a plethora of fast, inexpensive, and healthy dining options within the vicinity or a short drive of the 2016 ALA Annual Conference and Exhibition to grab quick salads, sandwiches, wraps, and smoothies, from restaurants to grocers.
Restaurants
Bikes, Beans, and Bordeaux
3022 Corrine Dr.
bikesbeansandbordeaux.com
407-427-1440
B, L daily, D (M–Sat)
Dandelion Communitea Café
618 N. Thornton Ave.
dandelioncommunitea.com
407-362-1864
B, L daily, D (M–Sat)
Green Day Café
1084 Lee Rd.
greendaycafe.com
407-704-7877
B, L daily, D (M–F)
Green Kitchen
7055 S. Kirkman Rd., #126
greenkitchenorlando.com
407-413-5005
L (M–F)
Greens and Grille
4104 Millenia Blvd., Suite 114
greensandgrille.com
407-770-1407
L, D daily
The Sanctum Café
715 N. Fern Creek Ave., Unit D
thesanctumcafe.com
407-757-0346
B, L daily, D (M–Sat)
Skyebird Juice Bar and Organic Kitchen
3201 Corrine Dr.
skyebird.com
407-960-2861
B, L, D (Tue–Sun)
Grocers
Chamberlin's Natural Foods
7600 Doctor Phillips Blvd., #88
407-352-2130
B, L daily, D (M–Sat)
Trader Joe's
8323 W. Sand Lake Rd.
407-345-0611
B, L daily, D (M–Sat)
Whole Foods
8003 Turkey Lake Rd.
407-355-7100
B, L, D daily