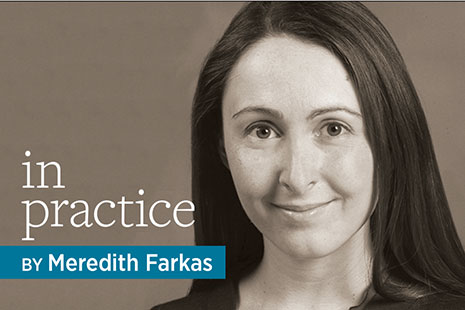 For most librarians, their first year working in a library is the biggest learning experience of their career. I remember coming into my first library job so clueless about, well, everything and feeling a year later like a completely different person: a professional. But that time in between was filled with cringeworthy mistakes and a whole lot of anxiety.
At the same time, I felt like I had unlimited stores of passion, energy, and ideas that year. My colleagues took me seriously even though I was green, and some of those rookie ideas became services the library still offers, like chat reference. I frequently hear about new-to-the-profession librarians who are treated by their colleagues as if they need to "pay their dues" before they
and their ideas can be given consideration. I can't imagine how quickly my passion for my work would have waned had my ideas been met with cynicism and dismissiveness.
This attitude is not only harmful to a new librarian's morale, it also prevents the library from taking advantage of an opportunity to get a fresh perspective on what it does. There is a golden period when someone new to the library can see everything that might be strange, confusing, or problematic. In time, we all become accustomed to our surroundings, and those problems become the barely visible flotsam and jetsam of our everyday work. We should make the most of that magical newcomer vision. I always make a point of asking new colleagues to keep track of problems they see because those fresh insights can push us out of our comfort zones and create positive change for our patrons. We want to encourage these audacious ideas, even if they're not all feasible.
I can't imagine how quickly my passion for my work would have waned had my ideas been met with cynicism and dismissiveness.
In my September/October 2015 column ("It's Not Us Versus Them"), I urged new librarians to avoid making assumptions about their more experienced colleagues, but this is a two-way street. Librarians' ideas should be judged on merit, not their tenure on the job.
I also think experienced librarians have a responsibility to support and mentor their newer colleagues. We were all new once and can probably remember how hard it was to acclimate to the work and the culture. Wouldn't it have been nice if someone had been there to support and guide you through it?
I was lucky to have informal mentors who taught me how to be a successful professional. My director in my first job, Ellen Hall, taught me everything I know about professionalism, leading change, schmoozing, and being a supportive manager. My friend Roy Tennant helped me to believe in myself and navigate the often confusing worlds of publishing and public speaking. I became a much stronger advocate for myself as a result of their support and a much savvier colleague when it came to leading change. Without these mentors in my life, I would have felt far more anxious and adrift than I did in my first year.
This experience is why I am such a believer in mentoring, whether formal or informal. A few years ago I worked with other members of my state library association to create the Oregon Library Association Mentoring Program. It matches early-career library staff with experienced librarians in similar roles. Seeing the benefits of this program for both the mentors and mentees has been amazing. As a mentor in the program as well, I found formal mentoring to be a lot easier and more rewarding than even I'd expected.
We all have valuable things to share with the next generation of librarians, and we owe it to them to help them grow and flourish in the profession. Whether you formally mentor someone or just offer to have lunch with a new colleague, supporting new librarians is not only the right thing to do, it is also good business. In the end, you're not just supporting that person; you're strengthening libraries.