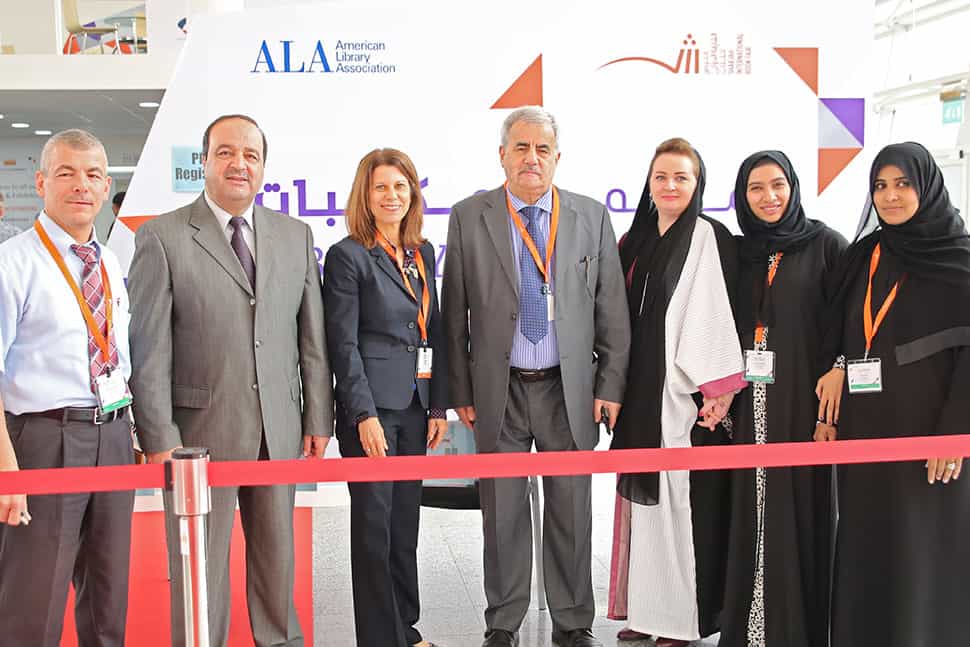 The Sharjah International Book Fair (SIBF)/American Library Association (ALA) Library Conference looks set for a strong future as preparations for the third event get under way.
As ALA's most ambitious international professional development collaboration to date, the library conference will be hosted at the 35th SIBF, November 8–10 at the Sharjah Expo Centre in Sharjah, United Arab Emirates (UAE). The shared location provides an opportunity for attendees to combine professional development with exploring and acquiring materials for their libraries. In 2015, SIBF hosted more than 1.2 million visitors and 1,547 publishing houses from 64 countries that exhibited more than 1.5 million books in 210 languages.
SIBF, with its motto "For the love of the written word," is one of the largest book fairs in the world and one of the most exciting literary events in the region. The SIBF/ALA Library Conference ties in with the UAE Cabinet's declaration that 2016 is "UAE Reading Year," marking the start of an "integrated national literacy strategy and a framework to produce a reading generation and establish the UAE as the capital of cultural and knowledge content."
The international roster of expert presenters and keynote speakers for the 2016 conference includes ALA President Julie B. Todaro and Miguel Figueroa, director of ALA's Center for the Future of Libraries. Todaro's speech will focus on "The Expert in the Library," while Figueroa will discuss how societal trends affect planning for the library of the future and managing change in libraries.
Other topics of discussion will include new trends and technologies, digital content, innovative spaces and services, marketing, assessment, rebranding and proving the value of the library, staff and leadership development, and promoting the love of reading. Two concurrent full-day preconferences will offer in-depth training on RDA for nonbook materials and creating an institutional repository. Talks are under way with the Sharjah Ministry of Education about a special preconference for school librarians. All sessions are presented in Arabic or English with simultaneous translation, and all event materials and communications are prepared in both languages.
In response to attendee feedback, the 2016 conference will increase the length of its programs to allow for more interactivity and a greater focus on specific topics. Time will continue to be built into future programs to encourage attendees to share ideas, experiences, and challenges.
In 2015, almost 300 librarians from academic, public, school, government, and special libraries attended from more than 20 countries including Afghanistan, Bahrain, Egypt, India, Iraq, Jordan, Mauritania, Oman, Qatar, Saudi Arabia, Sudan, UAE, and the US. They shared ideas and information as they took part in three days of programs and training, a poster session, and lively networking, with the exhibits area offering an added meeting point.
Attendee Khalid Ismail, chief librarian at Al Khawarizmi International College in the Philippines, said that in 2014 he came by himself; in 2015 he brought five specialist librarians from his staff; and this year he hopes to attend with 10. "We need to get new ideas and develop our skills with practices from other areas," he said. School librarian Mona Alsheikh said that she came "to find out what's new in school libraries that I didn't know before." Tony Mulliken, chairman of Midas Public Relations in the United Kingdom, who was actively involved in getting the SIBF/ALA Library Conference off the ground, commented that "Sharjah, as the cultural capital of the UAE, is proud of its passion for books and has some of the most beautiful libraries in the world and wants to modernize, professionalize, and make these libraries important destinations for learning and entertainment."
Platinum sponsors for the 2016 conference include the American Psychological Association and Ingram. The International New York Times is a first-time Gold Sponsor. The conference is built on an ongoing collaboration between the Sharjah Book Authority, Combined Book Exhibit, and ALA.
For a look back at the 2015 conference, visit bit.ly/27RD8Wu. For information and to register, visit ala.org/sibf and track #SIBFALA16 on Twitter. You can also find links to the 2015 programs, recordings of the presentations, photos, and a list of the poster sessions, presenters, and topics at ala.org/sibf.