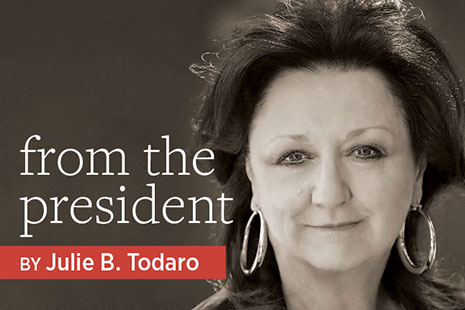 The tenets of professions vary, but many professions require members to join and become active in at least one professional association. For librarians, library employees, and stakeholders, that's where we immediately stray into a variety of issues, including but not limited to: which associations to join, the costs of membership, the costs of activity, the benefits of membership, the benefits of activity, competition between associations for our interest and dollars, and an individual's institutional requirements for membership and activity.
We also can't leave out areas such as competitiveness within organizations for appointments and time, the question of whether one can make a difference in the profession through an association, and the need for one's values and ethics to be in sync with those of the association. And then there is the inevitable query: Is it even possible to agree with everything an organization does or says?
Let's look at the American Library Association (ALA). It is a massive, complicated structure, much like a cruise ship. You can choose to board it or not. You might pick a single theme or decide to experience many different aspects. It's so big that there is no chance you will see every inch of it. There are flat rates and add-ons. However, unlike cruise passengers, we aren't all going in the same direction. Often we're going in many directions, based on needs and desires.
ALA, however, offers more than just membership and opportunities for involvement and activity. It provides access to experts in many areas and at all levels; it speaks on behalf of members; it advocates at local, state, regional, and federal levels; and, in all of its services and resources, it offers extraordinary choices for meaningful contributions to the profession.
In addition, the choices offered are designed to help members make a difference at a wide variety of levels to diverse populations and in their own organizations. The reality is, maintaining this entity for our eclectic profession requires money beyond membership dues. There are a myriad of opportunities to join, provide, and give with a great deal of specificity and detail. In fact, members can give to projects, offices, programs, divisions, committees, and departments in four categories:
ALA major initiatives: Among these are ALA's advocacy and awareness campaign, future thinking, fighting censorship, disaster relief, information policy, memorials, and ALA's Allied Professional Association.
ALA scholarships: More than 10 giving areas are focused on funding individuals and include allocations for basic education, general training, and specific content areas.
ALA divisions and offices: More than 45 opportunities are available for giving. All divisions and offices have either general or specific areas, such as memorials, programs, and future thinking.
ALA round tables: Fifteen round tables offer more than 30 opportunities for giving.
At the end of this year, ALA will focus on giving and specific opportunities. Several of those very broad-reaching opportunities are described below.
The 21st Century Fund provides general operating support for ALA and is for everyone. It helps to support entities working on special projects, emerging issues such as the Center for the Future of Libraries, and diversity, equity, and inclusion.
The American Library Association offers extraordinary choices for meaningful contributions to the profession.
Public awareness of the value of libraries, coupled with recognition of the incredible ways that libraries are changing to respond to community needs, is critical in advocating for libraries and librarianship. In fall 2015, ALA launched the Libraries Transform campaign to provide libraries and other partners with the tools to share how libraries and librarians are transforming our communities. For this year's Giving Tuesday (November 29), the campaign will include "because" statements, explaining why the public should support ALA and how they can help transform the library world:
Because ALA is working to help school libraries and librarians support students' success (ALA's work to push for the passage of the Every Student Succeeds Act [ESSA])
Because ALA strives to keep information free and available to everyone (the work of the Washington Office and the Office for Intellectual Freedom)
Because ALA trains and supports future library leaders (Spectrum and all other scholarships)
Because ALA supports you (21st Century Fund support for new initiatives)
ALA's advocacy trainings include strategies for improving funding or dealing with specific legislation that has negatively affected libraries, as well as tactics for making the case for libraries in bad economic times. In fall 2016, ALA rolled out training in all 50 states to show school library advocates how to take advantage of the provisions laid out in ESSA. ALA's advocacy training encompasses goals such as empowering librarians, teaching library advocates, providing consistent messaging and an advocacy framework, and maintaining a mechanism for mentoring new advocates and a succession plan for advocacy.
The Spectrum Scholarship Program is celebrating 20 years of providing scholarships and promoting diversity in the library community. Spectrum works to increase the number of racially and ethnically diverse professionals working as leaders in the field to best position libraries and library professionals at the core of today's culturally diverse communities.
With this column, I am outlining the opportunities for giving and asking you to give—but also illustrating that we can truly make a difference in our profession through giving.