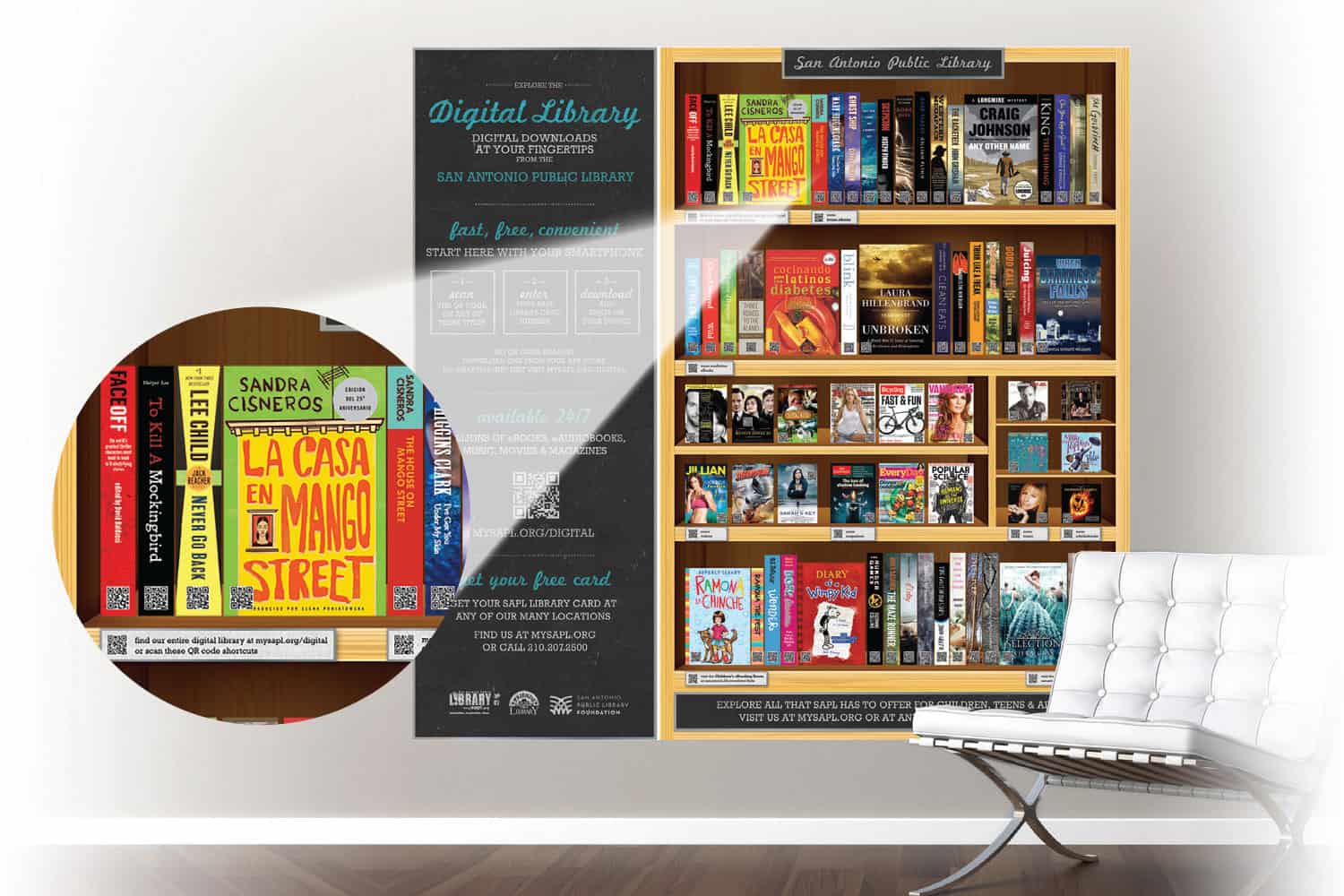 Libraries are employing unique methods to make their digital collections available to patrons outside of the library. As a part of its Digital Library Community Project, San Antonio Public Library (SAPL) created digital wallpapers—virtual bookshelves that give patrons access to ebooks by simply scanning a QR code with a smartphone—that can be placed throughout the community. SAPL Community and Public Relations Manager Caitlin Cowart explains how the library developed the system.
SAPL launched the Digital Library Community Project in 2014 to spread awareness and create a gateway to SAPL's digital collection in physical spaces across our community.
The first project to launch was the digital library wallpaper, which is a two-dimensional adhesive resembling a bookshelf that can be temporarily applied to a wall without damage. From a marketing perspective, the wallpapers are interactive tools that serve as an introduction and gateway to the materials, while creating awareness about SAPL. Each book selection has a QR code that links to a title in our OverDrive collection as well as to titles in the public domain. Perennially popular books are featured—The Goldfinch by Donna Tartt, The Racketeer by John Grisham, and Gone Girl by Gillian Flynn, for example. We also include books from local school reading lists, Spanish-language selections, and kids' books like Diary of a Wimpy Kid. A SAPL library card is required to access the OverDrive collection; non-cardholders can access only public domain titles.
The wallpaper design was created by SAPL's graphic design team and was inspired by cellphone company Vodafone, which made ebooks available on its phones as a part of a publicity campaign in Romania to showcase the phone's capabilities. Once SAPL's original design was created, the graphic design team worked with the library's in-house digital services department to create QR codes that link to specific titles in our collection. We also worked with collection development to purchase more copies of the titles featured on the wall­papers to avoid or minimize holds. The final step was working with a local company to print and install the wallpapers, which cost around $900 each, on average. The San Antonio Public Library Foundation and the Friends of the San Antonio Public Library funded the project.
The initial launch of partners to display the wallpaper included a local YMCA, senior recreation and community centers, the Haven for Hope homeless shelter in downtown San Antonio, and our own Central Library. Twenty-three locations now feature the wallpapers, including the Henry B. González Convention Center, the DoSeum (a museum for kids), and numerous public park facilities.
The Digital Library Community Project is an effective and visually appealing way to market our services. Digital library usage has increased 50% since its launch. SAPL had more than 1 million checkouts through OverDrive in 2016. The project also serves as a discovery tool and gateway for those who are not yet using technology and apps. A part of our responsibility as a library is to help lead the way and teach people about technology. We have a digital divide in our community. According to US Census and Pew Research data, 39% of San Antonio residents do not have broadband internet access at home, and 24% have no internet connection at all. The Digital Library Community Project is one of the many tools we have engaged to help solve that problem.