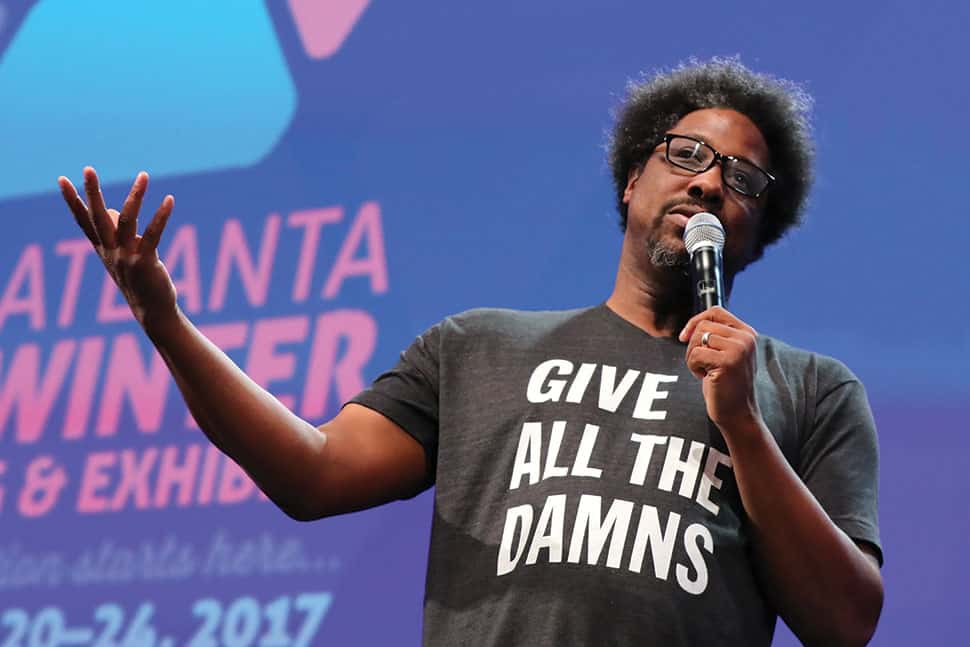 Described by The New York Times as "the most promising new talent in political comedy in many years," W. Kamau Bell is busy. A stand-up comic and writer, he also hosts a CNN docuseries and several podcasts, and performs a one-man show across the country. In his debut book, The Awkward Thoughts of W. Kamau Bell: Tales of a 6′4″, African American, Heterosexual, Cisgender, Left-Leaning, Asthmatic, Black and Proud Blerd, Mama's Boy, Dad, and Stand-Up Comedian (Penguin Random House, 2017), Bell examines his life, fatherhood, race relations, superheroes, comedy, and politics. American Libraries spoke with him at the 2017 American Library Association Midwinter Meeting & Exhibits before he took the stage as opening speaker.
Looking at the scope of your career, from stand-up to a one-man show to podcasts to TV, what led you to write a book? I grew up in a house with bookshelves to the ceiling, and in every room there were books. Books were an aspirational thing. When I was in high school, my mom started self-publishing her own books. This was back in the 1980s, when you had to drive to the suburbs to the typesetter and the graphic designer. My mom would drive her books from book festival to book festival and store to store. So books were like currency in my life. I'd also see these books on my mom's shelves, The Autobiography of Malcolm X, and (books by) Alice Walker and Toni Morrison. These books have power. I always thought, "Maybe one day, if I get to the right place, I can write a book."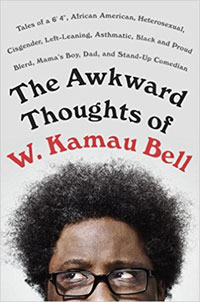 You talk about the power of comic books. How did they affect you growing up? Comic books help fire up your imagination. When we were kids, me and you, people thought comics were a waste of time. And at some point our generation was like, "I'm not going to leave these comic books in the basement. I'm going to keep reading them." And then comics started being written for adults. For me as a kid, not only did it fire up the imagination, it created new neural pathways. You're like, "Oh, a guy who's bitten by a spider can crawl up walls. Is that possible? What else can I imagine?" Now, in the current era, you have to expand comics. When I was a kid, all the heroes were white, and the ones who were black weren't that great. There's a lot of effort happening now to make sure that they reflect the diversity of the readership.

How have comics changed in regards to diversity? It's funny, when you look at the Black Panther movie that's coming in 2018, every black person that I know is excited about it. One of our greatest up-and-coming black filmmakers Ryan Coogler is working on the film, and one of our greatest thinkers Ta-Nehisi Coates is writing the comic book. It just shows that these things have power. Diversity is more than just painting a character brown or tan. It's actually making sure that the people behind the characters understand, empathize, and come from that experience.
What role did the library play in your youth? For me, the library was the school library. That was where I found myself a lot. Being able to go into a room and pull random books off shelves—it was like the original internet. I have a lot of memories of just sitting on the floor in school libraries and reading, and being able to get access to knowledge that I wouldn't be able to get otherwise.
What role do you see librarians playing as the country adjusts to the Trump administration? Librarians choose what books to put in people's hands, and those books mean a lot. My daughter gets one library book a week, so that's an important book. As a parent who owns lots of books and buys books for my kid, I will be talking about a book to another parent that they've never heard of that is essential to my house. And I think that librarians get to help build this inclusive world. They have the power to expand people's perspectives, and that's the number one thing we need to do right now.