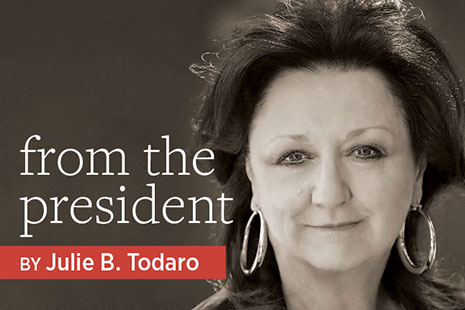 Although most columns from ALA presidents tend to focus on what we are planning, what we are excited about, or—most importantly—what we are committed to, I am compelled to write about what worries me. But it's important to put these worries in perspective.
In my columns and interviews over the past eight months of my presidency, I have focused primarily on ALA's values and the values of our profession. As a result, I invariably receive a myriad of emphatic emails from people who often tell me that I can't tell them how to think or what to value.
And they are correct. I can't tell them how to think or what to believe in—nor would I want to.
What I can do and what I am doing is articulating that in this profession and in this Association, we have shared core values and that being a member of this profession means collectively adhering to these values, which guide our work life and drive how we think about, plan for, and defend our services, resources, and constituents.
We all know members who live and work in environments where their constituents are in direct opposition to our professional values, and we know people whose employers may be in direct opposition as well. We also know members who do not necessarily espouse the complete set of core values in their own personal beliefs. And while there is no magic formula for making everyone happy—trust me, I have firsthand experience—people must find their own path to balancing their beliefs with others' beliefs, both at home and at work.
But let's be clear: While I'm not telling every librarian what to think, do, or say in his or her personal life, I am speaking to members of this profession when I say that a president's role is to stand up for the profession, the Association, its members, and thus members' constituents.
My number-one worry continues to be the erosion of equity and parity.
Game plan
As I mentioned earlier, I want to speak to my worries. In addition to the profession and its values, my number-one worry continues to be the erosion of equity and parity, both legislatively and socially. It is especially critical to remember that opposition strategy often includes distraction from a goal by using such tactics as introducing multiple critical issues and the classic divide and conquer. Fighting for our constituents, resources, and services now, therefore, must address the speed with which issues are coming, the number of issues we must track, and the need to assign experts to monitor as well as lead continuing discussions on how to keep our eyes on the prize. Our game plan should always be to develop strategies to—at the very least—hold our ground as well as attempt to move forward.
In addition to equity and parity, one of the biggest assignments for our profession right now is tackling fake news, which has always been a focus and, for some, it has been their full-time job. We have decades of research data, curricula, best practices, tutorials, and marketing approaches to combat this scourge. But now more than ever we have to step forward on this topic because it's no longer business as usual.
Verifying credibility
Library professionals have a great deal of content on this but must now craft new scripts, define new processes for assessing credentials, and carefully change our language to assist constituents in their assessment of not only credible content but also credible authors, as well as accuracy and purpose of content.
We can't use our current materials and "just" update titles and terminology. Rather, our discussions must address reality and shift perceptions, with the realization that traditional credentials such as titles and education can no longer, on their own, provide credibility. We can no longer merely ask, "Is the author or speaker credible?" and just check off the YES box.
One of the biggest issues we have is the critical need to quickly design and maintain content with equitable arguments, devoid of the mentality of "I can't agree with this, it must be incorrect." We must instead find a way to flip the conversation and address the very real concern for those who speak from a seat of power or authority and who either do not have the range of factual data in hand, have no facts, or deliberately present content incorrectly—no matter the reason.
Language matters
Finally, as we plan our approach and change our teaching and learning for combating "fake news" and "alternative facts," let's note the subtle yet powerful changes in language we see around us. For instance, I am fascinated by how journalists are varying their verbiage in this brave new world. Reporters and anchors who used to say that "X is speaking today on Y" now say "X is giving his or her impression on Y."
Library professionals can learn from this by using such changes to assist in the redesign of not only our curriculum but our language as we confront the entire infrastructure of critical thinking—and all within a day's work.