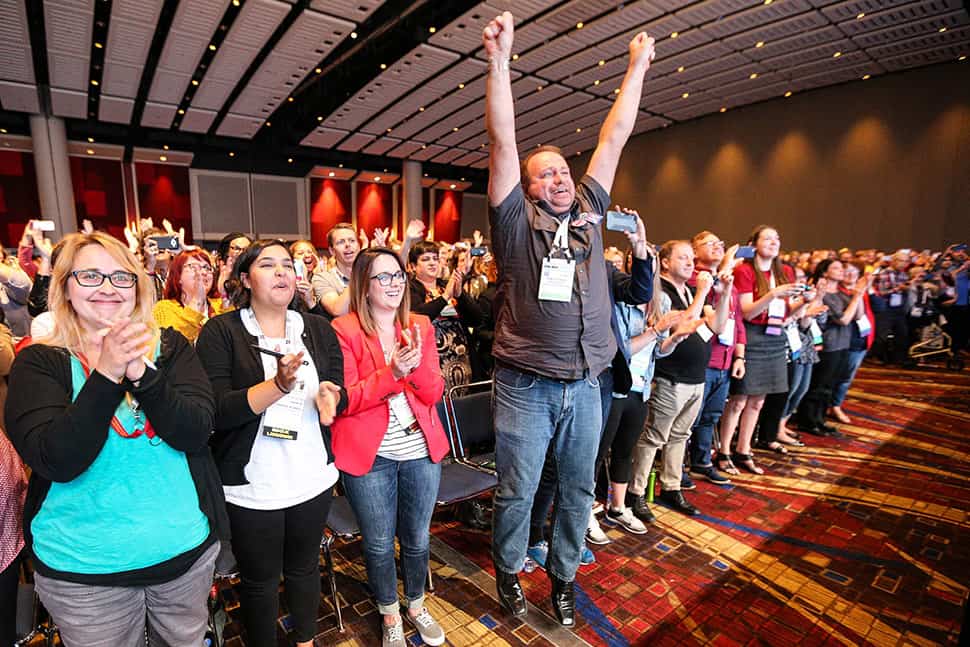 More than 22,702 people gathered at the American Library Association's (ALA) 2017 Annual Conference and Exhibition to learn about, celebrate, debate, and discuss the most pressing issues facing the library world today, all while enjoying several days of seasonable, sunny Chicago weather. Common themes of the hundreds of programs on offer were children and teen services, social justice, information access, and science and technology, while big-name speakers such as Sarah Jessica Parker, Bill McKibben, and Hillary Rodham Clinton attested fervently to their love and admiration for library professionals and inferred the important roles libraries may play in the future.
Teens and tots
At the Opening General Session, Girls Who Code founder Reshma Saujani kicked things off with a few startling statistics: Last year, the United States graduated 40,000 computer science majors for 500,000 open jobs. Only one in four American high schools offer computer science as part of the curriculum. And today, only 18% of computer science graduates are women.
"We're missing out on women," she said. "I am a feminist with a capital F, but I don't believe in gender parity for the sake of gender parity. I teach girls to code because I want to make sure that no innovation is sitting on the sidelines." She urged attendees to help increase the percentage of Girls Who Code clubs in libraries from 15% to 50%: "I'm enlisting you to help me solve this problem."
Gender bias was also the focus of a talk by Nancy Evans, young adult librarian at Levittown (N.Y.) Public Library and founder of Strong Girls School, a weekly program for young women in grades 6–12 that addresses topics such as self-esteem, bullying, and rape culture. In many ways, the program accomplishes something the local school system cannot. For example, "the school doesn't deal well with bullying," said Evans. "They have programs in place, but the bullies know how to work around these programs." In that way, her program is a safe space for those girls looking for information and understanding.
Teens of color, immigrants, and refugees are emerging populations in many communities, but how do we best serve them? Promoting and branding your library, opening the library before and after school, and asking teens to read and review books were a few of the suggestions at the session "Dynamic Ways to Serve Teens of Color," sponsored by the Young Adult Library Services Association.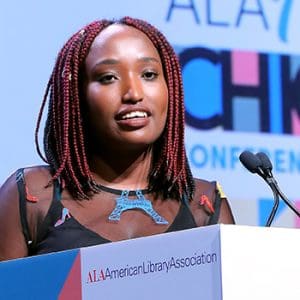 Author and Auditorium Speaker Series speaker Sandra Uwiringiyimana—who fled the Democratic Republic of Congo as a child only to see many of her family members murdered in a refugee camp—spoke of the need to advocate for refugee rights. "We are all so much more connected than we think," she told her audience. "The refugee experience is not too far removed from anyone. It's not you now, but it could happen to your grandchildren or relatives in the future. What kind of world do we want to live in?"
National Ambassador for Young People's Literature Gene Luen Yang spoke in a multipart forum on comics in the classroom. A MacArthur Fellow and graphic novelist who has also taught high school computer science, Yang shared his experiences from one of his classes, in which he started drawing his lectures as comics and noticed that "students preferred me in cartoon form over my flesh-and-blood self." Yang surmised that comics are popular with students because they allow the reader control over the flow of information.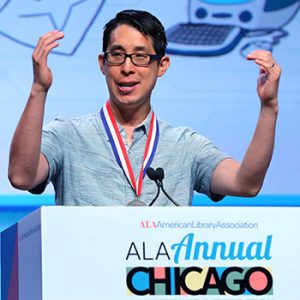 As for the always-hot topic of screen time for children, a session sponsored by the Association for Library Service to Children (ALSC) discussed the American Academy of Pediatrics' (AAP) most recent guidelines regarding kids and digital media consumption. Whereas the AAP formerly recommended no screen time for children under age 2, as of October 2016 it states that children younger than 18 months—who learn by exploring through touching, tasting, and personal social interactions—are no longer banned from screen time, but digital media use should be limited to video chatting, such as to connect with relatives who don't live nearby.
Children 18–24 months who view apps or videos need an adult, developmentally speaking, to act as their bridge between the digital and physical world and practice dialogic reading with them. And children 2–5 years—a group frequently targeted by apps marketed as "educational," though most are proved ineffective and sometimes even detrimental to their growth—should have limited screen viewing time that comes from trusted sources such as Sesame Workshop and PBS. "We don't want to scare parents, but we as professionals should know what's ineffective," said Mary Schreiber, youth collection development specialist for Cuyahoga County (Ohio) Public Library.
Similarly, at the ALSC President's Program, Sarah Lytle of the Institute for Learning and Brain Sciences presented new research that suggests there is no evidence of learning from screens for kids at an early age. She also presented research on video chat applications such as Skype and FaceTime and their effects on children's ability to learn. What the research reveals is that a technology that allows you to have social interaction through its use performs just as well as a live interaction. Conversely, parents, educators, and caregivers should guard against talking toys, such as baby cellphones, baby laptops, and talking farms, which "render the parent a bystander."
The program "Librarians Go to Juvie" revealed that 85% of juveniles involved with the court system are functionally low-literate, and involvement with the court system dramatically increases the high school dropout rate. That's why the Kalamazoo (Mich.) Public Library runs a program called the Late Show, which provides bedtime reading services, a book club, and author visits to the Kalamazoo County Juvenile Home. Visiting authors such as John Green do readings, talk and eat pizza with the kids, and sign copies of their books that the students get to keep when they leave the facility. For some students, these are the first books they've ever owned.
Students are just one population susceptible to the "fake news" phenomenon. Joanna Burkhardt, professor and director of the University of Rhode Island branch libraries and author of Teaching Information Literacy Reframed: 50+ Framework-Based Exercises for Creating Information-Literate Learners (ALA-Neal Schuman, 2016), began the session "Helping Library Users Navigate Fake News" by documenting infamous instances of fake news from the past, such as Orson Welles's War of the Worlds radio hoax in 1938.
Burkhardt offered several tips on how to counteract fake news, especially for librarians and teachers who help students navigate news and media daily: embrace skepticism; compare different kinds of sources; find out who writes the articles; follow links and citations; make sure headlines, images, and stories match; look for odd URLs; do your own fact-checking; read everything, not just the headline; examine information before sharing it; and check your own biases, even if a story runs counter to your beliefs.
Justice and access
Ulysses S. Grant: Civil War general, 18th president of the United States, and … protector of African-American rights? Yes, said historian Ron Chernow, author of the acclaimed biography Alexander Hamilton (the book that became the basis for Lin-Manuel Miranda's hit musical) and presenter of the conference's keynote address. Chernow's next book is Grant (Penguin, October), and in his talk he attempted to set the record straight on a much maligned and misunderstood individual.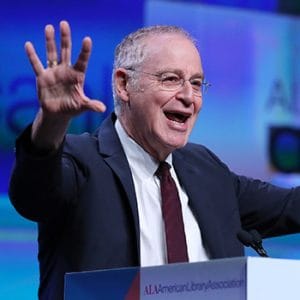 "The big story of the Grant administration," Chernow said, "was the crushing of the Ku Klux Klan…. Hundreds and thousands of African Americans were killed as [the Klan's] reign of terror spread south. No Southern jury would ever convict members of the KKK, and it turned into a complete breakdown of the criminal justice system.… [Grant's] administration brought some 3,000 indictments against members of the Klan." That, in addition to his vigorous enforcement of the Fourteenth (citizenship, due process, equal protection) and Fifteenth (right to vote) Amendments, made Grant the "single most important president safeguarding African-American rights between Andrew Johnson and Lyndon Baines Johnson."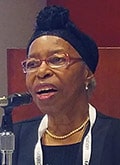 Geraldine Edwards Hollis was one of nine African-American students at the historically black Tougaloo (Miss.) College who were arrested for entering the whites-only public library in Jackson, Mississippi, on March 27, 1961. In a program titled "Desegregating Public Libraries: The Tougaloo Nine," Hollis told what happened that day, when they were arrested by police: "I went to the desk very confidently and asked for a specific book." The assistant told the students that they did not belong there. "We had heard that all our lives. But we felt that we belonged wherever we wanted to be," said Hollis. The Jackson Public Library was desegregated about one year later. The library plans to dedicate a plaque on August 17 to be placed on the building where the event occurred.
The president's program of the Asian/Pacific American Librarians Association featured South Asian–American activist and attorney Deepa Iyer, whose 2015 book We Too Sing America explored the personal stories of South Asians, Muslims, Arabs, and Sikhs whose lives were altered by hate crimes in post-9/11 America. With the public equating Muslims with terrorists, calling for English-only legislation, holding anti-Sharia Law rallies, and removing references to Islam in school textbooks, "these things all come together to form a climate of fear," Iyer said. She urged libraries to, among other things, serve as safe spaces for everyone in the community and become knowledge-expanders by featuring speakers of color.
"Libraries are not neutral spaces," said Annie Pho, inquiry and instruction librarian for peer services and public programs at UCLA, and one of the panelists at "You Can't Stay Neutral on a Moving Train," a session on how librarians can integrate social justice themes into library programs and exhibits. "Often I feel helpless with the barrage of current events and I have to remind myself that as a librarian I do have the skills and the space in the library to create stories about those groups who are underrepresented and marginalized."
She described a number of projects she was associated with at UCLA, particularly "American Concentration Camps," which brought together photos and documents on the forced relocation of Japanese Americans during World War II. Another panelist, Miriam Neptune, digital scholarship librarian at Smith College in Northampton, Massachusetts, described a pop-up program she worked on called the Black Unicorn Project, a weeklong installation that celebrated the lives and experiences of people of color.
An impromptu musical performance took place at the "Out and Proud: LGBTQ Literature" program, as author Rakesh Satyal broke out into song at the end of his talk, singing "Goodnight, My Someone" from The Music Man (sung by the character Marian the librarian, not coincidentally). For many queer youth, Satyal said, the library is a place where they "find themselves and find validation of feelings they haven't quite expressed verbally until they've read it in a book."
In the session "It's Not Just 'Part of the Job': Breaking the Silence on Sexual Harassment in the Library," Katie McLain, reference assistant at Waukegan (Ill.) Public Library (WPL), and her colleague Amanda Civitello, marketing and communications manager at WPL, defined sexual harassment, identified the behaviors associated with it, discussed how libraries can empower staff, and offered resources for what to do next.
Civitello displayed a list of examples of sexual harassment—touching, asking about marital status, comments about their bodies, and the like—and asked attendees if they had experienced any of these behaviors from patrons. Nearly everyone in the room raised a hand. The presenters listed several best practices for fighting harassment from patrons and creating a supportive environment for staff, including having an antiharassment policy and assuring employees that you will act on complaints.
In "Intellectual Freedom and Open Access: Working Toward a Common Goal?" panelists answered a variety of questions on the topics of the socioeconomic dimensions and diversifying the homogeneous world of scholarly publishing, as well as making authoritative research publicly accessible to all. This conversation works in both directions, they summarized. It's important to make research available to the public, but it's equally essential to learn from what the public has to teach us as well.
Censorship takes different forms: government-led, economic, and self-imposed, to name a few. Translating and making marginalized works available helps shed light not only on other cultures but on the often-subtle mechanisms of oppression that operate even in more open environments. The program "Banned Abroad: Stories of International Censorship" invited panelists who have worked as publishers, translators, editors, and researchers to discuss their experiences with works that have been censored or banned in their original languages.
Susan Harris, editorial director of the online magazine Words Without Borders, believes it is impossible to publish literature without being political. She emphasized that works in translation can help humanize people from other countries, particularly for Americans who often are taught to view others "strictly through a political prism." Harris explained that the limited number of publishers translating works into English effectively bans marginalized voices by making them difficult to access.
Science and tech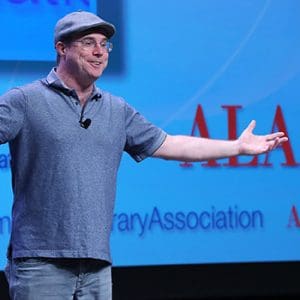 Andy Weir, author of the bestselling novel The Martian—the fictional but scientifically accurate tale of an astronaut who finds himself stranded on Mars, which was adapted into an Oscar-nominated film—charmed the crowd at his Auditorium Speaker Series presentation, recounting his career's trajectory with genuine zeal. He spoke about his forthcoming book, Artemis (Crown, November), a crime thriller set on the moon. Weir described his research process and how he discovered that mineral elements already in existence on the moon could be used to construct livable structures for humans. "It's a weird feeling to be at the tail end of success," he said. "Will I be a one-hit wonder? I'll find out."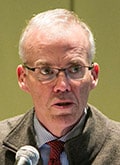 Noted author and environmentalist Bill McKibben, whose 1989 book The End of Nature is said to have been the first popular exposé of human-caused climate change, minced no words in his talk on the battle for a livable planet—a battle, he says, that we are currently losing. "We need to understand the vast scale and pace of the problem of climate change in order to get the right scale and pace of our solutions," he stressed. "We are past the point where we can solve this problem by local or personal action. An array of solar panels on your home will not make a difference. We need to join together globally." However, he said later, "there shouldn't be a library around without a bunch of solar panels on the roof. It's a symbolic connection between solar energy and the enlightenment that comes with knowledge."
Science liaisons in search of free-access materials flocked to a panel session on open educational resources (OERs), where Merinda McLure, associate professor and health and human services librarian at University of Colorado–Boulder, suggested that librarians start where they are, embrace collaboration, and look to the OER community, especially the successful examples. McLure also armed the audience with a variety of resources related to OERs. The "2016 Student Textbook and Course Materials Survey," conducted by Florida Virtual Campus, provides excellent insight into average costs for student course materials, while "Opening the Textbook: Educational Resources in US Higher Education, 2015–16" by Babson Survey Research Group provides a snapshot of the footprint of OERs on campus and perceived barriers to adoption.
The Library and Information Technology Association's Top Technology Trends panel presents the current and future technology that will be affecting library services for years to come. This conference's program included perspectives on resource sharing, public libraries, library consultants, European libraries, and academic libraries. Panel member Tara Radniecki, engineering librarian at the University of Nevada, Reno, shared tips on managing makerspaces, such as charging fees, knowing the cost per use of your technology, supporting all types of makers, and creating a local network.
"Don't create a bunch of rules. Create a framework and trust [users]," was the advice of Rebecca Stavick, executive director of Omaha, Nebraska–based Do Space, in a session on how to create a successful tech space. Do Space is a community technology library that provides users access to technology and innovative learning experiences. Managing a tech space, Stavick said, should start with the space's mission. Consider how it fits into your library's mission and use that as a tool to help you get the work done. Traditional library services are extremely popular, but technology spaces can coexist happily with libraries, she pointed out, as libraries have always embraced change.
Library love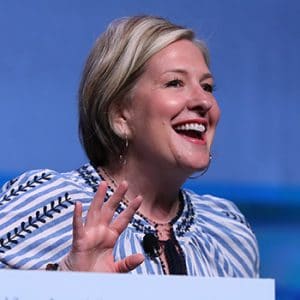 Speakers delivered moving tributes to the ways in which libraries have changed their lives. In her Auditorium Speaker Series session, researcher and author Brené Brown, who has been studying shame, vulnerability, courage, and other social science topics for more than 15 years, told the crowd that she can measure important milestones in her life through libraries.
She recalled one male librarian who saw her nursing her newborn on the library floor and his caring response before giving her access to a private room: "'This is not acceptable. We will find somewhere much better for you than this.'"
Brown's profession of libraries and librarians as a refuge was the perfect segue into her talk about belonging, the topic of her forthcoming book Braving the Wilderness (Penguin Random House, September). She concluded that humans need both vulnerability and courage for true belonging, along with an immutable spirit and sense of self to navigate the inevitable isolation. "I think the greatest measure of true belonging is dissent," Brown declared to applause.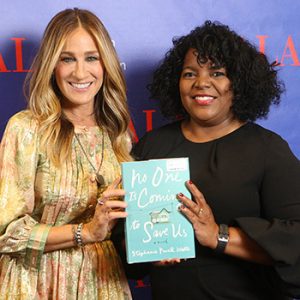 Before a packed auditorium at the President's Program, actor Sarah Jessica Parker—who is a member of multiple book clubs, leader of online book discussions, and past appointee to President Obama's Committee on the Arts and Humanities—reminisced about her trips to the Clifton branch of the Public Library of Cincinnati and Hamilton County as a kid, and raved about taking her own children to the Jefferson Market branch of the New York Public Library.
"I have wanted for a very long time to take a more active and public role in supporting writers, readers, and libraries," said Parker, who was on hand to launch ALA's new online platform of reading resources and recommendations, Book Club Central, of which she serves as honorary chair. Alongside then–ALA President Julie B. Todaro, Parker unveiled the website and the club's inaugural fiction selection: No One Is Coming to Save Us (Ecco, 2017) by Stephanie Powell Watts.
Parker had high praise for librarians. "If a library is the very heart of a community, the librarians keep the heart beating," she said. "You can't know what your physical, emotional, and intellectual shelter has meant to me."
An estimated 3,200 conference-goers arrived well before the Closing General Session to hear former First Lady, US Senator, Secretary of State, and 2016 Democratic presidential nominee Hillary Rodham Clinton speak on topics ranging from fake news to resilience to literacy and reading to censorship. And hiking. "After this election, one of the things that helped me most—aside from long walks in the woods and the occasional glass of Chardonnay—was once again going back to the familiar experience of losing myself in books," she said. She recalled the excitement of getting her first library card: "When I got that library card, it felt like I had been handed a passport to the world."
Clinton ended her nearly 30-minute talk with a powerful message to attendees: "As librarians, you have to be on the front lines of one of the most important fights we have faced in the history of our country: the fight to defend truth and reason and evidence and facts. You have to help us wage that fight one book at a time, one library at a time, one person at a time."
Without the exposure to books in school and at the local public library in her hometown of Park Ridge, Illinois, Clinton said she would not have been as successful as she is today. She said, too, that librarians are changing lives every day: "Even when it's hard, even when it feels thankless, please know you are making a difference." She thanked librarians and encouraged them not to give up. "You're really standing up for tens of millions of others who need your advocacy, your voice, your quiet commitment. I'm with you."
---
Council Approves Statement on Climate Change, Honors Fiels
An American Library Association (ALA) "Statement on Global Climate Change and a Call for Support from Libraries and Librarians" (CD#41) passed as amended, as did a resolution on "Libraries as Responsible Spaces" (CD#44.2).
Executive Board members read a tribute resolution (T#3) for ALA Executive Director Keith Michael Fiels, who is retiring in July after 15 years of service. Fiels urged members to continue their hard work despite current efforts to undo the progress the profession has made. "We need to be here in a hundred years," he said. "People around the world understand that libraries are synonymous with democracy, enlightenment, and creating a better world."
Council passed four motions: one clarifying education requirements for future ALA executive directors in the ALA Policy Manual (CD#17.1); "Politics in American Libraries: An Interpretation of the Library Bill of Rights" (CD#19.12); "Equity, Diversity, and Inclusion: An Interpretation of the Library Bill of Rights" (CD#19.13); and "Definitions of Equity, Diversity, and Inclusion" (CD#44.1).
Council approved a FY2018 budgetary ceiling of $66.7 million (CD#13.3).
Reports were received from the Center for the Future of Libraries (CD#39), Committee on Diversity (CD#44), Committee on Legislation (CD#20.1), Committee on Organization (CD#27.1), Conference Accessibility Task Force (CD#37.1), Council Election Tellers Committee (CD#12.3), Freedom to Read Foundation (CD#22.1), Intellectual Freedom Committee (CD#19.11–19.13), International Relations Committee (CD#18.1–18.2), and Policy Monitoring Committee (CD#17.1).
Memorials were read for Eric Moon (M#10), Marija J. Sanderling (M#11), Robert Henry "Bob" Rohlf (M#12), Dorothy Evans (M#13), Joy L. Lowe (M#14), Pauline Manaka, and Amanda Rudd. Tributes were offered for Harry Bruce (T#2) and the 20th anniversary of the victory in the Communications Decency Act case (T#4).
Read our complete coverage of ALA Council at Annual Conference.