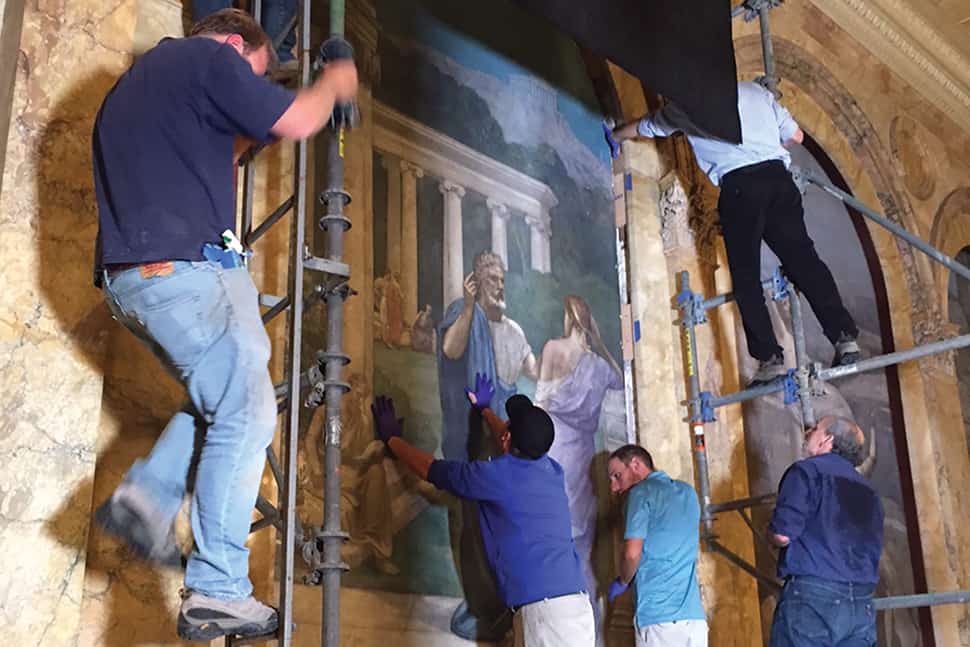 Visitors to Everett (Wash.) Public Library (EPL) are greeted with a sprawling sight upon entering the 1930s-era building: A vibrant mural depicts a panoramic view looking west from Everett, across the waters of Port Gardner Bay and Puget Sound, stretching from Vancouver, British Columbia, in the north to Olympia in the south.
It's one of three murals in the library's entryway, painted by artist John Theodore Jacobsen when the art deco building opened in 1934. Jacobsen was also a preeminent architect, helping lay the groundwork for Pacific Northwest modernism. But the mural was almost lost forever to water damage following a storm that hit the library during renovations in the 1990s, blowing off a tarp protecting the roof and raining onto the mural.
To save this important part of Everett's cultural legacy, the library had the mural professionally restored by art conservators from Seattle, just 25 miles south. Restoring the work was a no-brainer, says EPL Director Eileen Simmons. "This is a town that is very interested in its history," she says. "Everyone was very enthusiastic about it."
EPL isn't alone in its decision to restore its murals. Many libraries that also find themselves stewards of priceless works of art are working to ensure that their murals can be enjoyed by future generations.
Meghan Weeks, exhibitions and outreach associate at Boston Public Library (BPL), echoes Simmons's sentiment. BPL's historic mural, which was painted by French muralist Pierre Puvis de Chavannes and installed at the library in the mid-1890s, was recently restored in a two-year project.
"It was integral for us to save this mural," she says. "This is a treasure. It's absolutely priceless."
Located at the entrance of Bates Hall, BPL's massive mural depicts the nine muses of inspiration from Greek mythology. The mural itself was not painted directly on the wall but on linen canvas that was shipped to Boston from Puvis de Chavannes's studio and then adhered to the walls.
The mural has undergone multiple restorations over the years, but the most recent was prompted when Weeks noticed bubbling on one of the panels in 2014. An assessment by conservator Gianfranco Pocobene from the Isabella Stewart Gardner Museum in Boston, who oversaw past BPL mural restorations, found that 80% of the linen canvas had come off the backing wall. That began a two-year process that involved removing the 400-pound mural from the wall and moving it up a flight of stairs to an upper room that was converted into an interim conservation lab. There, a team chipped remaining plaster from the linen and fixed areas of pigment loss before mounting the mural on a thick aluminum panel and reattaching it to the wall. The work was inspiring, Weeks says.
"It looked like absolute magic," she says. "It's an amazing process to watch."
Restoring murals is a costly endeavor. Everett Public Library pooled its own funds along with those from its Friends group, as well as grants from the Tulalip Tribes Charitable Fund, Henry M. Jackson Foundation, Howarth Trust, Toyota Foundation, and the Snohomish County Community Heritage Program to raise the $84,768 to repair its mural.
Hale Library at Kansas State University in Manhattan also turned to its Friends group and grants to raise most of the $125,000 to fix its murals. Painted by David Hicks Overmyer as a Works Progress Administration project in 1934, the murals depict the four colleges at Kansas State University at the time: mechanical, arts and sciences, home economics, and agriculture.
Over the years, the murals suffered from water damage and a botched restoration in the early 1980s, and a section of the mural was destroyed when an electrical outlet was installed at its bottom, according to Roberta Johnson, senior director of administrative and IT services at Hale Library. A four-year restoration—conducted during summer months to avoid disrupting students—brought the murals back to life.
On top of ensuring a longer life for the murals, the restorations have provided opportunities for community outreach. Kansas State University filmed the process to create a documentary film later used for fundraising purposes, Johnson says. The footage and additional documentation will also be useful if the murals are to be restored in the future, she says.
BPL, too, created videos to share with the public and hosted informational panels.
"It's not a happy event to have to take a painting off the wall," Weeks says. "But from an outreach perspective, we were able to see how this mural was made. It was a great learning opportunity for our staff and for our patrons."