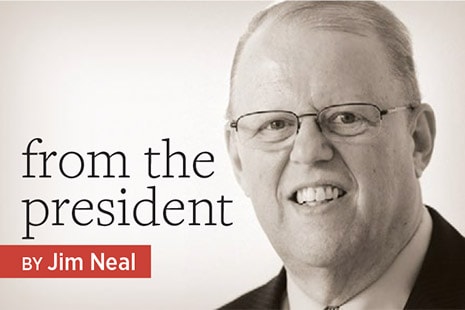 There is a proverb that speaks of two types of people in the world: the mountain people, who no matter how close they get, they always just stand side by side, and the river people, who no matter how far apart they may be, always will flow together. The American Library Association (ALA) must build expanded, more robust, and sustained conversations and collaborations with organizations across the library, educational, civil liberties, and social justice communities. We need to advance our shared interests, advocacy, and clout.
I suggest we begin by engaging with other library associations, including the Special Libraries Association, Urban Libraries Council, Society of American Archivists, Medical Library Association, Association of Research Libraries, Association for Rural and Small Libraries, Association for Library and Information Science Education, American Association of Law Librarians, Association for Information Science and Technology, Chief Officers of State Library Agencies, and the many others that serve various types of libraries.
Another important working relationship for ALA is with national libraries and archives in the US. These include: the Library of Congress, National Library of Medicine, National Library of Agriculture, and National Archives and Records Administration. Also with key federal agencies such as the Institute of Museum and Library Services, Government Publishing Office, National Endowment for the Humanities, and others whose interests intersect with the library community's.
ALA must also strengthen ties with national organizations that touch on the work of libraries: the Internet Archive, Coalition for Networked Information, National Information Standards Organization, HathiTrust, Digital Public Library of America, OCLC, Center for Research Libraries, Digital Preservation Network, and the many groups that collaborate in the work of libraries.
As a key player in the cultural, educational, literacy, and scholarly communities, ALA should also build new relationships with organizations that work in these areas. As an association that always seeks to align with its core values, ALA should seek out critical cooperation with First Amendment, social justice, and civil rights organizations. Policy coalitions around such issues as copyright, telecommunications, privacy, equity of access, and open government, for example, are fundamental to our political advocacy.
ALA must also refresh connections with foundations and philanthropic organizations whose interests focus on learning, scholarship, and the important role of libraries in communities. Similarly, we should be reaching out to publishers and library vendors who work so closely with libraries.
ALA works in the international library forums, in particular with the International Federation of Library Associations and Institutions and with several international book fairs. We might consider convening the library associations of the US, Mexico, and Canada to develop a shared North American agenda for libraries. ALA is also strengthening its partnerships with its chapters and with the ethnic affiliates.
ALA maintains an inventory of formal affiliations and relationships, and it now exceeds 200 organizations. I argue that we need to build on the good feelings of our historical working relationships and selectively radicalize key collaborations and coalitions. I propose to convene a series of meetings this spring among several of the groups mentioned in this column.
An Ethiopian proverb notes that when spider webs unite, they can tie up a lion. I am interested in your ideas on the importance and priorities for ALA collaborations. Contact me at jneal0@columbia.edu with your ideas.