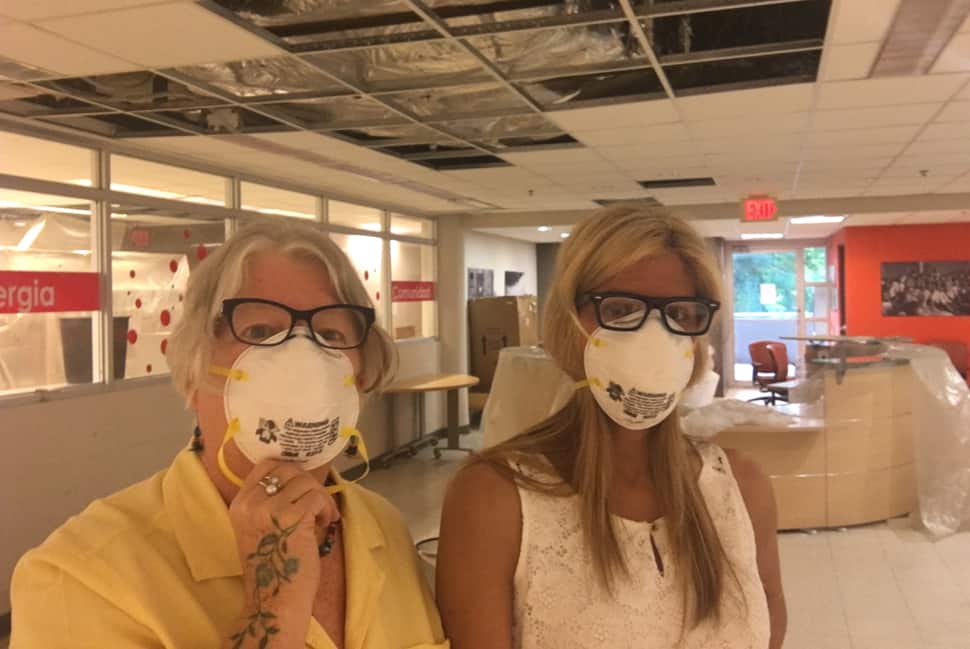 I grew up in Puerto Rico, and my mother was my school's librarian, which helped foster my own love of libraries. My heart is still permanently linked to Puerto Rican libraries, so last September while reading about the impact of Hurricanes Irma and Maria on these libraries, all I wanted to do was visit my colleagues to show my love and support and explore ways to help them.
I knew visiting immediately after the hurricane made landfall on September 20 was not the best strategy—the libraries were still closed, and library workers were grappling with conditions in both their homes and their workplaces. But as soon as I heard that some libraries were opening, I told my colleagues at the American Library Association (ALA) that I needed to visit the island. Immediately, Reforma President Tess Tobin said she would go as well.
Together with the Reforma Puerto Rico chapter, ALA's Chapter Relations and Public Awareness offices, and many other ALA staff members, we coordinated visits to academic, public, and school libraries across the island January 16–19. (Special thanks to Elizabeth Borges Ocasio, president of Reforma-Puerto Rico, for her excellent onsite coordination.)
In addition, we coordinated a meeting at the University of Puerto Rico (UPR) at Río Piedras campus with library directors from all these types of libraries as well as leaders of local and regional library associations, such as the Association of Caribbean University, Research, and Institutional Libraries.
This meeting resulted from my desire to talk with Puerto Rican librarians about the impact of Hurricane Maria on their libraries. Our colleagues on the island are deeply worried about the situation they have been dealing with since last September. They are also concerned about the devastating implications of the upcoming hurricane season, which begins June 30.
When asked about their top needs in relation to the damages caused by Hurricane Maria, librarians mentioned the importance of writing an emergency plan; preservation and conservation; property insurance, including knowing how to evaluate damages and risks; and writing competitive proposals.
Learning without electricity
Another library I visited, on the UPR at Bayamón campus, had merged its technical services, reference and periodicals sections, the library director and her secretary, and students into only one functioning classroom. The building is being repaired, but they still have to figure out how to replace all of the carpet, a task complicated by the extensive water damage and mold. I learned that four different companies will need to complete these repairs.
Academic librarians at different universities are supplying library instruction to classrooms across their campuses. They bring as many books and materials they can carry in their hands, and because there is still no electricity, they speak to the students without showing PowerPoint presentations or websites. Reference services at many academic libraries, including the UPR at Humacao campus, were provided out of tents and book carts placed in hallways. Among the libraries I visited, the one at Humacao was the most damaged—Maria had made landfall only a few miles away.
School and public libraries still dire
At those school libraries without electricity, such as at the Colegio San Antonio Abad in Humacao, teachers offer instruction in classrooms with enough sunlight for students to see the board and their materials, which are brought in on a book cart with a shelf for periodicals, another for encyclopedias, and another for textbooks. Students go to school after securing water for their morning routine and after arriving in cars that must navigate streets without traffic lights.
The status of school libraries in Puerto Rico is complicated. At the time of our visit, the Department of Education had a director of another department splitting her time directing school libraries as well, and processes to help these libraries directly were unclear. Public libraries are now under the purview of school libraries as well, but the mayor of each town oversees certain aspects as well.
Conditions at many public libraries remain dire. Many are closed, with their ceilings full of holes or caved in completely. Mold, dust, and debris litter the floors, and the grass grows tall outside the buildings. Those libraries that have opened to the public, like the Ponce Public Library at the Beach, struggle to obtain donations of books to fill their shelves and must deal with no air conditioning. Because of the high costs involved in rebuilding these libraries, some people fear some of them will close indefinitely.
Autonomous public libraries, such as the San Juan Community Library, have benefited from users' generosity. Neighbors and volunteers came out to clean and repair this library, and it finally reopened on January 9. I was very happy to bring boxes of books donated by Lectorum Publications to this library and to the public library in Ponce.
Getting involved
There are many ways to help with the continuing recovery efforts. One colleague of mine, Derrick Burton, sold his paintings and donated all proceeds to ALA's relief efforts. You could sign your library up for Adopt a Library, a joint effort between ALA and Reforma that matches Puerto Rican libraries with organizations in the US that want to help their recovery. Libraries in the region need everything from the gloves librarians wear for cleaning books to supplies for removing mold from walls to aid in rebuilding spaces.
The spirit of librarians and library workers dealing with unimaginable conditions at these locations is deeply inspiring. As the public librarian from the town of Gurabo shared with me, "Receiving access to information is a right of every person, and I am going to do everything I can to reopen this library."