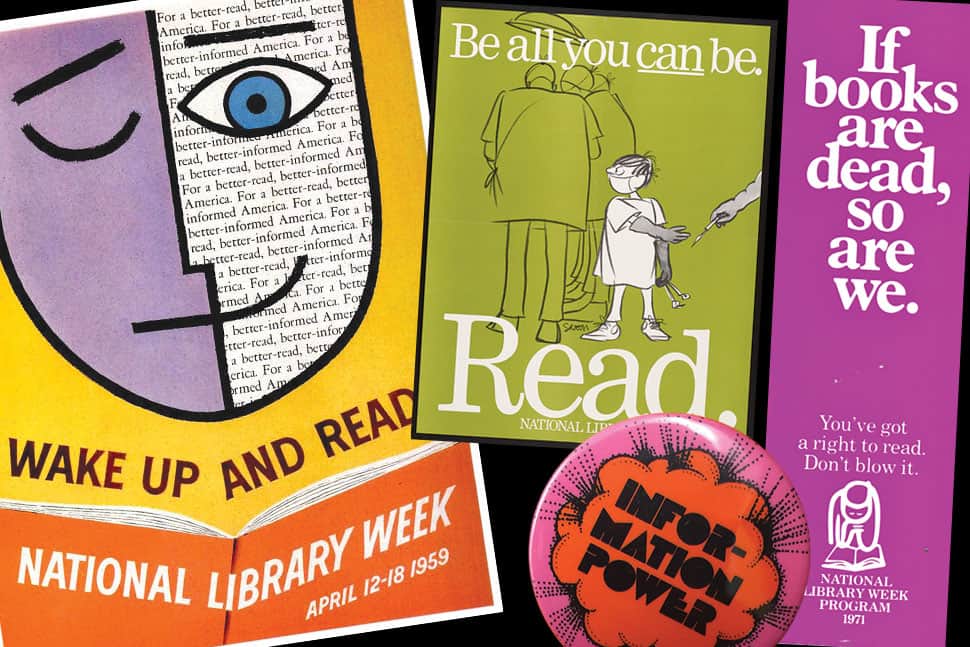 While it's never been particularly difficult to lament the decline of reading in American society, the 1950s were a time when literary pessimists found plenty to be concerned about. A Gallup poll in 1955 found that almost two-thirds of adults had not read any book apart from the Bible in the previous year. A 1957 survey found that only 17% of Americans were currently reading a book. And spending on books was decreasing, as more of the country's entertainment dollars went to televisions, radios, and even musical instruments.
The American Library Association (ALA) and the American Book Publishers Council formed the National Book Committee (NBC) in 1954 to fight these trends. One of their ideas: a National Library Week (NLW).
The concept wasn't new. As Larry T. Nix's Library History Buff blog notes, at the 1922 ALA Annual Conference ALA's Publicity Committee had proposed a weeklong celebration of libraries. "We should lose no opportunity to spread the gospel of library service in the fight against ignorance, indifference, illiteracy, and inefficiency," ALA Publicity Committee Chair Willis H. Kerr argued that year. Several librarians also testified about the success of state or local library weeks, dating back at least as far as Toledo, Ohio's Library Week in March 1916.
It took more than 35 years for the idea to go national, however. The NBC drew up plans for the first NLW to be held March 16–22, 1958.
To build support, NLW Director John S. Robling promised that the event "offers an outstanding opportunity to reach nonreaders and make present readers more active readers," but warned that librarians had to work to make the week meaningful to their communities.
The nation responded. The first NLW, with its "Wake Up and Read" theme, attracted more than 11,000 newspaper stories that celebrated libraries, articles in 22 national magazines, 14 national TV and radio stories, and at least 1,500 local TV and radio shows. More than 5,000 communities participated, and the US Post Office even included the NLW theme on its metered postage.
Robling's roundup of results in the June 1958 ALA Bulletin reported reactions big and small. For example:
The "favorable climate" created by NLW helped New Jersey's State Senate to pass a $1.6 million library appropriation, and New York's legislature approved a $700,000 increase in library aid.
Dozens of cities formed Friends of the Library groups.
Local libraries in Brooklyn, New York; North Providence, Rhode Island; Omaha, Nebraska; and Portage, Ohio, used NLW to start fundraising campaigns to purchase materials or restore bookmobile service.
The library in Bladensburg, Maryland, presented a program with a US Navy rocket expert the day NASA launched its Vanguard rocket.
Headquarters received "enthusiastic wires from state committee heads," such as "in Mississippi, enlisting enthusiastic participation from many outstanding leaders formerly passive theoretical supporters of library."
Robling also highlighted unusual NLW efforts, such as the election of library queens in Arizona and Arkansas or leaflets delivered by milkmen making the rounds in South Carolina. And, he noted, "One tiny library in Kentucky is going to get a telephone."
NLW's early years also spawned efforts that went beyond publicity. The Knapp School Libraries Demonstration Project provided a $1.13 million grant to advertise the importance of reading and offer a toolkit to advise parents on how to ensure their children had good school libraries. An estimated 200,000 of these kits were distributed.
Libraries enthusiastically reported their activities as the program continued to spread in the early years. Brooklyn College Library's celebration of the first NLW included a Freedom to Read display featuring a Bible recovered from a book-burning in Brazil. Westport (Conn.) Library opened a temporary branch for commuters at the train station in 1959. New Bedford (Mass.) Free Public Library, which served a town with a strong whaling history, created the Melville Whaling Room and held a grand opening for it on the last day of NLW in 1962.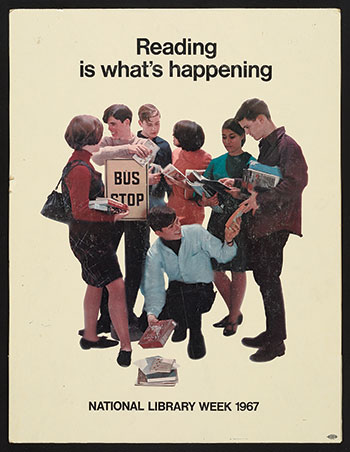 Challenges and reinvention
However, NLW's success attracted detractors. The always irascible Jesse Shera, then dean of Western Reserve University's School of Library Science in Cleveland, argued in a 1966 Wilson Library Bulletin article that NLW emphasized reading at the expense of libraries. "We wish that the ALA would strip NLW of its pseudocultural veneer, examine it critically and without emotional overtones, and either scrub it up or scrub it. Either way, this sacrifice of the vestals on the altar of intellectual barbarism will follow infanticide into a long-forgotten past."
It wasn't librarians who nearly took down NLW, however. NBC found itself on shaky ground after the American Book Publishers Council merged with the American Educational Publishers Institute in 1970 to create the Association of American Publishers (AAP). John C. Frantz, a former executive chairman of NBC, asserted in American Libraries in April 1975 that textbook publishers in the new AAP saw less value in NBC's goals, and "support for NBC within the AAP board of directors was substantially diluted."
Frantz also blamed a rash of mergers in the publishing world that added pressure to increase profitability and reduce costs. American Libraries reported in January 1975 that NBC's financial problems had been building for several years and that the staff had been severely cut in 1971.
AAP withdrew its support of NBC in December 1973, and the committee folded late the following year.
NLW powers on
Of course, NLW survived the loss of NBC, as ALA decided to bring it in house.
Then-ALA Executive Director Robert Wedgeworth told American Libraries that ALA needed a more robust PR program to face challenges to library funding from the Nixon administration. "I knew we could make [NLW] profitable" and finance ALA's new Public Information Office in the process, he said.
NBC's closure left little time for planning 1975's NLW, however. A report on ALA's Fall 1974 Executive Board meeting warned that "for 1975 primary emphasis will be on national exposure for libraries," with a limited variety of promotional materials available and a program that would fall within the "constraints of the present budget."
In many ways, 1975's NLW was like any other, including activities such as:
Douglas County (Oreg.) Library displayed book recommendations that it had been soliciting for two years from celebrities like film critic Gene Shalit and golfer Arnold Palmer.
Arizona State Library Association used paintings by Hopi artists on its NLW poster and bookmark.
The New Jersey Library Association coordinated a statewide competition to select the New Jersey Library Family.
Wartburg College Library and Waverly Public Library in Iowa hosted the delightfully named (though difficult to put on a poster) "The First in Some Time, Last in a Long Time, Once in a Lifetime Fine-Free Overdue Wartburg Waverly NLW Amnesty Days."
Thirty-seven librarians descended on Washington to speak to their congressional representatives, which helped to gain support for increased library funding in the 1976 education appropriations bill.
Producing a normal NLW under the circumstances was no easy feat, however. ALA mailed a "clip sheet" of library stories to more than 3,500 newspapers, produced radio spots featuring TV stars Valerie Harper (Rhoda) and Carroll O'Connor (All in the Family), and placed features in national media. ALA also sold promotional materials like posters and buttons with an "Information Power!" theme.
Acting Librarian of Congress and Executive Board member John Lorenz called Public Information Office Director Peggy Barber's efforts a "bloody miracle," with more than 9,000 orders for NLW materials. A survey of 550 members found that a majority of respondents considered the "Information Power!" program to be the best NLW ever produced.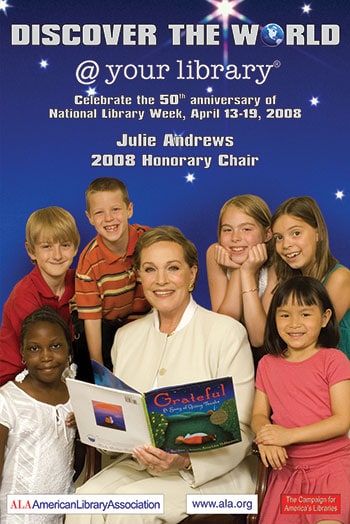 Libraries lead the way
Since then, NLW has grown into an annual institution. Former MTV VJ Adam Curry helped bring it into the information age in the 1990s, designing an interactive website to help libraries introduce the public to the internet during a special "Log-on @ the Library Day." (The website is sadly no longer available, although you can still see it thanks to the Internet Archive Wayback Machine.) ALA recruited top-flight luminaries to lend their support—with more than 50, including journalist David Brinkley, author Beverly Cleary, actor Alfre Woodard, singer Melissa Etheridge, and Vice President Al Gore sharing their stories to support the "Libraries Change Lives" theme in effect from 1993 to 1996.
In the 21st century the week expanded to encompass National Library Workers Day (introduced in 2003), National Bookmobile Day (introduced in 2010), and Take Action for Libraries Day (introduced in 2017). Celebrities formalized their support by serving as honorary chairs starting in 2008, led by actor Julie Andrews and followed by the likes of Neil Gaiman, John Grisham, and Judy Blume.
In 2018, NLW celebrates its 60th anniversary April 8–14, with American Ballet Theatre principal dancer and bestselling author Misty Copeland serving as honorary chair. This year's theme is "Libraries Lead," which emphasizes the leadership of libraries and library workers in their communities and the role of libraries in helping patrons develop their own leadership skills. Although the milkmen and metered postage designs have been replaced by famous spokespeople and social media campaigns, the core reasons for NLW—improving literacy, supporting intellectual freedom, increasing library funding—remain.