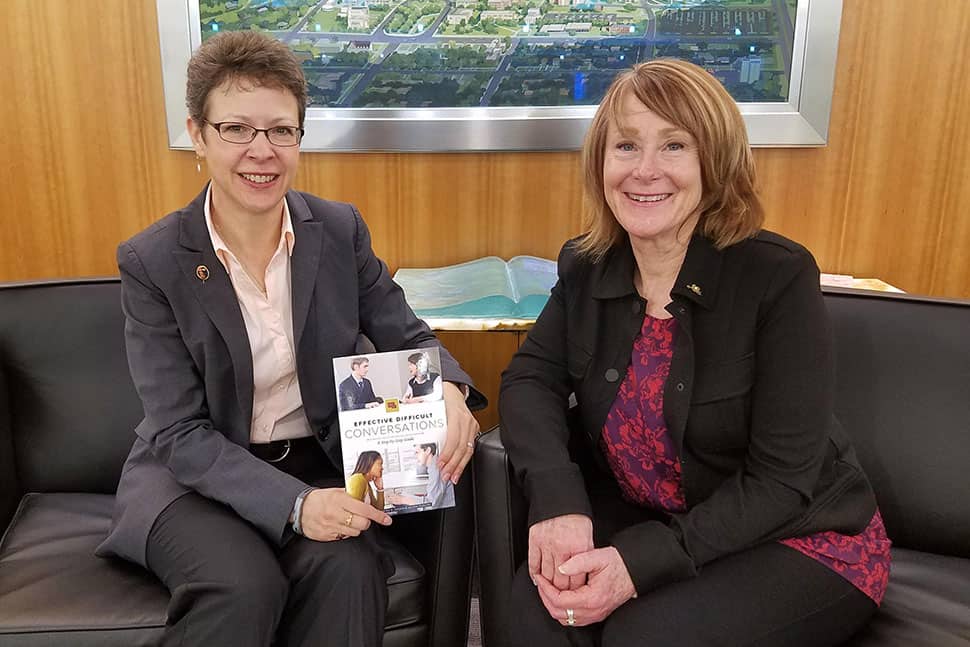 Catherine Soehner is associate dean for research and user services at J. Willard Marriott Library at University of Utah in Salt Lake City, while her colleague Ann Darling is assistant vice president of undergraduate studies and associate professor in the university's communication department. Their book Effective Difficult Conversations: A Step-by-Step Guide (ALA Editions, 2017) was excerpted in the March/April 2018 issue of American Libraries. The pair spoke with AL about the book and its inspirations.
What made you want to write about this topic?
We wanted to write it because we were both terrible at having difficult conversations. Catherine's initial attempts led to people being angry and defensive. Or she chose to ignore problems, which made these situations worse. Ann had conversations but failed to address the real issues, so the problems remained. Luckily having effective conversations is a skill that can be practiced and learned over time. We wanted the content in this book to be available to others in a way that would have been helpful to us.
Why would ALA members find it helpful?
If you are working with other people, conflict is inevitable, and difficult conversations will be necessary. This book provides guidance that can be used by anyone in the library profession, no matter their rank or position.
What is the most surprising thing you discovered while working on this book?
We were surprised that the concepts were so universal—these skills can be applied to everyday situations as well as those in the workplace. Since we had been presenting the content four, five times each year, this book was easy to write, which was also a surprise.
What are you reading now?
We're reading Thanks for the Feedback: The Science and Art of Receiving Feedback Well by Douglas Stone and Sheila Heen (Penguin Group, 2014) and the essay "Recipients of Change" by Todd D. Jick in Organization Change: A Comprehensive Reader, edited by W. Warner Burke, Dale G. Lake, and Jill Waymore Paine (Jossey-Bass, 2008).
What is your next project?
We're currently working on a strategic planning guide for libraries.