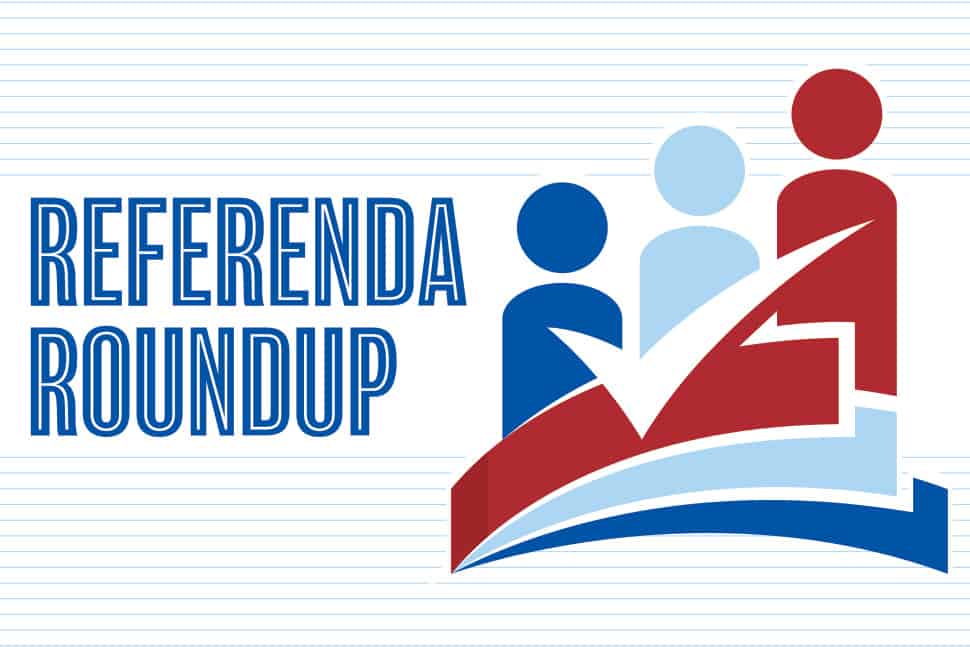 This national roundup of library referenda, tax levies, and bond measures decided by voters in the November election will be updated frequently in the coming days as final tallies roll in. Other measures voted on earlier in the year will also be added in. A summary will appear in the January/February 2019 issue of American Libraries.
Update: This article was revised on November 15.
COLORADO
By just a 10-vote difference—2,369 to 2,359—Bayfield voters opted to not to increase the Pine River Public Library District's mill levy from 2.5 to 4.5 mills. The board has been using the district's reserve fund to balance the budget for the past three years.
Clearview Library District Ballot Issue 6C, which would have provided $23 million to replace the current Windsor-Severance Library with a new, 38,000-square-foot facility, was rejected by voters 64.4% to 35.6%.
Voters in Garfield County approved Ballot Question 6A, which will allow the county's library district to keep all tax revenue it collects. The measure passed by 73%.
In Moffat County, Referred Ballot Measure 1A failed, gaining only 44% of the vote. The 2.85% mill levy proposed by the measure would have generated an estimated $1.2 million annually, divided between Moffat County Libraries and the Museum of Northwest Colorado in Craig. The county's draft 2019 budget has reduced library funding to about $100,000 and defunds the museum entirely.
CONNECTICUT
In Coventry, a referendum to approve the appropriation of $4.9 million for renovations and a new addition to the Booth and Dimock Memorial Library failed.
Glastonbury voters approved the appropriation of $6.5 million to renovate and expand the Welles-Turner Memorial Library. The results were 10,546 for, 8,532 against.
New Milford voters approved by a vote of 7,780 to 3,290 to expand the New Milford Public Library from 15,000 to 22,000 square feet. The plan will also see the addition of meeting space, the relocation of the children's and young adult sections, and compliance with the Americans with Disabilities Act.
ILLINOIS
Batavia voters narrowly approved a 7-cent tax rate increase for library operations, by a vote of just 6,055 to 6,007. The tax rate of 44 cents per $100 of assessed valuation will remain the same, however—an equivalent tax on building construction bonds that residents have been paying for the past 20 years will be eliminated when that debt is retired in December.
Voters in Cook County's Maine Township approved, 61% to 39%, the issuance of $195 million in bonds for more than 50 projects across School District 207, among them classroom upgrades and library improvements.
In Oak Park, voters said yes to a nonbinding referendum to consider the merger and consolidation of Oak Park taxing bodies including but not limited to the Village of Oak Park, Oak Park Township, the Oak Park Public Library, and the Park District of Oak Park.
In Rochester, voters rejected 1,675 to 1,562 a $3.2 million bond that would have allowed for the expansion and renovation of the Rochester Public Library.
In White Oak, a referendum to increase the library district's operating tax rate to 21.5 cents per $100 of assessed value from 18.54 cents failed, with 60.18% voting against it. This is the fifth time since March 2016 that this proposed rate increase has been defeated. The funding would have allowed the library to create a digital media lab and expand services to older residents.
MARYLAND
Baltimore passed an ordinance authorizing the city's mayor and city council to borrow up to $65 million for recreational space and public buildings, including Enoch Pratt Free Library. The ordinance passed with a vote of 87.3% for and 12.7% against.
MAINE
Statewide, voters approved a $15 million bond to upgrade facilities at all seven of Maine's community colleges. Those facilities include "information technology infrastructure" and "instructional and library services."
Falmouth saw the passing of a $500,000 supplemental bond to support the expansion and renovation of Falmouth Memorial Library. The voting results were 4,295 for, 3,108 against.
In Rockport, voters approved borrowing $1.5 million to help fund the construction of a new library in Rockport Village, with 1,067 voting for the measure and 922 against. A bridge loan to fund the construction as other donations materialize was also approved.
MICHIGAN
In Ann Arbor, Proposition A passed with 53% support (26,746 to 23,618). The proposition amends the city charter to require that all city-owned land on a particular downtown block remain under public ownership in perpetuity and be developed as an urban park and civic center commons. The block is adjacent to the downtown branch of Ann Arbor District Library and includes the surface of the city's underground parking garage, known as the "Library Lot," and Liberty Plaza, a sunken concrete park. The city's alternative plan, favored by the mayor, was to sell the Library Lot to a Chicago developer to build a residential high-rise. Ann Arbor library trustee Linh Song had opposed the measure, saying that the University of Michigan's Diag serves as adequate open space and that the library already exists as the city's civic commons.
Fifty-seven percent of Bedford Township voters supported a 0.25-mill, five-year levy to improve the Bedford branch library building and resolve several safety and liability issues there.
A millage increase in Dorr Township failed in August. If approved, the millage would have jumped to 0.798 mills from 0.298 mills, with the additional funds going towards more materials, increased hours, updated technology, and upgraded facilities at Dorr Township Library.
Fruitport approved a 10-year levy of 0.75 mills on all property in the township to fund district library operations. The millage, passed by 60% of eligible voters, replaces an existing tax that ends in December. A similar levy narrowly failed August 7 in the primary election.
To support the operation of the Galien Township Library, voters passed a referendum to renew an existing millage of 0.9757 cents per $1,000 taxable valuation; they also passed a new millage of 0.0243 cents per $1,000 taxable valuation.
In Ionia, a proposal to raise $6.5 million by levying 1.3 mills for 20 years was rejected by a vote of 3,113 to 2,358. If passed, the funds would have gone towards building a new 19,200-square-foot library. This is the third time in 14 years that the proposal has failed.
Residents of Marquette County passed four millage proposals ranging from 0.9061 mills to 0.2716 mills in support of Peter White Public Library. A one-mill proposal to extend library services to Powell Township was defeated with only 42% of voters approving. Library Director Andrea Ingmire said the measures would allow her to "move forward in planning for a stable library future."
Milan voters approved a 0.2378-mill levy to be used to operate, maintain, and equip the Milan Public Library, as well as improve library services. The levy passed by 73% (1,998 to 709).
A Richland Township library millage failed by a vote of 1,228 to 709.
By a vote of 1,825 to 1,448, the St. Charles District Library was authorized to levy an additional millage (not to exceed 0.0757 mill) in order to restore a millage rate authorized in 1990.
In Ypsilanti, voters passed a 12-year levy of 0.7 mills on all property in the library district, which includes Ypsilanti, Ypsilanti Township, and part of Superior Township. Sixty-seven percent voted yes, with 32% voting no. Part of the funding will go to building a new branch of Ypsilanti District Library in Superior Township.
MISSOURI
Voters in Kansas City passed, with 83% in favor (63,274 to 12,588), an 8-cent increase in Kansas City Public Library's property tax–based operating levy. The increase will provide an additional $2.8 million annually. Library Director Crosby Kemper III said the funding will allow the library to expand hours, modernize technology, and renovate or replace existing branches.
NEW JERSEY
In Vineland, voters narrowly rejected a dedicated property tax rate increase from 3.3 cents per $100 of assessed property valuation to 5 cents. The results were 7,353 for, 7,466 against. If passed, the measure would have increased funding for Vineland Public Library by an estimated $687,767 annually. Advocates say the library could be forced to reduce hours, staff, and programs.
NEW MEXICO
Statewide, voters approved the Public Libraries Bond, authorizing the state to sell and issue nearly $12.9 million in general obligation bonds for academic, public school, tribal, and public libraries to meet increasing demands for materials and electronic services. With 424,619 yes votes and 193,309 no votes, the bond passed with 68.72% in favor.
Bernalillo County voters approved a bond of $1.75 million, which will go towards purchasing materials for all branches of the Albuquerque Bernalillo County library system. The bond passed by a vote of 160,977 yes to 56,294 no, a 74.1% margin.
Sandoval County voters voted in favor of a bond that will provide $3,385,000 to 15 public and tribal libraries. The bond passed with 65.8% of the vote.
NEW YORK
Voters in Amenia opted to increase the town's annual contribution to the Amenia Free Library budget by $30,000, to a total of $125,000.
In Auburn, the Seymour Public Library's October referendum, which called for a 2019 budget of $1.13 million, passed unanimously with 106 votes, increasing the property tax levy from $796,000 to $812,000.
Voters in the town of Kinderhook opted to increase the operating budget of the Valatie Free Library by $9,150 and to increase the operating budget of the Kinderhook Memorial Library by $49,000. Meanwhile, the town of Stuyvesant voted to increase its share of the operating budget of the Kinderhook Memorial Library by $6,921.
A proposal to dissolve the Woodstock Public Library District failed, with 2,067 votes against it and 1,142 for it. Board President Dorothea Marcus says the vote allows the continuation of efforts to expand the library building.
OHIO
Delaware County voters passed, by 64%, a renewed 15-year millage rate of 1.0, which will allow the Delaware County District Library to finish paying off the 25-year loan it had taken out to open its Orange Township branch. The renewed millage will also allow the library to begin planning a new branch in the Powell and Liberty Township area.
Fairfield County voters passed, by 21,231 to 14,990 (59% to 41%), a library levy costing homeowners $39 per $100,000 valuation.
The Muskingum County Library System saw the renewal and increase of a levy from 1 mill to 1.25 mills. The levy, which will allow the library system to maintain its operations, passed by a vote of 14,259 to 13,699 (51% to 49%).
A five-year, 0.9-mill levy passed in New Carlisle with 63% of the vote. The levy is expected to generate about $78,000 yearly, allowing the New Carlisle Public Library to increase its hours.
In Oak Harbor, a five-year, one-mill renewal levy for current expenses of the Oak Harbor Public Library was passed, with 3,221 voting for the levy and 1,399 voting against.
Pickerington saw the passage of a 1.25-mill permanent levy to fund operations at the Pickerington Public Library. The levy passed by a vote of 12,052 to 8,747 (57.9% to 42.10%).
Port Clinton voters passed a five-year, 0.8-mill replacement levy for current expenses of the Ida Rupp Public Library. The levy was passed by a vote of 3,900 to 1,803.
Stark County's Issue 4, which sought an eight-year, 2.2-mill levy to help the Stark County District Library modernize its 10 locations, failed with 52% of voters rejecting the measure. The levy was voted down in every community except Canton and Meyers Lake. Executive Director Mary Ellen Icaza says that if the district cannot pass a new levy before its existing 1.7-mill property tax expires in 2019, the library would lose more than half of its operations budget.
In Tipp City, a five-year, 0.75-mill renewal levy for the Tipp City Public Library passed with 72% of the vote.
PENNSYLVANIA
In Oley Township, a proposal to pass a library tax of 0.09 mills for the establishment and maintenance of the Oley Valley Community Library passed by a vote of 978 to 469.
TEXAS
In Austin, Proposition B passed with 73% of the vote. The proposition calls for the issuance of $128 million in bonds and notes for city libraries, museums, and cultural and creative arts facilities.
WASHINGTON
The Pierce County Rural Library District Proposition 1 Levy Lid Lift, which would have raised the levy rate to $50 per $100,000 taxable home value, failed, with 57,558 votes against the proposition and 53,865 votes for it. Pierce County Library spokesperson Mary Getchell says the failure could cause programs to be cut and two or three branches to close.
Sequim voters passed Proposition 1, creating the Sequim Library Capital Facility Area tax district. However, they rejected Proposition 2, which would have approved bonds and tax levies to expand the Sequim Library building from 6,050 square feet to 17,000 square feet. Fifty-eight percent voted for that proposition, which required 60% to pass.
WEST VIRGINIA
In Kanawha County, am excess levy to raise $3.1 million annually over the next five years for the county public library system passed by a vote of 37,505 to 18,053.
Pleasants County voters passed a five-year, $3 million continuing levy that will fund the school system as well as the public library. The levy passed by 1,536 to 949.
Wood County voters approved a five-year continuing levy with more than 72% of the vote. The levy is expected to generate more than $18 million annually for Wood County schools and libraries.
WISCONSIN
By a vote of 572 to 553, Ellsworth passed a nonbinding referendum to partially fund a new library through a $3 million village loan.
Gibraltar passed, with 70% of the vote, a referendum calling for $4.4 million to remodel Carlson High School's library and media center.