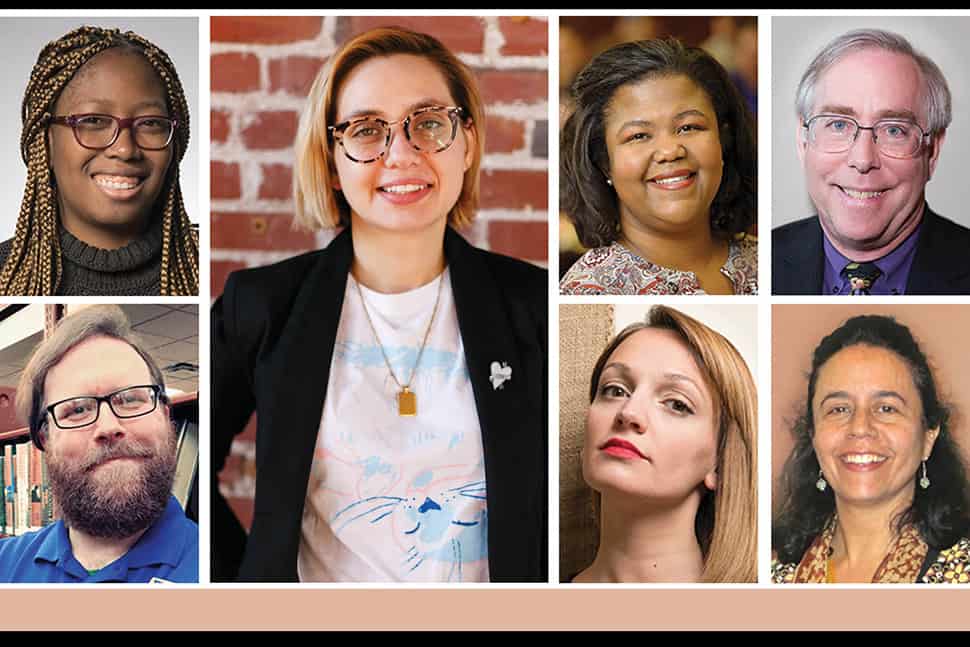 As told to Anne Ford
Maybe it existed only in our collective imagination—the era when librarians focused solely on providing access to written information, and when their greatest on-the-job challenge consisted of keeping the stacks in order. Whether that halcyon time ever actually took place, it's definitely not here now. Social worker, EMT, therapist, legal consultant, even bodily defender: These are the roles that many (perhaps most?) librarians feel they're being asked to assume.
American Libraries asked seven librarians—public, academic, and school; urban and rural—their thoughts about the many directions in which their profession finds itself pulled.
"At the end of the day, somebody is dying."
Chera Kowalski
Assistant to the Chief of Staff
Free Library of Philadelphia
Chera Kowalski has received national media attention for her administration of the overdose reversal drug Narcan to six patrons of the Free Library of Philadelphia's McPherson Square branch. Kowalski has since moved out of her role as the branch's teen/adult librarian and into a position as assistant to the library's chief of staff.
In the community I was in, administering Narcan was something that needed to happen. My profession went out the door when an overdose was going on. At the end of the day, somebody is dying, and it doesn't matter what your title is.
I've been criticized for this. People ask, "Why do you feel we need to do this? This isn't in our job description." I understand those criticisms, and I'm willing to listen to them. It's something I've been very clear about: Learning to administer Narcan was voluntary; I made this choice, and it shouldn't be forced on anybody.
But as a professional, if you see certain needs, it's your responsibility to at least connect with people who can meet those needs. You can't just say, "Sorry, no." This may not mean having Narcan at your desk. But I think if people are overdosing in your space, you at least need to have a plan in place beyond "call 911."
It's interesting to see where the arguments against administering Narcan come from. Some of them are clearly coming from a personal stigma against substance use disorder. An overdose is a medical emergency, just like a heart attack would be, just like an epileptic seizure would be. We can't deny services based on things that make us personally uncomfortable.
What if you're concerned you don't know how to administer Narcan properly? I have said this to a room full of librarians: You've been trained to find accurate information on just about anything. That is your role. If you cannot do that, you really need to reevaluate the field you're in. Now, you might not want to do it, even once you have the correct information about it, and that's fine. It's a personal choice at the end of the day. But you can't hide behind an argument of misinformation.
I think the libraries that are adopting Narcan are being conscientious about the effects on their staff, and that's why they're making this training voluntary, because overdoses are upsetting to witness. I'll admit it: I got burned out. I was working in direct public service, and that can be difficult regardless of the community you're in.
When people are deciding to go into public librarianship, they really need to think about what that can mean. You have to go into the field knowing what you're signing up for. I hate to sound condescending. But that's what being an adult and a professional is.
---
"There are other options to protect your patrons."
Tom Rink
Instructor, Library Services
Northeastern State University in Broken Arrow, Oklahoma
Former police officer Tom Rink speaks to the question: Should librarians be expected to carry firearms on the job?
I was a police officer for 25 years. I got tired of the grind, of always seeing the bad side of things, so I took a career exploration class and decided to get my library degree, which was a truly unexpected result.
Carrying a firearm, for me, is no big deal; I'm retired law enforcement. But we have a "no guns on campus" policy at Northeastern State University, and you have to honor the wishes of your organization.
My main concern is that response times from police departments aren't always timely. Also, all the bad guys know these are gun-free zones, so it's a target-rich environment. My opinion is that if there's someone on campus who has a concealed-carry permit and has the proper training to use that firearm, then they could mitigate an attack by stepping in and halting it with fewer injuries.
However, I understand that this creates an inherent danger for the campus police, because they don't necessarily know who the bad guys are or who the good guys are. If you know that employees aren't allowed to carry guns on campus, then you know that anyone with a gun is considered a bad guy.
I do support the Second Amendment. I do believe people have the right to arm themselves. But at the same time, people who get a concealed-carry permit do not receive the extensive amount of training that law enforcement officers receive.
The patrons who come inside your library doors—you're responsible to a point for their safety. But how far do you take that responsibility? There are other ways that the general public can be protected. Have you heard of ALICE active-shooter response training? ALICE stands for Alert-Lockdown-Inform-Counter-Evacuate. It's training on how to mitigate the fallout from an active-shooter scenario. We've had ALICE training in the library, so we're aware of the best way for civilians to respond when this type of situation happens. There are other options to protect your patrons besides having a gun and going blasting.
---
"It's all just different pathways to attaining information."
Homa Naficy
Chief Adult Learning Officer
Hartford (Conn.) Public Library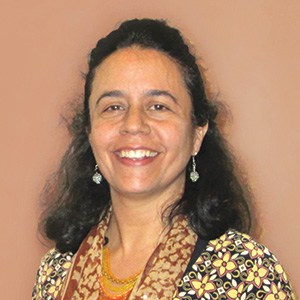 At the Hartford Public Library, Naficy directs The American Place, a program for immigrants and refugees who seek immigration information, resources for learning English, and help preparing for US citizenship. In 2013, the Obama White House declared her a Champion of Change.
We offer a slew of programs, and they have expanded over the years. We are located next to the US Citizenship and Immigration Services' Connecticut field office, and we'd have people constantly coming into the library searching for information. We started with English classes and citizenship classes. Then we started expanding into formal citizenship classes, which resulted in demands for support with citizenship applications. That prompted us to go after accreditation, so we could provide legal services.
Our next enhancement came from funding from the Hartford Foundation for Public Giving. It wanted to fund a program to create a pathway to a career. So we targeted the immigrant population, and we are now offering training in food handling and food safety in institutional kitchens, because those are benefited positions. The trainings are contextualized ESL. We also tell them about their rights in the workforce. We're providing them with critical information, which is our role as a library.
It's all just different pathways to attaining information, and that's our industry. It's not even a question. That's what we do; we help people. It's not about the issue [of immigration]; it's about our mission, and our mission is to help people meet their informational needs.
---
"You can't save everybody."
Graham Tedesco-Blair
Adult Services Librarian
Newark (N.Y.) Public Library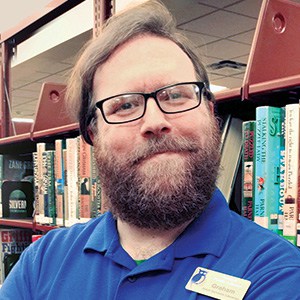 Graham Tedesco-Blair has spoken at the annual Association for Rural and Small Libraries conference on the topic of libraries and rural poverty.
In a lot of rural areas, the work left and never came back. We get a number of library patrons who are homeless or semi-homeless. We have people sleeping under bridges or by the side of the Erie Canal. Thankfully, we don't have anyone coming to the library to shoot up—there are enough abandoned buildings in town that they don't need to come to the library to do that—but we have had Narcan training. We figured better safe than sorry.
Yeah, this is what libraries have turned into. You could describe it as mission creep, but I guess I could put it this way: I would love to be one of those 1920s librarians who got to look up poetry or read philosophy all day, but that's not the world we live in. My father was a social worker and my mom was a special-ed teacher, so I'm very used to working with those who need help. You see a problem, you work to fix it. You don't ask, "Why is it my job?"
You have to do the job that's actually there, not the one that exists in your head. I absolutely adore when a kid needs a book because they're doing a report on dinosaurs, or someone wants to learn about the Civil War because they finally retired, and this is their hobby now. But those aren't the only patrons who deserve my attention. We're here to serve the community. And what they need, that's what we're going to do.
Burnout and empathy fatigue are definitely a huge problem. You have to not be so hard on yourself. Just admit that you're not going to solve all the problems. You can't save everybody, nor is it your responsibility to. If you're doing your best, if you're trying hard, it's okay to leave work at work. At the end of the day, go home, put on your favorite TV show, eat a little bit of chocolate, hug your partner if you have one. If you need to take a vacation, that's why you have paid time off.
---
"I called 911 once a week."
Amanda Oliver
MFA Student
University of California–Riverside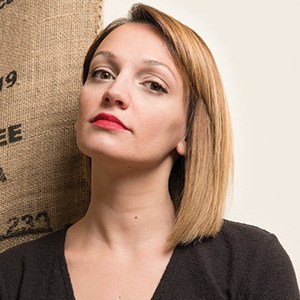 Amanda Oliver worked as a school librarian, then a public librarian, but burnout—and an erroneous but terrifying shooting threat—led her to leave the profession.
What happened was, the Washington, D.C., public school for which I worked was very close to Howard University. Howard thought it had a shooter who had run into the immediate vicinity, and we were the immediate vicinity. Our security guards must have seen something on the news, and in a panic went to the pre-K and kindergarten classrooms and told them there's a shooter. Our PA system did not work.
I got a text from a colleague, and all it said, in all caps, was ACTIVE SHOOTER. I was standing in the library, and the moment I read the text, the door opened, and there were 22 2nd-graders. We got all the kids into the library, we locked the doors, and we covered the windows with paper. I'm looking at the windows thinking, "If the shooter knocks the glass out, what are my options? How many kids can my body protect?" I don't even remember how we put together that everything was okay. It turned out that someone had seen someone with a bag holding golf clubs and had mistaken it for a gun.
We just sort of glossed over it. It was an epic failing of the school administration. I had been wanting to leave for a while, but that sealed the deal. I didn't want to be in a system where there was no process for anything like that. When you have too many roles and too many things to do, things fall by the wayside, and this horrible incident was never properly handled.
By the way, I never in one million years would have shot a gun in front of my students at someone. Never. I would never add to their trauma. I can't imagine the school librarian whipping out a gun in front of 6- and 7-year-olds. Even if I had had a gun, I don't trust that I would have known how to properly use it or that I would have sprung into action in time.
Aside from that incident, as a school librarian, I was pulled in a million directions. On top of a grueling teaching schedule, I was also responsible for maintaining a 15,000-piece library collection. If I was going to get it all done, I had to come early and stay late. By my fourth or fifth year, I started saying, "You have to give me a schedule that makes it possible to manage this collection." That never happened.
I switched to a public library in D.C. Ninety percent of the patrons we saw on a daily basis were experiencing homelessness, addiction, and severe mental health issues. There was not a day that I did not witness a psychotic episode. I called 911 once a week. People say, "Other branches aren't that bad," and I'm not interested, because if one branch is like that, your system is failing, as far as I'm concerned. Every day I'd go: "I think I'll have PTSD from this job."
About a month before I left, I got my third manager in the eight months I was there. She told the library, "I'm not taking this job unless there's a full-time police officer." Once we got that officer, I realized one day, "I haven't been screamed at in a week." But I have a lot of issues with police in general, so I don't believe that should be a solution. Is that what we have to resort to in order to keep order? I want to believe "no," but it's hard, because I did see a huge difference.
The funny thing is, I loved being a librarian. I loved providing a service to underserved people who deserve a leg up in the world. But there's no possible way to do it long-term the way that I was. When I thought about what being a librarian would look like for me five or 10 years down the road, I was sick.
I don't have an answer. I don't know how to fix these things. I truly don't know, other than that society needs an overhaul for how we treat people.
---
"There's only so much we can do in 16 weeks."
Nicole A. Cooke
Associate Professor and MS/LIS Program Director
School of Information Sciences, University of Illinois at Urbana-Champaign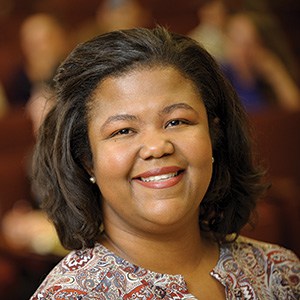 Nicole A. Cooke has directed the University of Illinois at Urbana-Champaign's MS/LIS program since 2017. She responds to the often-heard statement: "I didn't learn this in library school."
I hear, "We didn't learn this in our program," and that's true. There are lots of things I didn't learn in my masters' program. But now that I'm faculty, I realize I don't know we could actually ever teach everyone everything they might need to know. To a certain extent our job is to teach the basics, the foundation. It becomes impractical to think we can teach students all the dimensions of their jobs.
I teach a class entitled "Information Services to Diverse Populations," and in that class, we talk about homelessness, we talk about LGBTQ issues, we talk about some of the more recognized marginalized groups. In that class we have guest speakers who talk about their work with different populations. This is how we try to interject some reality into the courses. But there's only so much we can do in 16 weeks.
I hear people asking, "Can we have a joint program with social work?" I'm happy to investigate that, but we have to get social workers on board as well in terms of what that might look like. It is difficult to get dual-degree programs up and running. We have to go through enormous amounts of paperwork even to get a new course. And then how do you assign the classes, how are they cross-listed, what's going to be required from each end? The framework of higher ed does not make any of this easy. Then you have to weigh, particularly in this higher-education landscape, whether that degree would be worthwhile.
Sometimes folks think that LIS programs are being willful about not including things, and I think that's not the case. We talk about these things all the time, and we try to incorporate them in our classes, but curriculum- and program-level changes are difficult. We are already covering so much, and we have accreditation standards we need to adhere to. Also, we may not have the necessary personnel, because you can't just stick some random instructor into a class about diverse populations. I would like people to be aware of all the different moving parts that go into a graduate program.
---
"I want more people to be able to be librarians."
Fobazi Ettarh
Undergraduate Success Librarian
Rutgers University–Newark (N.J.)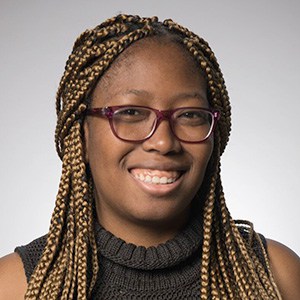 Fobazi Ettarh is author of "Vocational Awe and Librarianship: The Lies We Tell Ourselves," a paper that appeared in January 2018 in the open access, open peer-reviewed journal In the Library with the Lead Pipe.
Mission creep is definitely a major problem in librarianship. You start off with a certain set of duties, and then "other duties as assigned" become a bigger and bigger part of your job. Since your colleagues are doing this extra work, if you do only what's in your job description, you're seen as doing "less than," even though that's what you were technically hired for.
The most pressing example is Narcan. It is true that certain communities are having trouble with library patrons overdosing. You think, "Well, we as librarians try to mitigate community problems. Just like we have storytime, why shouldn't we have this service, when it's clearly needed?"
People also say, "I can't stand by and do nothing." But if you do something [administer Narcan] and the person still, God forbid, dies, then what? Or what if you help them and they sue you for emotional damages? We're not trained to dispense medical anything. We're also not social workers. When we take on this work, there's no institutional support for the trauma counseling we might need afterward, or for knowing when to call or not call the police.
A two-day training is not the same thing as getting your master's in social work. Just like we wouldn't want some social worker with three days of library training to take over the library, we shouldn't rely on these two- or three-day trainings. It's not our job to become the catch-all for all social-service failings. If overdosing is a big problem in your community, instead of having librarians do a training, hire an actual social worker or medical professional, just like you would hire a children's librarian if your neighborhood has a lot of large families.
Being stretched thin doesn't allow any of us to do our jobs well. If we're trying to be librarians and also social workers and also mental health professionals and also community centers, there's no way that any one space can do all of that well, and so we're doing all of that badly. I think it would make more sense for us to do the job we're trained for: information specialists.
I really do love both my job and librarianship. I want more people to be able to be librarians, to be able to provide the representation and access and values that we espouse and are not currently living up to. It's a lot easier to make the emotional argument: "Someone's in front of me; how can I do nothing?" It's a lot harder to take a step back and ask, "If we set this precedent, what will happen in the future?"