Washington, D.C., is a city of many things: government, monuments, world-class museums, stunning architecture, history, and cherry trees. But until recently, its gourmet scene was known more for stodgy steakhouses than standout dining.
Today, rock-star chefs have transformed neighborhoods into epicurean destinations and turned what was once a dining drought into a wave of new restaurants, vibrant tastes, and international cuisines.
Ready to dig in? Here is a guide to the best flavors in our culinary capital, excerpted from Frommer's EasyGuide to Washington, D.C., 2020.
Near the Convention Center
Busboys and Poets
2021 14th St., N.W.
202-387-7638
busboysandpoets.com
It's a bookstore, coffee shop, restaurant, theater, and community gathering place. The name refers to Langston Hughes, who worked as a busboy at the Wardman Park Hotel in the 1920s prior to gaining recognition as a poet. Go for the delectable breakfast of omelets and french toast, then go again for dinner to eat burgers, hot paninis, and pasta. Gluten-free, vegetarian, and vegan options are all available. B, L, D daily $
Chercher
1334 9th St., N.W.
202-299-9703
chercherrestaurant.com
You won't get much closer to an authentic Ethiopian homestyle meal than at this unassuming rowhouse restaurant in D.C.'s Little Ethiopia neighborhood. Expats proclaim the food—boldly flavored dishes from Ethiopia's mountainous Chercher region—rivals their grandma's cooking. The menu features classic plates of kitfo, gored gored, tibs, and tire siga, all varieties of Ethiopian dishes made with beef, as well as vegetarian salads and vegan entrees. L, D daily $
Convivial
801 O St., N.W.
202-525-2870
convivialdc.com
Convivial is just as warm, friendly, and jovial as its name suggests. Located in the heart of the historic Shaw neighborhood, this self-styled American café is spirited but not showy. Chef Cedric Maupillier presents traditional French food with a twist, including escargot "in a blanket." Also great: roasted Parisian gnocchi with mushroom mousseline and fricassee, as well as bouillabaisse packed with sea bass, rockfish, and mussels in a saffron seafood broth. The menu changes frequently, but all the fish is sustainably sourced. The chef also supports the local Chesapeake Bay ecosystem by using invasive fish species in his dishes. L, D daily $$
Corduroy
1122 9th St., N.W.
202-589-0699
corduroydc.com
In the bustling neighborhood around 9th St. NW, this rowhouse restaurant is a delightful retreat, with easy jazz music playing, crisp linens on the tables, and black-suited servers standing in wait. Chef-owner Tom Power's combination of French, Japanese, and American tastes is working: The restaurant is continuously voted one of the best in the city. On the balanced, refreshing menu you'll find everything from red snapper bisque to tuna tartare with crispy shallots and charcoal-grilled pork loin with bacon. The five-course tasting menu for $70 in the upstairs bar is one of the best deals in town. D daily $$$
The Dabney
122 Blagden Alley N.W.
202-450-1015
thedabney.com
Locals frequent this eatery, often several times a week, for the experience and food. One of only a handful of restaurants to earn Michelin stars in the D.C. area, the Dabney offers a small-plate menu, informed and attentive staff, and a cozy, farmhouse-style dining room. Try the delicious Eastern Shore–style chicken and dumplings or the seafood stew with a side of melt-in-your-mouth corn bread. Don't miss desserts such as the crumble with Stayman apples or the sweet potato bread pudding. Head to the Dabney Cellar for inventive cocktails while you wait for your table upstairs. D (Tue–Sun) $$
Farmers and Distillers
600 Massachusetts Ave., N.W.
202-464-3001
farmersanddistillers.com
With more than 100 dishes available, it's not hard to find something to like here. This restaurant represents an ode of sorts to the farmers who own it as well as to George Washington ("the original Founding Farmer") and the surrounding multiethnic neighborhood of Mount Vernon. Everything from French and South American to Chinese and German cuisine is represented on the menu, which includes beer-can roasted chicken, glazed bacon lollis, and fisherman's pasta. Reservations recommended. Brunch (Sat, Sun), B (M–F), L, D daily $$
Kinship
1015 7th St., N.W.
202-737-7700
kinshipdc.com
Across the street from the Walter E. Washington Convention Center, Kinship is a comfortable, sophisticated restaurant from veteran D.C. chef Eric Ziebold and partner Célia Laurent. There are three spaces in all: a book-lined lounge, a lively bar, and a minimalist dining room. Locals flock here for the modern à la carte American menu offering a little of everything: grilled Rhode Island squid, venison consommé, and crispy taro root. The menu changes frequently, but the delectable tastes and warm atmosphere won't. D daily $$$
Momofuku CCDC
1090 I St., N.W.
202-602-1832
ccdc.momofuku.com
New York chef and restaurateur David Chang brought his acclaimed Momofuku to CityCenterDC in 2015, and it's been a star ever since. The dining room is big, loud, and just the spot for fun group dinners. The menu offers exciting takes on Chinese dishes from Chef Tae Strain. Bing, a Chinese flatbread that's grilled to order seven different ways, is complemented by spicy cucumber salad and branzino ssäm. Try the dry-aged beef rib eye. Brunch (Sat, Sun), L, D daily $$$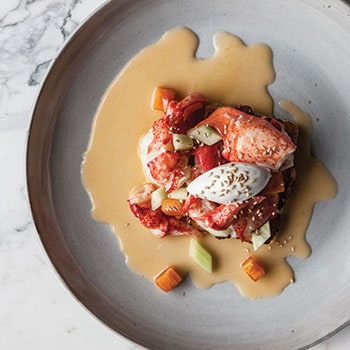 Poca Madre
777 I St., N.W., TechWorld Plaza
202-838-5300
pocamadredc.com
Veteran restaurateur Victor Albisu opened this upscale, Southwest-inspired companion to his popular chain Taco Bamba, located next door, in 2018. Taking its name from a popular Mexico City slang term meaning "cool," Poca Madre elevates traditional foods from the Yucatán, Oaxaca, and other parts of Mexico. Think a beet and burrata tostada with a pickled beet mole, or sablefish with maduro miso. D daily $$
Tiger Fork
922 Blagden Alley N.W.
202-733-1152
tigerforkdc.com
Finding a table at this trendy Hong Kong–inspired restaurant in Blagden Alley can be tough, but the wait is well worth it. Drawing from Hong Kong's fast-paced street food scene, this Shaw neighborhood–based Chinese restaurant features creative versions of dim sum, barbecue, and seafood. Favorites include the humble plate of chili wontons and cold dan dan noodles. The bar menu is impressive, with ingredients drawn from Asian medicine. Reservations recommended. Brunch (Sat, Sun), D daily $$
Unconventional Diner
1207 9th St., N.W.
202-847-0122
unconventionaldiner.com
A husband-and-wife duo are the masterminds behind this casual, eclectic restaurant serving comfort food with a twist. Chef David Deshaies shows off his skills with a "not-your-grandma's" meatloaf, tempura-crisped kale nachos, and famed short ribs braised for 72 hours. Pastry chef Ana Deshaies bakes fresh corn bread muffins and desserts including a Smith Island carrot cake. Adjacent to the convention center, the diner is designed as two eateries—one open just for dinner, the other for breakfast and lunch—and connected by a cocktail bar. Brunch (Sat, Sun), B, L (M–F), D daily $$
Downtown
Central Michel Richard
1001 Pennsylvania Ave., N.W.
202-626-0015
centralmichelrichard.com
The late, great French chef Michel Ri­chard, who died in 2016, opened Central more than a decade ago, and it has remained on the hot list ever since.
Just five blocks from the White House, Central offers unfussy French-American fare in a fun, semicasual dining room. Of course, the classics are on the menu—including french onion soup, scallops, and cassoulet—but so are burgers, shrimp risotto, and Richard's famed "faux gras," made with chicken instead of duck or goose liver. Reservations recommended. Brunch (Sun), L (M–F), D daily $$$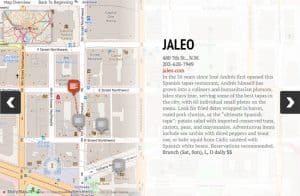 Fiola
601 Pennsylvania Ave., N.W.
202-525-1402
fioladc.com
Chef Fabio Trabocchi and wife-partner Maria know how to have fun with their restaurants, which include Fiola Mare on Georgetown's waterfront and Del Mar on the bustling Southwest waterfront. The restaurant has a head-turning, New York feel, with its wide swatch of bar at the front, white banquettes, and modern art. Trabocchi changes the menu daily, but the seasonal Italian fare is always superb. You might find lobster ravioli in cream sauce, olive-oil-poached Arctic char, or prosciutto-wrapped veal tenderloin. Reservations recommended. L (M–F), D daily $$$$
The Hamilton
600 14th St., N.W.
202-787-1000
thehamiltondc.com
Craving sushi? How about a burger and fries? Or a late-night snack? The Hamilton serves it all. A bustling, massive, two-story restaurant, the Hamilton balances a casual and often loud atmosphere with delectable fare upstairs and live music downstairs. A crispy shrimp tempura starter is complemented by poke bowls, short-rib poutine, and delicious clam chowder. Entrées include glazed meatloaf and sausage ragu. The bar menu is impressive, with at least 20 beers on draft and nearly 50 wines by the glass or bottle. Reservations recommended. L, D daily $$
Hill Country Barbecue Market
410 7th St., N.W.
202-556-2050
hillcountry.com/dc
Leave official Washington at the door when you enter Hill Country. This restaurant honors Austin, the self-styled barbecue and live-music capital of Texas. Known for its nightly live music downstairs and its low-country fare upstairs, Hill Country is true to its Texan roots. Dig into a mess of dry-rubbed Texas barbecue ribs, skillet corn bread, and sweet potato bourbon mash. Meats are priced by weight, from $5.50 per half a pound of barbecue chicken to $28 per pound of bone-in short ribs. There's a late-night menu until 10 p.m. weekdays and 11 p.m. weekends, as well as a late happy hour 10 p.m.–1 a.m. L, D daily $$
Jaleo
480 7th St., N.W.
202-628-7949
jaleo.com
In the 26 years since José Andrés first opened this Spanish tapas restaurant, Andrés himself has grown into a culinary and humanitarian phenom. Jaleo stays true, serving some of the best tapas in the city, with 60 individual small plates on the menu. Look for fried dates wrapped in bacon, cured pork chorizo, or the "ultimate Spanish tapa": potato salad with imported conserved tuna, carrots, peas, and mayonnaise. Adventurous items include sea urchin with diced peppers and trout roe, or baby squid from Cádiz sautéed with Spanish white beans. Reservations recommended. Brunch (Sat, Sun), L, D daily $$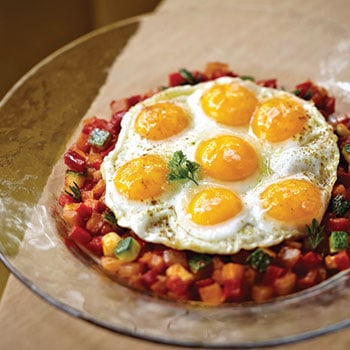 Matchbox
713 H St., N.W.
202-289-4441
matchboxrestaurants.com
Named for the 15-feet-wide, three-story-tall, matchbox-like space, this Chinatown pizzeria is a local favorite. It's been plating thin-crust pizzas cooked in 900° wood-fired brick ovens for more than 10 years. Try the prosciutto and fig pizza with blue cheese and black pepper honey or the chicken pesto pizza. The appetizer of mini burgers topped with onion straws, the seared tuna and greens salad, and entrées like the shrimp and grits are all standouts. Reservations recommended. Brunch (Sat, Sun), L, D daily $$
Old Ebbitt Grill
675 15th St., N.W.
202-347-4800
ebbitt.com
Open since 1856 (in this location since 1983), the Ebbitt is popular among tourists, but the elite of Washington show up too. Old Ebbitt is open very early to very late and offers a comforting menu of untrendy dishes like fried calamari, bur­gers, crab cakes, and hearty pastas. The oysters—among the freshest in town—are the standout here. Reservations recommended. B, L, D daily $$
Rasika
633 D St., N.W.
202-637-1222
rasikarestaurant.com
Dishing up the best in modern Indian food, Chef Vikram Sunderam frequently hosts power players from the capital and beyond. The restaurant's specialties are the palak chaat (crispy spinach in yogurt sauce), duck vindaloo, and tandoori salmon, along with a full menu of other Indian delights. Reservations recommended. L (M–F), D (M–Sat) $$$
Zaytinya
701 9th St., N.W.
202-638-0800
zaytinya.com
Restaurants come and go in D.C., but this Mediterranean tapas hotspot by José Andrés is a mainstay. Diners go on a culinary adventure here with meze (Mediterranean small plates) featuring a wide range of tastes from the Middle East, Greece, and Turkey. Signature dishes include baba ghanouj, crispy Brussels sprouts with coriander seed and barberries, and scallops in dill yogurt sauce. Reservations recommended. L, D daily $$
14th Street/U Street
Ben's Chili Bowl
1213 U St., N.W.
202-667-0058
benschilibowl.com
No restaurant in D.C. has as much historic cachet as Ben's Chili Bowl. Ben's opened in 1958 and stayed open even when riots broke out throughout the city following the April 1968 assassination of Martin Luther King Jr. Ben's history is noted on its walls, featuring photographs that cover the city's past as well as Ben's. That includes snapshots of the many celebrities who've dined here, from President Barack Obama to musician Mary J. Blige. Its famous half smoke—a quarter-pound, half-beef, half-pork smoked sausage served inside a warm bun and smothered with chili sauce—is a favorite. Ben's has a few vegetarian-friendly options, too. Cash only. B (M–Sat), L, D daily $
Cork Wine Bar and Market
1805 14th St., N.W.
202-265-2675
corkdc.com
This cozy wine bar features an extensive menu of bottles, most from unusual, small producers, as well as wines by the glass. The menu includes about 20 small dishes nightly, all meant to be shared. Try the cheese and charcuterie boards, butternut squash risotto, or french fries with house-made ketchup. Then head to the café and market downstairs to shop for bottles of wine and gourmet food items. Reservations accepted. Brunch (Sun), L, D daily $$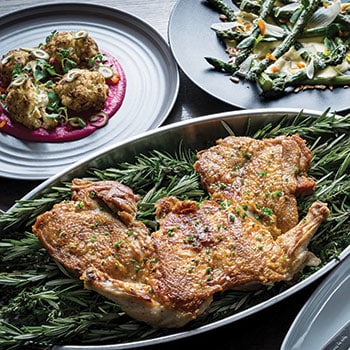 Estadio
1520 14th St., N.W.
202-319-1404
estadio-dc.com
One of the best Spanish tapas spots in the city, Estadio is a sound pick for a downtown dinner that balances traditional Spanish cuisine with creative flair. Diners can easily build a meal from the cheeses and cured meats alone, or try the roasted chorizos, grilled octopus, and seared scallops. The bar menu is impressive, with a variety of cocktails, beer, wine, and Spanish sherries to choose from. The "slushitos," mixed frozen cocktails, vary with the season and don't disappoint. Brunch (Sat, Sun), L (F), D daily $$
Le Diplomate
1601 14th St., N.W.
202-332-3333
lediplomatedc.com
Evoking the look of a Parisian brasserie with red banquettes, a zinc-topped bar, lace curtains, and sidewalk patio, this restaurant tastes French, too. All the Parisian favorites are here, including escargot, onion soup, steak frites, and cheese. Tables are tight; it's loud and fun, and always packed. Reservations recommended. Brunch (Sat, Sun), D daily $$$
Pearl Dive Oyster Palace
1612 14th St., N.W.
202-319-1612
pearldivedc.com
Freshly shucked oysters, while plentiful on the menu, aren't the only draw at this lively seafood restaurant. It's also made its name with gumbos, beignets, and po' boy sandwiches. Cap the meal with a slice of pecan or key lime pie. The small inside/outside bar is the perfect people-watching spot on a warm evening. Waiting for a table? Head upstairs to Black Jack for craft cocktails and bocce courts. Brunch (F–Sun), D daily $$
Capitol Hill
Good Stuff Eatery
303 Pennsylvania Ave., S.E.
202-543-8222
goodstuffeatery.com
Top Chef contestant Spike Mendelsohn opened this restaurant in 2008 to lines stretching around the block, and the family-owned eatery is still regularly packed. The Prez Obama burger (with applewood bacon, onion marmalade, Roquefort cheese, and horseradish mayo) is a fan favorite. Try the Nashville hot chicken (fried chicken breast and bread-and-butter pickles on a brioche bun with spicy pepper oil). Vegetarian options are also available. Tables fill up fast, so you might consider getting your burger to go, as many do. L, D (Mon–Sat) $
Rose's Luxury
717 8th St., S.E.
202-580-8889
rosesluxury.com
This quirky little restaurant in Barracks Row was named America's "best new restaurant" by Bon Appetit in 2014, and it's easy to see why. Chef-owner Aaron Silverman's success comes down to endearing service and a simple menu of unexpected tastes. The menu changes frequently, but a pork sausage-habanero-lychee salad is almost always included, as well as one family-style dish intended to share. Desserts are delightful, including a coconut-milk ice cream and popcorn brulée. Arrive early for
seating. D (Mon–Sat) $$
Ted's Bulletin
505 8th St., S.E.
202-544-8337
tedsbulletin.com
This contemporary American diner planted its flag in Capitol Hill in 2010 and has since expanded to 14th Street, Maryland, and Virginia. The retro vibe is entertaining, and diners enjoy a comfort-food menu of grilled cheese, tomato soup, fried chicken, chili, and all-day breakfast. For dessert, try an "adult" milkshake like the Grasshopper, a blend of Kahlúa and crème de menthe, or stick to family-friendly favorites like the homemade pop tarts. Reservations recommended. B, L, D daily $$
Georgetown
Fiola Mare
3050 K St., N.W.
202-525-1402
fiolamaredc.com
Sister restaurant to Fiola in Penn Quarter, Fiola Mare offers fine waterfront seafood dining. Sit outside on the sprawling patio overlooking the Potomac River or inside its glass-enclosed modern interior. Menus change daily and seasonally, but ahi tuna, burrata, and ceviche often set the stage for dishes like lobster ravioli, seafood brodetto, and roasted Norwegian halibut. Reservations recommended. Brunch (Sat, Sun), L (Tue–F), D daily $$$
Martin's Tavern
1264 Wisconsin Ave., N.W.
202-333-7370
martinstavern.com
Neighborhood institution Martin's has served every president from Harry Truman to George W. Bush. JFK even proposed to Jackie here in 1953. Fourth-generation proprietor Billy Martin is usually behind the bar or greeting regulars. Get Grandma Martin's meatloaf, shepherd's pie (Billy's recipe), corned beef and cabbage, or Martin's Delight (roasted turkey on toast, smothered in rarebit sauce). Then wash it down with a Guinness stout or one of their house cocktails. Brunch (Sat–Sun), L, D daily $–$$
Politics and Libations
Oh, the intrigue, the drama, the scandals. Like it or not, Washington, D.C., is the place for pure politics, the press hounds who trail elected officials, and the gossip that follows. Visit any of these local watering holes, and if you're lucky, you might just overhear a few state secrets of your own—or at the very least, rub elbows with D.C.'s movers and shakers.
• Off the Record Bar, Hay Adams Hotel, 800 16th St., N.W., 202-638-6600, hayadams.com/dining: Grab a stool and chat with longtime bartenders who have seen (and heard) it all, and enjoy caricatures of some of the country's most powerful elites.
• The Capital Grill Lounge, 601 Pennsylvania Ave., N.W., 202-737-6200, thecapitalgrille.com: This clubby lounge is witness to power brokering, political scandals, and intrigue—plus premium whiskeys and wines.
• Round Robin Bar, Willard InterContinental Hotel, 1401 Pennsylvania Ave., N.W., 202-628-9100, washington.intercontinental.com/food-drink/round-robin-bar: D.C.'s political and social elite—including Woodrow Wilson, Mark Twain, and Walt Whitman—have imbibed here since 1847. Now the walls around this mahogany round bar bear their likenesses.
• Charlie Palmer Steak, 101 Constitution Ave., N.W., 202-547-8100, charliepalmer.com: Just steps from the Capitol Building, this elegant outpost attracts the town's top political dogs for stiff drinks and steaks.
• Shelly's Back Room Tavern, 1331 F St., N.W., 202-737-3003, shellysbackroom.com: Disappear into this cigar-friendly establishment, just a block from the White House, for a generous selection of rare whiskeys and single malts.