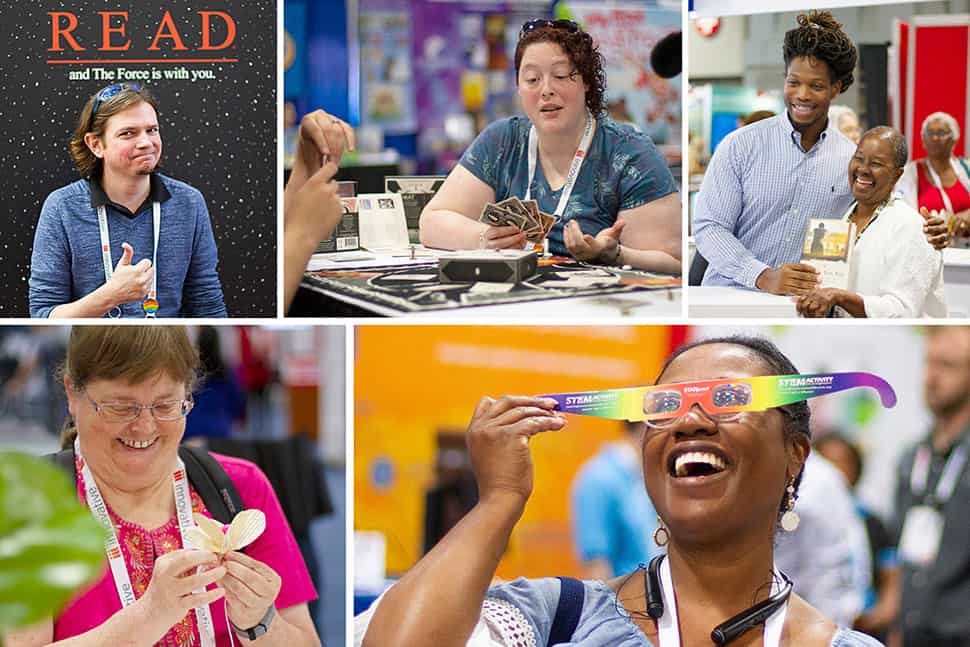 From authors to zines and everything in between, the exhibit hall is the pulse of any American Library Association conference. This year's Annual Conference and Exhibition in Washington, D.C., was no exception, with attendees clamoring for autographs and advance reading copies, testing new products, and lining up for specialty stages. Here are some of our favorite photos, clockwise from top left:
Jim Cowen, music reference librarian at University of the Arts Libraries in Philadelphia, takes the Star Wars READ Selfie Challenge.
Shanna Hollich, collection management librarian at Wilson College in Chambersburg, Pennsylvania, learns to play Illimat at the Gaming and Graphic Novel Pavilion.
Carolyn Long (right), volunteer at STAR Academy Charter School in Memphis, Tennessee, poses with Caylin Louis Moore, author of A Dream Too Big.
Wyolanda Hall, manager at Shreve Memorial Library's Wallette branch in Shreveport, Louisiana, tries out spectral glasses at the NASA booth.
Ann N'Gadi, technical information specialist at the Smithsonian's Museum Conservation Institute, gets crafty at the Creativebug booth.