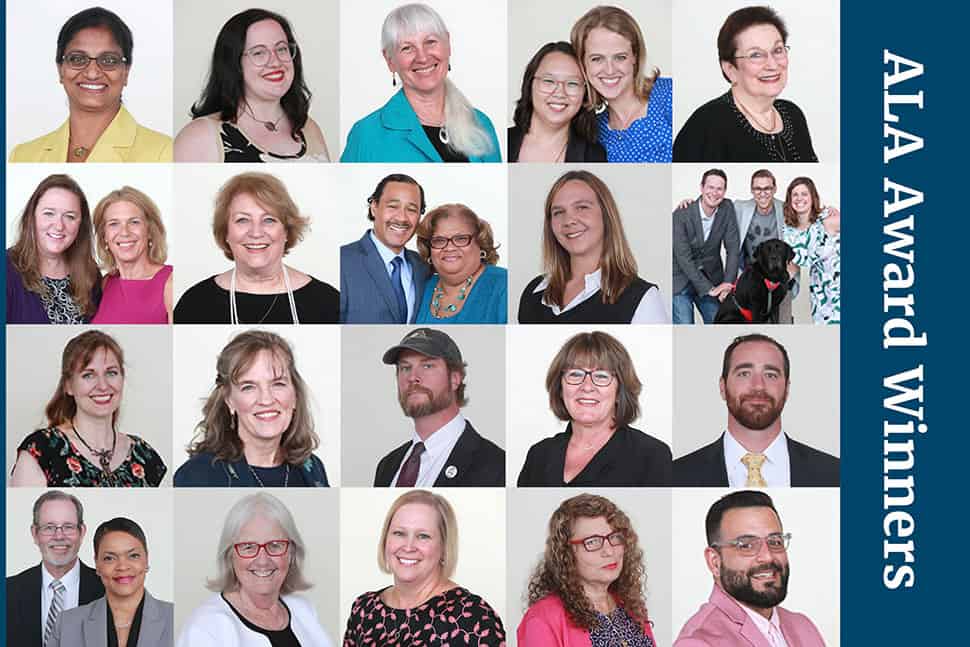 Each year, the American Library Association (ALA) recognizes the achievements of more than 200 individuals and institutions with an array of awards. This year's winners, chosen by juries of their colleagues and peers, typifies the best of the profession's leadership, vision, and service as well as a continued commitment to diversity, equality, education, and outreach. This selection represents only some of those honored in 2019; see the complete list at ala.org/awardsgrants.
---
Mirah J. Dow
Beta Phi Mu Award
One nominator wrote of Dow that "her commitment to Beta Phi Mu's motto, Aliis inserviendo consumor—meaning 'Consumed in the service of others'—is ever present." Dow, professor and director of the PhD program at Emporia (Kans.) State University School of Library and Information Management, has spent her career educating and advocating for school librarians. She is a founding partner of the Kansas Summer Institute for School Librarians and was honored with the Kansas Association of School Librarians 2014 Vision Award.
She is editor of School Libraries Matter: Views from the Research (Libraries Unlimited, 2013) and in 2015 codesigned a STEM curriculum to help classroom teachers and librarians collaborate. Her nominator and supporters noted how generously she gives of herself as a teacher and mentor. Read more at bit.ly/ALA-Awards-Dow.
This award of $1,000 recognizes the achievement of a library school faculty member or another individual for distinguished service to education in librarianship. Donor: Beta Phi Mu International Library Science Honor Society
---
Ray McPadden
W. Y. Boyd Literary Award for Excellence in Military Fiction
McPadden's debut novel, And the Whole Mountain Burned (Center Street, 2018), is a firsthand account of US Army Rangers fighting in the mountains of eastern Afghanistan in spring 2008. McPadden says his novel depicts "the horrors of war, the courage of the soldiers, and the fact that no matter how many enemies we vanquish, there is always another over the ridge."
McPadden is a combat veteran who served four tours in Afghanistan and Iraq and a former ground force commander in an elite unit of the Army Rangers. He has earned a Purple Heart, two Bronze Stars, and a medal for valor. Read more at bit.ly/ALA-Awards-McPadden.
This award of $5,000 honors the best fiction set in a period when the United States was at war. Donor: William Young Boyd II
---
June Garcia
Melvil Dewey Medal
Nominators described Garcia's "perfect balance of strategic vision and tactical prowess" and specifically noted her outstanding service to the profession as branch library administrator for Phoenix Public Library and director of San Antonio Public Library. She developed tools to plan, measure, and evaluate public library services and led countless workshops to train librarians and trustees how to manage and staff their facilities, and create policies focused on results.
Garcia played a key role in creating and developing the International Network of Emerging Library Innovators, a component of the Bill & Melinda Gates Foundation's Global Libraries program that has trained more than 400 library leaders around the world. She has served on ALA Council, FTRF, and as 1991–1992 president of PLA. Read more at bit.ly/ALA-Awards-Garcia.
This $2,000 award—which ALA Council voted to rename in June—is given for creative professional achievement in library management, training, cataloging and classification, or the tools and techniques of librarianship. Donor: OCLC
---
Kristen Sorth
Ernest A. DiMattia Jr. Award for Innovation and Service to Community and Profession
Sorth, director of St. Louis County (Mo.) Library, recently guided the library through a five-year capital improvement plan called Your Library Renewed, which has resulted in four new branches and 13 completely renovated buildings. In addition, she introduced innovative programs such as summer and afterschool lunch programs, Career Online High School, Recycled Reads, and We Stories, an antiracism reading group for families.
Laura Horwitz, cofounder and executive director of We Stories, wrote, "As a citizen, a reader, and a mother, I am proud that our library system has a leader as visionary and responsive to community needs as Kristen."
Sorth volunteers for several organizations and is an active member of ALA, the Public Library Association (PLA), the Missouri Library Association, and the Urban Libraries Council. Read more at bit.ly/ALA-Awards-Sorth.
This $5,000 award recognizes a public librarian who demonstrates leadership in anticipating emerging trends in services, products, and technologies that will enhance the library's position in its community. Donor: The DiMattia Family
---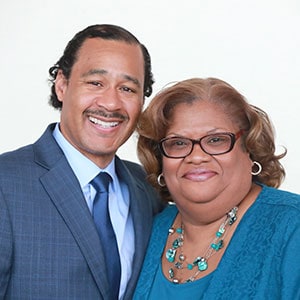 Julius C. Jefferson Jr. and Lorelle R. Swader
Equality Award
Jefferson, ALA president-elect, is section head of Research and Library Services in the Foreign Affairs, Defense, and Trade Division of the Congressional Research Service at the Library of Congress (LC) in Washington, D.C. He has supported equality in librarianship for more than two decades and has mentored many younger librarians and encouraged them to advocate for diversity and inclusion in the profession.
He has served as an ALA councilor and past ALA Executive Board member, as vice president and chief steward of the Congressional Research Employees Association, and as 2013–2016 president of the Freedom to Read Foundation (FTRF). He coedited The 21st Century Black Librarian in America: Issues and Challenges (Scarecrow Press, 2012).
Swader is associate executive director of the ALA–Allied Professionals Association (ALA-APA) and ALA Offices and Member Relations. She has worked with numerous ALA-APA committees and task forces focusing on diversity and inclusion, including the Spectrum Scholarship and Emerging Leaders programs. She is chief architect and author of the ALA-APA Librarian and Library Worker Salary Surveys—the primary source of salary data for libraries.
Swader organizes the annual National Library Workers Day and has been a consistent presence on the ALA Committee on the Status of Women in Librarianship.
Her unwavering promotion of library workers' contributions and equitable salaries and her guidance for including diversity and inclusion in ALA-APA's certificate program have had an influential and positive impact on the profession. Read more at bit.ly/ALA-Awards-Equality.
This $1,000 award honors an outstanding contribution that promotes equality in the library profession. Donor: Scarecrow Press, a member of the Rowman & Littlefield Publishing Group
---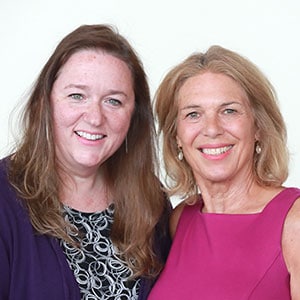 Loudoun County (Va.) Public Library
ALA Excellence in Library Programming Award
In 2017, Loudoun County Public Library (LCPL) faced a critical service gap—few adults were engaging with programming without their children. As a remedy, LCPH created an expanded lineup of relevant adult-focused programs, including the monthly Science on Tap series.
A partnership between LCPL, Old Ox Brewery, and Howard Hughes Medical Institute's Janelia Research Campus, Science on Tap brought nationally and internationally recognized experts to the brewery to present on biology, neuroscience, cybersecurity, counter-terrorism, bomb analysis, and outer space, often describing their own groundbreaking research. Science on Tap has become LCPL's most successful sustained effort in exposing science and tech-focused adults to the library, reaching an average of 150 attendees and signing up 15–20 new library cardholders per session. Read more at bit.ly/ALA-Awards-Loudoun.
This $5,000 award recognizes a library that demonstrates excellence in library programming by creating a cultural/thematic program type or program series that engages the community in planning, sponsorship, and/or active participation; addresses an identified community need; and has measurable impact. Donor: ALA Cultural Communities Fund
---
Patricia Helm Smith
Ken Haycock Award for Promoting Librarianship
Smith spent 30 years as executive director of the Texas Library Association (TLA) until her retirement. During her tenure, TLA launched a series of leadership programs, including the Executive Leadership Immersion and the TALL Texans Leadership Development Institute, for librarians across Texas to assume critical management roles and for advocacy in local, regional, and state politics.
She served multiple terms on the ALA Council and twice on the ALA Executive Board. She has chaired and served on several ALA committees.
Smith was honored by the Texas Society of Association Executives as Distinguished Executive of the Year in 2014 and was named a Distinguished Alumna of the University of Texas at Austin School of Information in 2009 for her professional leadership and contributions to the field. Read more at bit.ly/ALA-Awards-Smith.
This award of $1,000 honors an individual for contributing significantly to the public recognition and appreciation of librarianship through professional performance, teaching, and/or writing. Donor: Ken Haycock
---
Tyler Magill
Paul Howard Award for Courage
On August 11, 2017, the white supremacist "Unite the Right" rally marched on the University of Virginia (UVA) campus in Charlottesville with torches and anti-Semitic chants. Magill—stacks liaison at UVA's Alderman Library—stood with UVA students, linking arms around a statue of Thomas Jefferson in a nonviolent counterprotest. In the conflict that followed, Magill was hit with a torch and suffered a stroke several days later.
His actions, both on the night of the rally and during counterprotests throughout that weekend, demonstrated his willingness and ability to face adversity and danger with resolve. Read more at bit.ly/ALA-Awards-Magill.
This $1,000 award honors a librarian, library board, library group, or individual for unusual courage benefiting library programs or services. Donor: Paul Howard Memorial Fund
---
Tulsa (Okla.) City-County Library
ALA/Information Today Library of the Future Award
Tulsa City-County Library's (TCCL) Digital Literacy Lab is a self-directed training and working space where patrons can experiment with new and emerging technologies—such as graphics software, digitization equipment, and flight simulators—and learn digital literacy skills.
The Digital Literacy Lab partners with technology organizations to support the needs of professional artists, local nonprofits, family historians, educators, and users who have a casual interest in technology. Through outreach programs, technology meetups, classes at local universities, and in-house workshops for students, genealogists, Tulsa Public School librarians, and other groups, Digital Literacy Lab staff help patrons pursue and attain their digital literacy goals and ensure the library is a vital civic resource and economic driver. The space opened in October 2016 in TCCL's recently renovated Central branch. Read more at bit.ly/ALA-Awards-TCCL.
This $1,200 award honors a library, library consortium, group of librarians, or support organization for innovative planning for, applications of, or development of patron training programs about information technology in a library setting. Donor: Information Today
---
Kathleen de la Peña McCook
Joseph W. Lippincott Award
Jury chair Patricia Glass Schuman described McCook as a "passionate, visionary activist and advocate for equity, diversity, and dedication to the core value of social justice and service for all populations."
McCook is a distinguished professor at the University of South Florida School of Information in Tampa. She is author of A Place at the Table: Participating in Community Building (ALA Editions, 2000) and coauthor of Introduction to Public Librarianship, 3rd edition (ALA Neal-Schuman, 2018). She received the Elizabeth Martinez Lifetime Achievement Award from Reforma in 2016, the Elizabeth Futas Catalyst for Change Award in 1998, and the ALA Equality Award in 1987. Read more at bit.ly/ALA-Awards-McCook.
This $1,500 award is presented annually to a librarian for distinguished service to the profession of librarianship, such service to include outstanding participation in the activities of the professional library association, notable published professional writing, or other significant activity on behalf of the profession and its aims. Donor: Joseph W. Lippincott III
---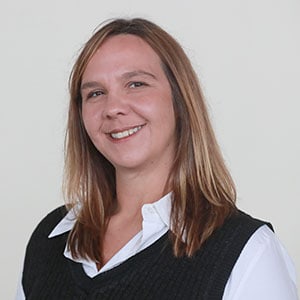 Craig County (Va.) Public Library
Penguin Random House Innovation through Adversity Award
Craig County Public Library in New Castle, Virginia, is only 30-by-40 square feet and has the lowest per-capita expenditure by local government of any library in the state. Its "Barn Quilts for Books" program began as an art project to bring additional revenue and attention to the library. Sponsors chose quilt patterns that honored an individual, family tradition, work, or hobbies, which were then painted on weatherproof boards and attached to barns and outbuildings. Prices ranged from $125 to $450, and all funds went to the library.
As the art popped up all over the county, the Barn Quilt Trail became a local tourist attraction, and the project has grown into an economic partnership between the library and the Craig County Tourism Commission. The program has raised more than $10,000 for the library, which is now planning an expansion that will house the local visitors' center.
The Penguin Random House Foundation also funded five runner-up awards consisting of $1,000 worth of materials for The Highbridge School, the Bronx, New York; Long Branch (N.J.) Free Public Library; Kansas City (Kans.) Public Library; John G. McCullough Free Library in North Bennington, Vermont; and the Northwest Regional Library System in Port St. Joe, Florida. Read more at bit.ly/ALA-Awards-Craig.
This $10,000 award recognizes US libraries and staff who overcome adversity and create lasting innovative community service programs that inspire and connect with new readers. Donor: Penguin Random House Foundation
---
Schneider Family Book Awards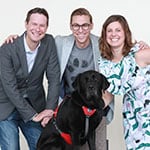 Jessica Kensky, Patrick Downes, and Scott Magoon
Rescue and Jessica: A Life-Changing Friendship won the award for young readers. Coauthored by Kensky and Downes and illustrated by Magoon, the autobiographical story of a girl and her new service dog was inspired by Kensky adapting to life as a double amputee after the 2013 Boston Marathon bombing.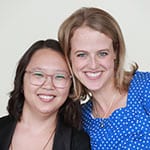 The Remember Balloons by Jessie Oliveros, illustrated by Dana Wulfekotte, is the young readers honor title.
Leslie Connor
The Truth as Told by Mason Buttle, authored by Connor, won the award for best middle-grade book. Targeted by bullies, a murder suspect accepts help from a school social worker and uses voice recognition technology to uncover the truth.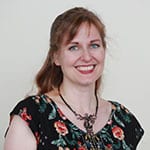 The Collectors by Jacqueline West is the middle-grade honor title.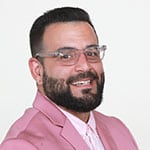 Mark Oshiro
The teen award winner is Anger Is a Gift, Oshiro's novel about a high school junior fighting for justice despite suffering from severe panic attacks after the murder of his father.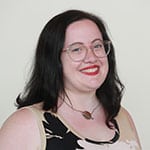 (Don't) Call Me Crazy: 33 Voices Start the Conversation about Mental Health, edited by Kelly Jensen, is the teen honor title.
Read more at bit.ly/ALA-Awards-Schneider
This award of $5,000 is given to authors or illustrators for a book that embodies an artistic expression of the disability experience for children and adolescent audiences. This year marks the introduction of Schneider Family Award honor titles, which receive a plaque. Recipients are selected in three categories: young readers (newborn to age 8), middle readers (ages 9–13), and teen readers (ages 14–18). Donor: Katherine Schneider
---
Judi Moreillon
Scholastic Library Publishing Award
Moreillon has served as a school librarian at all instructional levels, as well as a classroom teacher, district-level librarian mentor, and literacy coach. For 21 years, she taught preservice graduate-level school librarians as well as children's and youth services public librarians. She is widely respected for her work as a literacy and libraries consultant and as a mentor for the Lilead Project.
Moreillon has held several leadership positions within the American Association of School Librarians (AASL), including former chair of AASL's Innovative Approaches to Literacy Task Force and School Librarian's Role in Reading Task Force; she is current chair of the Reading Position Statements Task Force. She has written several books for school librarians, classroom teachers, children, and families and helped author AASL's Position Statement on the School Librarian's Role in Reading. Read more at bit.ly/ALA-Awards-Moreillon.
This $1,000 award honors a librarian whose unusual contribution to promoting access to books and encouraging a love of reading for lifelong learning exemplify outstanding achievement in the profession. Donor: Scholastic Library Publishing
---
Sue Ann Pekel
Sullivan Award for Public Library Administrators Supporting Services to Children
Pekel is children's librarian and senior administrator at Bentonville (Ark.) Public Library (BPL). In nominating her, her colleagues said, "Sue Ann Pekel is a leader, librarian, mentor, advocate, supporter, professional, and friend."
Since joining BPL, Pekel has established a teen volunteer program and teen advisory board; co-organized the Bentonville Youth Literature Festival and StoryWalk, now in its fourth year; teamed with Bentonville Public Schools and the Crystal Bridges Museum of American Art to create the One District, One Book citywide reading program; and helped increase BPL program attendance from 660 in 2006 to 56,800 attendees in 2017. She received the Arkansas Library Association's 2012 Ann Lightsey Children's Librarian Award. Read more at bit.ly/ALA-Awards-Pekel.
Given to an individual who has shown exceptional understanding and support of public library service to children while having general management, supervisory, or administrative responsibility that has included public service for children in its scope. Donor: Peggy Sullivan
---
North Bergen (N.J.) Free Public Library
H. W. Wilson Library Staff Development Grant
The North Bergen Free Public Library (NBFPL) serves a culturally and economically diverse urban area with a high need for social services along with English-language classes. Nearly 80% of residents speak a language other than English at home. The number of chronically homeless individuals in Hudson County is also rising dramatically.
The award jury was impressed by the library's multifaceted approach to addressing the needs of its community through staff training in ESL and ELL certification, customer service training, and CPR certification. Training will focus on front-line staffers with the goal of helping them better understand and meet the needs of patrons, especially immigrants and underserved community members. Read more at bit.ly/ALA-Awards-HWWilson.
This $3,500 award goes to a library that demonstrates merit in a staff development program that furthers the goals and objectives of the library organization. Donor: H. W. Wilson Company/EBSCO Publishers