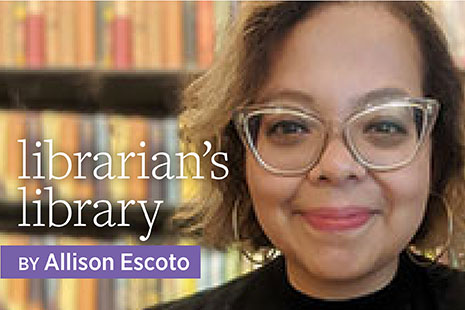 Collection management is a strange thing: Most of us spend our careers doing the various tasks involved, but not a whole lot of time reading about it beyond library school. We are usually too busy implementing its various aspects to really step back and refresh our way of doing things. Luckily, there are many current (and timeless), informative, and well-researched guides to help any librarian, whether fresh out of library school looking for guidance or a veteran in need of a refresher.
Collection Management Basics, 7th edition
By Margaret Zarnosky Saponaro and G. Edward Evans
Collection Management Basics sheds light on many facets of collection management. When it was first published in 1979, the landscape of library collections was much different, and this all-inclusive text has been revised through the years to keep up. Beginning with a solid discussion of the foundations of collection development, it runs the gamut of topics, from the philosophy of collections and practical assessment methods to preservation and beyond. Whether you are a new librarian or an experienced one starting over with a new collection, this latest edition remains a foundational tool. Libraries Unlimited, 2019. 373 p. $60. PBK. 978-1-4408-5964-9. (Also available as an ebook.)
Reappraisal and Deaccessioning in Archives and Special Collections
Edited by Laura Uglean Jackson
It's one thing to read a set of industry standards but quite another to see them in action. For librarians in search of real-world accounts of deaccessioning, Jackson presents them via case studies from around the world. This book posits that the Society of American Archivists already offers solid guidelines for reappraisal and deaccessioning; instead of guidelines, the book presents case studies as models, each with unique circumstances. Though the examples focus on archives, the wealth of useful information here, especially the in-depth discussion of the differences between deaccessioning and weeding, can be applied to libraries of all types. Rowman and Littlefield, 2019. 206 p. $90. 978-1-5381-1600-5. (Also available as an ebook.)
Library Storage Facilities: From Planning to Construction to Operation
By Wyoma vanDuinkerken, Wendi Arant Kaspar, and Paula Sullenger
A large part of collection management is determining where to physically put materials. Library storage facilities are changing the face of collection management; this volume examines every aspect of these spaces, focusing on high-storage facilities and university libraries. Beginning with the planning stages, the book follows the process of researching and selecting (or building) the appropriate storage facility. The authors consider the operational aspects of running and maintaining a storage facility and use case studies to illustrate specific needs and challenges. The focus is on academic libraries, but librarians from all types of organizations will find the processes useful and illuminating. Chandos Publishing, 2018. 266 p. $80. PBK. 978-0-0810-2754-7. (Also available as an ebook.)
The Library of the Unwritten (A Novel from Hell's Library)
By A. J. Hackwith
This novel presents collection management in a very different light. Claire is head librarian in the Unwritten Wing of the library in Hell, where stories left unwritten by authors are collected. Claire's collection management involves wrangling these books—which often take the form of their characters—and making sure they stay put. When one book decides to deaccession itself to search for its author on Earth, Claire must follow and return it to the collection. While on this quest, she is confronted by an angel who gives her an overdue notice of sorts for a book in her collection that is a repository of Lucifer's power. Claire returns
to her library only to discover it is missing, and she can't just replace it. Ace, 2019. 384 p. $16. PBK. 978-1-9848-0637-6. (Also available as an ebook.)
Collection Development and Management for 21st Century Library Collections: An Introduction, 2nd edition
By Vicki L. Gregory
Blending the comprehensive information compiled in the first edition of this essential handbook with updated methods, concerns, and case studies, the second edition of Gregory's book is the perfect amalgam of traditional methods of collection management and modern sensibilities. As in the first edition, the author comprehensively illustrates the multitude of topics facing collection development and management in an accessible way that will be helpful to both library school students and seasoned librarians. Updated features include vendor lists, needs assessment report samples, sample collection development policy, and more. ALA Neal-Schuman, 2019. 288 p. $80. PBK. 978-0-8389-1712-1.
(Also available as an ebook.)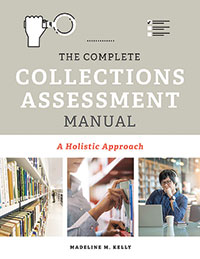 The Complete Collections Assessment Manual: A Holistic Approach
By Madeline M. Kelly
Kelly's exhaustive and comprehensive book is an all-in-one reference guide to collection assessment—a foundational aspect of managing collections. Featuring a thorough discussion of the principles of assessment, this extensive work is a deep well of practical, hands-on information about well-known aspects of assessment as well as those that are often overlooked (communication plans with outside partners, for example). Offering an impressive array of useful tools including handy templates and step-by-step instructions, this volume provides pragmatic information for librarians in a variety of library types, using a spectrum of methodologies. ALA Neal-Schuman, 2020. 208 p. $58. PBK. 978-0-8389-1868-5.