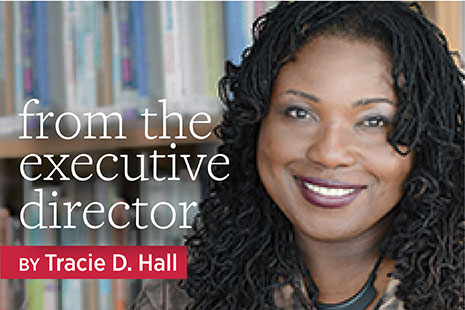 By the time this message arrives, ALA will have experienced a series of storms. First, the widening gaps between expenses and revenues that incited discussion at this year's Midwinter Meeting. Second, the frighteningly rapid spread of the global COVID-19 pandemic, which compelled the Executive Board to issue a statement recommending the closure of libraries to the public. And finally, the cancellation of the 2020 Annual Conference in Chicago, an excruciating but inevitable decision as ALA's hometown faced a shelter-in-place COVID-19 quarantine directive with no guaranteed end date.
And all this within the first 30 days of my taking the helm.
On day 31, a member wrote to me acknowledging the unforeseen series of events that had played out, and confided, "I wouldn't be surprised if you had buyer's remorse." I didn't, and I don't.
Though I certainly would have wished for other circumstances, the experiences of my first month on the job demonstrated two things:
That ALA is an indispensable resource. In just one week during the early fight to contain the coronavirus, more than 5,000 members and stakeholders registered for one of the dozens of rapid response workshops that ALA staff and leaders conducted, and another thousand or so directly sought support from one or more of the Association's offices, divisions, and other units.
That ALA needs a comprehensive paradigm shift. The Association's operations have historically relied almost completely on revenue from Membership, Conference Services, and Publishing, areas that are in states of flux and faltering at organizations nationwide.
Reflecting on the necessity to rouse the nation to deliberate action, antislavery abolitionist ­Frederick Douglass proclaimed, "For it is not light that is needed, but fire; it is not the gentle shower, but thunder. We need the storm, the whirlwind, and the earthquake." Douglass spoke to a time-proven fact: Crisis often invites change, and with change, opportunity.
The time that passed between the discussion over ALA's finances and the social and economic lockdown caused by COVID-19 was mere weeks. Those two events—the latter of which resulted in the cancellation of Annual Conference and a string of other revenue-tied programs and events—has, quite frankly, presented this almost 150-year-old seemingly unshakable Association with the perfect (and I would contend, sorely needed) storm.
Where do we go from here? How does the esteemed American Library Association, which has been on the front lines of every national crisis since its founding, find the road to reinvention?
If its size and layers of bureaucracy have often put it at odds with agility and have made it ripe for criticism, then ALA's response to COVID-19 has made one thing very clear: The future of libraries—of literacy and of information access as a fundamental human right—is indispensably and inevitably linked to the future of ALA.
Over the next months, as we build the new business and operations models to take us into that future, I welcome hearing from you. Where do you see ALA's biggest opportunities to serve you, our members? To serve your libraries and communities? What nonlibrary stakeholders or segments of the public should we engage with to ensure broader and more tangible support for our collective work and greater reach for library services? What insights would you like to offer as we take our next steps after the storm?
Please feel free to email me directly at ­­thall@ala.org. I look forward to sharing some of your comments and updating you on ongoing planning and developments in my next column.
Yours in the fire and in the light.