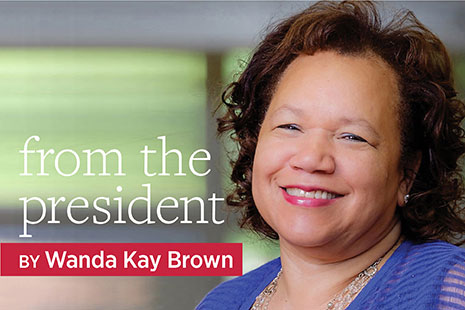 As I write my final column as president of the American Library Association for American Libraries magazine, campus is quiet. I am in my office in the library at Winston-Salem (N.C.) State University, but only a handful of essential workers like me are still in the building.
This is not how I imagined the end of my term as president. Indeed, this year has brought some of the greatest joys and deepest sorrows, and the COVID-19 pandemic has changed everything—everything except my deep love for this profession.
I am profoundly grateful for the opportunity to have met so many library workers during the first half of my term, and regrettably I will not be able to attend meetings of state associations this spring and early summer.
But as travel plans stall and we spend more time apart, I fondly recall the caring, passionate professionals I met on the road in Arkansas, Maine, Massachusetts, Missouri, New Mexico, South Dakota, and elsewhere. No matter where I traveled, the people I met were eager to share what they were doing to make their communities successful.
That is something I think a lot about now as our profession faces grave uncertainties. The COVID-19 pandemic has closed libraries across America, forced classes online, and exposed deep injustices in the digital divide.
And just when our libraries are needed most, funding is decreasing. State and local governments, the primary funding sources for most public and school libraries, are making hard decisions to address deficits, and across the country library workers are being furloughed or laid off.
I am concerned for our members, the profession, and the people libraries serve. I joined the Executive Board in advocating that library workers be paid fully during this time and continue to receive benefits such as health insurance. In municipalities where budgets are being slashed and library workers are losing their jobs, we also strongly urged the federal government to provide relief for these second responders.
There is a grief to watching our profession hurt like this. And it comes on top of a personal loss. I am a deeply private person, but my presidential term will forever be marked by the death of my partner of more than 25 years, Thomas Brown, whom we unexpectedly lost in mid-March. His sudden illness prevented me from attending the Public Library Association's conference in Nashville in late February. I didn't realize when saying good-bye to him that we'd all be bidding farewell to so many things we once took for granted—hugs, sharing meals, and dancing, to name just a few.
Another significant loss to our larger community came in April, when Peggy Sullivan, a past president of ALA and former ALA executive director, died at age 90. Many of us knew and worked with Peggy, and I'm pleased to share that her legacy will live on in the form of 27 student memberships the University of South Florida School of Information gifted to graduating scholars. The effort was organized by Distinguished Professor Kathleen de la Peña McCook, who noted that the number of students seeking membership to ALA bodes well for the future.
As I pass the torch to my colleague and friend Julius C. Jefferson Jr., who will assume his presidential responsibilities during a special (and unprecedented) virtual inauguration this June, I remain extremely proud of my profession and grateful to remain a part of this community.
I could have never imagined how much I would be changed—and the world would be forever altered—over the past year. Despite that, I look forward to helping our incredible community of passionate professionals who are as enthusiastic about information services as I am.