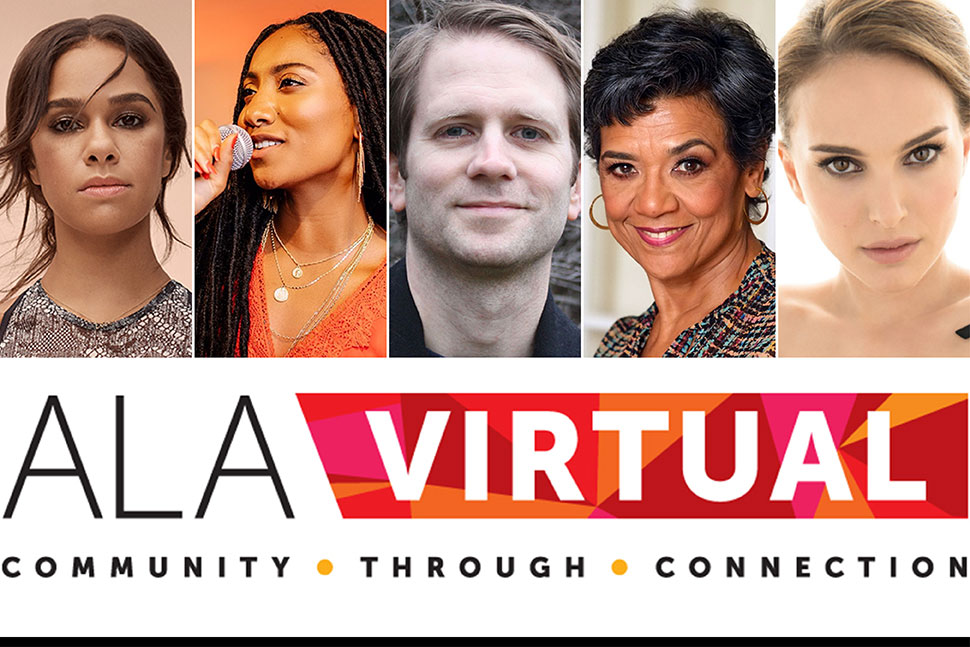 The American Library Association (ALA) made a historic decision to cancel its 2020 Annual Conference in Chicago, as a result of the ongoing COVID-19 pandemic. But in these unprecedented times, it's more important than ever for librarians and library workers to seek and embrace community and keep up with professional development opportunities.
ALA Virtual (June 24–26), the organization's first-ever online-only member engagement event, will offer the programming, speakers, exhibits, and social networking attendees have come to expect from Annual Conference. Join your colleagues in this virtual space to learn, grow, and adapt together in these changing times. Note that all times listed are Central.
Featured Speakers

Opening Session
Wednesday, June 24
10–11 a.m.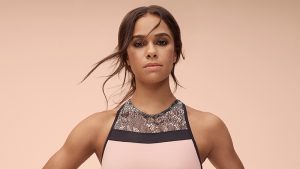 Ballet dancer and author Misty Copeland is known for both her historic dance career—she was American Ballet Theatre's first African-American female principal dancer—and her bestselling books: Life in Motion, Ballerina Body, and Firebird. Her latest work of fiction, with illustrator Setor Fiadzigbey, is Bunheads, the first in a series of children's picture books inspired by Copeland's early dance experience.
She was appointed by Barack Obama to the President's Council on Fitness, Sports, and Nutrition and has been named to Time magazine's annual list of the world's most influential people. She takes a special interest in mentoring dancers of color to diversify ballet.
Wednesday, June 24
1–1:30 p.m.
Poet, model, and motivational speaker Sophia Thakur has been described as "this generation's first poetry influencer." One of the most recognizable figures in UK performance poetry, she's done two TED talks and commands loyal followings on YouTube and Instagram, where she connects with disenfranchised youth and highlights racial and social injustices. Her first published work, a collection of coming-of-age poems, is Somebody Give This Heart a Pen.
Wednesday, June 24
3:30–4 p.m.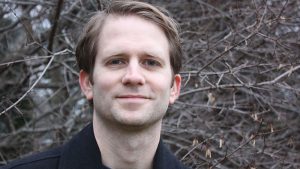 Author and illustrator Matthew Cordell received a Caldecott Medal in 2018 for Wolf in the Snow, heralded for its emotional nuance and imaginative approach. His latest effort is Hello, Neighbor!: The Kind and Caring World of Mister Rogers, the only authorized pictorial biography of the late Fred Rogers. The book features beloved characters from the Land of Make Believe, as well as archival photos provided exclusively by Fred Rogers Productions.
ALA President's Program
Thursday, June 25
12–1 p.m.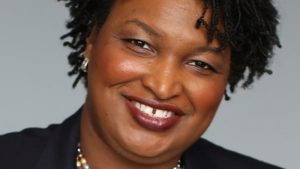 Stacey Abrams is the New York Times bestselling author of Lead from the Outside, a serial entrepreneur, nonprofit CEO, and political leader. After serving 11 years in the Georgia House of Representatives, Abrams became the 2018 Democratic nominee for governor of Georgia, where she won more votes than any other Democrat in the state's history.
Over the course of her career, she has founded multiple organizations devoted to voting rights, training and hiring young people of color, and tackling social issues at both the state and national levels. Her latest book, Our Time is Now, was released earlier this month.
Read our interview with Abrams in the June issue of American Libraries.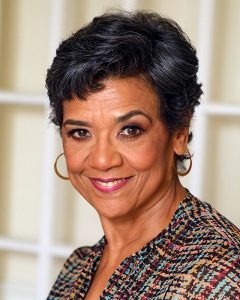 Thursday, June 25
2–2:30 p.m.
Sonia Manzano, who has affected the lives of millions of children and parents through creating the role of Maria on Sesame Street, is author of several picture books, a YA novel, and a memoir. A World Together is her latest picture book, exploring themes of multicultural understanding. The winner of 15 Emmys, she is currently working toward the creation of the Bronx Children's Museum and developing an animated children's series with Fred Rogers Productions.
BOOM! Studios Panel: Breaking the Rules of Graphic Novels
Thursday, June 25
3:30–4 p.m.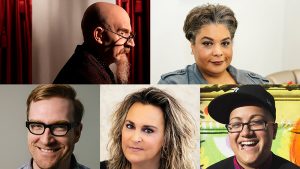 Join bestselling authors Roxane Gay and Tracy Lynne Oliver (The Sacrifice of Darkness), Gabby Rivera (b.b. free), Brian Azzarello (Faithless), and Ryan North (the graphic novel adaptation of Kurt Vonnegut's Slaughterhouse-Five) for an unfiltered conversation about authenticity and boundary-pushing in graphic novels. This discussion will be moderated by Filip Sablik, president of publishing and marketing at BOOM! Studios.
Closing Session
Friday, June 26
1–2 p.m.
Natalie Portman is an Academy Award–winning actor, director, producer, and activist whose credits range from independent and art-house films to the Star Wars franchise prequels and the forthcoming Thor: Love and Thunder. She is a graduate of Harvard University and lives with her family in Los Angeles. Natalie Portman's Fables, her debut picture book with illustrator Janna Mattia, offers modern takes on classic children's stories such as the Tortoise and the Hare, Three Little Pigs, and Country Mouse and City Mouse.
Session Highlights
Browse the full, up-to-date schedule and learn more about sessions on the Virtual Event Scheduler.
ALA Connect Live, Virtual Inaugural Event
Friday, June 26
4–5 p.m.
Join incoming ALA President Julius C. Jefferson Jr., section head of the Congressional Research Service at the Library of Congress in Washington, D.C. He's kicking off his presidential year with a Zoom celebration featuring DJ Kryptonite Rocks. The event will also honor newly elected ALA leadership, including President-Elect Patty Wong.
Covering COVID-19
Wednesday, June 24
Public Libraries Respond to COVID-19: Strategies for Advancing Digital Equity Now
1:30–2:15 p.m.

What are libraries doing while our buildings are closed, and the need is greater than ever for people who are digitally disconnected? Speakers, including Larra Clark, deputy director of the Public Library Association and ALA's Public Policy and Advocacy Office (PPAO), will share strategies that range from amplifying Wi-Fi signals to deploying mobile hotspots to mapping and publicizing public Wi-Fi access. This is an encore of a webinar that originally aired in April.
Live Chat: Library Advocacy and Civic Engagement during and After COVID-19
2:30–3:30 p.m.
COVID-19 is affecting libraries and our communities worldwide and will continue to be felt in the months ahead. Advocacy is crucial to keeping library workers on the job and serving our communities' urgent needs. In this session, PPAO staff will discuss how to advocate—from city hall to Capitol Hill—for libraries affected by COVID-19; changes to the 2020 Census and how your library can support a complete count; and opportunities to promote full participation in the 2020 elections.
Out-Doing Outreach in a Post COVID-19 World
Thursday, June 25
10–10:45 a.m.
This panel discussion, featuring members of the Association of Bookmobile and Outreach Services, will help attendees understand how outreach affects libraries and their communities. Participants will discuss outreach practices and strategies for making the most of your department.
Round Table Programs
ALA's round table chairs and presidents will offer programs on a variety of special interest topics.
Wednesday, June 24
Women Revealed: Researching the Lives of Women through Archives and Government Sources
12:15–1 p.m.
This program from the Government Documents Round Table, timed to the 100th anniversary of women's suffrage, offers tips from archivists and historians.
Libraries as Social Change Engines Around the World
2:30–3:15 p.m.
This panel from the International Relations Round Table features innovators who have led social change in their communities.
Research Matters: Strengthening our Values, Defining Our Practice
4–4:45 p.m.
This session from the Library Research Round Table will include a presentation of papers.
Thursday, June 25
Making Your Library Sustainable for Your Community and Our Future
1:15–2 p.m.
This program from the New Members Round Table will discuss how sustainability is integrated into library work.
The Future of Gaming
2:30–3:15 p.m.
This Games and Gaming Round Table session highlights women in the male-dominated world of gaming.
Lightning Talks: Libraries Fostering Community Resilience during COVID-19
4–4:45 p.m.
This program from the Sustainability Round Table includes short presentations on resiliency.
Friday, June 26
Promoting Multicultural Library Services in Virtual Spaces
10–10:45 a.m.
This panel is presented by the Ethnic and Multicultural Information Exchange Round Table.
A (Comics) History in the Making
2–2:45 p.m.
This discussion from the Graphic Novels and Comics Round Table will focus on comics and community at a time of social inequity.
More Than Just Banned Books: Recent Research on Intellectual Freedom
3–3:45 p.m
This program, from the Intellectual Freedom Round Table, will include research on censorship and tackle the relationship between intellectual freedom and social justice.
Emphasis on Equity, Diversity, and Inclusion
Wednesday, June 24
Retention Efforts of Minority Librarians in Librarianship from the Perspectives of Early, Middle, and Advanced-Career Librarians 
12:15–1 p.m.

In this session, presenters will share their experiences on how they have been retained in the profession and resources for administrators, minority librarians, and others on proven retention strategies. One of the areas that will be explored is retention needs at all stages of librarianship, as well as how age, cultural background, time in the profession, leadership role, ability, family obligations, gender, language, mental health, sexuality, socioeconomic status, and community support impact retention.
Serving the Transgender Community: It's More Than Just Bathrooms!
1:30–2:15 p.m.
Panelists will discuss providing services for the transgender community at their libraries, starting with how they established a need for transgender programs and services in their community. They will also discuss their experiences as transgender librarians and how their experience has informed services.
Thursday, June 25
Suggesting Own Voices to All Readers: EDI and RA Service
11:15 a.m.–noon

Providing robust readers' advisory service that values equity, diversity, and inclusion principles goes beyond simply adding more titles by "own voices" authors to our collections. Join two national experts as they provide collection development and readers' advisory tips to librarians so they can confidently place more "own voices" titles into adult patrons' hands.
Honoring and Respecting Relationship: Rethinking Library Praxis
11:15 a.m.–noon
This president's program of the American Indian Library Association features Camille Callison (indigenous strategies librarian, University of Manitoba in Winnipeg) and explores how ideas and strategies for indigenous engagement are enacted or realized.
Friday, June 26
E. J. Josey's 1964 Charge: 'Keep on Pushing'
10–10:45 a.m.

Within the broader social and political landscape of civil rights, this program will discuss the life and professional career of librarian, educator, and activist E. J. Josey and his contributions to ALA. Revisiting Josey's legacy during the 50th anniversary year of the Black Caucus of the American Library Association will help librarians embrace his model of successful leadership and take up his charge of pushing forward.
Behind the Wires: American Concentration Camps Then and Now
11:15 a.m.–noon
The Asian/Pacific American Librarians Association, in collaboration with Reforma and cosponsored by the Social Responsibilities Round Table, presents a panel of speakers who will discuss the migrant concentration camps experienced by refugees today and the concentration camps experienced by people of Japanese ancestry during World War II.
Juntos: Latinx Family Engagement at Your Library
12:15–1 p.m.
This session focuses on developing cultural awareness and understanding of the diversity and richness of the Latinx community. Speakers will discuss common misconceptions often incorporated or displayed in programming, attain ideas on various culturally enriching programming, and hear how librarians are currently implementing Latinx family engagement at their libraries and within the communities they serve.
The Book Award Celebration
Sunday, June 28
All attendees of ALA Virtual are invited to participate in this daylong celebration of ALA book awards, featuring video addresses from the authors and illustrators listed below. There will be breaks between ceremonies, and participants are welcome to drop in as schedules allow.
9 a.m.
The Coretta Scott King Book Awards will feature authors Jerry Craft (New Kid), Kwame Mbalia (Tristan Strong Punches a Hole in the Sky), Junauda Petrus (The Stars and the Blackness Between Them), Jason Reynolds (Look Both Ways), and Alicia D. Williams (Genesis Begins Again), and illustrators Ashley Bryan (Infinite Hope: A Black Artist's Journey from World War II to Peace), April Harrison (What Is Given from the Heart), Vashti Harrison (Sulwe), Kadir Nelson (The Undefeated), and James E. Ransome (The Bell Rang).
10:30 a.m.
The Association for Library Service to Children (ALSC) Awards will feature Lori Alexander (All in a Drop: How Antony van Leeuwenhoek Discovered an Invisible World), Cece Bell (Chick and Brain: Smell My Foot!), Jo Ann Allen Boyce and Debbie Levy (This Promise of Change: One Girl's Story in the Fight for School Equality), Nikki Grimes (Ordinary Hazards: A Memoir), Kevin Noble Maillard and Juana Martinez-Neal (Fry Bread: A Native American Family Story), J. E. Morris (Flubby Is Not a Good Pet!), Greg Pizzoli (The Book Hog), Antoinette Portis (Hey, Water!), and James Yang (Stop! Bot!), as well as representatives from the awardees of the 2020 Batchelder and Excellence in Early Learning Digital Media Awards.
12 p.m.
The Stonewall Book Awards will include authors Dean Atta (The Black Flamingo), Carolina De Robertis (Cantoras), Saeed Jones (How We Fight for Our Lives: A Memoir), Kyle Lukoff (When Aidan Became a Brother, with honored illustrator Kaylani Juanita), Hasan Namir (War/Torn), Abdi Nazemian (Like a Love Story), Maulik Pancholy (The Best at It), and Robyn Ryle (She/He/They/Me: For the Sisters, Misters, and Binary Resisters).
2 p.m.
The Belpré Celebración, which presents the Pura Belpré Award honoring Latino/Latina writers and illustrators, will include authors Rebecca Balcárcel (The Other Half of Happy), Angela Cervantes (Lety Out Loud), Anika Aldamuy Denise (Planting Stories: The Life of Librarian and Storyteller Pura Belpré), Carlos Hernandez (Sal and Gabi Break the Universe), and Duncan Tonatiuh (Soldier for Equality: José de la Luz Sáenz and the Great War), and illustrators Carlos Aponte (Across the Bay), Rafael López (Dancing Hands: How Teresa Carreño Played the Piano for President Lincoln), Zeke Peña (My Papi Has a Motorcycle), and Raúl the Third (¡Vamos! Let's Go to the Market).
3:30 p.m.
The Odyssey Award for Excellence in Audiobook Production, will feature producers, directors, authors, and narrators from the teams behind the audiobook productions of Redwood and Ponytail (K. A. Holt), Song for a Whale (Lynne Kelly), We're Not from Here (Geoff Rodkey), and We Are Grateful: Otsaliheliga (Traci Sorell). The program also includes a debut from Jarrett J. Krosoczka (Hey, Kiddo: How I Lost My Mother, Found My Father, and Dealt with Family Addiction).
5 p.m.
The Michael L. Printz Award for Excellence in Young Adult Literature ceremony will include honored authors Nikki Grimes (Ordinary Hazards: A Memoir), Maureen McCaughrean (Where the World Ends), Mariko Tamaki (Laura Dean Keeps Breaking Up with Me), and Nahoko Uehashi (The Beast Player, translated by Cathy Hirano), and winner A. S. King (Dig).
7 p.m.
The Newbery-Caldecott-Legacy Virtual Banquet will feature Caldecott Medal winner Kadir Nelson (The Undefeated), Newbery Medal winner Jerry Craft (New Kid), and Children's Literature Legacy Medal recipient Kevin Henkes, as well as Newbery honorees Alicia D. Williams (Genesis Begins Again), Jasmine Warga (Other Words for Home), Christian McKay Heidicker (Scary Stories for Young Foxes), and Kwame Alexander (The Undefeated), and Caldecott honorees LeUyen Pham (Bear Came Along), Rudy Gutierrez (Double Bass Blues), and Daniel Minter (Going Down Home with Daddy).