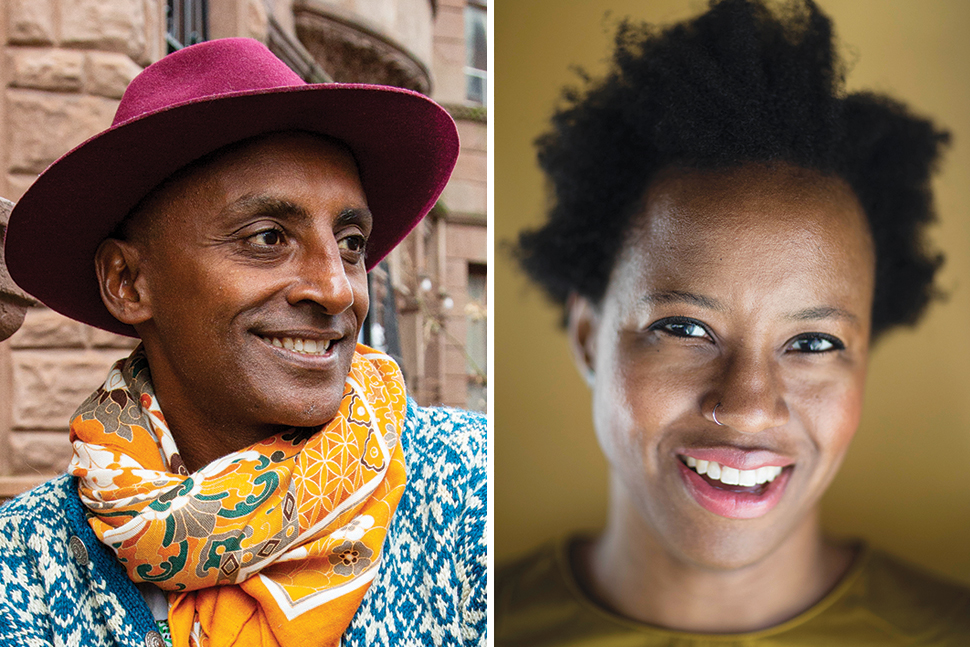 James Beard Award–winning chef, restaurateur, author, and newly appointed Bon Appétit brand advisor Marcus Samuelsson has joined forces with James Beard Award–winning writer Osayi Endolyn to create The Rise: Black Cooks and the Soul of American Food (Voracious, October). The cookbook celebrates the richness and range of contemporary Black cooking with 150 recipes that roam from San Diego to Chicago, Martinique to Manhattan, and points in between.
Among the many talented Black chefs whose cuisine is highlighted: Cheryl Day of Savannah, Georgia's Back in the Day Bakery; Gregory Gourdet of Portland, Oregon's Departure; and former Top Chef contestant Nyesha Arrington of Los Angeles.
Samuelsson and Endolyn spoke with American Libraries about their work—and about the racial dynamics of the food publishing world.
What role have libraries played in your education and career?
Endolyn: I remember the library at my elementary school; I was there a lot because my mom didn't let me buy as many books as I wanted from the Scholastic leaflets. Every city I've lived in, I've had a library card. For my book [on dining history and systemic racism] that I sold earlier this year, I'll be leaning a lot on New York Public Library, specifically the Schomburg Center for Research in Black Culture.
Samuelsson: I grew up in Sweden. I always wanted to be a chef in a French restaurant, and the only place that had books about French cooking was the local library. Very often you could look at the back page of the book and find the restaurant address. My mom and I spent tons of time finding the addresses of these amazing places in France, so I could write and apply. We wrote 30 letters, and we got 29 nos and one yes.
Tell us about The Rise and your hopes for it.
Endolyn: The cookbook aims to celebrate and acknowledge the indelible contributions of African-descended people in the culinary world and in the United States, and to reference the contemporary figures who are doing that work now. It is an effort to illustrate how diverse Blackness has always been and continues to be, and to define a uniquely American food story that has often gone under-told or outright erased.
Samuelsson: African-American culture, it's almost written out of the food journey. That's why it was important for Osayi and me to go back to the generations before us, and then to look into the future. The idea that Black food has to be one thing—nothing could be further from the truth. We're layered, we're complex, just like our fellow chefs who are white. They can come from the Midwest and all of a sudden become Italian chefs. We [aren't allowed to] do that, you know what I mean?
Endolyn: Some of the folks in The Rise are very well known in their own right. Some of them are newer to the scene. I think all of them deserve to be household names. The book is not encyclopedic. It's not biblical, in the sense that we're not trying to define and contain. We're trying to say: "This is but a taste of all that is available."
Samuelsson: What has come out of this Black Lives Matter movement is a lot of incredible people—regardless of their race and background—asking, "How can I help?" You know what? I'm going to give you a step so you can help. When you go with your family to Austin or New Orleans or Seattle, you can look in this book: "Is there a Black chef I can support here or not?" If you work in a corporate environment and want to have a party catered, here it is.
How would you describe the current landscape of food writing and publishing as it pertains to race?
Endolyn: It's quite dismal. And it illustrates that there are many more people invested in the status quo than they are in the tangible shifts that would give us an opportunity to bring more equity to the book publishing space that relates to food.
I want everyone to get the chance to work on the projects they want to work on. Of course that's going to cross cultures and racial and ethnic identities. But I tend to have to demonstrate my worthiness to be on those projects. Whereas I don't see white authors having to prove they can carry the torch on stories that don't come from their own experience. I would like to see more people of color, and especially Black people, get the opportunity to do the so-called mainstream projects. I don't see the book industry reckoning with itself in that way yet.
Samuelsson: In publishing, there has been a club that a lot of people of color have not been invited into.
I work to be part of change. And that change is to give amazing people—whether they're writers, bartenders, or chefs—an opportunity to publish. Because once you publish, no one can take that away from you.
Endolyn: Bookmaking is not just about the person whose name goes on the cover. As we have moved into this era of cookbook writing that focuses less on encapsulating a restaurant experience and more on teasing out the personal narrative of a food figure, it becomes very important that the people involved in the bookmaking process can speak to and understand and support the nuances of that person's culture and history. That affects everything from design to marketing.
You start to see that you are dealing with an ecosystem full of creative people who want to see good books made, and who are sometimes not aware of their own bias and assumptions. That can be a real challenging thing for folks to hear when [they're] on deadline. That's a long way of saying: There's a lot of work that could be done, and there are people doing that work, and sometimes it's in tiny steps.
Samuelsson: The food world is a reflection of America, right? And America is on a journey to improve its race relations. The structural racism that is reflected in other workplaces is reflected in food, too. The reason I put [my restaurant] Red Rooster in Harlem was to present opportunities for people of color. The same thing with The Rise, right? Here we are, so let's do the work.