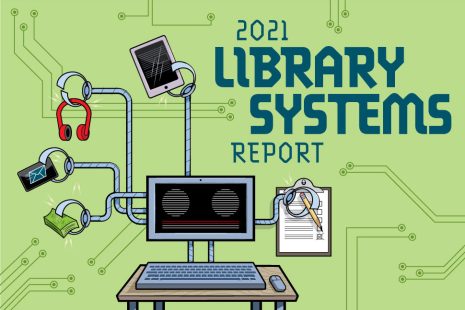 In a year complicated by a global pandemic, the community of vendors providing technologies to libraries made important strides to meet pressing needs and make ongoing progress in their longer-term initiatives. Though the pandemic disrupted library services—as well as funding—in 2020, concerted efforts were made to fulfill the demands of users to the extent possible. Almost all vendors made sharp turns to expand access to digital collections and services in order to compensate for diminished access to physical materials.
Only a few minor acquisitions took place in this deeply consolidated industry last year. Unlike in 2019, none of these transactions altered the overall balance of power among competitors. Vendors made extraordinary efforts to help customer libraries cope with changed services while they continued product development agendas looking beyond current circumstances.
Responses to the crisis
Library vendors readily provided support during the pandemic, especially through rapid development or implementation of functionality that supported newly instituted workflows, such as online selection and checkout of materials and touchless curbside pickup. Abrupt building closures prompted a need to update policy calendars controlling due dates and notices, along with other operational changes. Almost all vendors described delivering system interventions or functional enhancements to assist their customers during this challenging period. Many of these changes will have enduring value. For some libraries, the crisis accelerated transitions to increased digital operations already under way.
In addition to changes in system policies and operations, some vendors mentioned other specific—and unprecedented—measures offered in support of their clients during the pandemic. Biblionix not only implemented 16 features designed to help libraries adapt to changes in lending and workflow but also offered financial relief to its clients. Since many experienced reduced lending during the pandemic, Biblionix lowered the fees for Apollo ILS according to use levels, an unusual practice in the library technology industry. Innovative Interfaces made its Circa Sierra mobile app free to libraries for a year to assist with curbside services. Ex Libris launched the "Best Practices for the Ex Libris Community during COVID- 19" initiative to provide guidance on building closures and reopenings. Soutron Global developed a Pandemic Recovery Program, providing customers with an extended support package, and donated 10% of its revenue to a financial assistance fund designated for Soutron clients. OCLC supported libraries implementing curbside pickup services through specialized workflows provided through its CapiraCurbside mobile app.
Solidifying a consolidated industry
Business acquisitions spanning multiple decades have consolidated the library technology industry into one dominated by a handful of large companies. Organizations such as EBSCO Information Services, Follett, OCLC, and ProQuest have assembled diverse portfolios of products, some of which complement other content offerings and services not covered in this report. These organizations are massive: EBSCO Information Services employs 2,852 globally. Across its businesses, ProQuest has a workforce of 2,740—including 1,461 employed at the parent company and the rest via subsidiaries including Bowker, Ex Libris, and Innovative. Follett, with $3 billion in revenue in 2020, employs 1,758 (including its subsidiaries). OCLC reports 1,238 total personnel. The remaining organizations that participated in this report employ a combined total of 1,316 people, reflecting the economic clout of the top tier.
Events of the last year furthered the industry's consolidation. The acquisition of Innovative Interfaces by ProQuest at the beginning of 2020 triggered a review by the Federal Trade Commission (FTC), the key US governmental regulator that challenges anticompetitive mergers and acquisitions. The FTC initiated its review in February and concluded it in November without imposing any restrictions.
While under active review, ProQuest agreed to operate Innovative as an independent company and separate its business and product activities. Going forward, ProQuest will operate Innovative as an individual business unit, parallel to Ex Libris. Each company will develop and support its own products, though they are no longer restricted from exploring synergies.
The FTC not imposing divestments suggests that company mergers within the industry have so far not crossed legal anticompetitive thresholds. Though product and vendor choices are narrow, libraries continue to have alternatives when procuring major technology systems. Even in the academic and school sectors mostly dominated by large companies, smaller and niche players—as well as open source alternatives—represent viable competition. The outcome of ProQuest's FTC review validates the reality of a consolidated industry and may signal tolerance of other bold moves.
Although industry giants get much attention, small and midsized companies play a vital role in the industry, providing competition and well-appreciated products and services. Smaller companies can offer specialized products and boutique services not addressed by the big names. Their nimble processes also have the potential to drive innovation.
But this tier of smaller organizations faces the harsh reality of limited resources and development capacity. Almost all the small and midsized companies in the industry have experienced static or reduced numbers of employees over the last decade:
The Library Corporation: 199 in 2010, 116 in 2020
SirsiDynix: 385 in 2010, 387 in 2020
Book Systems: 60 in 2010, 62 in 2020
Keystone Systems: 17 in 2010, 16 in 2020
Equinox: 22 in 2010, 20 in 2020
Auto-Graphics: 32 in 2010, 28 in 2020
Infor: 71 in 2010, 35 in 2020
Only ByWater Solutions, with 15 employees in 2010 and 30 in 2020, has shown substantial personnel growth.
New Mergers and Acquisitions
Following a wave of transformational business transitions the previous year, 2020 was relatively calm. A phase of transition usually follows major acquisitions, as the organizations involved integrate and strategize. ProQuest and Volaris Group continued their respective business integration strategies after major acquisitions of Innovative (by ProQuest) and Bibliocommons (by Volaris Group). In both cases, the acquired companies will operate independently but within the business infrastructure of their new owners.
Last year EBSCO Information Services acquired Zepheira, a consulting firm known for its work related to linked data technologies. Its work includes the conceptualization of BIBFRAME for the representation of bibliographic data as linked data, and the Library.Link service to improve the discoverability of library holdings on the web.
In the mobile technology sector, SOLUS acquired Boopsie—an early entrant in the library mobile space whose products quickly became dated in the fast-moving industry. SOLUS has become the leading provider of mobile technologies for libraries, providing customized apps as well as building branded apps for companies, including SirsiDynix and Innovative.
OCLC strengthened its position for public library technologies with its acquisition of Capira Technologies, announced in July 2020. Capira brings to OCLC important mobile capabilities. Its curbside pickup workflows were especially useful during the pandemic.
Axiell continued to expand by acquiring Musoft, which offers products for museums and cultural organizations in the Czech Republic and Slovakia. It also acquired New York-based CultureConnect, gaining new technologies to manage and showcase digital collections in museums, archives, and libraries. Axiell also acquired Ebban, a digital reading service used in 150 schools in Finland.
Academic and research libraries
Libraries serving higher education institutions require specialized products responsive to the dynamics of collection profiles and the evolving nature of their services. These libraries offer collections comprising mostly electronic resources, though they still acquire print materials as needed. Most have extensive print inventories, often stored offsite, as well as valuable special collections. Ever-increasing costs of scholarly journals exert tremendous pressure on collection budgets, leading to steeply curtailed acquisitions of monographs, which in turn amplifies interest in resource-sharing partnerships and supporting technologies. The trend in scholarly publishing toward open access adds a new layer of complexity to electronic resource management. New broad-based transformational agreements between publishers and libraries—or their educational institutions and parent organizations—add further complications, with some libraries being forced to track article-processing charges and content beyond the organization's subscriptions, for example. These issues need to be addressed by the tools libraries use for acquisitions, access, and analytics.
University libraries, following the decline of print and electronic course reserves, have shifted to supporting teaching in other ways—for instance, using applications that integrate with the institution's learning management system to provide access to course and supplemental reading materials.
Libraries supporting universities involved with primary research see new opportunities in lending their expertise with institutional repositories, metadata, and the management of digital information. Research information management systems have traditionally been acquired through institutions' research offices, from vendors such as Elsevier. Libraries can strengthen their strategic involvement in research by acquiring new products (like Esploro) independent of research offices and partnerships with other institutional stakeholders.
Multiple vendors strive to provide products that support the complex dynamics playing out in academic libraries. In recent years, academic libraries have seismically shifted away from integrated library systems (ILSes) oriented to print collections, adopting instead library services platforms (LSPs) designed to manage all collection formats. Installations of ILS products like Aleph and Voyager, geared toward academic libraries, are falling rapidly. Vendors offering ILS products adopted by multiple types of libraries are seeing defections among colleges and universities. We can anticipate further drift of implementations of ILS products such as Symphony and Sierra, that have traditionally served all types of libraries, among academic libraries. In 2020, 559 out of 2,423 Symphony implementations were in academic libraries.
Discovery services play a diminished role in the academic library market. Bundled solutions avoid some of the complications of separate implementation and integration and are promoted by their respective vendors. Relatively small numbers of researchers and students consider the library-provided discovery service as their starting point, preferring Google Scholar, services provided through scholarly publishers (such as Scopus), or disciplinary services (such as PubMed). Though their popularity is dwindling, discovery products, which contain discovery services and discovery interfaces, are still essential for academic libraries. Vendors must strive to strengthen their capabilities, improve user interfaces, and increase their strategic importance.
Vendors routinely bundle a discovery product with deals for LSPs. Few academic libraries enter separate procurement projects for discovery services as was often the case a decade ago. It's more typical now for a library to accept the discovery product bundled with its LSP, such as Primo with Alma or WorldCat Discovery Service with WorldShare Management Services, or to take advantage of a partnership between its ILS vendor and one of the discovery service providers, usually EBSCO Information Services.
ProQuest
As one of the largest businesses offering products and services to libraries, ProQuest has become increasingly involved in the technology sector through acquisitions and product development, while maintaining its foundation in content, databases, and metadata. Its 2004 acquisition of Serials Solutions led to products such as the 360 Suite for electronic resource management and the Summon index-based discovery service. Its acquisitions of Ex Libris in 2015 and Innovative Interfaces in 2020 dramatically expanded its presence in the library technology sector.
Ex Libris is the leading provider of strategic technology products for academic and research libraries. Its focus on technologies for this sector, as well as generous allocation of resources for product design and development, has driven steady growth through multiple product cycles—beginning with the ILS through its current portfolio of diverse products. Ex Libris reported a total workforce of 973 in 2020, down slightly from the previous year but almost twice as big as a decade ago.
Ex Libris's Alma LSP continues its surge with another year of strong sales. Its 114 new contracts have expanded installations to 2,037, almost double the 1,095 in place only three years ago. Alma is now used by libraries in 41 countries. This impressive number of sales can be attributed to libraries with large collections that serve many sites or institutions.
In addition to Alma as its strategic LSP, Ex Libris continues to support its legacy ILS products. Few Aleph sales were reported, usually to new sites joining existing installations. Aleph installations peaked in 2015 and have since declined as these libraries move to Alma and other products. There were no new sales for Voyager in 2020, with 188 installations remaining. Voyager peaked in 2011 with 1,255 installations. Yet with important institutions, such as the Library of Congress, continuing to use its legacy products, Ex Libris remains motivated to continue support.
Ex Libris continues an ambitious development agenda to enhance Alma. Recent improvements include a transition to Oracle Analytics Server from Oracle Business Intelligence for its underlying analytics engine and a new metadata-editing interface. Consistent with the modern software-as-a-service (SaaS) model, Ex Libris delivers incremental updates to Alma monthly rather than deploying major release packages.
Additionally, a new framework that enables library and third-party developers to create Cloud Apps, applications that run natively in the Ex Libris Cloud, was released in 2020. This approach differs from the creation of separate apps that interoperate with Alma via APIs. Cloud Apps provide new functions that can appear as menu items within the Alma interface.
Alma also serves as a foundation for other academic and research products of interest. Leganto, which integrates with an institution's learning management system to manage course reading lists, saw 69 new sales and is now installed in 230 libraries. The Esploro platform for institutional research support was selected by six new organizations and is now used at 27 total institutions. Leganto has been available since 2016; Esploro was released in 2019. Ex Libris launched Pivot-RP, a new product that combines content from research-funding opportunity resources Pivot and Research Professional, in January 2021.
Ex Libris has also expanded its involvement with resource sharing. The RapidILL service it acquired in 2019 gained 104 customers, expanding its use to 430 libraries. Ex Libris has integrated the RapidILL service into the Alma interface for libraries subscribing to both products. RapidILL also fully supports libraries that use other systems.
The Rapido product for managing resource sharing workflows in Alma, introduced in 2020, saw 66 sales in its first year of availability.
Ex Libris also continues to improve its resource discovery. Primo and Summon were developed independently with separate indexes. To improve efficiency, the company recently undertook the task of creating a single index, while maintaining Primo and Summon as distinct products. The Central Discovery Index (CDI) of more than 4.5 billion records now powers both products. More than 2,100 library systems using Primo transitioned to the CDI last year.
Ex Libris continues to develop and support Primo as an independent discovery service that can be used with Alma or any other major resource management system. Many libraries that originally implemented Primo with other ILS products have subsequently migrated to Alma. Ex Libris also offers PrimoVE, a discovery service that is more tightly integrated with Alma and managed through its back-office console. Last year more than 208 library systems implemented Primo and PrimoVE, increasing total installations to 2,735; Summon saw 38 sales and now has 808 total installations, a slight decrease from last year.
Innovative Interfaces began 2020—the first year in which it operated under the ownership of ProQuest and new executive leadership—with fresh strategies for product development, partnerships with customer libraries, and revived sales. For most of 2020, Innovative was required to operate in complete isolation from ProQuest. This restriction was lifted once the FTC review was concluded, but the company continues to operate as an independent business despite ownership by ProQuest. Innovative reported 254 employees, down from about 350 prior to the acquisition. Though painful, staff reductions are common during acquisitions, especially in administrative areas subsumed by the parent company.
Innovative states full commitment to serving all types of libraries currently represented within its customer base, particularly public libraries served by its ILS product Polaris. Academic libraries are another focus, as they make up a sizable portion of its Sierra implementations. Higher education institutions will remain a significant portion of Innovative's customer base going forward, so the company must execute strategies to fulfill users' expectations. An early example of this mandate is the company's partnership with Ex Libris, which involves integrating the Summon discovery service with Sierra. Innovative had previously partnered with EBSCO for an integration between Encore and EBSCO Discovery Service, branded as Encore Duet. The partnership with EBSCO collapsed in 2019, prior to Innovative's acquisition by ProQuest. The integration between Summon and Sierra will be an important element in the company's strategy; Innovative reported that 30 of its academic libraries have started using Summon.
Prior private equity ownership devalued investments in development at Innovative. Under new ownership, Innovative has begun an ambitious development agenda. The first major initiative has produced a discovery environment based on a new technology platform. Branded as Vega, this brand-new service has a clean, intuitive user interface that pairs content from the library's collection with external sources. Key features include automatically generated author and topic pages, resource recommendations, and groupings of similar items and formats.
Though early in its product cycle, Vega has attracted the attention of libraries that want to deliver a contemporary user experience and build patron engagement. New York Public Library, one of the largest systems using Sierra, is a development partner for Vega. Innovative reported that 19 libraries signed agreements in 2020 to implement Vega. Though the product initially focuses on discovery, the platform will be expanded to include additional services.
Overall, Innovative's sales of Polaris and Sierra were consistent with recent years. The 16 new contracts for Polaris resulted in 430 total installations; 18 new Sierra contracts led to a total of 806 installations. On top of that, 22 libraries purchased the Innovative Mobile app. Innovative also reported 146 additional libraries participating in INN-Reach resource sharing networks.
EBSCO Information Services
EBSCO Information Services provides an array of library products and is part of EBSCO Industries, a family-owned diversified business. EBSCO has a well-established portfolio of database products and content services for processing print and electronic subscriptions. Products such as EBSCO Discovery Service (EDS), Full Text Finder, and other electronic resource management tools are used widely (though specific sales and implementation statistics are not available this year). In recent years EBSCO has expanded its involvement in technology through the acquisition of Stacks, a web-based content management product, and its leadership in the development of FOLIO.
EBSCO FOLIO Services was launched in 2020. EBSCO has been one of the key organizations involved in advancing the open source FOLIO LSP, backing the platform through large financial investments and resource development. (Company representatives serve on the board of the Open Library Foundation, which governs the project and holds its intellectual property.) Following a four-year development effort, including participation from a variety of organizations, the initial round of implementations has begun.
As with other open source library automation products, multiple companies will provide support and hosting services, though no license fees can be collected for the software itself. Multiple commercial arrangements have converged surrounding FOLIO. EBSCO will host instances of the software, branded as EBSCO FOLIO, for which libraries will contract directly with EBSCO for support. ByWater Solutions will provide support services for instances of FOLIO that are hosted by EBSCO but not supported by the company. Other companies, such as Index Data, will provide their own hosting services. Some libraries may opt to manage their own instances of FOLIO.
Some of EBSCO's early customers for its FOLIO hosting and support include Chalmers University of Technology in Sweden, the Five College Consortium in Massachusetts, Michigan State University, Missouri State University, National Central Library of Florence in Italy, and University of Alabama. Some libraries have opted to initially implement the electronic resource management components of FOLIO in advance of full migrations from legacy systems.
FOLIO does not include a patron-facing catalog or discovery interface, though many libraries implementing FOLIO on their own are expected to use EDS. EBSCO continues to advance EDS, and the deployment of a new version is under way. This version offers a revamped user interface with options for a more personalized experience. Other improvements include an EDS Knowledge Graph to improve relevance of search results and a Concept Map that offers a visual representation of subjects and concepts, enabling users to explore results in a new way. Through a partnership with Google CASA (Campus Activated Subscriber Access), researchers using Google Scholar can view the full text of subscription-based resources transparently via EBSCOhost. Implementation of the Universal CASA framework enables a similar experience for those starting with other search engines and tools such as PubMed.
OCLC
OCLC's contributions to libraries cannot be measured solely by the sales performance of its products and services. A nonprofit with a mission to benefit libraries, many of the company's resources are channeled outside this commercial sector and into other activities that promote and support libraries. Examples include the educational programming of WebJunction, the documents and analysis developed by OCLC Research, and initiatives such as the REALM project.
OCLC navigates a complex path as a nonprofit that competes commercially in some product sectors. Its impact is illustrated by comparing its workforce of 1,238 and revenue of about $215 million in 2020 with for-profit Follett's 1,758 employees and revenue of about $3 billion. These statistics suggest that OCLC directs a much larger portion of its efforts to programs than to revenue-generating services. In 2020, for example, OCLC received a $2.4 million grant from the Andrew W. Mellon Foundation for "shared entity management infrastructure."
The technology products and services mentioned in this report represent only a portion of OCLC's diverse offerings, such as resource-sharing products and strategic technology for academic and public libraries.
OCLC's WorldShare Management Services (WMS) continues to make gains in academic libraries. This LSP leverages the massive WorldCat bibliographic database to provide streamlined workflows by eliminating the duplicate efforts that may be involved with other systems—for example, the synchronization of local collection holdings.
In recent years WMS made considerable gains, including its ability to serve larger academic libraries and consortia. The 44 new sites that signed in 2020 increase the total number of libraries using WMS to 632. WMS recently received FedRAMP approval, making it eligible as a hosted service for US government libraries.
On the development front, OCLC is revamping its products, phasing in an API-based cloud infrastructure. This approach gives priority to the creation and exposure of APIs to enable new opportunities for the consumption of its services through its own applications and those of external partners. In this vein, OCLC released a WorldCat Search API, and a new WorldCat Discovery API is forthcoming.
TIND
TIND provides support services for Invenio open source software, originally developed for the library at the CERN research facility in Switzerland. TIND was founded in 2013 and has brought different products to market: TIND ILS for general library management, TIND IR for institutional repositories, TIND RDM for research data management, and TIND DA for digital archives. The TIND ILS was selected by two new libraries last year, increasing installations to 17. Two sales of TIND IR increased installations to 26, and four sales of TIND DA increased installations to 19.
Public libraries
ILS capabilities have long met the operational needs of public libraries, although enhancements continue. Libraries are increasingly looking beyond the transactional support delivered through traditional ILS models and seeking technologies that enable more direct engagement with their communities. Patron-facing interfaces must be continually improved to meet the rapidly evolving expectations set by consumer destinations and social networks, both in presentational style and personalization. Public libraries have borrowed some concepts from the business marketing sector, but with greater concerns for privacy. These capabilities include automated solutions that can support marketing campaigns using targeted multichannel messaging, integrated tools for managing and promoting programs or events, and other technologies to strengthen connections between libraries and their communities.
These services are now offered to libraries through fully integrated platforms like community engagement tool OCLC Wise and patron services like the BiblioCommons Product Suite, as well as optional add-ins such as the new Community Engagement Platform from SirsiDynix and the forthcoming Vega from Innovative. Specialized products that can be integrated into a library's existing environment are also available, such as Patron Point's marketing automation portal.
One of the pervasive trends in software development in this sector involves the transition from Windows-based ILS clients to fully web-based interfaces. This process has proven to be challenging, as developers strive to close the gap between functionality and ergonomics. Several vendors have met the expectations of libraries looking to replace Windows-based software clients with web interfaces. This trend can be seen in Innovative creating its LEAP client for Polaris; SirsiDynix's development of its BLUEcloud Suite and SymphonyWeb interfaces; and The Library Corporation (TLC) completing its LS2 web-based client for Library•Solution and improving CARL•Connect for its CARL•X ILS. This transition to web interfaces not only represents a change in technology but in most cases also enables new workflow concepts and modernization.
The public library technology industry differs substantially from the academic library business environment. No single vendor dominates and there is a more diverse mix of products, including strong open source alternatives. The vendors listed below report public libraries as the largest share of their customer bases but also cater to other types of libraries.
SirsiDynix
SirsiDynix ranks as the largest of the standalone technology companies that have not been acquired by one of the industry giants. Although it has its own history of mergers and acquisitions, it has maintained its current form since 2013; ICV Partners has held primary ownership of SirsiDynix since December 2014. The company reported 387 employees, unchanged since 2019 and about the same as when it acquired EOS.Web in 2013.
SirsiDynix had a strong sales year for Symphony, with 95 new contracts. The total number of installations stands at 2,423—a figure that has diminished slightly since 2016. New sales, mostly to public libraries, outpace academic libraries that are moving to specialized products. Horizon saw seven sales, mostly to new libraries associated with existing implementations. Installations of Horizon continue to decrease from the apex of 1,612 in 2007 to the 813 reported for 2020.
Most Symphony and Horizon sales include multiple free BLUEcloud modules, but many libraries already using Symphony have purchased BLUEcloud products for brand-new capabilities. Libraries using either SirsiDynix ILS can operate native clients and BLUEcloud modules simultaneously, easing the transition toward fully web-based interfaces. BLUEcloud MobileCirc was redesigned and renamed BLUEcloud Staff.
June 2020 saw the release of the Community Engagement Platform, which provides marketing automation capabilities integrated with SirsiDynix ILS products. This application manages event scheduling and room bookings, supports marketing initiatives via targeted email campaigns, and provides analytics to measure customer engagement efforts.
SirsiDynix also launched Cloud Source Open Access (CSOA), an interface for large collections of open access content not dependent on library subscriptions. It was designed to appeal to both public and academic libraries and can be implemented by those not using other SirsiDynix products. More than 20 library systems participated in a pilot of CSOA, which is expected to be released in 2021.
EOS.Web adds an element of diversity to the SirsiDynix customer base, bringing in 789 special libraries and 110 smaller academic libraries as part of its total 911 installations.
The development of the BLUEcloud Suite of web-based applications continues. SirsiDynix proceeds to strengthen the functionality of each of its BLUEcloud modules, relative to the capabilities of the native clients of Symphony and Horizon.
SirsiDynix enhanced its BLUEcloud Mobile app with self-checkout and curbside delivery capabilities. While these features were previously planned, they became especially appreciated as libraries responded to the pandemic.
OCLC
OCLC positions Wise as its strategic public library offering. In addition to standard ILS capabilities, OCLC Wise delivers features that strengthen engagement with patrons, including built-in targeted messaging for marketing automation, event organization, and integrated website management. OCLC began marketing Wise to public libraries in 2018.
OCLC Wise has seen moderate success following its introduction to US libraries. It made four new sales in 2020, and its global installations have increased to 420 libraries. Allen County (Ind.) Public Library was an early adopter and has fully implemented the product, and Chesapeake (Va.) Public Library, Greensboro (N.C.) Public Library, Gwinnett County (Ga.) Public Library, Kokomo–Howard County (Ind.) Public Library, and Orange County (Fla.) Library System signed contracts last year after making unofficial commitments in 2019.
The tech acquired from Capira Technologies also strengthens OCLC's offerings to public libraries. It had expanded OCLC's portfolio to include much-needed mobile apps, but the Capira Curbside app has been especially important during this year of pandemic-related disruptions.
BiblioCommons
BiblioCommons specializes in patron interfaces for libraries. Its products can be integrated with most of the major ILS products used by public libraries in the US and Canada. BiblioCore provides a comprehensive discovery service, replacing a library's online catalog for search interactions. BiblioWeb replaces the entire website, enabling management of all content and components via a console that does not require technical expertise. BiblioEvents manages the scheduling, content, and promotion of library programs, and fully integrates with BiblioWeb.
In its first year following its 2020 acquisition by Volaris Group, BiblioCommons continued its established development strategies and expanded its customer base. The company also saw a change in leadership as Sebastien Lopes was named general manager, replacing Matt Goddard, who was appointed by Volaris Group to manage the initial transition. BiblioCore saw implementations in 11 public library systems and three consortia of public libraries.
A new BiblioEmail product was developed in 2020 to provide multichannel marketing automation for libraries, leveraging content components from BiblioCore, BiblioWeb, and BiblioEvents. Arapahoe (Colo.) Libraries and Chicago Public Library participated as development partners for this product, which is anticipated for general availability in 2021.
TLC
Under continuous ownership and management by its founder since 1974, TLC continues to provide technology products and services primarily to public and school libraries. The company employs 116 people, similar to the number reported in 2019 but many fewer than the 199 employees reported in 2010. In the midsized public library sector, TLC faces challenges in losing libraries to consortial open source projects. In addition to its two ILSes, TLC also offers bibliographic data services, including eBiblioFile, ITS•MARC, and RDAExpress, as well as a wide assortment of items for library makerspaces and other supplies via its TLC•SmartTECH marketplace, which includes an online store, training, and support.
Library•Solution saw seven new sales, totaling 682 installations—fewer than the peak 773 reported in 2011. Libraries choosing Library•Solution this year migrated from Polaris, Sierra, Symphony, and Virtua. Major technology initiatives include a push to migrate customers to its new TLC•Cloud Services hosting model, consistent with industry trends to offer alternatives to onsite management of systems. This industrial-strength hosting environment is based on Oracle Cloud Infrastructure and is available to clients using either CARL•X or Library•Solution. This environment offers rigorous security and data protection, including the encryption of stored library data.
TLC reports that 49 libraries migrated from the Windows-based Library•Solution client to the fully web-based LS2 staff interface. In partnership with its Tech Logic business, TLC developed new RFID inventory capabilities for Library•Solution.
CARL•X, used by large public libraries, saw ongoing improvements, especially in its web-based CARL•Connect discovery and staff interfaces. TLC signed one contract for CARL•X and reports a total of 16 installations. Since all the installations are consortia or large public library systems, CARL•X represents an important business activity for TLC.
Auto-Graphics
One of a few publicly traded companies in the industry, Auto-Graphics was founded in 1950 and continues to be led by the family of its founder. This midsized company specializes in SaaS technologies for US public libraries. Auto-Graphics reported 28 employees, the same as in 2019. The company has gradually reduced in size from the 45 staffers employed in 2002.
Auto-Graphics offers the VERSO ILS used mostly by small to midsized public libraries. SHAREit provides large-scale resource sharing and has been implemented by multiple statewide interlibrary loan initiatives. Auto-Graphics reported only one sale of VERSO, which now has an installed base of 538 libraries. One new sale of SHAREit adds interlibrary loan services to 750 libraries. A total of 6,200 libraries currently participate in resource sharing services based on SHAREit.
The company reported its development of streamlined workflows across its product line to help libraries adjust to challenges brought on by the pandemic.
Biblionix
Based in Austin, Texas, Biblionix develops and supports the Apollo ILS designed for small and midsized public libraries. Apollo is web-based, including all staff functions and the patron catalog.
The 49 sales of Apollo increase its total installations to 830. Libraries implementing Apollo last year migrated from larger systems such as Horizon, Library•Solution, Millennium, Polaris, Symphony, and VERSO—or from products designed for school libraries, such as Destiny or Alexandria. Many of these new Apollo installations represent first-time automation.
This year Biblionix introduced a new dashboard as the staff interface for Apollo, delivering a more modern and efficient look. The dashboard is available to all clients using Apollo at no additional cost and can be optionally deployed when the library is ready to upgrade.
InfoVision
InfoVision develops and supports the Evolve ILS, which is used mostly by public libraries. It also offers products supporting other areas of local government. InfoVision made three new contracts for Evolve in 2020, covering 15 individual libraries, expanding its total installations to 160. More than 80% of Evolve installations are in public libraries. Development initiatives include an application for managing and marketing library programs or events.
Library vendors readily provided support during the pandemic, especially through rapid development or implementation of functionality that supported newly instituted workflows.
The international sector
Axiell
A global company based in Sweden, Axiell provides technology products to libraries, archives, museums, and other cultural organizations. Its library products have been implemented mostly in Scandinavia, the UK, and western Europe. Axiell has steadily expanded its workforce to 368 employees from the 223 reported in 2010.
Last year the Library of Congress acquired a suite of Axiell products for discovery and management of its collections of motion pictures, television, radio, and recorded sound.
Axiell continues to make progress with the advancement of Quria, its new platform for public libraries. Though early in its sales cycle, Quria has been implemented in Germany, Norway, Sweden, and Switzerland. AxiellDemo also announced a partnership with Demco to market and support Quria in the US.
Baratz
A midsized firm based in Madrid, Baratz develops and supports AbsysNet library management products for public and special libraries. Most of its clients are in Spain, though it also serves libraries in neighboring European countries in Europe as well as in Latin America. In 2020 Baratz reported 61 total employees, and the 27 new sales of AbsysNet resulted in 2,998 total installations.
Development efforts included improvements to the current version of AbsysNet to provide features needed for new workflows in response to the pandemic, such as managing the quarantine of items, bulk extensions of due dates for borrowed items, and other needs resulting from temporary library closures. Baratz continues development on a new version of AbsysNet, which will include a catalog interface that operates with both the current version and its next generation. Recent sales of AbsysNet include public libraries in the Community of Madrid network, and Basque government libraries joining the network of Basque Country public libraries.
Infor
Infor Library and Information Solutions operates as a division within Infor, a multinational provider of enterprise resource management and technology solutions spanning many business sectors. Infor's library business is concentrated in Europe, especially Belgium, France, the Netherlands, and the UK. In North America, Infor has a small presence in Canada and in a couple of sites in the US. The company's V-smart and Vubis Smart products are used mostly in public libraries.
Infor signed 12 new contracts for V-smart in 2020, increasing total installations to 414, including new sites in Belgium, Canada, France, Greece, and the UK. Development initiatives included working toward a single interface style across all products, beginning with the V-insight analytics portal; support of single sign-on for V-smart; and a new version of the Iguana Library mobile app. Infor has begun development of a One Resource Management, which adds new capabilities for managing electronic and digital resources to V-smart.
Open Source
Open source automation continues to see steady adoption by libraries of all types, and proprietary products dominate in all sectors. Koha, especially when supported by ByWater Solutions, continues to attract libraries of all types. Evergreen implementations are expanding as additional libraries migrate from other ILS products to join consortia.
Open source offers an attractive business model for vendors. Software development investments are shared across a global community. Both Koha and Evergreen follow a model of sponsored development where any group of library stakeholders can financially support specific enhancements, which are folded into the software to benefit all its users. This community-development model allows service providers to focus their resources on customer support and other areas without the need to carry full development costs that would apply to proprietary products. The open source vendor community includes nonprofit organizations such as Equinox Open Library Initiative and for-profits including ByWater Solutions, EBSCO Information Services, Index Data, and PTFS Europe.
ByWater Solutions
Specializing in services related to open source library software, ByWater Solutions continues to increase its customer base and expand into new products. Since its founding in 2009, the company has grown its workforce consistently to the 30 employees reported last year.
In 2020 ByWater Solutions signed 44 new support contracts for Koha, including 12 academic libraries and 17 public libraries with 35 branches, increasing its customer base to 1,340 libraries. The company participates in the global development community for Koha, contributing its work to the primary Koha codebase.
ByWater Solutions gained responsibility in 2019 for Aspen Discovery, a highly customized, open source discovery interface based on VuFind. Aspen Discovery is used in consortia and multibranch public library systems and often is used as the patron interface for proprietary ILS products, such as Carl•X in Nashville (Tenn.) Public Library. The 14 new support contracts made in 2020 represent 253 branches. ByWater Solutions also performs most of the development for Aspen Discovery.
In partnership with EBSCO Information Services, ByWater Solutions provides support services for FOLIO. In 2020 it signed two new contracts for FOLIO support, increasing its total to four; all are midsized academic libraries.
Equinox Open Library Initiative
Operating as a nonprofit organization since 2017, the Equinox Open Library Initiative provides development and support services for several open source library products, including the Evergreen ILS for public library consortia, the FulfILLment resource sharing environment, and Koha.
In 2020, the organization came under new leadership with the appointment of Lisa Carlucci as executive director. Its workforce increased by three positions for a total of 20 employees.
Equinox follows a sponsored development business model in which one or more stakeholders provides financial support for a new feature that is then contributed back to the community version for the benefit of all libraries using that product. Last year Equinox completed 17 development projects for Evergreen and FulfILLment.
The organization continues to expand the community for which it provides support services. Recent migration projects include multiple new members joining the Consortium of Ohio Libraries, Missouri Evergreen, and the Libraries in Niagara Cooperative in Ontario. Equinox also offers Koha support for libraries interested in a standalone system rather than one associated with a consortium.
Incremental growth of consortia using Evergreen brings many new libraries to open source library automation. In Missouri, for example, 32% of public libraries use Evergreen, more than any proprietary product. In Georgia, where the software was originally developed, almost 75% of public libraries use the product.
PTFS Europe
PTFS Europe provides support for open source software products to libraries in the UK. It also serves as the European distributor for the Knovation digital asset management system developed by PTFS, Inc., based in Rockville, Maryland. PTFS and its LibLime subsidiary develop and support Bibliovation, a proprietary ILS, and provide services for LibLime Koha and LibLime Academic Koha, software that differs from the open source Koha supported by PTFS Europe. PTFS Europe has become the largest provider of support services for open source library software for UK libraries. It supports Koha as developed by its global community rather than the versions offered by LibLime.
PTFS Europe also provides support services for open source technologies to libraries in . In 2020 it began new support agreements for Koha with 11 new libraries, increasing its total Koha clients to 129 and spanning all types of libraries: public (11), academic (57), special (60), and school (one). The company has also developed the Metabase analytics portal adopted by five new libraries in 2020 for a total of nine installations. PTFS Europe has entered a partnership with EBSCO Information Services to provide support for FOLIO. To date, no UK libraries have engaged PTFS Europe for this service.
Special Libraries
The technologies used by corporations, law firms, health care organizations, and other organizations have distinct requirements for their libraries and information centers. For most, the concept of a physical library has been succeeded by units that curate and provide access to relevant materials, increasingly in digital formats. The support these organizations require centers more on knowledge management than inventory control.
This sector of the library technology industry has seen enormous disruption, not only by the new approaches to managing information but also through consolidation of the organizations that house these services. The mergers of corporations, health care providers, and other organizations have drastically reduced the number of corporate libraries. Many of these consolidated organizations may have a single information center that provides services throughout their global presence. Such changes have driven the consolidation of many companies that offered products and services to special libraries. Many have converged into Lucidea, and EOS.Web is now part of SirsiDynix, for example. Contrary to this trend, Soutron Global was established as an independent company to provide an alternative to this consolidation. This category also includes vendors oriented to other specialized services, such as Keystone Systems and its products for libraries for the blind and visually disabled.
Lucidea
Lucidea, a consolidated business, works mostly with corporate, legal, medical, and other special libraries as well as museums and archives. Many of the companies that catered to special libraries now reside within Lucidea, including  Cuadra Associates, Eloquent, Inmagic, and SydneyPLUS, as well as several businesses specializing in technologies for law firms.
The company has 82 employees but does not report individual sales or installation statistics. Lucidea offers ILSes, content management systems, and knowledge management applications. Its publishing division, Lucidea Press, issued two new books written for professionals working in special libraries or other organizations involved with knowledge management or digital collections.
LucideaCore provides a common technical infrastructure for all its products. Recent enhancements and features include two-way alerts, improved request management workflows, annotation of images, and a new presentation theme for its user interfaces.
Soutron Global
Soutron Global, in partnership with Soutron Ltd., markets and supports the Soutron Library Management System, used mostly by libraries and information centers in corporate, legal, medical, governmental, and nonprofit organizations. The company employs 20 people and was founded in 2012 by Tony Saadat, who continues to lead the company as CEO.
Given the consolidation into Lucidea of many companies that have historically served special libraries, Soutron Global provides a competitive alternative. EOS.Web, now part of SirsiDynix, likewise represents another choice in this sector.
Twenty-one new sales of Soutron ILS expanded the total installations to 279, and three new sales of the Soutron Archive increased its installations to 36.
Soutron products increasingly make use of AI technologies. Its Summarizer tool automatically extracts metadata and creates summaries of PDFs, and enhancements to its Enquiry Management application provide more sophisticated capabilities for help desk services.
Keystone Systems, Inc.
Keystone Systems, Inc. develops technologies to support libraries that serve persons with visual disabilities, filling a niche not addressed by larger companies. Many implementations of its Keystone Library Automation System (KLAS) product are in specialized divisions of state libraries. The company is privately owned by its founders and has had 16 employees for the last decade with little variation. No new sales of KLAS were made this year, with installations remaining steady at 117. Most libraries served by KLAS take online requests and deliver materials to home addresses rather than provide in-person borrowing. Keystone Systems also develops equipment and software for these libraries to duplicate accessible materials, including the NLS Guttenberg and its own Keystone Scribe.
CyberTools for Libraries
CyberTools for Libraries creates products for libraries associated with smaller higher educational institutions, health organizations, law firms, and other special libraries. The company was established in 1986 and has offered specialized products for libraries since 1998. A major initiative last year involved the creation of a link-resolution tool to compensate for changes in the Library LinkOut service made by the National Library of Medicine. CyberTools also expanded its Link Resolver to integrate with the UpToDate decision support resource from Wolters Kluwer. It did not report specific personnel or sales statistics.
Softlink Information Centres
Softlink Information Centres, owned by Volaris Group since 2013, develops and supports the Liberty ILS used in Australia and other countries. In the US, it markets its Liberty ILS and illumin research management app to legal and corporate information centers. New developments for Liberty include an inventory management app for mobile devices, a visitor logging app to help organizations manage COVID-19 restrictions as they reopen, and a serials option that uses smarter workflows to increase efficiency.
Prima Informatics, based in Brazil, was acquired by Volaris Group in 2018. Its SophiA ILS is widely used by libraries in Brazil and by some libraries in Spain. Prima did not respond to this year's vendor questionnaire.
School libraries
Over the years, vendors serving K–12 schools have become less focused on the libraries themselves, evolving into the broader realm of educational technologies for schools and districts. The ILS continues as an essential application for the library, though increasingly as an integrated component of the district's business and technical infrastructure. This sector has seen an increased emphasis on interoperability frameworks. These technology providers not only manage inventory but also are conduits for the acquisition of digital and print classroom content, often including open educational resources (OERs).
Vendors involved in this sector face headwinds such as declining funding and the shifting focus of control from school libraries to district-wide IT or educational technology centers.
A narrow slate of vendors addresses the K–12 library sector, with Follett taking the dominant position. While holding a smaller portion of the market, companies such as COMPanion, TLC, LibraryWorld, and the open source OPALS product developed by Media Flex offer distinctive alternatives. SirsiDynix participates through the statewide INFOhio initiative; it provides library automation via multiple Symphony clusters, used across 37 districts.
Follett Corporation
Follett Corporation ranks as one of the largest companies offering services to libraries. Its Baker & Taylor division is a major supplier of books and digital content to public libraries. Another division operates online and onsite bookstores for colleges and universities. Follett School Solutions focuses on educational technology and content solutions, primarily for pre-K–12 schools.
Follett's Destiny ILS is well established as the leading product used in school libraries. Destiny has been implemented in 75,200 schools, mostly in the US and American schools abroad. In 2020 alone, 3,225 sales were made.
The new Destiny Discovery app improves the experience for students accessing Follett's digital content resources. Students can search and select print materials in their school library, and the app delivers important capabilities for remote students as well.
Follett enhanced the Destiny Discovery portal to enable school librarians to customize the content presented. New capabilities also include the implementation of the LTI (Learning Tools Interoperability) Thin Common Cartridge framework to integrate library-provided content into the institutional learning management system (see bit.ly/commoncartridge).
Follett took a number of measures to help its customers respond to COVID- 19. When schools faced challenges to rapidly shift to remote or hybrid teaching, Follett created web pages to guide teachers and librarians to selected products or services. For existing customers, Follett provided free access to its Classroom Ready Collections, which include OERs such as lesson plans, worksheets, and videos.
COMPanion Corporation
COMPanion Corporation develops and supports the Alexandria ILS, used mostly in K–12 schools. Although it has a relatively small market share, it represents important competition and provides distinctive capabilities. In 2020 it was selected by 134 schools, increasing total installations to 10,378 (of which 248 are in small public libraries).
Last year COMPanion completed several major enhancements to Alexandria, including a fully responsive interface and compliance with national standards for accessibility. Libraries using Alexandria can now take advantage of streamlined cataloging workflows through integration with Mitinet's BestMARC metadata management service. COMPanion also launched an Activities module providing advanced reporting and exporting of data. The implementation of the Global Grid for Learning framework enables integration with institutional student information systems and single sign-ons.
Book Systems
Book Systems is a midsized company that develops and supports the Atriuum ILS. The company has been owned and managed by its founders for 31 years and has 62 employees.
Atriuum has been implemented mostly by K–12 schools (3,357 out of 4,273 installations) and by small and midsized public libraries, small academic libraries, and church or other special libraries. In 2020 Atriuum was selected by 229 additional libraries, its most successful year since it was introduced in 2004.
Book Systems continues to enhance Atriuum with features and APIs. The company plans to focus on further expanding its presence in public libraries and entering new partnerships for better integration of its products.
Mandarin Library Automation
Mandarin Library Automation develops and supports automation products for K–12 schools and small libraries. The company is privately owned and employs 23 people. Its current product, Mandarin M5, is available both for local installation (used in 699 libraries) and as a hosted service (1,690 libraries). Mandarin M5 saw 95 installations in 2020, with almost all opting for the hosted version. Support continues for the previous product, Mandarin M3, with 1,475 installations remaining. New product developments for Mandarin M5 include improvements to circulation and cataloging modules as well as new custom reports.
LibraryWorld
LibraryWorld provides a fully web-based library service. The product has been implemented in K–12 school libraries (1,937 out of 3,011 installations), special libraries, small public libraries, and small academic libraries. The company made 37 new sales in 2020. Although well known for its use in smaller libraries, LibraryWorld has also been successful in more complex organizations with larger collections. Jefferson County (Ky.) Public Schools, which comprises 167 individual schools, is a major client.
Last year LibraryWorld completed the implementation of an installation that comprises 115 Veterans Health Administration hospitals, supporting the automation of each library and a catalog for shared cataloging and interlibrary loan. LibraryWorld emphasizes the value of its service, which on average costs $470 per year per library—one of the lowest such costs in the industry.
Media Flex
Media Flex's open source OPALS ILS provides a fully web-based public catalog and staff interface. The software is released via an open source license; though the license allows others to modify and redistribute new versions, all development continues to be performed by Media Flex. The company partners with many of the BOCES (Boards of Cooperative Educational Services) organizations in New York for support and implementation services, supplementing its own services for libraries using the software. OPALS finds use among school libraries throughout the US and Canada as well as other small libraries, including those in churches, synagogues, and philanthropic nonprofit organizations.
Beyond the crisis
The COVID-19 pandemic brought considerable disruption to the library technology industry. Budget reductions in libraries naturally have an impact on their technology providers. So far, few libraries have cut back on their technology investments; some have even made new investments in digital content and related support technologies. The longer-term impact for the industry will naturally be tied to the recovery of budgets. We should anticipate slowdowns in product sales as a few libraries may need to defer planned procurements.
Further consolidation of the industry is all but inevitable within the next several years. Financial pressures could also have an impact on condensing the industry should reduced sales weaken companies or soften their valuations. Investors and large players seeking strategic acquisitions may see some library technology companies as interesting additions to their portfolios. None of these library technology companies are reporting financial difficulties, though few below the top tier have been able to achieve sustained growth.
Sales of ILSes and LSPs may also slow because of short-term budget scenarios and saturation, as the number of libraries already using newer products increases. Interest currently abounds for supplemental products that build on the core automation systems aligned with key library strategies. Current areas of interest include technologies for resource sharing, course list management and research support in the academic sector, and patron engagement technologies for public libraries. Developers and vendors may find new opportunities in creating technologies aligned with other activities as library strategies continue to evolve. Some of these technologies may be integrated with existing platforms or emerge as new product categories.
In broad terms, the library technology industry remains strong and multifaceted. Though the number of vendors has contracted, the field encompasses diverse options: nonprofit and for-profit businesses, proprietary and open source software products, ILSes and LSPs, multiple approaches to resource discovery, and a proliferation of new product categories.
About the report
The 2021 Library Systems Report documents ongoing investments of libraries in strategic technology products in 2020. It covers for-profit and nonprofit organizations that offer strategic resource management products—especially integrated library systems and library services platforms—and comprehensive discovery products.
The vendors included have responded to a survey requesting details about their organization, sales performance, and narrative explanations of accomplishments.
Additional sources consulted include press releases, news articles, and other publicly available information. Most of the organizations provided lists of libraries represented in the statistics reported, allowing for more detailed analysis and validation.
Additional vendor information and sales statistics can be found here.